By Chris Williams, CycloneFanatic.com PublisherFollow Chris on Twitter @ChrisMWilliams  
AMES — Last year's quarterback competition was fun. This spring's battle will be heated.
Those were the words of Iowa State head football coach Paul Rhoads before his team took the field on Tuesday for day one of spring football 2012. When the spring depth chart was released on Monday, sophomore Jared Barnett and senior Steele Jantz were listed as co-starters.
Don't be surprised if like last year, this competition goes all the way in to the fall.
"I think that it would be nice to have (a starter at the end of the spring) but I don't know if that's likely to happen with just 15 practices, only 12 of those being in pads, limited scrimmage situations and that's when you truly get a test of how far along a quarterback has come," said Rhoads. "I won't change anything as far as the criteria that I'm looking for in who is going to be our starter. It starts with decision-making. All of them have to become smarter as leaders of this football team."
Rhoads said that being productive on the run, adlibbing and throwing accuracy will be critical as well.
"I don't think any one quality is more important than the other, but certainly we have got to become more accurate with our throwing," said Rhoads.
And then there's the wildcard, redshirt freshman Sam Richardson. This 6-foot-2, 204 pound rookie is currently listed as Iowa State's third string quarterback. Can he make an impact on this race before Sept. 1's season-opener against Tulsa?
"I think he is capable," said Rhoads. "I don't know if he is in striking distance. He is certainly not in striking distance today. He just is not at the level of reps and mental understanding at this point. Is he capable? Certainly. He has that kind of potential. He is a savvy guy when it comes to the game and understanding quarterback play. I really look forward to him competing."
If you're fatigued of quarterback chatter from the last year of following the Cyclones, don't be. It's a big deal. Just ask Rhoads, who gave this answer when a reporter asked him if this team is capable of winning seven or eight games in 2012.
"I do. Without putting undo pressure on the quarterback, it is a very important position," said Rhoads. "If we are going to take that next step, if we are going to get over the .500 mark, if we are going to get over the three victories in the Big 12 Conference, quarterback play is going to be a big part of it."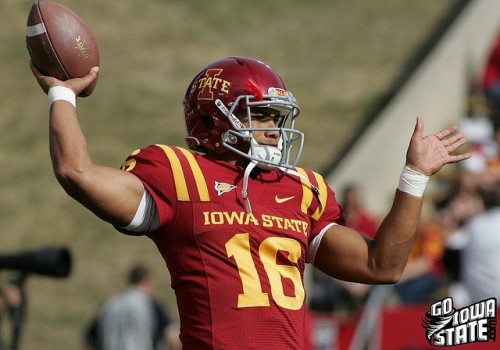 SHONTRELLE JOHNSON: As expected, Rhoads confirmed that junior running back Shontrelle Johnson will miss all of spring football due to a neck injury that he suffered during last year's loss to Texas. Rhoads said that a decision on Johnson's future will be made sometime this summer.
"Any time that you are dealing with the spine and having that kind of surgery there is great concern," said Rhoads. "I will rely very much on the doctor's professional opinion and the question that I would ask of them is if this was your son, would you give him the green light to play? I'll trust them and what they do and what opinion they give Shontrelle and his family and let Shontrelle ultimately make that decision."
At this point, Johnson hasn't even been given clearance to do anything of a strenuous nature. Rhoads is hopefully though that Johnson will be able to begin lifting weights sometime in the near future.
OTHER INJURIES: Here's a quick injury report heading into the start of the spring.
Jake Knott, LB – Rhoads said that Knott is "nowhere near" being able to practice after undergoing shoulder surgery in the offseason.
Jeremy Reeves, CB – Will be limited during the spring due to a wrist injury.
Roosevelt Maggitt, DE – After tearing his ACL last fall, Maggitt had another surgery in the offseason to "clean up another knee issue." Because of that, the senior is farther behind than expected and will not participate in contact drills this spring.
Ricky Howard, TE – After tearing an ACL last year, Howard is good to go and will fully practice this spring.
Ethan Tuftee, LG – Is good to go and will practice at full strength after battling knee issues a season ago.
Shaban Dika, RG – Tore an ACL last year. Rhoads said that the sophomore will "attempt to do everything."
Quinton Pompey, NG – Will start the spring doing individual, non-contact drills after a knee injury.  "We'll see how fast we can progress him back in," said Rhoads.
=== QUOTES ===
Rhoads on being strong up front…
"Our lines have really got to develop on both sides of the ball. I told the kids yesterday that if you want to have a great football team and with any great football team that they've been a part of, it consists of good line play on both sides. We'll be as deep as we have been on the offensive line, another position group where each year I've been able to say that with more strength. We're missing a lot of production on the defensive line but I really like the look of those guys. I think we're seven scholarship guys at defensive end in spring practice and we're six guys depending on how much Quinton (Pompey) goes at defensive tackle. That is refreshing to have and should provide for great competition at those spots."
Rhoads on position battles this spring…
"I want to see our freshmen receivers coming off of redshirts really compete with these guys and push them and see what kind of production we can get out of that group. I think that the secondary will be a fun group to watch as Durrell Givens battles for a starting position, Jared Brackens comes off of a small amount of playing time but also competes, T.J. Mutcherson is another safety who is new to the program and the new corners, counting Sam Richardson and Ken Lynn coming off of redshirt years and Clifford Stokes joining the program."
Rhoads on his group of wide receivers…
"We've got the most play making ability at that position group right now than we have had but a good bit of it is young. That young group is big and athletic. They can catch the ball. They catch the ball with their hands and I am anxious to see seven eight or nine guys at the wide receiver position to see who can separate and make our defenders look bad."
Rhoads on his program's overall talent level…
"I'm going to say the same thing that I said leading into last season. That's that right now, we'll have the most talented football team that we'll have this year. Whether it becomes the best football team that we've had remains to be seen. But yes, this will be the most talented football team that we've put on the field."