By Chris Williams, CycloneFanatic.com Publisher
Follow Chris on Twitter @ChrisMWilliams
Full disclosure – I am not in Ames. I'm still in Seattle.
Gotta love the Internet baby!
Like many of you, I streamed Paul Rhoads' spring opening press conference earlier today. Here are a few of my initial thoughts after hearing what the coach had to say.
QUOTE OF THE DAY
This is Rhoads referring to the demeanor that JUCO quarterback Steele Jantz has shown since his arrival on campus in January.
"He did not come in and try to make waves. He blended in. He proved his work ethic to his teammates," Rhoads said. "He has a certain way that he carries himself that the players have gravitated towards."
I haven't ever met Janzt face-to-face (we've spoken on the phone) and I already like him. That's exactly what I want to hear from a JUCO transfer. When he got to Ames, Jantz knew his role. He didn't step on any toes. Jantz realized that he'd have to earn the respect of guys who have already put endless amounts of blood and sweat into this Iowa State football program.
Jantz chose to do his talking on the football field. Like all of you, I'm anxious to see how this plays out.
FINDING PLAYMAKERS
Paul Rhoads used the word "average" to describe his wide receivers during the 2010 season.
I believe that the coach was being nice.
This is a position where Iowa State MUST get better at in 2011, especially when you consider that the team is guaranteed to have a first year starting quarterback.
A few thoughts on this…
– Don't be surprised to see Iowa State allow its stable of running backs to catch more passes in 2011. Running backs coach Ken Pope referred to this theory in a one-on-one interview that I conducted with him back on National Signing Day. Pope's reasoning was that catching the ball behind the line of scrimmage and making defenders miss is sometimes more natural for a running back, as opposed to a wide out. Is this a spot where the staff could put sophomore James White (below) to work this fall?
"James White is a guy who has little notoriety at this time but he has shown us flashes and he had an outstanding offseason," Rhoads said.
I'm 100 percent only thinking out loud with that one. But before you dismiss it, think back to last year when White was the standout guy during the 2010 spring game.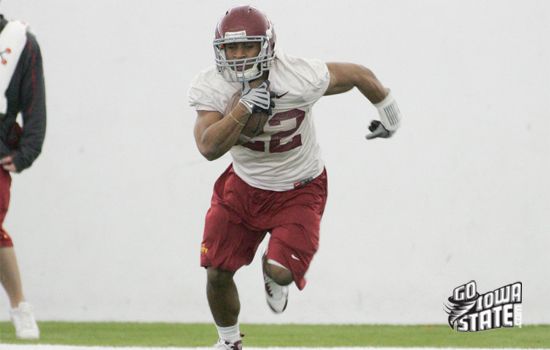 – I will guarantee you that redshirt freshman Jarvis West (below) will be a big part of Tom Herman's game plan in 2011. Last year, I heard rumblings that before West got injured during fall camp, the staff had wanted to play him as a true freshman. I was surprised to hear Rhoads mention that fact during today's press conference.
"Jarvis West has come off of an injury from training camp that kept him out last season. Otherwise, we would have played him," Rhoads said. "He is a guy capable of turning a seven-yard pass into a 70-yard touchdown."
It was no surprise that West was named the 2010 Offensive Scout Team Player of the Year on Monday night.
– The best news to come out of Monday? Well, it isn't really news but this following quote certainly is encouraging. Should it turn out to be true, whomever starts at quarterback for Iowa State this fall might finally have a gnarly weapon to throw to.
"I think that Darius Reynolds is back to form, to where he was all the way back in August of 2009," Rhoads said. "That was the Darius Reynolds that we recruited. That is the guy who we need to see. I think that we've seen that in the offseason and I am anxious to see him this spring."
Reynolds has accounted for 38 receptions, 355-yards and two touchdowns in two seasons of work at Iowa State.