By Brent Blum, CycloneFanatic.com Columnist
Follow Brent on Twitter @BrentBlum
It has been a circuitous route to get to this Senior Night. The three men who will be playing in their final game at Hilton Coliseum probably didn't intend to end their careers in this fashion. Yet,  Wednesday night they will suit up one final time in front of the Cardinal and Gold faithful.
It is a non-traditional senior class in a non-traditional year for Iowa State basketball: A silky shooting Canadian trapped in a 6-foot-11 frame, a 6-foot-2 rebounding machine that was left on the scrap heap by a MAC school, and an enigmatic point guard who alternated flashes of brilliance and frustration in his four-year career.
Jamie Vanderbeken, Jake Anderson and Diante Garrett.
It's a group that brings visions of some of the lovable misfit squads in movies like "Major League" and "Mighty Ducks." All that is missing is Cerrano and Jobu.
In fact I can see this fictional scene playing out at the Sukup practice facility as JVB is explaining his offensive game, "Post game–it is sick. I cannot do drop-step. Deep ball I shoot very much, they call me Big Silky. Low-post– feet are afraid. I ask Jobu to come, take fear from low block. I give him cigar, Canadian whiskey."
Truthfully, I have greatly admired Vanderbeken's willingness to mix it up this year. There is no doubt he has left it all out on the floor this season, injuries be damned.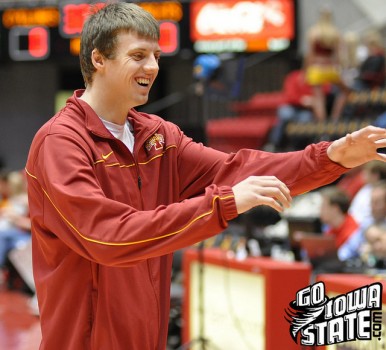 Nobody knew what we were getting with Jake Anderson. Through the Cyclones good fortune and Ricardo Patton's ineptitude, "Uncle Jake" ended up in Ames and produced one of the most unique, unexpected single seasons in recent memory. He has morphed into some strange combination of former Cyclones Curtis Stinson and Kenny Pratt.
He leads the team in rebounding  at 7.2 per game. It's a mark that puts him eighth in the conference, ahead of future NBA lottery picks Perry Jones and Marcus Morris. If I had to make a list of Cyclones on my "All Marble" team, he'd be on the first team.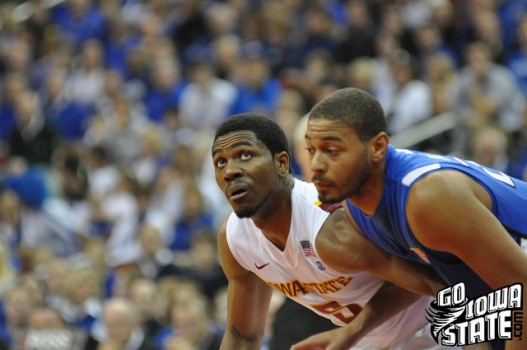 I've written at length about the season Diante Garrett has put together. CLICK HERE to read that.
It would be an absolute crime if he isn't on the second team All-Big 12 at the very least.
But rarely has a player elicited such harsh reactions from fans on both sides of the ledger. My pal, and CF contributor, Kirk Haaland made an apt comparison last fall when he juxtaposed the public dynamics of Garrett and Cyclone Quarterback Austen Arnaud. Both will finish near the top of several statistical categories, yet both were the recipient of a high amount of contempt for their weaknesses.
They were the headliners of the golden age of Iowa State message boards and the hot and cold reaction has followed.
I often wonder what CycloneFanatic.com would have looked like in Jacy Holloway's hey-day back in 1994:
"I'll tell you what, Jacy just isn't getting it done. We're playing five on four out there with him on the floor. He can't finish at the rim, he won't shoot and he looks more uncomfortable than Madonna (1994 alert) at a Republican convention on the offensive end.  Coach Floyd really needs to start looking at playing Kimbrough and Hayes more, they clearly have more talent. I don't see any way we get near the sweet 16 with him at the point. By the way anyone seen Ace Ventura-Pet Detective yet? Who knew that dude from In Living Color could be so hilarious!!"
Diante has been subject to the public meat-grinder of unmet expectations and unfortunate circumstances throughout his career. The wins haven't been prevalent, but we all can agree that he hasn't shied away from the limelight once. He put in his work, day-after-day. He will finish first all-time at Iowa State in career games played. No matter the scenario, No. 10 was out there battling. And that–more than anything–will be his legacy.
It has been a while since we saw a trio of seniors who contributed as much as these three. It is the first time three starters have had their Senior Day together since the 2001 season when Tinsley, Horton, Rancik and Shirley played their final game in Ames. (The lack of success in the past decade can be directly related to that fact–but that's a discussion for another day).
There is no Hornacek or Grayer or Fizer or Tinsley in this senior group. We won't see their names hanging in the rafters years from now. But they each have added to the Cyclone history book in their own way.
In a year that was supposed to be a matinee throw-away in advance of the big show to come, these three have stepped up and made the trek to Hilton a can't miss event. You never knew the outcome-but the effort was unquestioned.  It will be memorable to see them take the court one last time, so they can get their proper, reception. It is well-deserved.