By Chris Williams, CycloneFanatic.com Publisher
Iowa State (15-14, 2-12) vs. Colorado (18-11, 7-7)
Wednesday, March 2 * 6:30 p.m. @ Hilton Coliseum
CTN/ESPN3/ESPN Full Court – Cyclone Radio Network
We'll be back at ES TAS Bar and Grill located at
BREAKING DOWN THE CYCLONES
Iowa State's probable starters
G: Diante Garrett, 6-4 Sr. – 17.2 PPG, 6.1 APG
G: Scott Christopherson, 6-3 Jr. – 14.1 PPG, 3.2 RPG
G: Jake Anderson, 6-2 Sr. – 12.2 PPG, 7.2 RPG
F: Melvin Ejim, 6-6 Fr. – 10.8 PPG, 6.9 RPG
F: Jamie Vanderbeken, 6-11 Sr. – 11.3 PPG, 5.4 RPG
When Iowa State traveled to Boulder on Feb. 1, things got a little bit nasty for Fred Hoiberg's squad. The Buffs outrebounded the Cyclones 43-30 in that contest. Sure, Iowa State shot well from 3-point range, burying 11 treys on the night. But I'm putting it nicely when I write that the Cyclones didn't seem to be too interested on the defensive end of the floor during that 40 minutes of play. Colorado won that game 95-69. Ouch.
Ready for some good news Iowa State fans? The Buffs are a really bad road team. In fact, they're 3-8 in true away games this season. Two of those losses were to San Francisco and Harvard. Add to that the fact that regardless of the opponent, Iowa State hasn't been blown out at home all season long.
In their five home conference losses this season, the average margin of victory for Cyclone opponents' has been 5.4 points. So basically, regardless of what goes down tonight, expect a close basketball game.
Senior Night Notes
Senior Night seems to affect different players in different ways.
Fred Hoiberg remembers his. It was March 1, 1995. Kelvin Sampson and the 16th ranked Oklahoma Sooners were in town. It is a day that "The Mayor" would like to forget.
"I was so wired. My shots were all about a foot long. I almost banked in a three I think. I was so overhyped and exited about that game," Hoiberg said. "I tried to go out and make a lasting impression and play my best game, my last game at Hilton. I couldn't get anything going."
Hoiberg and the 24th ranked Cyclones lost that game by a 71-68 final.
Let's hope that things go better for Diante Garrett, Jamie Vanderbeken and Jake Anderson this evening.
Two of those men are approaching tonight's contest very differently.
Leading up to this day has been kind of a blur for Garrett.
"It really hasn't hit me yet that it will be my last game," Garrett said. "I want to play college more! It is fun. It is going to be really emotional and exciting."
As for Vanderbeken, well, it is almost as if he's ready to move on.
"I can believe it," Vanderbeken said. "I feel like I've been in school forever. I'm looking forward to having one last win in Hilton."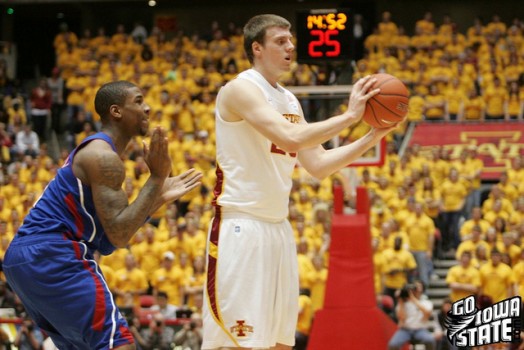 Cyclone Notebook
–       Diante Garrett will tie a school record by playing in the 126th game of his career tonight.
–       Garrett currently has 593 careers assists. That's third best in school history. Garrett needs nine assists to move past Jacy Holloway on that list.
–       The home team has absolutely dominated this series in history. Iowa State is 47-18 against Colorado in games played in Ames. The Cyclones have won 18 out of their last 19 over the Buffaloes inside of Hilton Coliseum.
–       In Saturday's win over Nebraska, Iowa State committed a season low nine turnovers.
BREAKING DOWN THE BUFFALOES
Colorado's probable starters
G: Cory Higgins, 6-5 Sr. – 15.9 PPG, 3.5 RPG
G: Alec Burks, 6-6 So. – 19.7 PPG, 6.2 RPG
G: Nate Tomlinson, 6-3 Jr. – 3.0 PPG, 2.3 APG
F: Marcus Relphorde, 6-7 Sr. – 11.1 PPG, 4.2 RPG
F: Austin Dufault, 6-9 Jr. – 7.6 PPG, 4.3 RPG
If you follow my work at all, you should know that I am a huge of this Colorado team. I have been from day one. On our media day podcast, my partner Brent Blum mocked me when I referred to these Buffs as an NCAA Tournament team.
There have been some major bumps in the road but the postseason is still very reachable for this group. Unfortunately for Iowa State, tonight is a huge game for the Buffs, who are the definition of a bubble team. Expect a relentless Colorado roster to show up. Win and Colorado's NCAA Tournament dreams are a still alive. Lose and Boyle's Buffs better make one heck of a run in Kansas City next week.
Right now, Colorado is red hot. On Saturday, the Buffs trailed Texas by 15 points at halftime. They ended up winning that very game 91-89.
"They scored 58 in the second half against arguably the best defensive team in the country," said Hoiberg. "They didn't run a lot of offense. It was a lot of one-on-one play. A lot of baskets were scored in transition and there was a lot of getting to the foul line."
Sophomore Alec Burks scored 33 points and had 10 rebounds in the win. Barring any setbacks, he'll be a first round pick in this summer's NBA Draft.
"They create matchup problems with their size in the backcourt," Hoiberg said. "Burks and (Cory) Higgins are two strong guys who are both over 6-foot-5 and they post."
"Tad Boyle has done a tremendous job of getting those guys to play with a ton of confidence. They need this game badly to get into the NCAA Tournament. We know they are going to come in here on a mission."
Colorado will host Nebraska on Saturday in its final regular season game this year.
PREDICTION
Best news of the day? Colorado doesn't play any defense either.
This is one of those games that I just have a feeling about. The Iowa State women's team pasted Kansas last night. I think that the Hilton Coliseum nets will still be hot tonight and the Cyclones will pick up their third Big 12 win of the season.
THE PICK
Iowa State 88, Colorado 85