By Brent Blum, CycloneFanatic.com Columnist
I have been a card-carrying member of the Diante Garrett fan club for several years. Prior to his freshman year as a Cyclone, I watched his games at the Capital City League in West Des Moines and initially came away very impressed. I hadn't seen his combination of length, speed, vision and handle from a Cyclone point guard in a long time. He was very adept in the open court and he had an unconventional  ability to get into the lane as he pleased. Diante beat you like a hiccup. It wasn't the most visually-pleasing maneuver, but he always managed to get past his defender.
I had him ticketed as a future All-Big 12 performer and a career in the NBA.
And then he took a jump-shot.
It was a low-line drive that ricocheted off the flange and almost decapitated some poor stooge from DMACC who was trying to get a rebound. That jumper was a bit of a red-flag. And it didn't help matters that the Olsen twins were jealous of his figure. (Garrett came to Iowa State at roughly 150 pounds–only after a big meal at Ames' world famous Flame N' Skewer.)
Yet he still had the talent. That was evident.
But for whatever reason the summer league ability never properly translated to the Big 12. Garrett was serviceable in his first year at Iowa State, starting a handful of contests, scoring six points per game and adding three assists. But he shot only 35 percent from the field and was a woeful 9-of-41 from long range.
Do you Like Cyclone Fanatic on Facebook?
As a sophomore, he started all 32 games and began to show some signs of his potential, bumping his numbers to 9.8 points and five assists on 40 percent shooting. But in conference play, Garrett's marksmanship bottomed out. In 17 Big 12 games, he was an abysmal 3-of-27 from distance.  It got so bad that teams would dare him to shoot and he still couldn't pull the trigger. Garrett didn't make a 3-pointer for an eight game stretch from January 31st to February 28 that season. It was like watching Rube Baker in Major League 2 throwing three-hoppers back to the pitcher's mound. (Assuming anyone watched that unfortunate sequel).  Garrett had absolutely zero confidence.  Teams would sag off him to double Craig Brackins and the Cyclone offense became very ordinary as a result.
As a junior, Garrett continued to defer to Brackins and new teammate Marquis Gilstrap. Diante's numbers stayed the same, nine points and five assists. And quietly his offensive game became pretty efficient. He shot 44 percent from the floor and 35 percent from downtown, a marked improvement.
Yet, you always got the feeling that Garrett felt cramped.  Whether it was the constant acquiescing to Brackins or Gilstrap; the caged, conservative half-court style of Greg McDermott or the lack of confidence in his jump-shot, Garrett was never able to put his talents to full effect.
It was only in the overtime contest at No. 5 Kansas State that we finally saw a glimpse of the real DG. The Cyclones entered the extra period in a hostile environment after blowing a late lead and with Craig Brackins and LaRon Dendy fouled out. Garrett  took control, scoring five of Iowa State's 11 points in OT in route to a huge upset. It was a moment that was largely ignored in a forgettable year. But in hindsight it was a peek into what could be.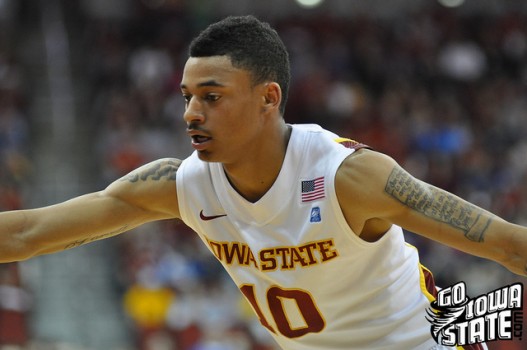 Then "Coach Fred, "as Diante calls him, entered the fray. In his introductory press conference, Hoiberg singled Garrett out, "We have to have the styles where we can play two separate ways. We can get out in transition and space the floor properly. I talked to Diante a lot about that. He's going to have a lot of opportunities to get into the lane and make plays. I think he is a tremendous guard with the ball. He will be the leader of this team."
Hoiberg saw the potential. The confidence he has imparted on the senior point guard has been remarkable. It feels like one of those cheesy teenage movies from the late '90's, where somebody takes the supposed ugly girl from art class, they give her a makeover in a slow-motion montage and before you know it the ugly girl is now transformed into the homecoming queen and spending the night with Freddie Prinze, Jr., while Savage Garden plays in the background.( Don't lie to yourself, we've all seen that movie).
Garrett is on pace to have one of the best campaigns by a point guard in Iowa State history.
Let's play a little "Let's Make a Deal" with Monty Hall.
Behind door number One:  32 minutes, 14.3 points, 6 assists, 3.8 rebounds, 2.8 steals, 3.77 turnovers, 40% FG, 38% 3FG.
Door Number Two: 31 minutes, 13.7 points, 6.6 assists, 3.85 rebounds, 1.94 steals, 2.36 turnovers, 48% FG.
Door Number Three: 35 minutes, 15.4 points,  6.1 assists, 3.3 rebounds, 2.2 steals, 3 turnovers, 44.7 FG%, 39.8 3FG.
Door Number Four: 35 minutes, 17.6 points, 6.1 assists, 3.8 rebounds, 2.1 steals, 3 turnovers, 43% FG, 31% 3FG.
Pretty tough choice. All the numbers are in the same neighborhood. Which one would you choose?
Doors #1-3 played a combined 1,600 games in the NBA. One has his jersey retired, one should have his jersey retired and the other is one of the most underrated Cyclones to play in Ames.
Door #1: Jamaal Tinsley's senior year. Door #2: Jeff Hornacek's senior year. Door #3: Will Blalock's junior year (his last). Door #4: Diante Garrett's senior year.
Who would've ever hypothesized Garrett could be in the same area code as those 'fellas when the year started?
When the season ends, only Garrett and Hornacek will have accumulated more than 1,100 points and 500 assists in their Iowa State careers.
CLICK HERE to see Diante Garrett's career stats.
And despite any real lack of depth behind him, Garrett's play has actually improved as conference play has started. In three conference games, DG's numbers jumped to 20.3 points, 6.3 assists on 47 percent FG and 39 percent 3FG.  He's also playing 38 out of a possible 40 minutes per game.
Garrett leads the conference in assists and is fifth in scoring.
To put that in perspective, there have  been eight players in Big 12 history to finish in the top five in both categories: Chauncey Billups (CU), Reggie Freeman (UT), Tyronn Lue (NU), Bernard King (TAMU), Curtis Stinson (ISU), Acie Law (TAMU),  D.J. Augustin (UT), and Sherron Collins (KU).
That is some pretty elite company. If the season ended today, there is no doubt Garrett would have to be in the conversation for 1st team All-Conference and a candidate for the MVP along with Marcus Morris, Alec Burks, Marcus Denmon, Jordan Hamilton and Khris Middleton.
Nobody could have expected that.
Through his buckets and assists, Garrett has accounted for 47 percent of Iowa State's field goals this season. An almost unfathomable number.
Diante is one of two players in the nation averaging more than 17 points and 6 assists per game. Ohio's DJ Cooper is the other.
The once troubled jump-shot is no longer a weakness. Garrett hit a total of 39 3-point shots in this first three seasons in a Cyclone uniform. Through 18 games this year, he has knocked down 32 treys.
And he continues to play with the poise and swagger that would make the members of the "Young Money" hip-hop crew jealous (the plus 30 and George Strait crowds will have to trust me on this one.)
Last week, the Bob Cousy award released its final 20 candidates for its annual award given to the nation's top point guard. Inexplicably, Garrett was not on the list, but Big 12 mate Tyshawn Taylor and his nine points and five assists per game were. That's completely ridiculous. The Cousy selection committee also probably voted for "Piranha 3D" to win the Golden Globe for Best Picture and Gary from "Teen Mom" best actor in a TV series.  So dumb.
Regardless, from an X's and O's stand-point, Garrett and the big silky (I hope this sticks) Jamie Vanderbeken have developed a simple, yet lethal, pick and pop combo that makes Iowa State one of the toughest teams in the conference to defend. Throw a healthy Scott Christopherson in the corner and Iowa State will cause some headaches for everyone remaining on the schedule. The Cyclones scored 79 points on a salty Kansas squad–the most points KU has given up all year.
When the Cyclones are making shots like they did against Baylor, there isn't a team in the conference they should be afraid of. They won't shoot like that consistently, but with Garrett at the controls, it's become more common than most would have ever guessed.
With a short bench and nagging injuries inevitable, it is still an uphill battle for Iowa State to reach any type of significant post-season. But thanks to this brazen group of Cyclones, the excitement is returning to Cyclone basketball. And that cannot be understated.
Years from now, when we look back at the 2010-2011 season, it will be fondly remembered as DG's bunch. The time when Cyclone basketball was fun again.
Diante Garrett may never reach the NCAA tournament, but his contribution to the Cyclone resurgence will not be overlooked.
Follow Brent Blum on Twitter: @BrentBlum