By Chris Williams, CycloneFanatic.com Publisher
Des Moines – For 39 minutes, Iowa State and Creighton played one of the best basketball games that these eyes have ever seen. Unfortunately, the last 1.6 seconds are what people are going to remember from this instant classic. Jamie Vanderbeken buried an estimated 30-foot jump shot at the end of regulation to lead Iowa State to a 91-88 victory over the Bluejays, but the evidence is clear as day. The shot shouldn't have counted and that game should have gone to overtime.
Due to the lack of television coverage in this game, Iowa State avoided going to an extra period with a hungry Creighton squad. Sunday's officiating crew told both Fred Hoiberg and Greg McDermott before the game that without having television monitors to go to, all calls made on the court were to be final.
"It is kind of ironic that it came down to that," Hoiberg said. "The officials came up to us right before the game and said that there is no replay today. What is called, that's how it is."
"There is no monitor. We'll never know," McDermott said. "Actually, we will know because they counted it. We had as good of an officiating crew as you could ask for. If they say it counted, it counted."
In the end, the exact same thing could have happened against Iowa State. The rules were set before the game began and for once, the Cyclone nation caught a break. This team shouldn't feel bad about that either.
CLICK HERE for more information on "the shot" and videos from both teams' post game press conferences. For the rest of this column, I am going to give my thoughts on the game outside of that final second.
PLAYER OF THE GAME
Diante Garrett – I could make cases for three different Cyclones taking home the prestigious CF "Player of the Game" honor in this one. Freshman Melvin Ejim stepped up to score a career-high 22 points and brought a ton of energy to the team on the defensive end. Jake Anderson did what Jake Anderson does. The senior scored 19 points while ripping down a career-high 15 rebounds. Iowa State couldn't have won this game without either of those players. But really, this is a no-brainer to me. Senior point guard Diante Garrett scored 28 points while dishing out seven assists and most importantly, he took control of this game for Iowa State. Garrett fired off 21 shots and it was obvious that he wanted that basketball game. He was the Diante Garrett that I've expected to see ever since he got to Ames. Through four contests, Garrett leads Iowa State in scoring with an average of 18.5 per game. This is his team. DG knows that and he deserves the kind of success that he's currently having. Any chance he can stick around for next season?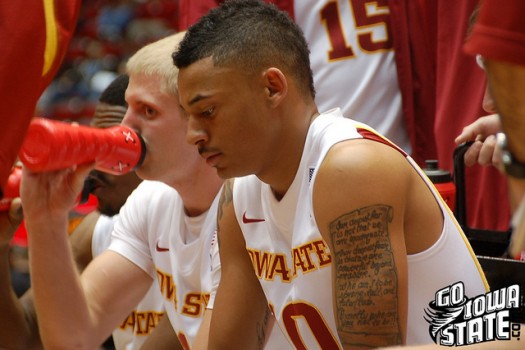 THREE UP
Wells Fargo Arena – I've never been to an NCAA Tournament game but that one had a March Madness type of feel to it. In the past, I've been critical of Iowa State playing games against Bradley and Ohio State inside of the Wells Fargo Arena. This time, everybody involved got it right. Iowa State and Creighton combined to pack The Dub with a reported 10,252 fans and the atmosphere was to die for. I'd like for these programs to do it again next year but when you consider who Creighton's head coach is, I can about guarantee that this was a one and done type of deal.
Swagger – I swear that I saw Jamie Vanderbeken pull a Mt. (Dikembe) Mutombo and shake his finger at a Creighton player after reordering one of his career-high three blocks in the win. Not that I condone taunting, but isn't it refreshing to see and Iowa State basketball team play with that type of strut? For team that was the unanimous pick to finish last in the Big 12, Iowa State is playing basketball with a load of confidence right now.
Turnovers/Rebounding – Maybe the most impressive stat that came out of that track meet was the fact that both teams combined to turn the basketball over only 18 times. Iowa State committed 10 of those. Iowa State shot 54 percent from the field while Creighton hit exactly half of their shots.
The Cyclones out-rebounded the Blue Jays 35-29. Thank Jake Anderson (15) for that stat.
THREE DOWN
Free throws – Want to avoid the controversy at the end of the game? Make some free throws. The Cyclones went 10-of-18 from the charity stripe on the day but key misses from Scott Christoperson (3) and Diante Garrett (1) down the stretch could have put this game out of reach much earlier. Christopherson was an 87 percent free throw shooter heading into the game. He was 0-for-3 from the free throw line in the game.
Creighton's mascot – Enough said. I have no problem with Bluejays, but that thing is pathetic. You're a private school. You have money right? Please invest in a new mascot costume.
Guard depth – Diante Garrett, Scott Christopherson and Jake Anderson played 40, 37 and 33 minutes in this contest. When Bubu Palo and DeMarcus Phillips entered the game for five minutes a piece. Iowa State's offense went flat immediately. It was alarming how out of sync the pair looked out on the floor. In all fairness, Palo is a walk-on and Phillips is still recovering from an injury. Still, I worry about what would happen if Garrett, Christopherson or Anderson would go down at any point in the season.
Follow Cyclone Fanatic on Twitter.
NOTEBOOK
–       Diante Garrett hit a career-high five 3-pointers in the win. The 28 points that he scored were also a career-best. Garrett started his 68th consecutive start for Iowa State, which ties him for fifth all-time with Jamaal Tinsley.
–       Jake Anderson's 15 rebounds were a career-high for him. He's now averaging 10 rebounds per game on the season.
–       Melvin Ejim has been a double-digit scorer in all four games of his young Cyclone career. Ejim is averaging 15.3 points per game, which is second best on the team.
–       With the win, Iowa State now leads its series with Creighton 16-15. The Cyclones have won six straight against the Blue Jays dating back to 1991.
–       Fred Hoiberg is one of four Iowa State coaches in history to begin their career 4-0 or better.
LIKE Cyclone Fanatic on Facebook
WHO'S NEXT?
Kennesaw State – Wednesday, 7 p.m. @ Hilton Coliseum