By Chris Williams, CycloneFanatic.com Publisher
Iowa State (14-4, 1-2) @ Oklahoma State (13-4, 1-2)
Wednesday, Jan. 18 * 8 p.m. @ Gallagher-Iba Arena
ESPNU – Cyclone Radio Network
Tune into the Cyclone Fanatic/Wilson Toyota of Ames postgame show on 1460 KXNO and KXNO.com about 40 minutes after tonight's game. Tron Smith and I will break down the contest, take your phone calls and talk Big 12 hoops for around an hour from the Keg Stand in West Des Moines.
BREAKING DOWN THE CYCLONES
Iowa State's probable starters
G: Diante Garrett, 6-4 Sr. – 17.6 PPG, 6.1 APG
G: Scott Christopherson, 6-3 Jr. – 14.4 PPG, 3.0 RPG
G: Jake Anderson, 6-2 Sr. – 11.2 PPG, 8.0 RPG
F: Melvin Ejim, 6-6 Fr. – 11.8 PPG, 7.1 RPG
F: Jamie Vanderbeken, 6-11 Sr. – 11.8 PPG, 5.8 RPG
Balance. If you think about it, that's really been the key to Iowa State's 14-4 start this season. Five Cyclones are currently averaging more than 10 points per game. Only Missouri, Long Beach State and Wake Forest can say that along with Iowa State.
Think about this: Take one player out of Iowa State's starting five and replace him with anybody on the Cyclone bench. It doesn't matter which scenario you rig up. Take Diante Garrett, Scott Christopherson, Jake Anderson, Melvin Ejim or Jamie Vanderbeken out of the mix. That's a team that goes from being what we think is pretty decent, to easily below average.
What you're watching for the 2010-11 Cyclones is about as true of a TEAM as you can get at this level of basketball.
Tonight's road trip to Stillwater marks the fifth road game of the season for Iowa State (not counting a neutral court game vs. Creighton). Earlier this week, I got to thinking about the fact that Iowa State is really a pretty solid road basketball team. The Cyclones are 2-2 in true road games this season with wins at Iowa and Virginia. They won the neutral court contest against Creighton.
"We have won on the road and it does give us some confidence that we can go out there and take care of business," said Iowa State head coach Fred Hoiberg. "It is going to be a battle. We know that. It is going to be physical. We need to try to match their toughness and keep them off the boards."
In five games away from Hilton Coliseum, Iowa State has shot 43 percent from the field and 39 percent from 3-point range. In the four true road games, Iowa State was 40 percent from the field and 36 percent from 3-point range. I credit these quality numbers to strong guard play, mental toughness and most importantly, that balance discussed up above.
"It is a tough place to play," Hoiberg said about the trip to Stillwater. "The fans are right on top of you. We need to try to go out there and play with poise. They are going to try to pressure us. They are going to deny us on the wings. We need to go out there and execute our offense to try and get some open shots."
Hoiberg would know. During his playing career, "The Mayor" went 2-9 against Oklahoma State from 1992-95.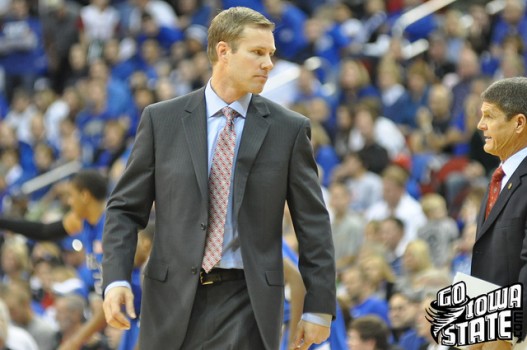 Here's how hard it has been for Iowa State teams to win in Stillwater. The last time a Cyclone roster went into Gallagher-Iba Arena and walked away victorious was on March 2, 1988. At that time, only two current Cyclones had even been born, those men being Vanderbeken and Jake Anderson. Fred Hoiberg was a freshman in high school at the time.
Quick hits
–       Scott Christohperson and Jamie Vanderbeken have combined to knock down 101 3-pointers this season. That makes them the best long ball duo in the country.
–       Last year in Ames, Christohperson had a big game against Oklahoma State. He scored a then career-high 19 points but the Cowboys won the contest 69-64.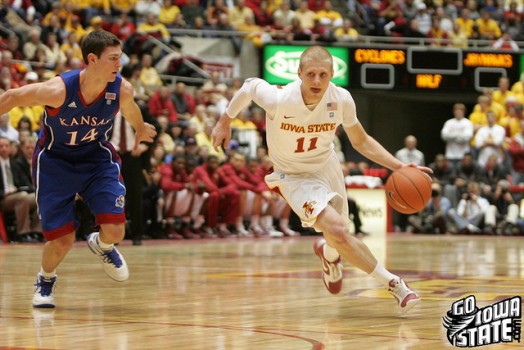 BREAKING DOWN THE COWBOYS
Oklahoma State's probable starters
G: Ray Penn, 5-9 So. – 8.5 PPG, 2.9 APG
G: Keiton Page, 5-9 Jr. – 13.9 PPG, 1.9 APG
F: Jean Paul Olukemi, 6-5 So. – 10.9 PPG, 4.1 RPG
F: Matt Pilgrim, 4.8 PPG, 5.0 RPG
F: Marshall Moses, 6-7 Sr. – 16.4 PPG, 8.1 RPG
If Iowa State wants to even its record out in the Big 12 tonight, the Cyclones will have to contain Marshall Moses. Moses is currently the Big 12' active leader in double-doubles with 19. He leads the Cowboys in scoring and rebounding and is third in the Big 12 in field goal percentage (57.4).
"He has a big and strong body," said Hoiberg. "He posts deep. We have to try to do our work early and try to push him away from the basket a little bit. We'll have to throw some double-teams at him and try to keep him off-balance."
Royce White has been mimicking Moses on Iowa State's scout team this week.
Oklahoma State's best win of the season came last week against Kansas State, when the Cowboys beat on the Wildcats by 14. But we all know that something is wrong with K-State right now. Since then, OSU has dropped two in a row (both road games) against Texas A&M and Colorado.
PREDICTION
Has the 1988 stat been burned into your brain enough over the last few days?
The skeptics are correct. Oklahoma State is a very good home basketball team. They have yet to lose there this season and the Cowboys are 1-3 in true road games. That one win came against La'Salle in double-overtime.
While Marshall Moses is undoubtedly a great talent, Iowa State has gone toe-to-toe with some of the best post players in the Big 12 over the last week. The Cyclones certainly won't be shell-shocked by OSU's frontcourt.
Losing to Kansas by only five last Wednesday (with an unhealthy Scott Christopherson) was telling. Saturday's 15-point spanking of Baylor opened even more eyes.
To me, the turning point came on Monday during pre-Oklahoma State interviews. It was then when I truly got the feeling that right now, this is just a very confident Iowa State basketball team. This team thrives off of the short bench. The guys know that no matter how many shots they miss, they won't be stripped of playing time. Who else is Fred Hoiberg going to put in?
As long as Iowa State stays healthy, I really believe that they can at the very least play with anybody on the schedule, especially at home.
Tonight's game features a team that is rolling (Iowa State) and a roster that has dropped two straight.
Conventional wisdom and history get up in my grill and tell me to go with Oklahoma State here and I probably should. But as long as Scott Christopherson is healthy (which I am banking on) and Diante Garrett has recovered from the flu (I assume this is the case), we could witness an upset tonight. Iowa State has a clear backcourt advantage in this one.
Give me the guards. Give me the Cyclones in a squeaker.
THE PICK
Iowa State 69, Oklahoma State 67