By Chris Williams, CycloneFanatic.com Publisher
Iowa State (11-2) @ Virginia (8-4)
Thursday, Dec. 30* 7 p.m. in Charlottesville, Va.
TV: Comcast Mid-Atlantic – Cyclone Radio Network
Think Northern Iowa. That's my best guess as to what Iowa State's Thursday night date with the ACC's Virginia Cavaliers will look like. Want to know more? Here's the breakdown.
BREAKING DOWN THE CYCLONES
Iowa State's probable starters
G: Diante Garrett, 6-4 Sr. – 17.2 PPG, 6.0 APG
G: Scott Christopherson, 6-3 Jr. – 15.2 PPG, 3.2 RPG
G: Jake Anderson, 6-2 Sr. – 11.8 PPG, 8.5 RPG
F: Melvin Ejim, 6-6 Fr. – 13.1 PPG, 6.8 RPG
F: Jamie Vanderbeken, 6-11 Sr. – 9.8 PPG, 5.2 RPG
The real season starts on Thursday. That's no disrespect to the 13 opponents that Iowa State has already played either. It has been a fun first two months of the season for Cyclone fanatics in Fred Hoiberg's inaugural campaign. But with a limited roster that lacks depth across the board, we'll all learn a lot about this team over the next month.
When I look at Iowa State and Virginia, I see a lot of similarities. Both teams were picked to finish last in their respective high-major leagues. Both programs feature young, up-and-coming head coaches who have NBA backgrounds (Tony Bennett played for the Charlotte Hornets for three seasons).  At times, both schools have turned some heads with impressive non-conference victories so far this season.
Thursday night's date with Virginia won't make or break Iowa State's season, but it could be very telling about the team that we'll see in mid-February.
Cyclone tidbits
–       Diante Garrett needs six assists to reach 500 in his career at Iowa State. When he does that, Garrett will be the third player in school history to record 1,000 points and 500 assists in a career. Jeff Hornacek and Terry Woods are the other two. That's some pretty decent company for DG.
–       Iowa State's starting five has accounted for 84.5 percent of its scoring on the season.
–       Scott Christopherson is still the Big 12's leading 3-point shooter as he's knocked down 52.4 percent of his attempts this season. Christopherson has made a three in 16 straight games.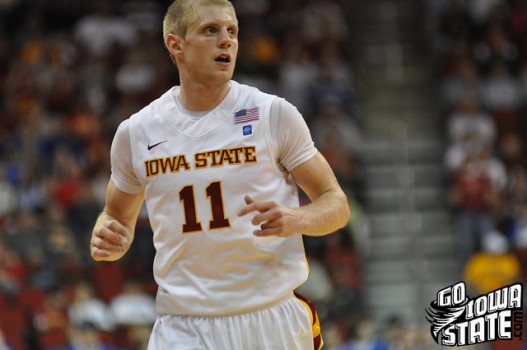 –       Jake Anderson's 8.5 rebounds per game average is third best in the Big 12.
–       In the last two games against Dartmouth and Chicago State, walk-on redshirt freshman guard Bubu Palo is averaging 11.5 points per contest, while going 5-of-8 from 3-point range.
Life after DeMarcus Phillips
The Cyclones will suit up only eight scholarship players on Thursday night in Charlottesville. That's because DeMarcus Phillips, a junior reserve guard, announced earlier this week that he intends to transfer away from Iowa State. CLICK HERE for more insight on that story. Phillips was averaging 2.5 points and 2.4 rebounds per game for the Cyclones.
BREAKING DOWN THE CAVALIERS
Virginia's probable starters
G: Joe Harris, 6-6 Fr. – 10.0 PPG, 3.4 RPG
G: Sammy Zeglinski, 6-1 Jr. – 5.4 PPG, 2.0 RPG
G: Mustapha Farrakhan, 6-4 Sr. – 11.3 PPG, 2.4 RPG
F: Akil Mitchell, 6-8 Fr. – 1.6 PPG, 3.2 RPG
C: Assane Sene, 7-0 Jr. – 2.0 PPG, 3.5 RPG
Iowa State couldn't catch Virginia at a worse time. That's just one man's opinion, but hear me out. The Cavaliers are possibly coming off of their two worst games of the season in a fluke buzzer beater win over Norfolk State and a loss to mighty Seattle. They've had a week to think about this and for the first time since the Cavaliers upset Minnesota back in November, Virginia's two senior captains are finally healthy.
Mike Scott, a 6-foot-8 senior forward who is averaging 15.9 points and 10.2 rebounds per game is back after missing three games due to arthroscopic ankle surgery. On Thursday night, fellow senior captain, 6-foot-9 Will Sherrill who hasn't played since that Minnesota upset due to a leg injury, will join Scott and the rest of the Cavaliers. Sherrill is averaging 6.3 points and 3.4 rebounds per game this season.
With Mike Scott, Virgina picked up road wins over Minnesota and Virginia Tech. Without the big man, the Cavaliers lost to Seattle caught a blessing against Norfolk State. Scott is an upper-tier post player in the ACC and he'll  likely cause matchup problems for the Cyclones, who lack depth down low.
"We will probably have to throw some different defenses at him," Hoiberg said. "They play him at the five some and that will be a very difficult matchup for Jamie (Vanderbeken). He's very quick. He uses spin moves."
In other words, JVB better stay out of foul trouble for Iowa State.
Virginia's backcourt is led by freshman Joe Harris, who is averaging 10 points per game and has made a team-high 20 3-pointers on the season.
"Virginia will get out and run some," Hoiberg said. "They have some guys who can shoot it. Their bigs can really sprint the floor well. They'll run a little bit more than Northern Iowa and again, it is a tough, physical team that will really prepare us going into Big 12 play."
Back to that Northern Iowa comment that I led this column off with. That's the style of ball that Virginia likes to play and the two programs have similar rosters.
"Tony does a terrific job with those guys on the defensive end. It will be similar to how Ben Jacobson (UNI) guards as far as packing it in and making you beat them," Hoiberg said. "Hopefully we will be ready for it."
"In a game with low possessions, you have got to find a way to make those toughness plays, those 50-50 plays. You have got to come out ahead in low possession games."
NOTEBOOK
–       Iowa State and Virginia have met twice in this series' history. Both programs have won a game against the other, with the Cyclones winning the most recent meeting back on Dec. 6, 2004.
–       Iowa State basketball hasn't had a ton of success against ACC's programs historically. The Cyclones are 2-12 all-time vs. ACC schools. One win was against Virginia in 2004. The other came against Florida State in the 2004 NIT.
–       Iowa State is the nation's 11th best 3-point shooting team, making an average of 9.2 treys per game. That mark is the best in the Big 12.
PREDICTION
If this game indeed does turn out to look like the Northern Iowa one, Iowa State's key to victory is pretty simple. Make some shots! The Cyclones shot 33 percent in the loss to the Panthers.
Ultimately, there isn't much that I like about this contest from an Iowa State perspective. Through 13 games, the Cyclones still haven't really shown the ability to play have much success offensively in a half court game. I'm not sure that Jamie Vanderbeken can hang with Mike Scott. If Iowa State is going to win this game, Vanderbeken absolutely cannot get into foul trouble. Iowa State can't afford another Iowa-like shooting performance from Diante Garrett and finding a way to keep the rebounding margin respectable is a must.
Iowa State can win this game. Virginia doesn't hold much of a talent edge over the Cyclones. Iowa State has better guards. I think that this will be close game to the end. Without Mike Scott, I'd pick Iowa State to win this one in a second. But the big man played 31 minutes against Seattle and he got the kinks worked out.
I think that Virginia will use the Ben Jacobson blueprint to hand Iowa State its third loss of the season in a tight, hard fought basketball game.
THE PICK
Virginia 65, Iowa State 62