By Chris Williams, CycloneFanatic.com Publisher
Iowa State (14-7, 1-5) vs. Oklahoma (10-9, 2-3)
Saturday, Jan. 29 * 8 p.m. @ Hilton Coliseum
CTN/ESPN3/ESPN Full Court – Cyclone Radio Network
After the game, tune into 1460 KXNO or KXNO.com for the CycloneFanatic.com/Wilson Toyota of Ames postgame show. Tron Smith and I will take your calls at 866-333-5966, live from Es Tas Bar and Grill located at 216 Stanton Ave. in Ames.
BREAKING DOWN THE CYCLONES
Iowa State's probable starters
G: Diante Garrett, 6-4 Sr. – 17.8 PPG, 5.9 APG
G: Scott Christopherson, 6-3 Jr. – 13.3 PPG, 3.1 RPG
G: Jake Anderson, 6-2 Sr. – 12.0 PPG, 8.0 RPG
F: Melvin Ejim, 6-6 Fr. – 11.0 PPG, 6.8 RPG
F: Jamie Vanderbeken, 6-11 Sr. – 11.9 PPG, 5.8 RPG
It's time to snap out of it boys. Without question, Iowa State is coming off of its two worst outings of the 2010-11 season on Saturday night when an average Oklahoma team will come to town. Last Saturday's loss to Missouri was somewhat expected. Wednesday's blunder against Texas Tech wasn't.
Saturday night's date with the Sooners is as critical as they come. In fact, it might be the easiest (if there is such a thing) game left on Iowa State's schedule (that's a very debatable statement). The Cyclones need a win in the worst way.
A fired up Fred Hoiberg addressed the media after Wednesday's loss and because of that, I can just about guarantee you one thing. I won't promise a win, but I do believe that you won't see an apathetic performance from this team two games in a row.
With travel issues, Iowa State had a built-in excuse for the 33-point loss to Missouri. The Texas Tech game came out of nowhere. Hoiberg and his staff won't let it happen twice. If Oklahoma shows up and actually beats Iowa State, that's one thing. If the Sooners capitalize on uncontested layups and drop 90-plus on the Cyclones then Ames, we have a serious problem.
Some notes/thoughts on ISU vs. OU
–       Jake Anderson has quietly excelled during Iowa State's current three-game losing streak. The senior is averaging 17.3 points per game during the span and he's made 18 consecutive free throws.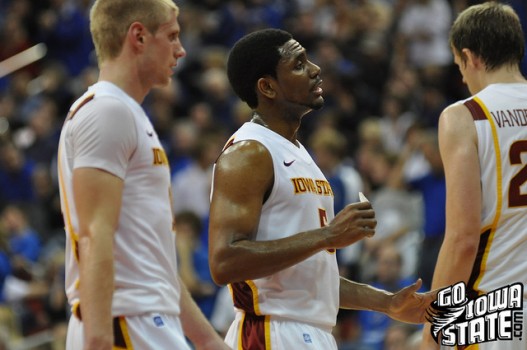 –       Diante Garrett scored 27 points against Texas Tech and he tied a career high in that game with 11 field goals. If Garrett keeps up this pace, I wouldn't be shocked to see him sneak into the second round of the 2011 NBA Draft. While some fans were upset with Garrett's 24 field goal attempts in the loss to Tech, I completely disagree. I think that Garrett should have shot more. It was clearly Iowa State's best offense in a game where the team went 4-of-21 from 3-point range.
–       Keep an eye on freshman Melvin Ejim Saturday night. Ejim has clearly been in a funk as of late. While Ejim has been going in one direction, fellow freshman post Calvin Godfrey has headed the opposite way. Godfrey came off the bench to score 10 points on Wednesday night, which was his third double-digit scoring game of the season.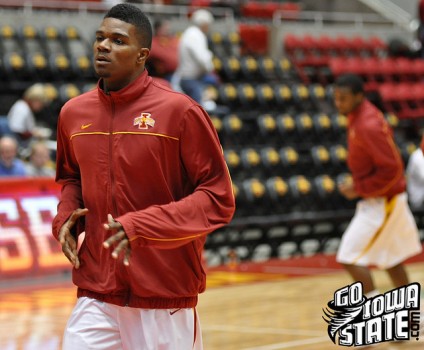 –       Here is my quick analysis of the Ejim vs. Godfrey conversation that you've seen on our forums over the last few days. Ejim is clearly the smarter player on the defensive end. However, Godfrey brings more energy to the team and appears to play harder on that end of the floor. In conference play, the two have been nearly equal from an offensive production standpoint.
–       Another quick Melvin Ejim note…He is a former teammate of Oklahoma's Andrew Fitzgerald. Both players played for the Brewster Academy in New Hampshire during the 2008-09 season.
BREAKING DOWN THE SOONERS
Oklahoma's probable starters
G: Cade Davis, 6-5 Sr. – 13.3 PPG, 5.2 RPG
G: Cameron Clark, 6-6 Fr. – 9.6 PPG, 4.9 RPG
G: Carl Blair, 6-2 So. – 6.8 PPG, 4.8 APG
G: Steven Pledger, 6-4 So. – 11.2 PPG, 2.3 RPG
F: Andrew Fitzgerald, 6-8 So. – 14.1 PPG, 5.3 RPG
Jeff Capel's program is clearly down this season. Oklahoma is paying for chances it took on guys like Tiny Gallon and Tommy Mason-Griffin a season ago. The Sooners are currently 10-9 overall, but they are on a two-game Big 12 winning streak that includes home victories over Texas Tech and Colorado.
One thing that the Sooners do well is shoot the three. Oklahoma is averaging 6.5 treys per game, which ranks fifth in the Big 12. Senior guard Cade Davis is their ace. He's knocked down 41 3-pointers this year, to average 13.3 points per game.
Andrew Fitzgerald looks to be Iowa State's toughest matchup on Saturday night. The 6-foot-8 sophomore forward leads Oklahoma, averaging 14.1 points per game. He's scored 20-plus three times this season.
Overall, this is a very young basketball team that looks to have a fairly bright future. Guys like freshman Cameron Clark (9.6 PPG, 4.9 RPG) have showed promise this season. Four of Oklahoma's five starters are underclassmen.
That's likely one of the man reasons that the Sooners have been so bad away from home this year. In games not played in Norman, Oklahoma is 0-8 on the season.
PREDICTION
Here is the good news about Oklahoma from an Iowa State perspective. They don't have a player like Texas Tech's Mike Singletary, who is capable of going off for 33-points in Hilton Coliseum. That's how Oklahoma beat Iowa State last season. Remember Tommy Mason-Griffin's 38-point outburst? It was plain nasty.
Like I wrote earlier, I don't see any way in which Iowa State comes out as flat as they did against Texas Tech. The Cyclones got down by double-digits early in that game and Hoiberg was hell bent on not letting it happen again.
I think that Iowa State will somewhat find its shooting stroke and the Cyclones will pick up their second Big 12 win of the season.
THE PICK
Iowa State 79, Oklahoma 74