Mar 20, 2022; Milwaukee, WI, USA; Iowa State Cyclones guard Gabe Kalscheur (22) drives to the basket against Wisconsin Badgers guard Johnny Davis (1) during the first half in the second round of the 2022 NCAA Tournament at Fiserv Forum. Mandatory Credit: Jeff Hanisch-USA TODAY Sports
MILWAUKEE — I write the following with all due respect. The 2021-22 men's basketball team is the most overachieving group of athletes I have ever covered at Iowa State. 
However, that didn't really appear to be the case in Iowa State's 54-49 victory over Wisconsin on Sunday night in the NCAA Tournament's Round of 32. In front of a 90 percent Badger crowd (my estimate), T.J. Otzelberger's group of junkyard dogs were simply better than the co-Big Ten champs.
Pretty cool.
Iowa State's perimeter pressure suffocated Wisconsin's guards from the opening tip, and it was all by design dating back to last summer.
In sports, a cliche that gets tossed around is when fans and media like to talk about teams having or not having an "identity."
Iowa State's was clear from the day this team stepped onto campus.
"One of the first things I realized when I came, even in the summer everything is really organized," First-Team All-Big 12 selection Izaiah Brockington said. "Everything was fully planned out and he (Otzelberger) held us all to a high standard. The guys that were new and the guys that were there from the previous years, he let us know, like this is a whole new era, like this is not where you've been before. He didn't really give us an option. It was kind of like get with it or get left. This is how we're going to do it."
That's referring to the dreaded 5 a.m. "soccer field workouts" with strength coach Pete Link.
Brutal. Iowa's summer humidity at 5 a.m., working on "a lot of cardio," to quote Brockington.
There isn't anything fun about that.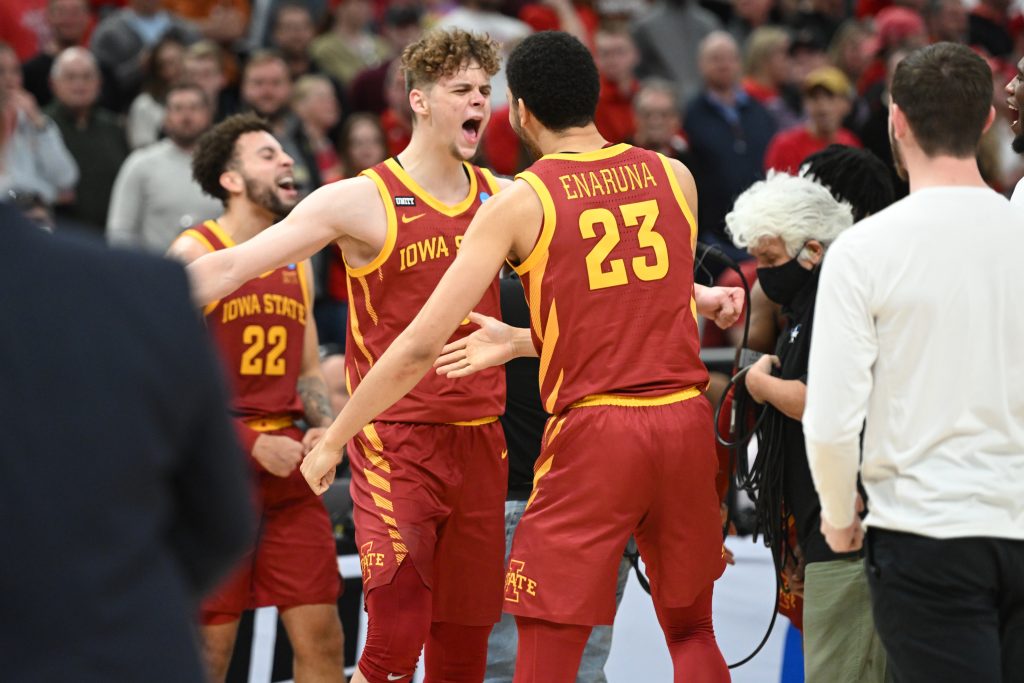 But coming off of a 2-22 mark a year ago, the Cyclones were bound to be one of the least talented teams in the toughest league in college basketball.
How do you compete?
Work harder than everybody else and make up for basketball sex appeal in the margins. The roster is expected to be more talented in the future, but the identity of this group of Cyclones fits Iowa State's fan base and institution perfectly.
"We wanted to immediately instill a work ethic that we knew would stand the test of time," Otzelberger said. "It was important that we brought in players that were willing to work extremely hard, very low ego, high producing guys. We didn't have a mindset of how many wins we might get this year or when would it all happen, when would that process lead to winning and having in-game success."
The players bought into the prickly gameplan – zero questions asked. After an undefeated non-conference record, Iowa State's confidence grew. Here we are today, watching what I've often referred to as a "group of misfits" dancing its way to the Sweet 16.
Do you know how hard it is in the transfer, AAU era of college basketball to get players to drop their individual wants for the good of a team? Especially when you're being asked to play the type of basketball that Otzelberger wanted to instill?
"They're great teammates," Otz said. "So that's important that you bring in the right type of guys so they know what they're signing up for and they take pride in it."
An incredible accomplishment by all involved.
Now onto Sunday specifically, which along with the women's basketball win over Georgia, will go down as one of the most memorable days in Cyclone history.
Make no mistake about it. That was a true road game. Wisconsin fans had rightfully bought up every last ticket in Milwaukee. It was an angry crowd at tipoff. Inebriated. All of that stuff. But the Cyclones were fully prepared for what they were walking into.
"This wasn't enemy territory," senior George Conditt said. "This was just another game. We have played in front of crowds that have been way louder than that. Going to KU is a tough place. Going to Creighton is a tough place."
Shockingly, the crowd was never a factor. That's because Wisconsin, the least turnover-prone team in college basketball this season, gave it away 17 times to the Cyclones. Iowa State's stifling defense controlled the game.
"That's what our identity is, our defense," said Gabe Kalsheur. "Our defense influences our offense and gets us going. We knew coming into the game that we just had to be who we are, who we've been this whole season and just ramp up our defense and ball pressure and they gave it to us, so that really just led our offense."
Defense first. Team first. Not much flash.
"Otzel-ball" isn't always fun, but winning sure is.