Mar 18, 2022; Milwaukee, WI, USA; Iowa State Cyclones guard Izaiah Brockington (1) brings the ball up court against LSU Tigers guard Eric Gaines (2) in the first half during the first round of the 2022 NCAA Tournament at Fiserv Forum. Mandatory Credit: Benny Sieu-USA TODAY Sports
MILWAUKEE — Friday night marked a thrilling return to the NCAA Tournament for Iowa State men's basketball via a 59-54 upset victory over LSU.
Here are 10 thoughts on the big win.
10: Never take NCAA Tournament victories for granted.
All I could think about down the stretch was how sick we were all going to be had Iowa State lost that game.
A few stats that stand out …
— Iowa State's 10 turnovers to LSU's 19. Iowa State had 22 points off of turnovers compared to LSU's eight. Crucial.
— SEVEN 3-pointers from Tyrese Hunter (more on that later). It's a night that you don't want to waste.
— Holding LSU to only seven second-chance points. This was a huge challenge for the Cyclones heading into the game vs. LSU's long, athletic frontcourt.
The underdog Cyclones were clearly the better basketball team and despite expectations being non-existent coming into the tournament, losing this one – due to the way it played out – would have been a massive disappointment.
We'd all be saying "what if" for years.
9: An all-time performance by Tyrese Hunter.
This has nothing to do with "latest and greatest" either.
You'll notice a theme to my thoughts tonight, which perhaps I need to ponder in more detail later this weekend. But NCAA Tournaments are hard to get to. NCAA Tournament games are even more difficult to win.
A freshman put Iowa State on his back Friday night to the tune of SEVEN 3-pointers, 23 points, five steals and three assists.
"It's March Madness," Hunter said. "Everybody got one goal and you've got to go out there and play hard. That's just me playing myself. Like people say, freshman this, freshman that, but at the end of the day I'm a basketball player that's out there with other basketball players that's going out there to compete and win. So I just go out there and do my thing."
The mere difficulty of the deep threes Hunter hit late in the second half will be moments that fans talk about around beers for decades to come.
We all witnessed a "moment" in Cyclone history in this game and should take time to appreciate it.
8: Iowa State shot how many threes?
As encouraging as the turnover numbers were in this one, had you told me Iowa State was going to launch 37 (!!!) threes before this game and I wouldn't have given the Cyclones a chance.
Too often, LSU clogged the lane and forced Iowa State to take contested, long twos or bad threes. It's the same story we have seen down the stretch during Big 12 play. Iowa State is a limited offensive team and there are only so many adjustments that can be made when it's next to impossible to penetrate the paint.
Iowa State – or should I say Hunter – made just enough shots down the stretch to outlast the Tigers.
7: Another shocking stat from the win…
When Gabe Kalscheur and Caleb Grill combine to go 4-of-21 from the field, Iowa State's chances to win are generally next to nothing.
God bless you, Tyrese Hunter.
6: Izaiah Brockington had a quiet 19 points.
That's because it's just what we expect from the senior, which is the best compliment that you can give a player.
5: The low-key player of the game for Iowa State was Aljaz Kunc.
Relentless defense, without much of a box score to go with it.
Kunc set the tone early with two blocks in the first half and used his long wingspan to infiltrate LSU passing lanes all night long.
"I felt like — as soon as Jaž came in, we have a term in our program "instant impact," and you could feel that impact immediately," Otzelberger said. "He was flying around, he was getting deflections around the rim, he made plays early, he was keeping rebounds alive, he was getting rebounds. So many hustles and energy plays. And then defensively he's really smart. He's always in the right spot. He communicates to his teammates. He did a terrific job. He had great energy out there. Even though the stats don't jump off the page, his effort and his energy was terrific."
Iowa State's perimeter defense was relentless for the full 40 minutes and scored 22 points off of turnovers in return.
"I feel like getting stops gives us momentum," Brockington said. "We were focused on stringing stops together, really trying to shrink the floor for them. They got a bunch of athletes, a lot of guys that can really get downhill and drive the ball. So we just kind of tried to contain that, make them kick it out and get contests on their jumpers. But stops are huge for us. We get rebounds and we try to go."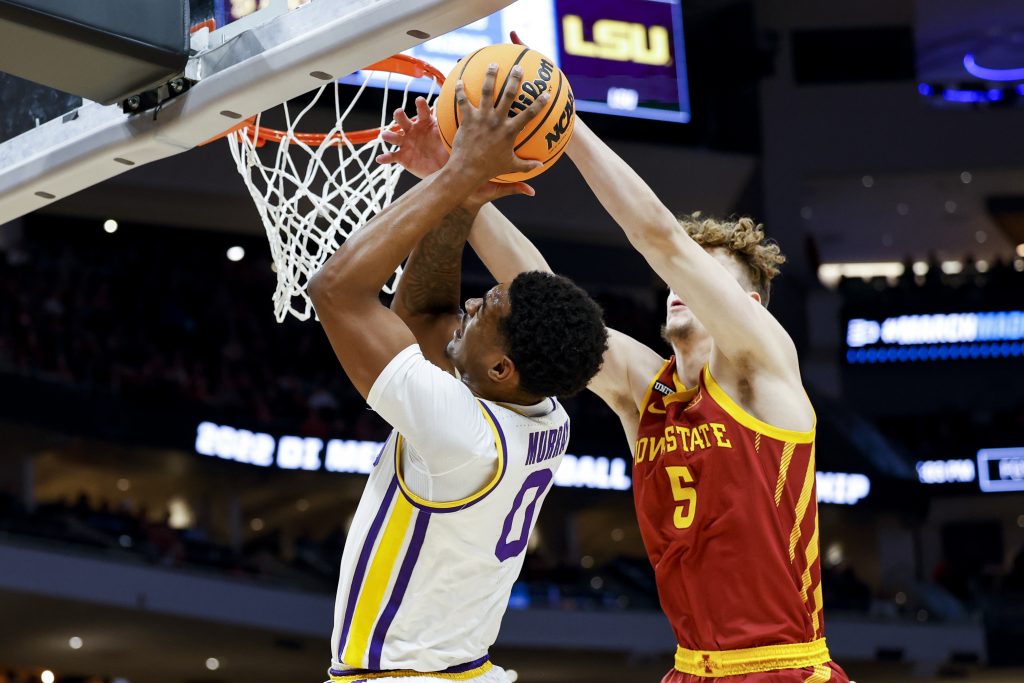 4: A few rotation adjustments to note…
Tristan Enaruna and Tre Jackson played sparingly for the final month of the regular season. On Friday night, Enaruna started and Jackson was back in his role as Iowa State's backup point guard.
Why?
I don't know, but am guessing that Otzelberger was looking for some fresh energy moving into the tournament. Jackson is a high-character guy and stayed locked in during his time on the bench. Enaruna gave Iowa State a solid 10 minutes of play.
Neither player made a huge impact on the game, but them making their way back into the rotation seems notable heading into Sunday's Round of 32.
3: Just in case you were wondering …
I'd say the arena was 90 percent Wisconsin fans on Friday night. Assuming it is Iowa State vs. the Badgers on Sunday, I'm expecting it to play like a true road game for the Cyclones. 
2: Let's talk about the Big 12 for a moment.
The Big 12 just went 6-0 in the first round of the NCAA Tournament.
Iowa State is now 14-0 vs. non-Big 12 teams this season.
"The Big 12, it's the best conference in the country. Top to bottom every night is a battle," Otzelberger said. "There's never a night off. It's a mental and physical challenge as you get ready to prepare for every game, and then you take that challenge. For our guys, we've had stretches where you could see the adversity, you can see the confidence waiver where it's tested us. We've bent at times, but we've never broke. So I think that really prepares you."
So basically, playing in the Big 12 all season helped Iowa State dig deep when it needed it the most on Friday night.
1: It really is surreal to be here again.
Last winter was so depressing. Iowa State's 2-22 record had a lot to do with it. It was difficult to care too much about Cyclone basketball.
I had nothing but confidence the day that my pal T.J. Otzelberger got the job that Iowa State would soon be in an NCAA Tournament again.
I was thinking three to four years.
This team is limited across the board, except for the category of "heart."
"All the credit goes to the young men in our program for how they bought into the work habits," Otzelberger said. "We put a pretty demanding schedule in front of them on what we do every single day, what we demand in the classroom, how we demand that they go about doing everything and they've embraced that. So our confidence has grown throughout the course of the season based on doing simple things on a daily basis each and every day. You don't have the type of turnaround that we have had this season if the young men in your program don't bye in immediately, don't work extremely hard and don't fight through adversity and I'm really fortunate as a coach to have such great young men who embody everything you would want in a student-athlete."
It's a group of gutty dudes who bought into Otzelberger's preseason plan from the second they stepped on campus and thankfully, the season will go on.