Milwaukee native Walter Blount Jr., left, daps Pewaukee guard Nick Janowski after Pewaukee advanced to the WIAA Division 2 state tournament. Blount is an assistant coach at Iowa State and is preparing to take on LSU at Fiserv Forum on Friday.
MILWAUKEE, Wis. — When Iowa State learned of its NCAA Tournament fate last Sunday, attention was immediately placed on the storyline of head coach T.J. Otzelberger and rising star point guard Tyrese Hunter going home to dance.
The two shared a moment on camera, with Coach pointing at the TV, telling Hunter, "You ready to go to Milwaukee?"
The often intense Otzleberger even smiled. It was nice.
These are phenomenal stories, and easy content for us hacks in the media to drool over for a week, which we have.
Meanwhile, a Milwaukee hoops legend who has been crucial to Iowa State basketball's resurgence lurked in the background, not garnering much buzz.
That's generally how assistant coach JR Blount likes to handle his business. Behind the scenes, the soft-spoken Blount has been critical in Iowa State's success this season.
Let's play a little "did you know."
Did you know: First-team All-Big 12 guard Izaiah Brockington wouldn't have come to Iowa State without him.
"The entire coaching staff would contact me, but he was constantly calling and hitting my parents up and things like that," Brockington said. "He's just always there to tell you what you need to hear. He's always looking for things that can be done better. Even if you had a great game, like you going to come in to film the next day and — he's going to find three or four things that you could have did better. He'll acknowledge a good game, but you could do this, this, and this, and we're going to need that in the postseason and things like that. He's really great with that, holding us accountable."
Did you know: Every morning dating back to the summer, Blount has met freshman point guard Tyrese Hunter at 7 a.m. for one-on-one workouts.
Otzelberger gives Blount a ton of credit for Hunter's development during the season.
Their relationship goes back much farther than Ames too. Blount, who came to Iowa State via Niko Medved's staff at Colorado State, offered Hunter early in the process to play in Fort Collins.
"I recruited Tyrese before he blew up!" Blount said with a laugh. "I already had a great relationship with him and his brother Brian, and I was able to keep that relationship when I got the job from day one."
That bond between Blount and Hunter – including the staff's overall Milwaukee ties – was crucial for Iowa State keeping his commitment following the firing of Steve Prohm – who Hunter signed to play under.
"JR's a mentor of mine," Hunter said. "Always making sure my head's on straight, always telling me what I need to hear, not what I want to hear. That's a big thing. We built a relationship as soon as he got into the program. He just let me know where I can improve at, where I'm good at, and how I can fit into the program. So it's just been clicking ever since. He's like a big brother to me."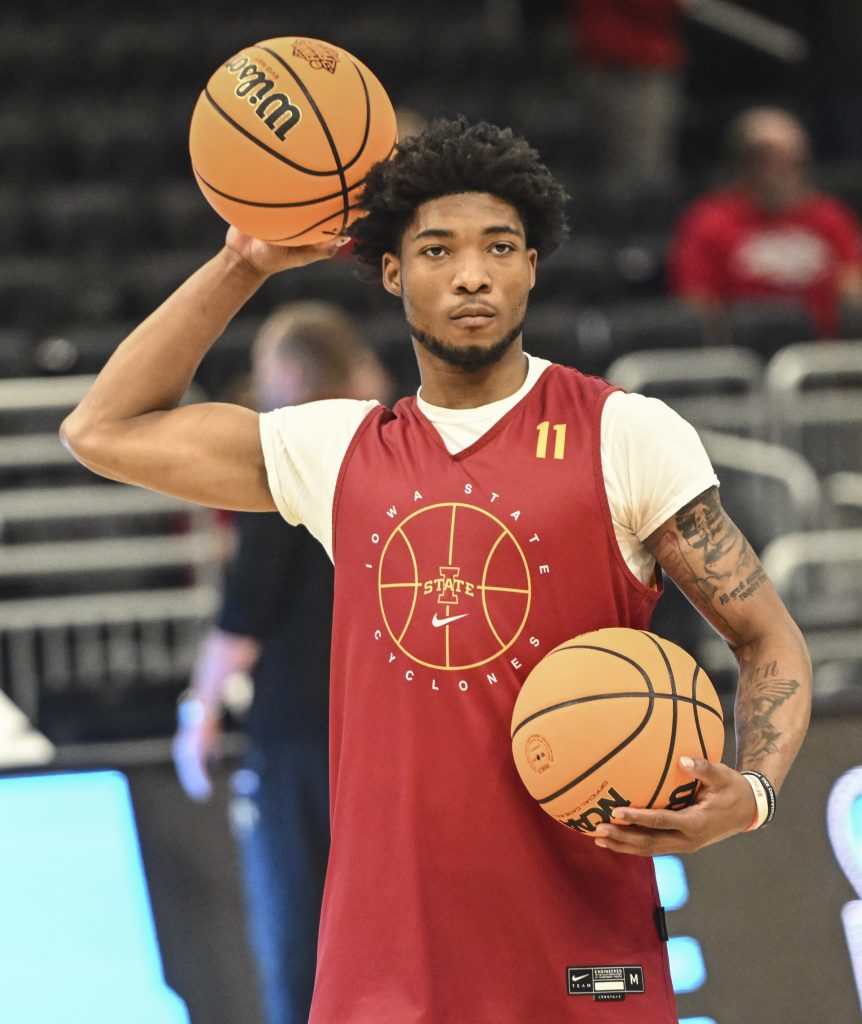 That's huge for a young point guard who was asked to step in from day one and be an on-the-court leader for this team. Hunter, a Racine native, was the Big 12's Freshman of the Year after averaging 10.8 points and 5.0 assists per game this season.
"He is a relentless kid," Blount said of Hunter. "He's somebody who wants to work and wants to get better. That's who he is. He has that mentality. It is a privilege for me to be able to work with him and see him grow."
Did you know: Blount's history with Iowa State go way back, too, all stemming from his Milwaukee ties.
Remember former Cyclone from early in the Greg McDermott era, Mike Taylor (an Otzelberger recruit)?
"He's my guy," Blount said.
The two played AAU ball together, along with other former Cyclones, Diante Garrett, notably.
"I know all of those guys," Blount said.
A Milwaukee native, Blount was Wisconsin's 2005 Sports Player of the Year during his senior season at Dominican High.
Wisconsin boasts a small but passionate basketball community. Between Otzelberger and Blount, Iowa State is as well-positioned to blanket Milwaukee as any program in the country.
"Everyone knows everyone," Blount said. "It's not a ton of people, so you try to get as many to stick together as you can. It's very tight."
Blount played college ball at Loyola-Chicago, where he was a three-year captain and two-time MVP, never averaging fewer than 11 points per game in his college career.
Ask anybody in the business, and they will tell you that JR Blount will be one heck of a head coach in the future. But for now, it's nice to acknowledge what he has done as an assistant thus far, helping to rebuild Cyclones.

Otz and Hunter are great stories, but during this opening weekend of the NCAA Tournament, JR Blount has come home, too.