It has been a while, but with a rejuvenated basketball program who would want to also rejuvenate their side hobby in the winter months?
Truth is, whether I organize and attach words to all of this stuff or not, I'm already diving into it on a daily basis so I figured I may as well share it and hope to influence the discourse in a positive way.
My aim here is to steal from Luke Winn's old column on Sports Illustrated where he would profile at least one film or statistical nugget for each of his top 25 teams.
My focus will obviously just be on Iowa State, based on my observations, but center it on the week's recent games and the upcoming slate.
Shockingly, I'll aim for five of these… each week… on Friday. Super original.
Note that most or maybe almost all of this info will be derived from extremely useful sites like kenpom.com and barttorvik.com.
Big 12 Defenses
Maybe you have heard, but basketball in the Big 12 right now is basically the antithesis to Big 12 football 12 years ago. The strength is in the defense. On KenPom, four of the nation's top 10 defenses reside in the Big 12, seven in the top 30, and all 10 in the top 53.
But what I want to talk about is more about the components of the defenses. By now I think (*really, really hope*) that everyone is familiar with Dean Oliver's Four Factors but basically the four factors are the primary stats that contribute the strongest to scoring are, in this order: effective field goal percentage, turnover rate, rebounding rate, and free throw rate.
Knowing that, and making this chart on barttorvik.com to compare the Big 12's defensive effective field goal percentage and the turnover rate to every other league should be eye-opening. The Big 12 far and away creates more turnovers than any other league's defense and it also restricts the shooting percentage of opponents more than any other league. The turnover rate is on the x=axis and the effective field goal percentage is on the y-axis, to the right and up are the better defenses in each category, respectively.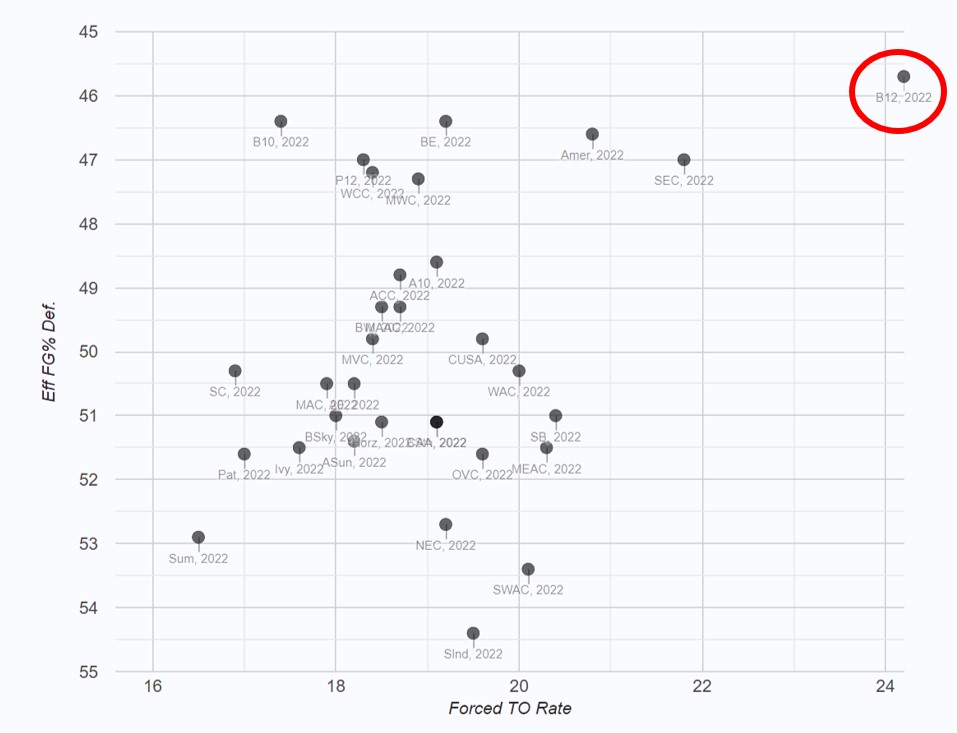 Baylor and Free Throw Rate
In the aftermath of the close loss to Baylor a lot has been made on the overall quality of the team, the thin margin on the scoreboard, and especially making just one of 14 three-point attempts. But a few things emerged offensively that should be a source of promise (despite nothing of promise happening for this offense just one game later).
There was the emergence of Tristan Enaruna who exploded for 23 points and eight rebounds with extreme efficiency from the floor. In fact, Enaruna became just the second non-Baylor player to win a KenPom MVP of the game when playing against the Bears this season. In 12 of their 14 games, a Baylor Bear won that honor, the only other Baylor opponent to do that was DJ Horne from Arizona State.
There were the 44 points in the paint that the offense was able to generate against a very good defense that has a top 15 defense on two-point shots.
But the other was the ability to get to the free-throw line and convert. This season is the first time that Iowa State has had a top 100 free throw rate (FTA/FGA) in college basketball since Larry Eustachy roamed the sideline in 2002 (that year the Cyclones were #8 in free throw rate). Only one other Cyclone team since then has been in the top 150 of college basketball.
It isn't "Hoiball" and it won't get Len Elmore to proclaim that anyone is hotter than fish grease, but getting to the free-throw line for even an average free throw shooting team—so not Texas Tech, apparently—is typically the most efficient way to put points on the board. Right now Iowa State is 75th in the country in getting to the free-throw line and continuing that trend will go a long way to prop up the offense to be paired with their national top-five defense.
Texas Tech, Ranked Wins, and Low Scoring
With the win over Texas Tech, the Cyclones now have three wins over teams ranked in the AP Top 25 and no other team in school history has gotten to that number by an earlier date in the season than January 5th. Ever.
The 2014 and 2015 teams each four by the end of January, the 2014 squad owns the record for Top 25 wins in a season with nine.
Much will be made of the offensive output, and that is probably okay since the last time Iowa State won a conference game with 51 points or fewer was on Feb. 10, 1979, when they beat Nebraska 48-46 in Lincoln.
The last time the Cyclones won a home conference game with that low of a point total was on Feb. 15, 1964, when ISU beat Oklahoma State 50-48…in overtime. Yikes.
And on a random note, remember that Princeton team that upset defending champion UCLA in the 1996 NCAA Tournament? They played in Ames earlier that season, a game the Cyclones squeaked out by almost the exact same score as Wednesday night, 50-47.
Assists Matter
One of my favorite stats to pay attention to that is not included in the aforementioned four factors that have a decent correlation to scoring success is assist rate.
This is interesting because it is one of the few stats that are not directly related to scoring (like effective field goal percentage) or creating chances to score (offensive rebounds or turnovers).
Regardless of your current opinion of the Cyclone offense after mustering 51 points at home versus Texas Tech, one thing is clear about the trend of offensive style under TJ Otzelberger; offense will look to create more from player and ball movement than isolations and ball screens. The benefit on offense is that scoring isn't as dependent upon one or two players making shots or creating off the bounce and defensively it forces opponents out of rhythm and into those individual shot-making situations.
Below is the comparison of TJ Otzelberger to previous coaches and their year by year offensive assist percentage (assists/field goals made):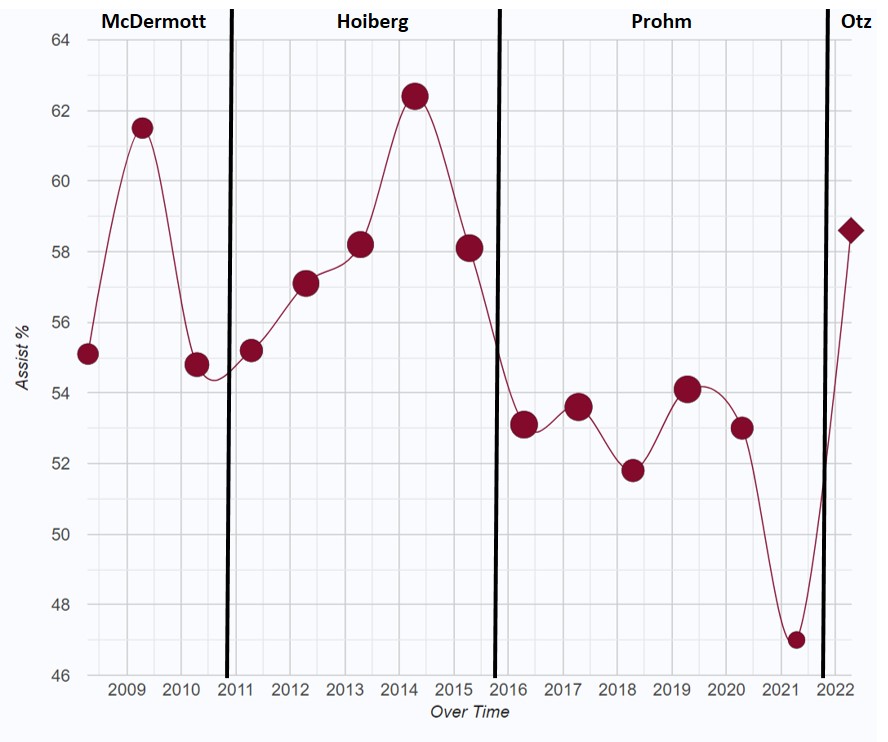 Obviously, one data point doesn't exactly make a trend, but in my opinion, this is a good sign for the type of offense that will be most successful in Ames.
Conversely, the defense is forcing the lowest assist rate since Greg McDermott left. Regardless of your thoughts on his tenure at Iowa State, he had better defenses year in and year out than Steve Prohm and Fred Hoiberg.
The Next Two
Oklahoma: I think the Cyclones will have a great chance to limit the Sooners offensively as they are a team that turns the ball over the 284th most in the country, which should also create quality scoring chances. They do not normally get to the free-throw line all that often but Iowa State has the propensity to change that. The most dangerous aspect of the Sooners is that they are shooting 70 percent (#9) on close two-point shots and generating those looks at a high rate.
Offensively the Cyclones really just need to take care of the ball and make more shots than they did on Wednesday night. They're not likely to become a top 100 offense this season but turnovers are one of the most detrimental yet controllable facets they can improve in a season as an average shooting team.
Kansas: Winning in the Phog is never easy and never really expected. Kansas has two of the top five performers this year in the league in Christian Braun and Ochai Agbaji with a bevy of talent in support. In the past, this match-up has been so enjoyable because both teams played a similar brand of basketball at a high level offensively. Iowa State will have to completely muck it up and hit shots at a rate that we haven't seen since playing Xavier and Memphis. Kansas just isn't as likely to turn the ball over an insane amount, especially at home.
Much has been made of the difficulty of the first six conference games and getting to 3-3 would be an absolutely fantastic start. In order for that to happen the Cyclones will likely have to win in Norman. But really, a 2-4 start is more than acceptable and they will not really even be hurt by a 1-5 start as long as they can stay in a good mental place and bounce back promptly.