I'm not much of a BS'er, believe it or not, but I haven't caught a whole lot of Red Raider basketball so far this season. Even if I had the time to watch college basketball until my eyes were bleeding, I'm guessing that wouldn't be much different.
But, I watched the second half of their game at Oklahoma State earlier this week and the first half in Manhattan a couple of weeks ago, so let's give this a go.
Tubby's Texas Tech is 10-9 (0-6) on the season with their "best" win being over Auburn in Lubbock by a score of 46-44. Every other win they have is over teams 200+ in the Pomeroy ratings. But, they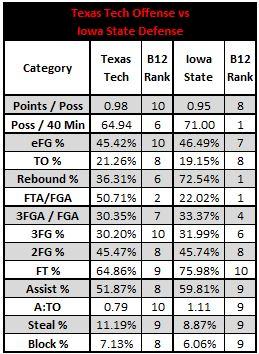 did blow the win at LSU that was ultimately a 69-64 loss in overtime and they lost by single digits at home to Texas, by 11 at home to West Virginia, and by seven in Manhattan.
When the Red Raiders have the ball…
Quite simply, not a lot of good things happen.
They have the worst scoring efficiency in the conference and play at a moderate tempo just under 65 possessions per game. Their offense is highlighted by getting to the free throw line at the second highest rate in the league, though their free throw percentage is ninth so they don't capitalize there as much as they should.
They're sixth in rebounding percentage, which may not seem great but a lot of that is because the Big 12 is chock full of great offensive rebounding teams. But the Red Raiders 36 percent offensive rebounding rate is a very respectable 37th in the country.
The Cyclone defense is built to combat the few strengths for the Tech offense with the best rebounding percentage and defensive rebounding rate in the Big 12.
Everything else is pretty u-g-l-y with bad shooting and lacking assist numbers.
It is probably worth noting that in 19 games, the Red Raiders have notched an effective field goal percentage of better than 50 percent in just six games (all against really bad teams) while Iowa State has done that in all but two games (Maryland and South Carolina).
When the Cyclones have the ball…
The ISU offense is actually almost perfectly inverted to the Tech offense. Great shooting and assist numbers with an unimpressive rebounding rate and pretty low free throw rate.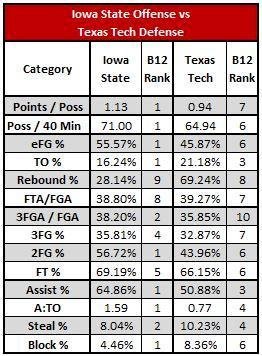 The Tech defense isn't really worth writing home about but it is an upgrade over their offense. They have a respectable scoring efficiency and defensive effective field goal percentage while forcing quite a few turnovers.
Texas and Oklahoma State are the only two teams of note that TTU has forced into nearly as many turnovers as their average shows – it's a number largely based on weaker competition – but that will be an area of importance for the ISU offense.
Tech is allowing 3-point attempts at the highest rate in the Big 12.
One of their biggest strengths that could stifle the Iowa State offense is that they allow just half of made field goals to be assisted. Assist rate has been a big driver to the Cyclone offense being at its best.
The players report…
 One of the first things I try to get a look at with these tables is to get a feel for red versus blue from Iowa State to their opponent. All of the shading is done by column to compare all of the players against each other. As you can see, there is definitely a lot more red on the top half and a lot more blue on the bottom.
Based off the offensive team report for Texas Tech, you probably assumed there wouldn't be much to strike fear into your hearts on the individual level either. And, you're mostly right.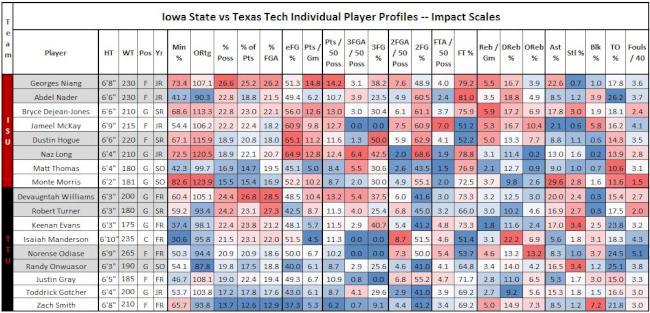 Devaugntah Williams has been there go to guy as a freshman and is their leading scorer and has an identical usage rate to Robert Turner. Williams has to be kept track of outside the arc and the story is the same for fellow freshman Keenan Evans. Both are shooting right near 40 percent from distance and they aren't too shy about pulling the trigger.
Inside the arc, Turner, big man Isaiah Manderson, Justin Gray, and Norense Odiase do the most damage by getting off over six attempts per 50 possessions and making over 45 percent of them.
Zach Smith leads them in rebounds per game as a freshman but the best defensive rebounding rate belongs to Manderson while Odiase is the leader on the glass on offense. Williams, Turner, and Evans can all create for their teammates and have the leading assist rates on the team.
Keys to the game…
Texas Tech is not a good basketball team. They could beat Iowa State but in no way should they even sniff the Cyclones. Barring anomalies occurring in a number of areas where the Cyclones have strengths, the Red Raiders will have a hard time sticking with Iowa State.
The concern for games like this that I have is getting off to a good start without pressing too much. There's a tendency to try and jump out to a 20 point lead immediately which can lead to bad shots. I think that can be exacerbated for teams like Iowa State that want to play fast. The empty possessions can pile up quickly on offense while the other team is patient and grinding out points at the other end.
The Cyclones will need to attack in transition when the opportunity is there but when it isn't they have to be patient and get good unforced looks.
Keep Tech off the line. Eliminate their second chances with offensive rebounds. Avoid the silly turnovers. Don't allow their shooters to get hot. And, make a shot or two.
That isn't rocket science or exceedingly different than usual but the extent that they need to win those categories is far less than usual. Do all of that and, oh by the way, just be ready to play; sitting at 4-1 in league play and tied for first place is great but with the Texas game looming the Cyclones need to take care of business in Lubbock first.
I think Iowa State will play fairly well and gradually pull away to a comfortable 15 point lead in the second half that will likely get brought back inside the ten point range before all is said and done.