Tyrese Hunter brings the ball up the floor in his Iowa State debut against Kennesaw State. The Cyclones beat the Owls 84-73 at Hilton Coliseum. Credit: Jacqueline Cordova/Cyclone Fanatic
AMES — Iowa State and Kennesaw State might have set basketball back several decades on Tuesday.
That's the biggest downside from a game that allowed the Cyclones to officially reach the halfway point on their 2020-21 win total and moved T.J. Otzelberger to 1-0 as Iowa State's head coach.
There were quite a few positives from the Cyclones' 84-73 win over the Owls at Hilton Coliseum. There were some negatives, too, but none bigger than the 57 fouls and 46 turnovers combined by the two teams during the contest.
It was a game that completely lacked rhythm and probably left the good Dr. James Naismith rolling in his grave. Regardless, the Cyclones are 1-0 and coming off a season that saw the program sink to rock bottom, going 2-22 and failing to win a single Big 12 game, that's as much as you can ask for at this point.
Here are the takeaways:
1 – Another Tyrese with the it-factor
Tyrese Hunter was held back from playing the minutes Otzelberger would probably like to see from his freshman point guard due to three first-half fouls, but it would be hard to walk away from this game feeling like Hunter doesn't have all the tools to be a special player.
The rookie from Racine, Wis. just has that it-factor that allows him to be a floor general at a young age. We heard that before once about a youngster from Wisconsin with the same first name.
"The fouls put him in a challenging spot because we were trying to manage that even through the first half," Otzelberger said. "He had good composure when he came back in. He's a guy that bounces back from things. A lot of times with guys when things aren't going their way, they struggle to get it going. What I've seen from Tyrese is he has tremendous maturity for a freshman. Overall evaluating his performance, he did some good things. I have a lot higher bar and expectation of how he can play and I know he'll do that."
Hunter totaled 11 points on 3-of-6 shooting from the field and 2-of-4 from deep while adding six rebounds, five assists and four steals. He also had only two turnovers, which was a low number for this game, but is still something Otzelberger will surely want to clean up.
Iowa State simply operated better when Hunter was the one on the floor dictating the team's offense. He's the true point guard Iowa State has sorely needed since Tyrese Haliburton's 2019-20 season was cut short with a wrist injury.
Hunter also has the tools needed to be an elite-level perimeter defender even once this team reaches the Big 12 stages of its schedule. He's quick with his hands and feet but smart with knowing when to take advantage of them, which is why he was able to tally four steals despite having four fouls to his name.
"Tyrese is a really high IQ player," Otzelberger said. "He's got great character. He's got great knowledge of the game. He sees things before they happen. He'll be a guy that gets a lot of steals here within the realm of our defense without gambling… He'll be a really good defender as we move forward. I think the challenge is when you come in even as a freshman, how hard you have to play in stretches and completing possessions is a new challenge. Like everything with Tyrese, he'll hit that head-on and he'll do a great job moving forward."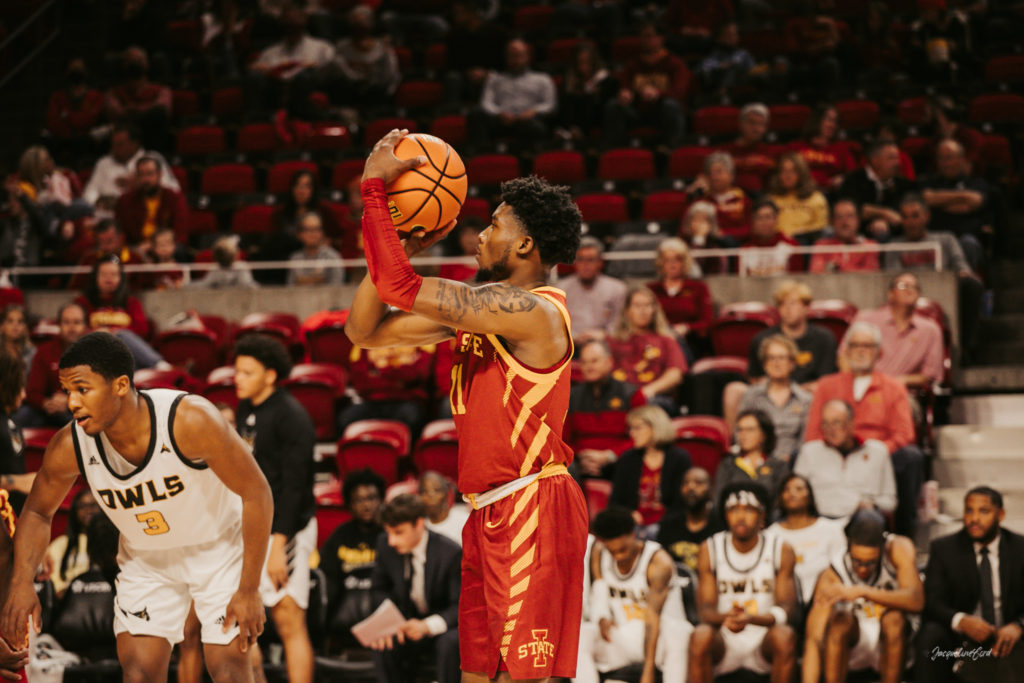 2 – Brockington, The Bulldog
Izaiah Brockington's Iowa State debut was cut short by (you guessed it) foul trouble as he was slapped with his fifth when six minutes were still left on the clock.
Still, Brockington did more than enough to impress in his 27-plus minutes of play, tallying 18 points on 6-of-10 shooting, six rebounds, two assists and two steals.
"Izaiah's a gifted player," Otzelberger said. "He's an aggressive attacking guy offensively. Defensively, he sets the tone for our ball pressure and disruption. We turned them over 24 times. That's something we've been doing in our scrimmages. We've been turning people over with our aggressiveness and he's usually the guy that sets the tone."
The Penn State transfer is a menace to stop once he gets going downhill in the open floor, as best exhibited by an and-one early in the second half in which the defender tried to meet him early and higher up the paint, but Brockington was able to get the ball over the top and into the net.
He also showed off a nifty mid-range game with a couple of difficult fallaway shots that you'd hope will keep teams honest enough and prevent them from sagging towards the lane to keep him from driving.
Brockington is also right there with Hunter, and Gabe Kalscheur, in really being able to put pressure on opposing ball-handlers. I don't know how many games this team will win this season, but I know there will be a lot of Big 12 coaches talking in their press conferences this season about Iowa State's three-headed monster of perimeter defenders.
"He's somebody that takes tremendous pride in guarding the basketball," Otzelberger said. "He takes tremendous pride in rebounding the ball. As you saw at times, he can be electric getting downhill attacking and he's got a unique mid-range he's been very successful with… We expect great things from him and I know he'll continue to rise to the occasion."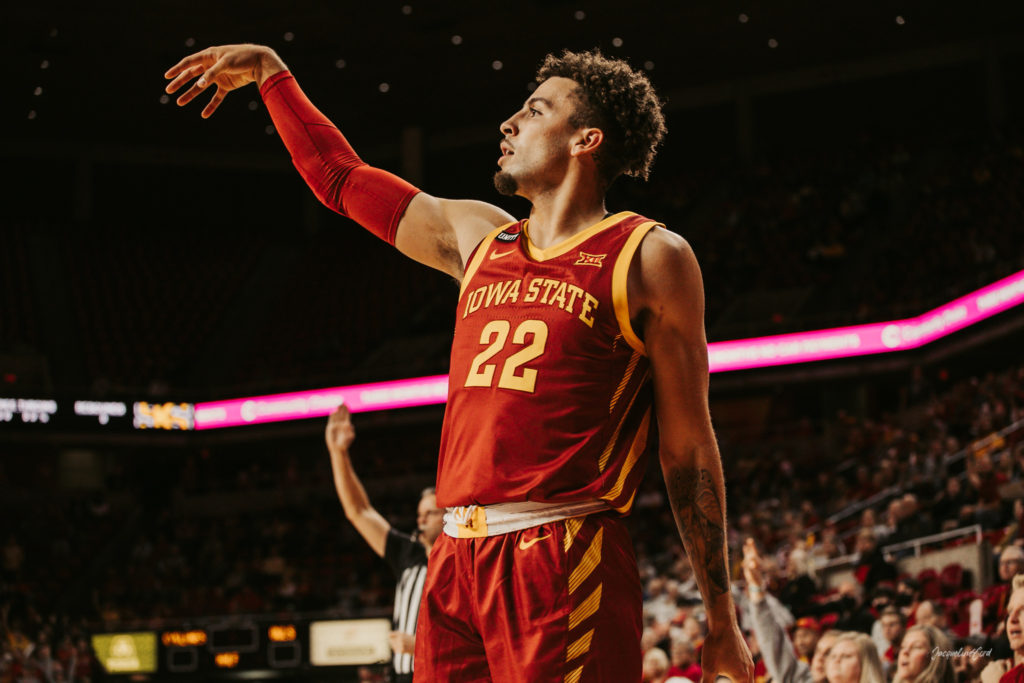 3 – Kalscheur and consistency
Kalscheur is one of the guys that I feel the need to really reserve judgment on coming out of this game. I already noted how much I like his defensive ability alongside Hunter and Brockington, but his offensive game seems to remain a work in progress on some levels.
The Minnesota transfer scored a team-high 19 points, but it came on 5-of-11 shooting from the field, 1-of-6 shooting from deep and 8-of-13 from the free-throw line. Add a team-high six turnovers and it's hard to get much of a read on exactly what kind of player Iowa State will be getting on a night-to-night basis this winter.
Kalscheur was much more aggressive attacking the rim than he was in his time with the Golden Gophers, which is a big positive if it can be sustained. Otzelberger and his staff need Kalscheur to get more consistent as a shooter, though, if nothing else but to keep driving lanes open for himself, Brockington and Hunter as the season moves forward.
"Gabe's a very complete basketball player even though in the past he was pegged more as a shooter," Otzelberger said. "He's a guy that can do a lot of things. Tonight, when they were chasing him off screens, I liked how he was curling into the paint and getting to the basket… We need to be a team that gets to the paint and gets to the foul line off the dribble. It was great to see Gabe do that tonight."
4 – Navigating the frontcourt
Denver transfer Robert Jones earning the start in his first game as a Cyclone might have come as a surprise to some, but wasn't to people who have heard the things said about Jones behind the scenes the past few months.
Iowa State's staff loves Jones' motor and his physicality in the paint. He's also not a guy who requires involvement in the offense to stay engaged in the game, which is nice when you've got guards more than capable of scoring the ball on their own.
Jones did not attempt a field goal in his Iowa State debut but added two points off free throws, four rebounds, two assists and a block in 11-plus minutes.
It was refreshing to see the George Conditt I expected we would see coming off an up-and-down (but mostly down) last season and a half as a Cyclone. He's clearly dedicated himself to being in the best shape of his life and leaving every ounce of energy out on the floor to help his team.
That translated into nine points on 4-of-4 shooting from the field, including a pair of loud slam dunks, four rebounds, an assist and numerous possessions where he changed shots at the rim in 24-plus minutes. Hopefully, the rebounding numbers will go up moving forward, but this game was undoubtedly the best ball Conditt's played in the last two years.
That by itself is encouraging for this team.
"Those guys have been a two-headed monster for us," Otzelberger said. "Their games are different. What we ask them to do is a little bit different. Tonight, George was a little bit more effective. I think his experience of having played games in this building and knowing the magnitude, certainly served him well. At times, he did a great job sprinting up and down the floor to help create opportunities for us offensively."
"At the same time, I've got a lot of confidence in Robert. He earned the starting job through what he does each and every day. He brings a physicality to us. I know he'll play better as well and it's great to get that first one under his belt."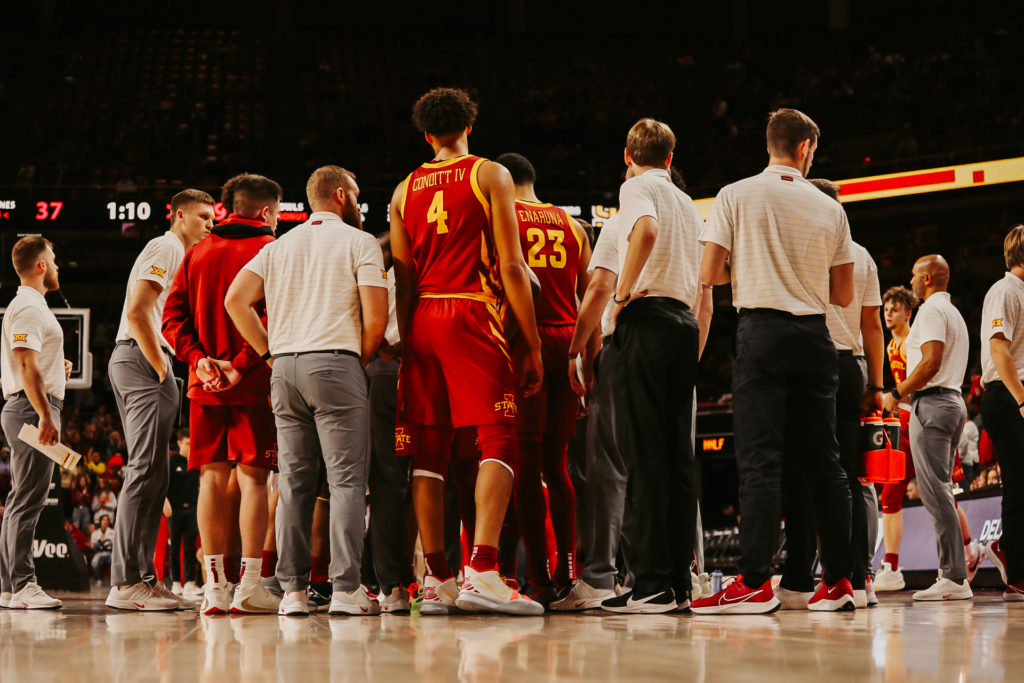 5 – One last point…
What I'm about to say is going to sound really harsh, but there's no way to say it without some level of edginess.
The things Iowa State did on Tuesday night, especially offensively, looked like real basketball. I hate to say this, but that has not always been the case around this building in recent years.
The amount of standing around was decreased significantly. The ball stuck in people's hands considerably less than it did in the latter years under the prior regime and there seemed to be a clear-cut and understandable game plan on that end.
Again, as harsh as it is to say, that has not always been the case around here in recent years.
Defensively, the Cyclones flew around largely as a unit, forcing Kennesaw into numerous difficult contested shots. The Owls made some of those shots and the Cyclones certainly could have done some things to avoid racking up so many fouls, but there is clearly significant progress just from a standpoint of the hustle and defensive unity compared to what we saw in the past few seasons.
Like I noted earlier, I have no idea how many games this team is going to win. It could be more than most people think and, if that's the case, it will be due to a program-wide desire to play like freaking junkyard dogs.
They're not going to be more talented than a lot of the teams they play this season, especially once they get to Big 12 play. That means to stay in games they've got to be tougher and they've got to want it more than opponents.
That fact is honestly no different than where we were with this program before, but in the past, the toughness and desire rarely (and I mean very rarely) ever actually translated onto the basketball floor despite it being a constant talking point from the program's leader.
Nobody knows at this point if these things are going to be sustained, but it at least feels good to see it come out and be visibly clear on the floor for the first time in a long time.
It looked like Iowa State knew what they wanted to do and, for the most part, did those things how they were supposed to be done. I hate that it can't be said in a less harsh way, but it is what it is.
It was nice to see Iowa State play something resembling basketball again.
Even if the game was set back a few decades in the process.