Nov 10, 2017; Columbia, MO, USA; Missouri Tigers guard Kassius Robertson (3) passes the ball as Iowa State Cyclones forward Jeff Beverly (55) and guard Terrence Lewis (24) defend in the first half at Mizzou Arena. Mandatory Credit: Jay Biggerstaff-USA TODAY Sports
COLUMBIA, Mo. — I said on The Iowa Clinic pregame Facebook Live Friday night that I thought Iowa State's game against Missouri would come down to how the Cyclones were able to handle everybody besides Michael Porter Jr.
I'd spent the entire week talking up the No. 2 recruit in the country, but I felt the biggest difference in the game would be what the Cyclones did to try and counteract his brother, Jontay, Kevin Puryear, Jordan Barnett and freshman big man Jeremiah Tilmon.
Uh, well, I guess I was right.
At that point, I had no clue Porter Jr. would only play two minutes due to a hip injury suffered in warmups. I had no idea Missouri's supporting cast would be forced to become the main characters in a game that was hyped as the arrival of college basketball's next big thing.
To put it simply, the supporting actors might deserve a nod for the leading roles. Puryear and Barnett played well leading the Tigers with 17 and 15 points, respectively.

Tilmon looked like a grown man scoring 14 points, grabbing seven rebounds and essentially owning the paint for the 25 minutes he was on the court. Jontay Porter is probably biggest 17 or 18-year old I've ever seen in my entire life and I'm willing to bet he is going to be really good once he figures out the college game.
Iowa State on the other hand had no answer for the Tigers as the home team shot 53 percent from the floor, knocked down 10 3-pointers, out-scored the Cyclones' bench 32-17 and in the paint 28-20.
The only statistical category Missouri did not win was turnovers — the Tigers had 17 to Iowa State's 13 — but even then Iowa State only scored 15 points off of them compared to Missouri's 11. This was an absolute domination from start to finish. Iowa State literally never led, and by the end, it was clear which was the better team — at least on this night.
Who will be the better team by the end of the season? Only time will tell, but there is no questioning it on Nov. 10.
Here are three more thoughts from Iowa State's loss to Missouri.
1 — I can't be the only person who did not see Donovan Jackson's struggles coming.
The senior finished the game with six points on two 3-pointers and went 2-of-9 from the field while grabbing one rebound and committing two fouls in 26 minutes. There weren't any openings whatsoever for the player most people expect to be Iowa State's leading scorer in 2017-18.
It felt like Jackson was forcing things for the majority of the game and even when the team made a conscious effort to get him a look they weren't able to free him up enough to make a difference.
"I've got to do a good job trying to get him free more and try to get him some good look," Iowa State head coach Steve Prohm said after the game. "We started him on the ball and Nick (Weiler-Babb) started doing a good job in his stretch when he was on at the one so we kept Nick at the one. He had nine shots, but we've got to get him more involved and we have to have him scoring for us."
Jackson and Weiler-Babb, are going to have to be the steady hands in Iowa State's backcourt. We all see the talent freshman Lindell Wigginton oozes when he gets on a roll, but he is still going to make freshman mistakes.
I very, very highly doubt we see many more performances like the one in Columbia from Jackson moving forward this season. Frankly, Iowa State can't afford to see many more of them.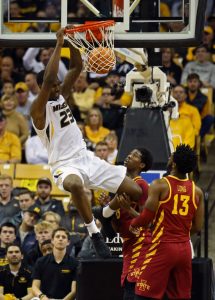 2 — Iowa State's defensive rotations were downright ugly at times.

I had multiple basketball people I respect a great deal texting me during the game to say watching it made them sick to their stomachs. I imagine it is how Jay Jordan felt watching Iowa State football defenses from 2013-16.
It did not matter if it came off of dribble penetration, firing at someone in the post, whatever. Missouri was finding open man after open man for open shot after open shot.
When asked where he saw defensive breakdowns in the postgame press conference, Weiler-Babb said, "Everywhere" and he wasn't that far off from reality.
"We had breakdowns in the post. We had breakdowns on guys getting past us. Offensive rebounds," Weiler-Babb said. "I feel like it's everywhere. We have a lot to work on and we'll do that. We've got a lot of season left, but this was a good game to kind of judge where we're at."
The positive thing is adjustments can be made on the defensive end of the court. I think Iowa State's guys are willing defenders, so this is not a case of trying to force people who don't want to play defense to do it.
This game against a talented roster exposed some things Iowa State has to improve on moving forward this season. I still think there is the talent and athleticism on this roster to make it a pretty solid defensive team.
"We really have to get honed in on transition defense, we've got to get honed in on executing our scouting report," Prohm said. "We doubled the post but they split the double or when they didn't split the double we didn't have our shutdown guy, so it was easy rotations for them to get it out. Little things like that."
3 — 39.3/31.6/45.5
Those numbers are not the scoring offense averages of Iowa State's next three football opponents. They are the percentages the Cyclones shot from the field, from 3-point range and the free throw line Friday night.
I wrote after the exhibition game I did not think the struggles from the field or from three were really much to worry about. I also wrote the number on the free throw line — 61 percent, which seems not so bad after Friday — had to change.
Iowa State is now 26-of-47 from the free throw line in its two games we've seen publicly. That's 55 percent — or five percentage points below what Northern Colorado shot as a team last season when they finished No. 347 (dead last) in free throw percentage nationally.
Now I know it has only been two games – one of them being an exhibition – but I'm trying to put that number into perspective. You might remember there was a point in the second half Friday night when Iowa State pulled within eight points and Wigginton missed both freebies in a trip to the line.
Missouri almost immediately went on a 12-0 run that slammed the door shut on an Iowa State rally. I'm not saying it was because of the free throws, but missing two shots that literally have free in the name is a complete and total momentum killer.
How do you fix this stuff? Really, there's only one thing that can be done.
Guys have to get to the gym and work their tails off — which I'm confident they are. I think things will eventually fall back towards the mean at some point, but I know for a fact I'm not the only person who is frustrated by the way things have gone for Iowa State shooting the ball at this point.
"I'm going to beat my head over the wall," Prohm said (jokingly I think). "It's my job to make it easier for the guys. I'm the head coach, that's my job. If we're not making shots, if we're not making free throws, I hope we do, but I've got to get these guys in better position to be successful. I'm going to be the hardest on myself and I'll go look at the tape. The hard thing and the thing I've got to do a good job of is I can't overload these guys. Let's just find one thing and we can be really good at it and get really darn good at that. We're not going to be a team right now that can run 10 sets or 3-5 things in transitions, it's just not going to happen right now. I thought we probably did have some looks that you've got to make, but we have to continue to get more looks and better looks and that's my job to do that."