Oct 3, 2020; Ames, Iowa, USA; Iowa State defensive end Will McDonald IV (9) celebrates a sack during their football game at Jack Trice Stadium. Iowa State would go on to defeat Oklahoma 37-30. Mandatory Credit: Brian Powers-USA TODAY Sports
Iowa State released its first official depth chart of the 2021 season on Monday and while most of it shook out as one would have expected, there were a few interesting things to point out.
First of all, here's the full depth chart: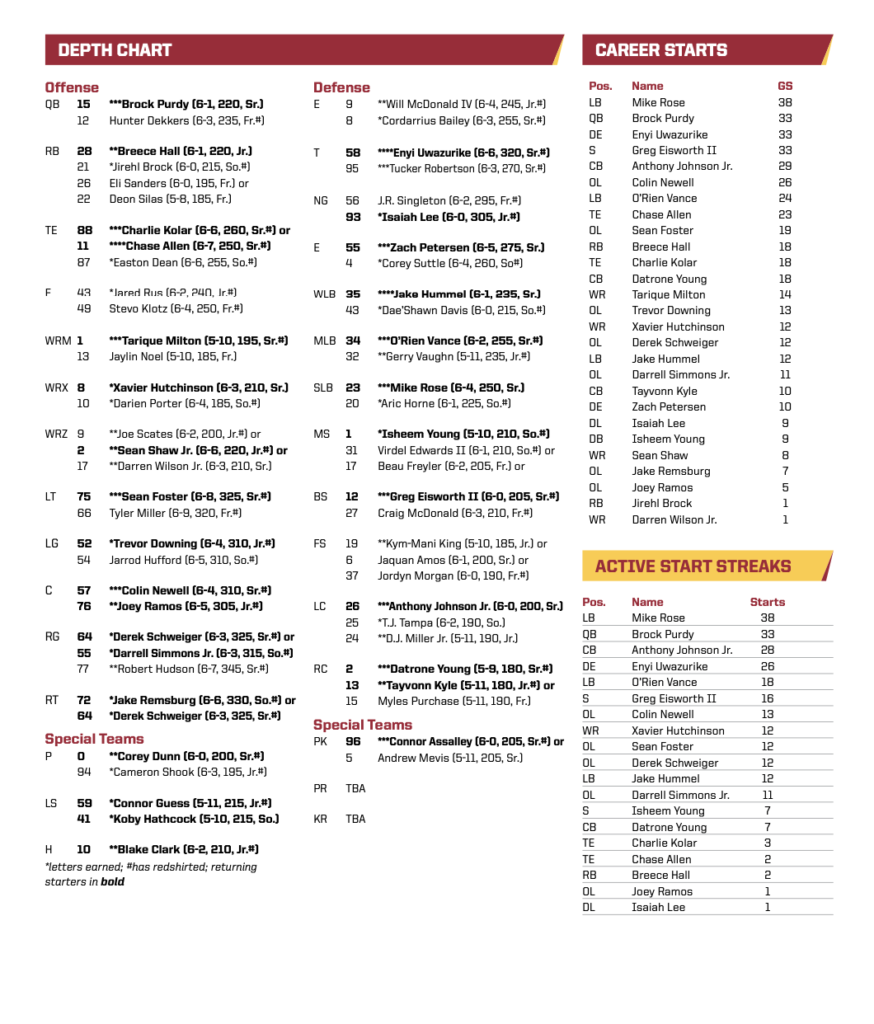 Here are the things that stick out to me…
*** It looks like a solid top-six has emerged along the offensive line with Sean Foster (LT), Trevor Downing (LG) and Colin Newell having their starting positions locked down. Derek Schweiger's versatility comes into play as he's listed as the co-starter at right guard and right tackle, joining Darrell Simmons (RG) and Jake Remsburg (RT).
*** Joey Ramos moves to center? That's intriguing…
*** All-Big 12 defensive end Will McDonald and redshirt freshman nose guard J.R. Singleton are each slated to make their first career starts on Saturday against Northern Iowa. Whoever emerges from the three-man battle at field safety (Kym-Mani King, Jaquan Amos and Jordyn Morgan) will also make their first start at Iowa State.
*** There won't be any backup quarterback questions this fall. That job belongs to Hunter Dekkers and solidifies him as the odds on favorite to replace Brock Purdy in 2022.
*** Iowa State is in a solid spot at the M-Receiver with Tarique Milton and true freshman Jaylin Noel as the top-two. Same can be said about the X-Receiver spot which is held by Xavier Hutchinson and backup Darien Porter. It is nice to know Porter, a redshirt sophomore from Bettendorf, has made enough of a jump to make the two-deep.
Meanwhile, the Z-Receiver spot is still being sorted out between Joe Scates, Sean Shaw and Darren Wilson Jr. All three guys will get plenty of snaps I would imagine.
*** Noel is one of five true freshmen to make the two-deep, joining Beau Freyler at middle safety, Myles Purchase at right cornerback, Eli Sanders and Deon Silas at running back. I wouldn't be surprised if this group of first-year players sees the field as much as or more than any other Campbell and his staff have brought to Ames. There are some real dudes in that group.