Oct 26, 2019; Ames, IA, USA; Iowa State Cyclones quarterback Brock Purdy (15) throws a pass against the Oklahoma State Cowboys during the first quarter at Jack Trice Stadium. Mandatory Credit: Jeffrey Becker-USA TODAY Sports
The end of the decade is less than a month away.
Over the next three weeks, Cyclone Fanatic will be celebrating the decade of Iowa State Athletics with All-Decade teams, looks back at some of the decade's most influential games, moments and athletes and more.
Our series begins today with our Iowa State 2010s All-Decade football team as voted on by CF publisher Chris Williams, staff writer Jared Stansbury, senior writer Rob Gray, columnist Brent Blum, contributor Kevin Fitzpatrick, stats guru Kirk Haaland, football analyst Jeff Woody, podcast contributors Steph Copley and Alisa Woods and intern Connor Ferguson. The series continues next week the unveiling of our All-Decade basketball team followed up a week later by a comprehensive look back at the decade, including naming the CF Cyclone of the Decade.
First, some numbers that explain the decade that was in Iowa State football.
*** 51-73 – Overall record
*** 31-58 – Conference record
*** Five bowl appearances
*** Nine wins over ranked teams
*** Nine College Football Playoff poll appearances
*** 11 weeks spent in the AP Poll
*** Achieved 500th win in program history on Oct. 14, 2017, with a 45-0 victory over Kansas.
Without much further ado, here is Cyclone Fanatic's Iowa State All-Decade football team as voted on by our panel.
Unanimous selections to the team are noted with an asterisk and players listed as honorable mention selections are others who received votes.
Quarterback
Brock Purdy, 2018-Present*
The Iowa State quarterback who defined the 2010s very well could be the one who goes on to define the 2020s as well. Heck, before Purdy's career in cardinal and gold is over he could be one of the defining players of the program's entire history.
Few players in the program's 122-year history have made as big of an impact early in their careers as Purdy. A native of Gilbert, Az., Purdy has essentially completely rewritten the Iowa State passing record books in just two seasons.
In 2019 alone, Purdy has set new school records for completions, passing yards, passing touchdowns, total offense, consecutive games with a touchdown pass and touchdowns accounted for on his way to earning second-team All-Big 12 honors, just the second Cyclone quarterback to do so in the Big 12 era. As of this writing, and with one game still to play in his sophomore season, Purdy has completed 441-of-665 passes in his career for 6,010 yards and 43 touchdowns, add in his effectiveness using his legs and he's accumulated 6,583 yards of total offense, all numbers that rank inside the top-five in program history.
The image of a true freshman Purdy high-stepping his way into the end zone on an October Saturday afternoon in Stillwater in 2018 will live in the minds of Iowa State fans forever. That game was his breakout moment and the first of his 11 conference wins as the program's primary quarterback, which is tied for the school record.
So, yeah, this was an easy choice.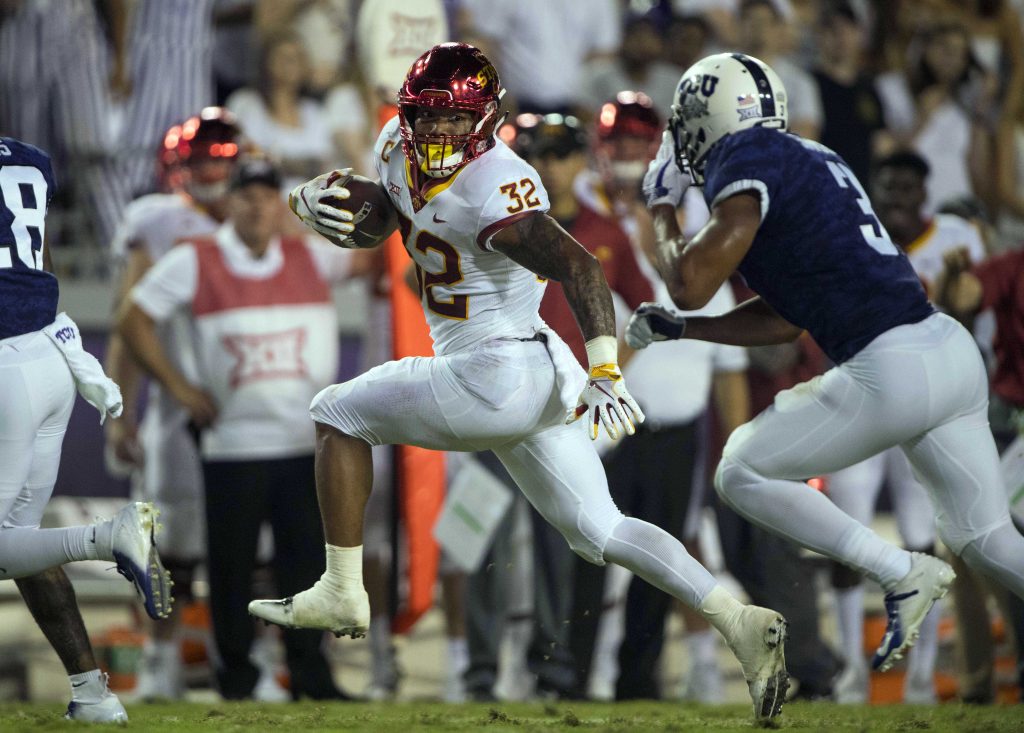 Running Back
David Montgomery, 2016-18*
Week after week, David Montgomery did something that made you say, 'wow.' Whether it was throwing defenders aside with one arm, reversing field after an initial run action broke down or dancing into the end zone and throwing two fingers up towards the sky, the Cincinnati native was one of the most electric players in all of college football.
He was a two-time first-team All-Big 12 selection and accumulated 2,925 rushing yards (sixth in program history) to go along with 26 touchdowns (tied for eighth in program history) despite running behind less than stellar offensive lines during his three-year career. None of this includes the impact Montgomery made on the program off the field, often attributed as the player who completely changed the mentality of Iowa State football in the winter of 2016.
Iowa State certainly could have better running backs in the future, but there will never be another one like David Montgomery.
Alexander Robinson, 2007-10
Robinson played only one season in the decade, but he certainly left his mark on the program, compiling 3,309 rushing yards before his career was done, good for fourth in school history. As a senior in 2010, Robinson ran for 946 yards and nine touchdowns on his way to earning team MVP honors.
Honorable mentions: Mike Warren, James White, Shontrelle Johnson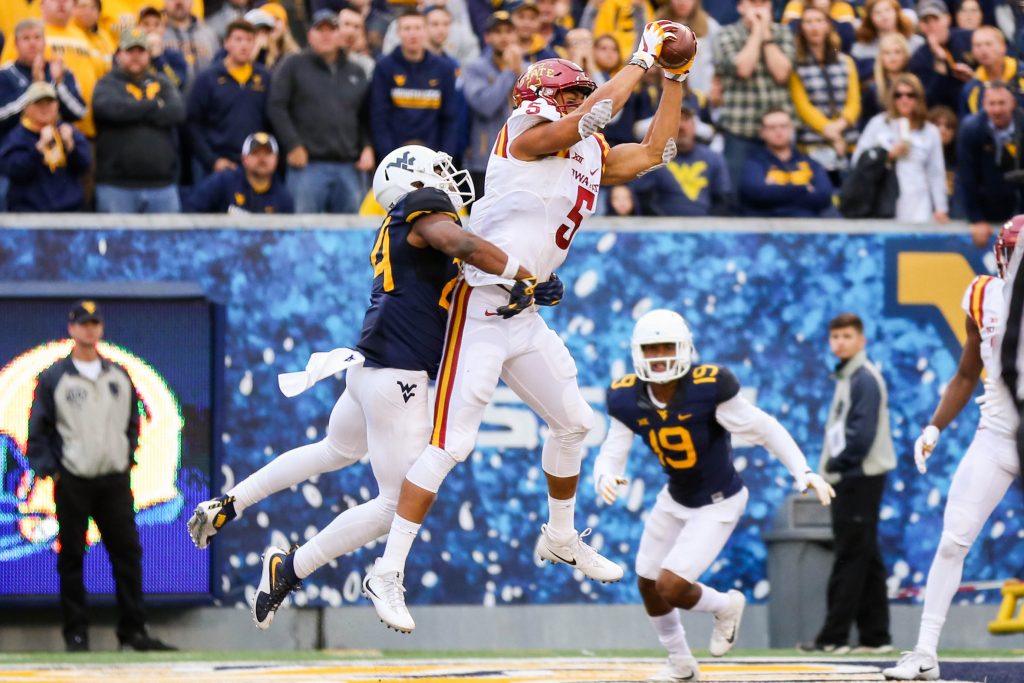 Wide Receiver
Allen Lazard, 2014-17*
As Jeff Woody noted on his ballot, Lazard was the most dominant Cyclone since Troy Davis. The Urbandale native arrived in Ames with massive fanfare, including a still surreal moment in which then-head coach Paul Rhoads held Lazard's National Letter of Intent high above his head during his signing day press conference.
Lazard left Ames as the school's all-time leader in career receptions (241), career receiving yards (3,360), 100-yard receiving games (12) and consecutive games with a reception (48 or every game of his career). He also has the second, third and 10th most receptions in a single-season in program history, fourth and sixth most receiving yards in a single-season and single-season school record for receiving touchdowns.
He was one of the most automatic weapons in the history of Iowa State football while earning first-team All-Big 12 honors in 2016 and 2017 along with being the MVP of the 2017 Liberty Bowl.
Hakeem Butler, 2016-18*
Perhaps the most electric player in the program's recent history, Butler was a human highlight reel capable of taking every single reception to the end zone. His 2018 season as a junior was one of the best statistical seasons in school history, compiling a program-record 1,318 receiving yards on 22.0 yards per catch plus nine touchdowns receptions.
Despite playing only three seasons in Ames, the one-time two-star recruit finished fourth in program history in receiving yards (2,149), second in 100-yard receiving games (eight), third in touchdown catches (18), third in consecutive games with a catch (28) and holds the school-record with 19.5 yards per reception.
Butler capped his career by earning first-team All-Big 12 and All-American honors by multiple outlets in 2018.
Deshaunte Jones, 2016-Present
Despite playing second (or third or fourth) fiddle to the two guys mentioned above during the first three years of his career, few Iowa State pass catchers this decade could match the consistency of Jones. He burst onto the scene as a true freshman in 2016 recording 37 receptions for 536 yards and six touchdowns, all marks that rank in the program's top-five by a rookie.
A member of Matt Campbell's first recruiting class at Iowa State, Jones will leave Ames second in program history in receptions (180 and counting) along with being just the sixth Cyclone to record more than 2,000 career receiving yards (he stands at 2,007 entering the bowl game).
As a senior in 2019, he has caught 72 balls for 832 yards, numbers that rank second and ninth, respectively, for a single-season in school history while earning a second-team All-Big 12 nod.
Honorable mention: Quenton Bundrage, Darius "Money" Reynolds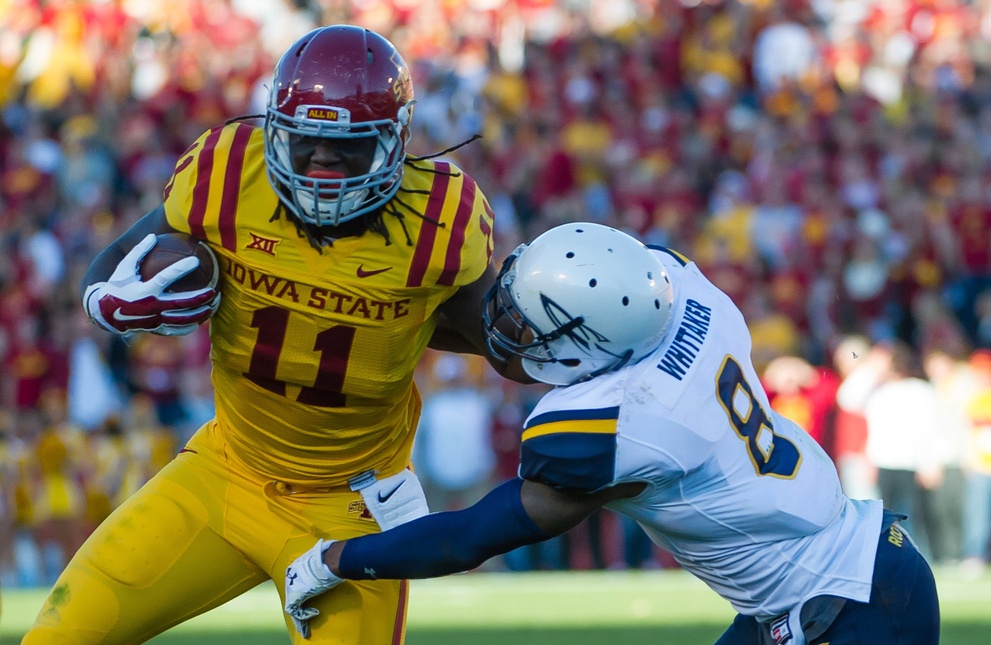 Tight End
E.J. Bibbs, 2013-14*
Bibbs was one of the few bright spots during a pair of Iowa State seasons that amounted to a combined five wins. He wrapped his two-year career with 84 receptions for 844 yards, which rank third and fourth by tight ends in Iowa State history.
Bibbs was named an All-American and first-team All-Big 12 in 2014 after catching 45 passes for 382 yards and eight touchdowns, a single-season school-record by a tight end.
Charlie Kolar, 2018-Present*
At his current pace, Kolar will go down as the most productive tight end in the history of Iowa State football. Through two full seasons that have each earned All-Big 12 honors, including a first-team nod this season, the Norman, Okla. native has recorded 59 receptions for 812 yards and 10 touchdowns, all numbers that rank inside the top-six by a Cyclone tight end.
In 2019, Kolar earned All-American honors on the field to go along with Academic All-American honors in the classroom after catching 48 passes (second-most by a tight end in program history) for a school-record 675 yards and seven touchdowns.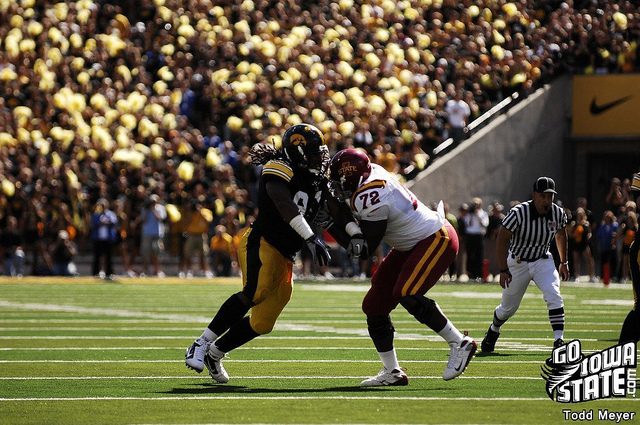 Offensive Line
Kelechi Osemele, 2008-11*
Before going on to be one of the highest-paid offensive linemen in football, Osemele started 25 games in the decade and was an All-American plus first-team All-Big 12 selection in 2011. Jeff Woody wrote the man they call "KO" is "the best offensive lineman Iowa State has ever had, and I don't know if it is even close."
Jake Campos, 2014-17
Injuries that were a product of being forced to play too early in his career probably kept us from ever seeing how good Campos could truly be in cardinal and gold. Regardless, the West Des Moines native started 36 games and was second-team All-Big 12 in 2017.
Tom Farniok, 2011-14*
The model of consistency along the Iowa State offensive line in the first half of the decade, Farniok started 47 games, tied for the second-most in program history, and earned honorable mention All-Big 12 honors twice.
Julian Good-Jones, 2016-Present
No player in the history of Iowa State football has started more games in their career than Good-Jones. The Cedar Rapids native has been the Swiss Army Knife upfront during Campbell's tenure in Ames, playing nearly every position during his school-record 49-consecutive starts. He was a first-team All-Big 12 selection at tackle as a senior this season.
Josh Knipfel, 2017-Present
Knipfel joined the program prior to the 2017 season as a transfer from Iowa Western Community College then proceeded to start all 38 games of his career. He was a two-time honorable mention All-Big 12 selection and was one of the biggest linchpins in the growth of Iowa State's offensive line during the last three seasons.
Honorable mention: Carter Bykowski, Hayworth Hicks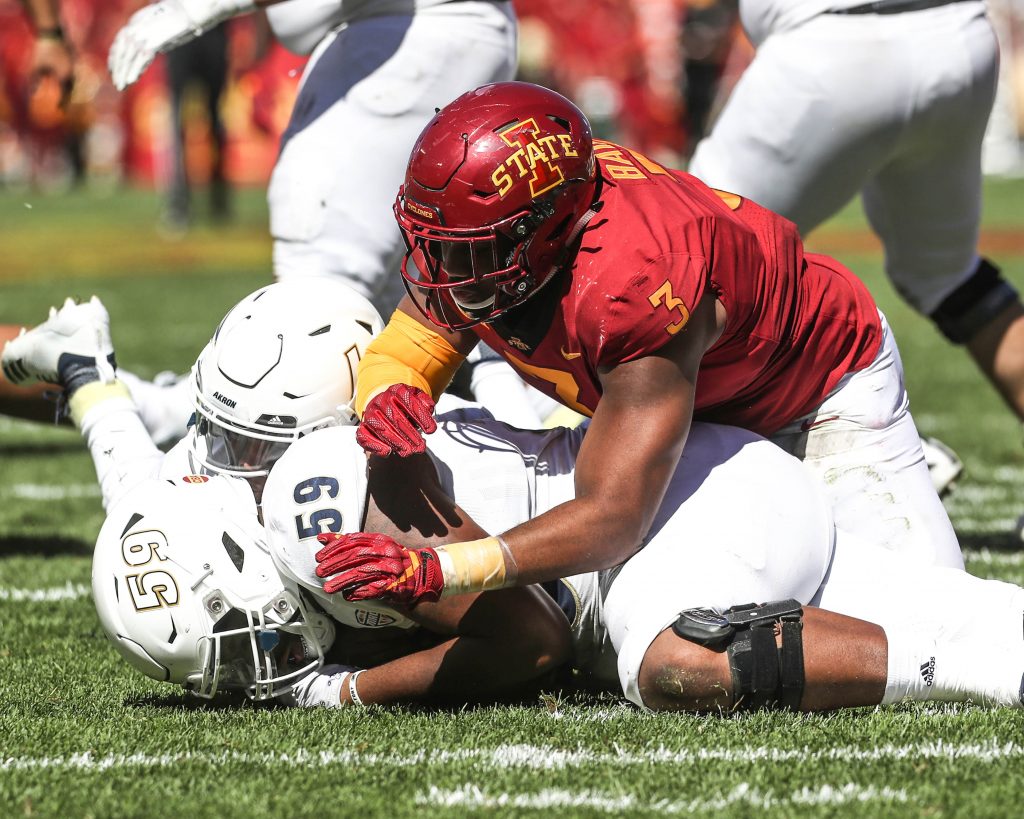 Defensive Line
JaQuan Bailey, 2016-Present*
A foot injury kept Bailey from being able to pad his stats for the decade in 2019, but what he did during his first three collegiate seasons was more than enough to earn him a unanimous spot on this list. Bailey will play his redshirt senior season in 2020 looking to break a tie as the program's all-time leader in sacks with 18.5.
Jeff Woody wrote, "Bailey started out with being a selfish defender who didn't fill right often, but grew into a great complimentary teammate and allowed this defense to make the pivot that it did." The man Jeff would only refer to as "No. 19" during the first season and a half of his career recorded 113 tackles and 31.5 tackles for loss in the decade along with being named second-team All-Big 12 in 2018.
He will more than likely leave the program as the most productive defensive lineman in Iowa State history considering he is already tied for the career sacks record and the career tackles for loss record is more than within reach.
Ray Lima, 2017-Present
No single player was more important in Iowa State's rise to being one of the Big 12's best defenses than Lima. The first-team All-Big 12 selection in 2018 and second-teamer in 2019 has recorded 86 tackles, 10.5 tackles for loss and 0.5 sacks during his three years at Iowa State.
While the stats have not always matched his importance, Lima more than fulfilled the promise Campbell's staff saw in one of the nation's best JUCO recruits during the 2017 recruit cycle.
Jake McDonough, 2010-12
Before he was known for filling our Twitter timelines with slapping beats, McDonough was one of the Big 12's most-feared defensive linemen, recording 88 tackles, five sacks and 13 tackles for loss in three seasons. He was a first-team All-Big 12 selection in 2012.
Cory Morrissey, 2012-14
Despite playing during some lean years for the Iowa State defense, Morrissey was highly-productive accumulating 110 tackles, eight sacks and 17 tackles for loss during his three seasons while earning back-to-back honorable mention All-Big 12 selections.
Honorable mention: J.D. Waggoner, Dale Pierson, David Irving, Jake Lattimer, Cleyon Laing, Brandon Jensen, Jamahl Johnson, Demond Tucker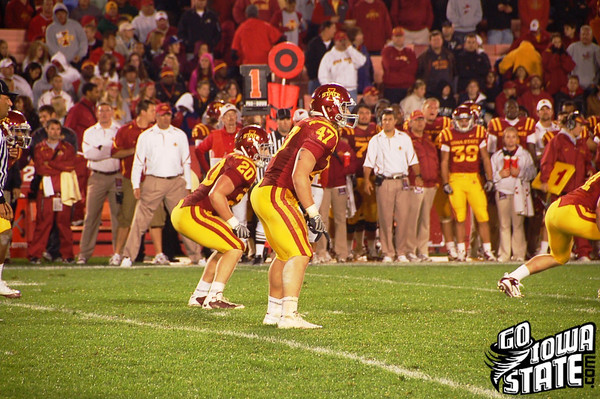 Linebackers
A.J. Klein, 2009-12*
No names in the history of Iowa State football are more synonymous with each other than Klein and the next player on our team. The Big 12 Defensive Player of the Year in 2011, Klein finished his career with 361 tackles, 20 tackles for loss, five interceptions, four defensive touchdowns and three sacks.
The two-time first-team All-Big 12 honoree finished his career fourth in program history in tackles and is the only Cyclone to ever win a conference player of the year award on the defensive side of the ball.
Jake Knott, 2009-12*
It is fitting that Knott and Klein sit side-by-side on the Iowa State career tackles charts. Knott, a two-time All-Big 12 selection with a first-team spot in 2012, recorded 347 tackles (fifth in program history), 18 tackles for loss, 10 forced fumbles, eight interceptions and 1.5 sacks.
Few duos in the history of Iowa State football can match Knott and Klein's productivity or importance to the program during their careers. They were one of the best linebacking tandems in college football for at least two seasons and probably would have garnered considerably more national acclaim had they played later in the decade as Iowa State's profile grew.
Jeremiah George, 2010-13
The third man in Iowa State's run of great linebackers during the early part of the decade, George became a star in his own right in 2013 after playing alongside Klein and Knott during the first three years of his career. He was a first-team All-Big 12 as a senior that season and finished his career with 225 tackles, 16 tackles for loss, 3.5 sacks, three forced fumbles and two interceptions.
Side note from Stanz: The Texas running back fumbled at the goal line and George's career forced fumbles total should be one higher. You probably could have added a defensive touchdown to that list of production, as well in that case. Nobody who was in the stadium on that Thursday night will ever forget the sight of Paul Rhoads on his knees pleading with the officials and it garnered one of the great multimedia moments in CF history and one I'm kind of glad I wasn't in attendance for because I would have been marginally terrified so shoutout to the OG CF intern Matt Van Winkle.
Honorable mention: Willie Harvey, Marcel Spears, Joel Lanning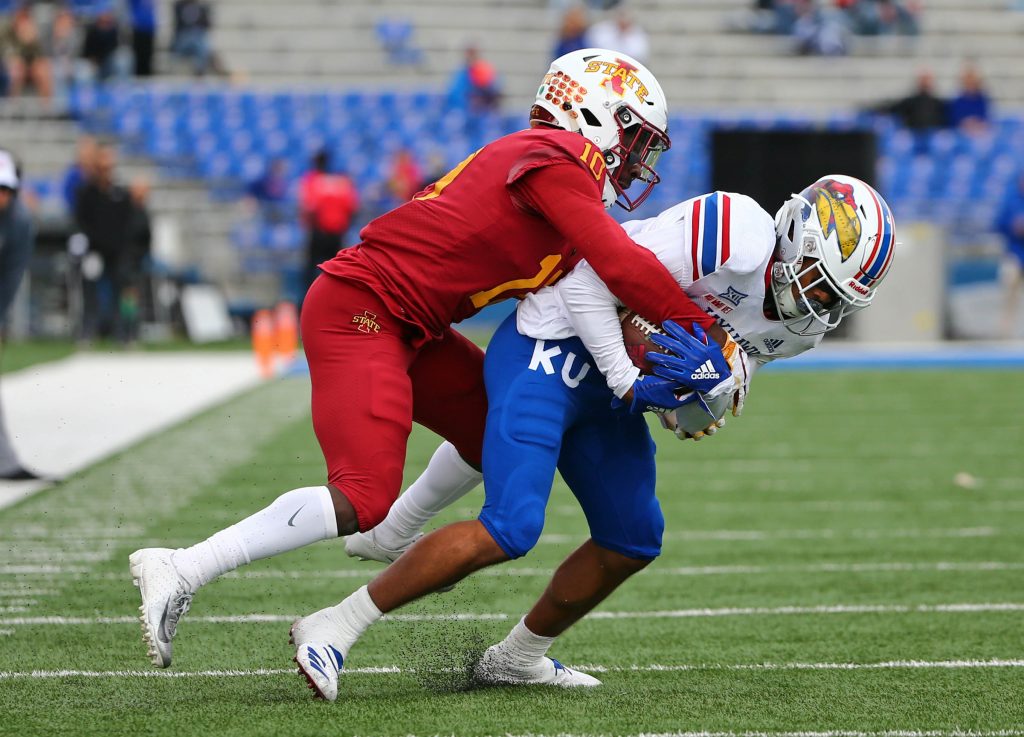 Defensive Backs
Brian Peavy, 2015-18*
One of the best pure cover corners to ever wear an Iowa State uniform, Peavy was a four-time All-Big 12 selection, earning two second-team nods in 2017 and 2018, plus a Pro Football Focus All-American as a senior. Despite being a little undersized, Peavy recorded 289 tackles, 15 tackles for loss, six interceptions, six forced fumbles and 2.5 sacks.
There have been some great cornerbacks to come through Ames, but Peavy would have a case as the best ever.
Kamari Cotton-Moya, 2014-17
One of the most important pieces of Jon Heacock's first great defense, Cotton-Moya was a first-team All-Big 12 pick in 2017 after making the second-team the prior season.
The 2014 Big 12 Defensive Freshman of the Year recorded 250 tackles, 9.5 tackles for loss, three interceptions and two touchdowns, including a pick-six in the program's thrashing of eventual NFL MVP Patrick Mahomes and Texas Tech in 2016, during his career.
Leonard Johnson, 2008-11
Prior to spending parts of six seasons on NFL rosters, Johnson was a two-time second-team All-Big 12 honoree in the first two seasons of the decade at Iowa State. In those two years, the Clearwater, Fla. native recorded 136 tackles, 4.5 tackles for loss and two interceptions.
Greg Eisworth, 2018-Present*
Outside of Ray Lima, there might not be a player who has been more important to the growth of Iowa State's defense than Eisworth. The two-time first-team All-Big 12 honoree is the biggest reason the Cyclones can play the scheme they do and it has allowed him to flourish during his first two seasons in Ames.
Prior to the bowl game, Eisworth has recorded 147 tackles, 7.5 tackles for loss, two interceptions and a sack in two seasons. He likely would have had the potential for a solid All-American campaign in 2019, but a shoulder injury severely held him back during the latter half of the season.
He will enter 2020 as one of the best defensive players not only in the Big 12 but in all of college football.
Honorable mention: Jacques Washington, Ter'ran Benton, Jeremy Reeves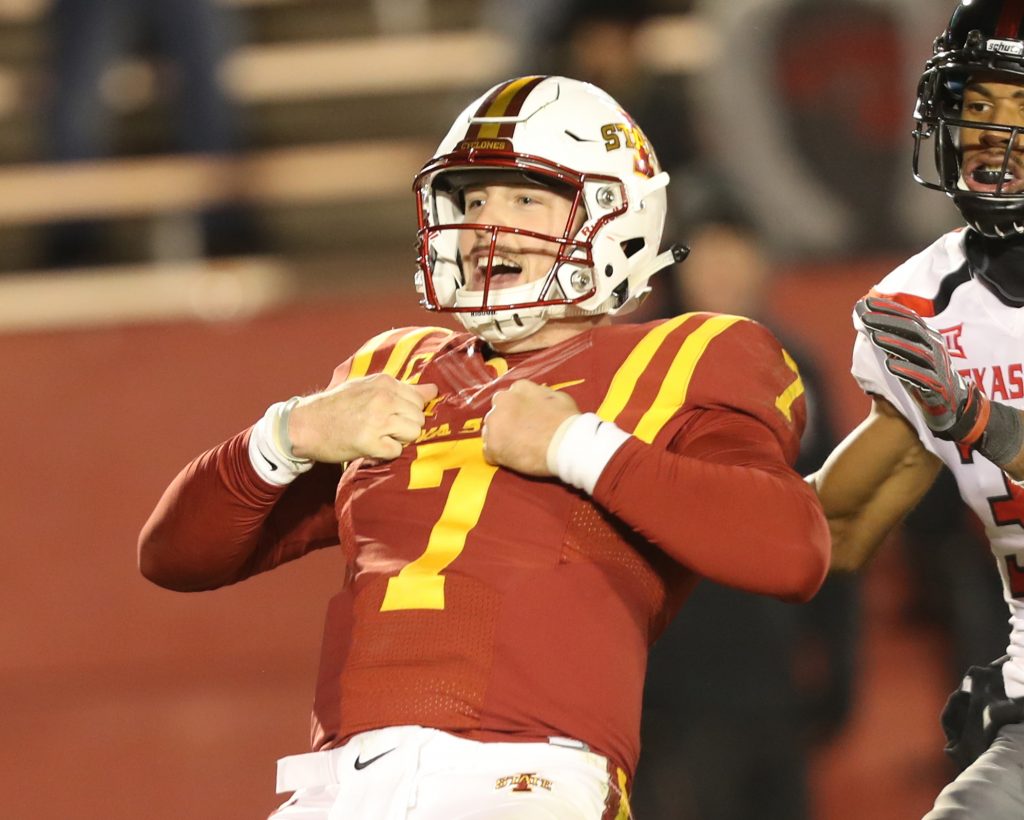 Utility
Joel Lanning, 2015-17
Alright, I will admit it. I basically created this position on the ballot for one reason and that reason is we cannot put together an Iowa State 2010s All-Decade team without perhaps the most beloved Cyclone football player of the decade. Honestly, most of the voters did not really even understand they were supposed to put someone in the spot and simply left it blank, but I am making an executive decision that this is Joel Lanning's spot.
The Ankeny native made national headlines in 2017 when he moved from quarterback to mike linebacker for his senior season then went on to record 114 tackles, 11 tackles for loss, six sacks and a massive fumble recovery in the program's breakout upset win over No. 3 Oklahoma in Norman. This followed up the first three years of his career in which he threw for 2,584 yards and 20 touchdowns plus 983 rushing yards and a school-record 17 rushing touchdowns by a quarterback.
Whether it is his performance against the Sooners, his five rushing touchdowns against Texas Tech or his contributions that led to the Cyclones' win in the 2017 Liberty Bowl, everybody has a favorite Joel Lanning performance.
He was far from Iowa State's best quarterback or one of the three best linebackers of the decade, but there is no way we can do this without including Lanning. Give me a team with 11 Joel Lanning's and I'll give you a winner.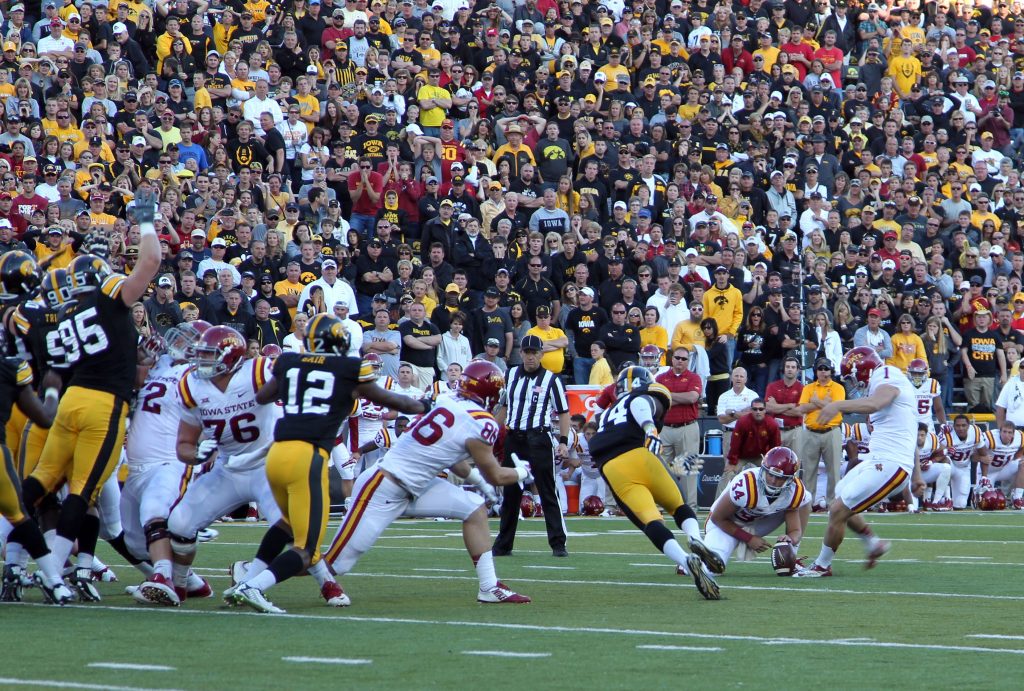 Kicker
Cole Netten, 2013-16*
The most accurate kicker in Iowa State history, Netten finished his career with seven school records, including scoring, extra points made, extra points attempted, field goal percentage, total kicks made, total kicks attempted and kicking points. He also made the second-most kicks in program history while attempting the third-most.
Netten may not just be the best Cyclone kicker of the decade, he may be the best ever. Plus, his 42-yarder to beat Iowa at Kinnick Stadium in 2014 will forever live in Iowa State football lore.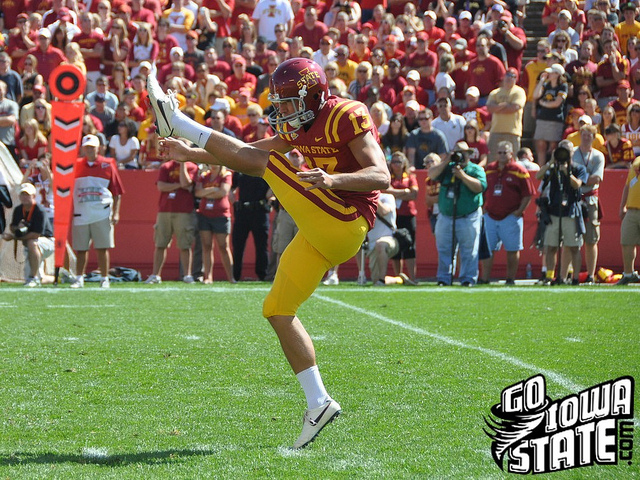 Punter
Kirby Van Der Kamp, 2010-13
Iowa State's all-time leader in rushing yards by a punter ( which is a made-up stat that is probably true but you, nor I, really cares enough to corroborate), Van Der Kamp was one of the best punters in the country for Paul Rhoads while averaged 42.4 yards per kick. He was one of the most dangerous punt fakers in college football and earned a spot on four All-Big 12 teams, including a pair of second-team nods.
Honorable mention: Colin Downing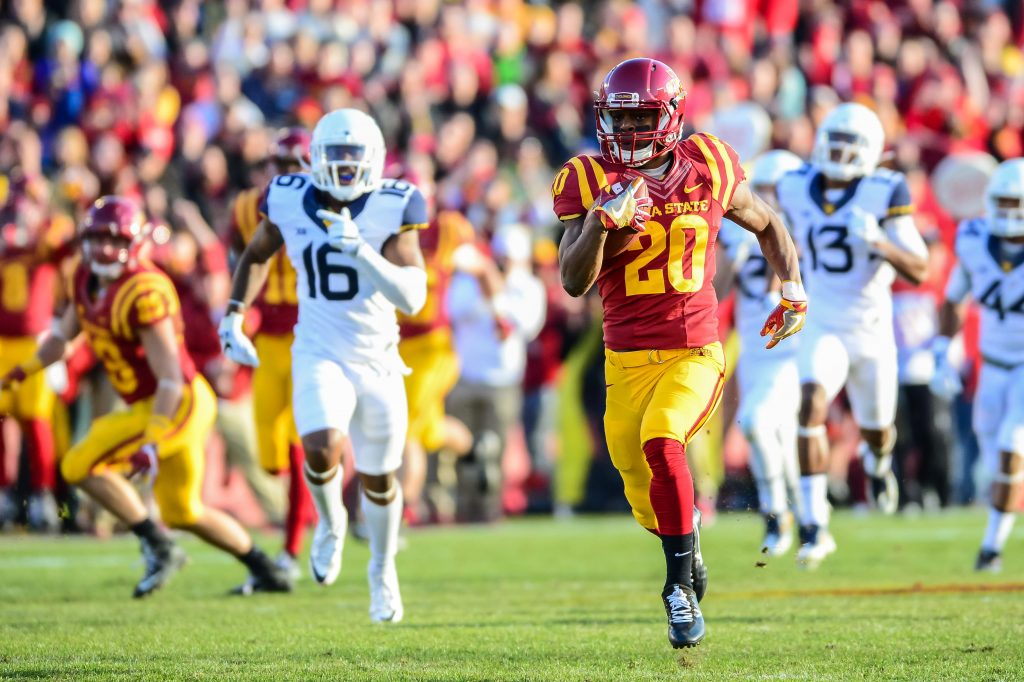 Kick Returner
Kene Nwangwu, 2016-Present
Rule changes have almost eliminated the kickoff return in college football, but Nwangwu remains one of the sport's biggest weapons at the position when he gets an opportunity. He currently holds the school record for kickoff return average at 26.5 yards per return and returned one kick for a touchdown as a freshman in 2016.
The 2018 second-team All-Big 12 honoree at the kick return spot and 2016 freshman All-American still has one season left to play in Ames. Iowa State fans everywhere will continue to hold their breath every time he catches one deep with a chance at a return.
Honorable mention: Josh Lenz, Jarvis West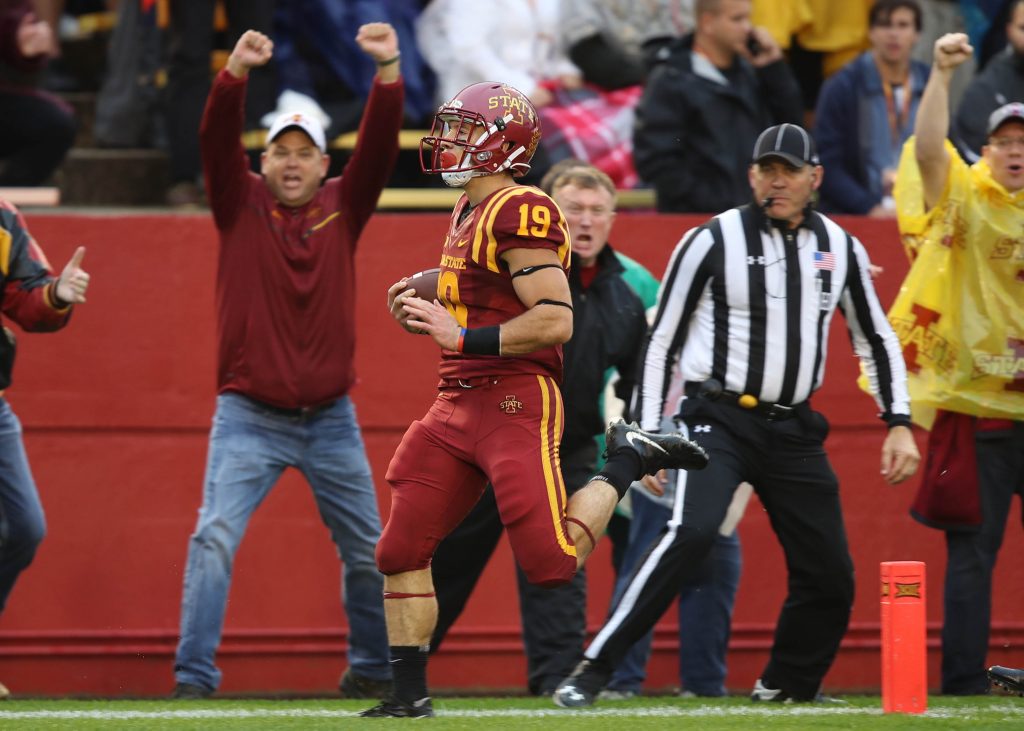 Punt Returner
Trever Ryen, 2015-17
A first-team All-Big 12 choice at punt returner in 2016 and honorable mention selection in 2017, the Ida Grove native returned a pair of punts for touchdowns during his career and averaged 13.4 yards per return. He will forever be best known for his catch and run that gave the Cyclones the lead in Norman in 2017, but he was a weapon anytime he was on the field on fourth down.
Honorable mention: Jarvis West, Josh Lenz