Nov 3, 2016; Ames, IA, USA; Iowa State Cyclones head coach Matt Campbell and Iowa State Cyclones wide receiver Allen Lazard (5) celebrate on the sidelines during their game with the Oklahoma Sooners at Jack Trice Stadium. Oklahoma beat Iowa State 34 to 24. Mandatory Credit: Reese Strickland-USA TODAY Sports
Smack dab in the heart of basketball season, Iowa State's spring football session will begin on Tuesday. Not quite in the mood yet? I get it.
Perhaps this primer will help.
Here are five questions (plus more) for the start of spring football, 2017.
What's going on with Joel Lanning?
I can't even count how many times I have been asked this by Cyclone fans over the last few months.
It's going to be be an interesting spring for the Ankeny native, that's for darn sure. Lanning will still have "QB" next to his name when the fall rolls around, but it sure sounds like he is going to be doing a lot in addition to that.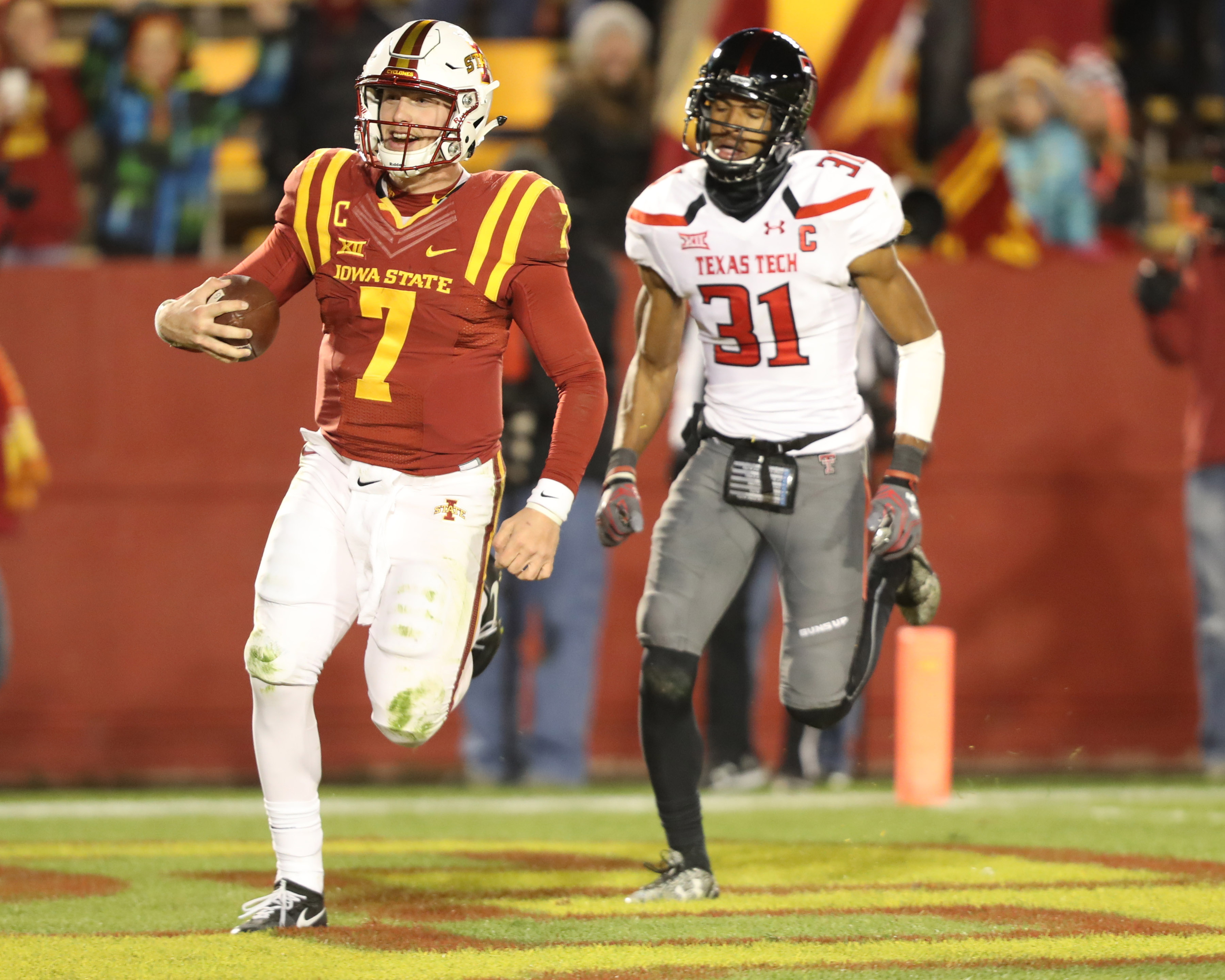 With Kene Nwangu being out for the spring (and perhaps all of next year), is there some running back in Lanning's future? I've heard everything from a tight end-like slot receiver to linebacker be throw around in reference to where Lanning next season.
He will be all over the field – we know that – but how will this spring go as far as shaping specifics?
Stay tuned.
I do know that Matt Campbell and offensive coordinator Tom Manning are excited to roll up their sleeves and find great ways to get Lanning creatively involved in the game. Should be fun.
Is this a top three receiving corp in the Big 12?
On paper, this might be the best group of wide receivers in the history of Iowa State football. I don't think that is an exaggeration either.
Allen Lazard, who has tallied nearly 2,500 yards to go with 16 touchdowns in three seasons, is a future pro.
DeShaunte Jones just laid down one of the most successful freshman seasons (37 catches, 536 yards and six touchdowns) in Iowa State history.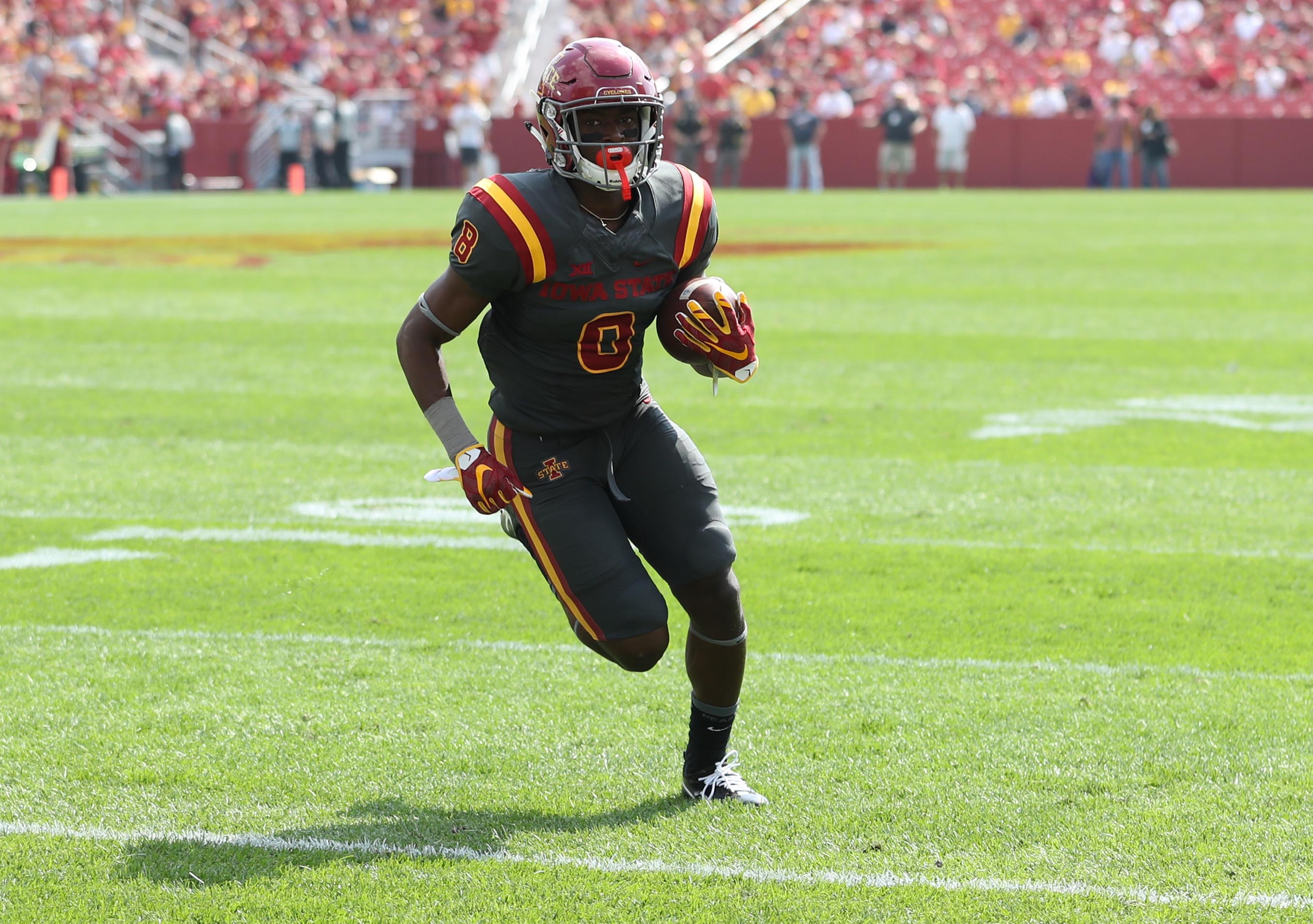 With his impressive 6-foot-6, 210-pound frame, Hakeem Butler is a guy who showed promise every time he touched the ball last season.
Trever Ryen has shown versatility and explosiveness over the course of his career.
Carson Epps is a guy who has yet to really reach his potential.
Throw JUCO Matt Eaton into the mix along with Marchie Murdock and Jalen Marin.
This is a fun group that could be really, really good.
Any surprises on the offensive line?
I feel like we actually have a decent idea about what to expect from a bunch of the guys coming back next year.
That's where I'm at on Julian Good-Jones, Bryce Meeker and Jake Campos, at least.
I'm anxious to see is how Oge Udeogu developed during the offseason, as I've heard good things.
Same question for redshirt freshman Sean Foster. Everybody I've talk to said that he could have started as a true rookie in 2016.
Iowa State's offensive line is shaping up to look like a lot of them that we have seen in the past. Decent, not great, across the board when it comes to starters (but better when you consider the two grad-transfers who will be in town this summer).
What about depth though?
One guy to look out for – I'm told – is former defensive lineman Robby Garcia.
How good are Matt Leo and Ray Lima?
What's great about the additions of JUCO prospects Matt Leo and Ray Lima is that they will be in Ames all spring and summer. You know that regardless of how they look on Tuesday, these guys are going to take advantage of a Big 12 weight room and S&C program to get better before the fall.
I'm curious though as to how good these guys are going to be on day one?
Great news. Top-50 JC player Matt Leo is on campus and will participate in spring drills beginning next week. #CyclONEnation 🌪🌪🌪 pic.twitter.com/XQfwLCNQ09

— Cyclone Football (@CycloneFB) February 24, 2017
Along with the addition of Kamilo Tongamoa (who will be on campus this summer), there's a legitimate reason to be excited about the defensive line next year.
That's not even mentioning JaQuan Bailey, who showed real promise during his freshman campaign.
Who will Iowa State's kicker be next fall?
Iowa State currently has six kickers on its roster but none of them are on scholarship.
The biggest story here is Garrett Owens, the grad-transfer who is in Ames via Oregon State.
However Chris Francis has experience too.
I wrote this piece about the kicker position a few months ago, and it's still true today.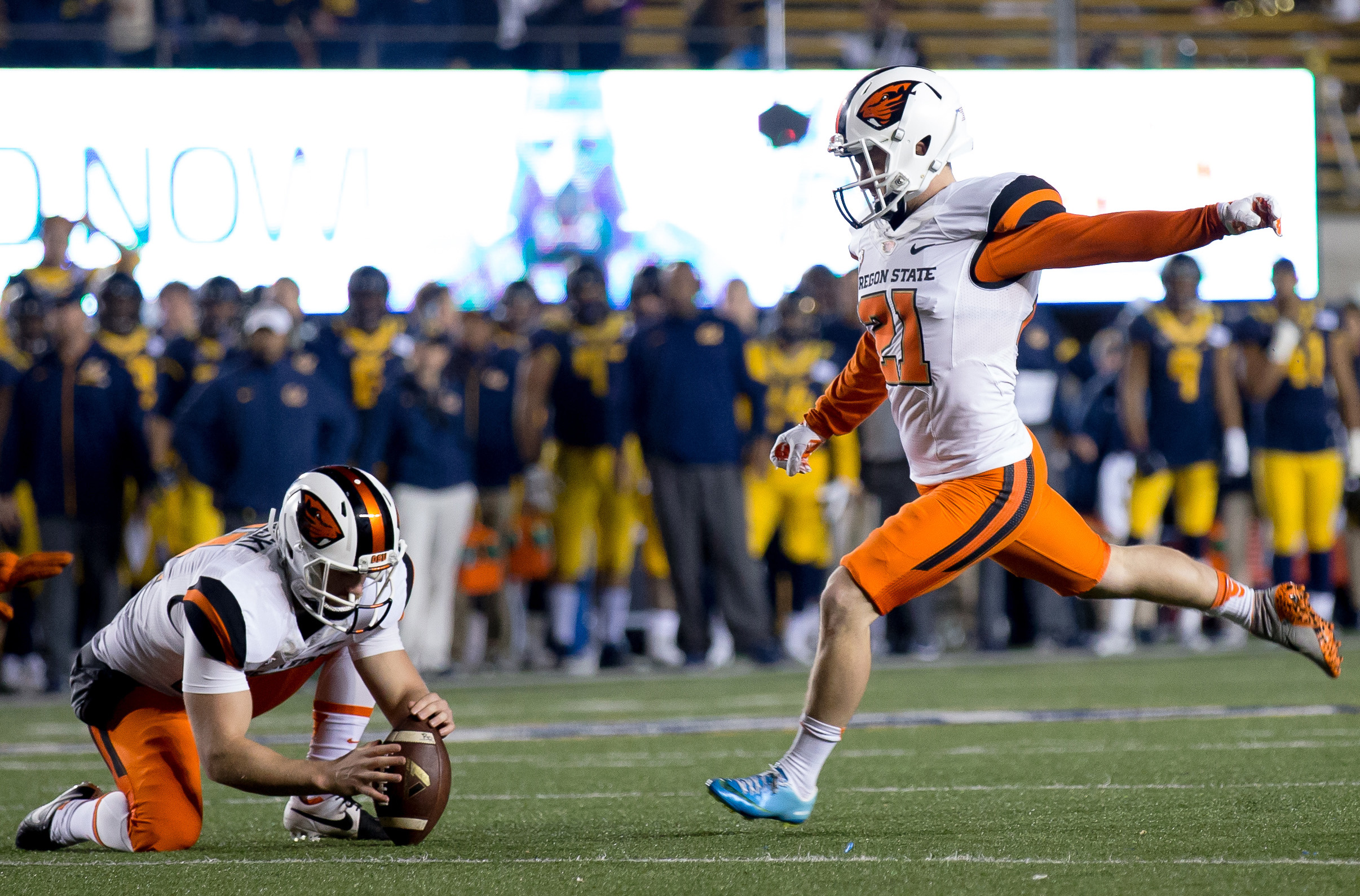 Five other quick questions
What is the plan at running back, specifically when it comes to splitting time between David Montgomery and Mike Warren?
What does the depth chart look like here? Is Montgomery the true No. 1 or is this a 50-50 thing? Montgomery averaged a full yard (5.2) per gain better than Warren (4.2) a year ago.
Who will the third string running back be if Kene Nuwangu is out?
My guess is that Sheldon Croney will be the guy but expect an open competition with select walk-ons as well. Iowa State did not sign a running back to its 2017 recruiting class. This could be grad-transfer territory as well.
How did Tymar Sutton progress during his redshirt season?
I believe that he would have started last year had he not broken a hand in fall camp.
Who is the second starting corner?
We know that Brian Peavy has one slot locked down, but who will be opposite of him? Redshirt freshman Arnold Azunna has to be considered a frontrunner.
How good of a No. 1 quarterback can Jacob Park be?
A monster of a question. If he progresses the way that many believe, Iowa State could field its best offense in a really long time this fall.