Dec 12, 2019; Ames, IA, USA; Iowa State Cyclones forward George Conditt IV (4) defends Iowa Hawkeyes center Luka Garza (55) at Hilton Coliseum. Mandatory Credit: Reese Strickland-USA TODAY Sports
Following last night's loss to Iowa, members of the Cyclone Fanatic staff convened to discuss the game and Iowa State basketball overall. The transcript can be read below.
Kevin Fitzpatrick, Contributor: Alright, let's get things started. What was the thing that most concerned you regarding last night's game? Was it the slow start, execution issues on both ends, something else?
Chris Williams, Publisher: Honestly for me, I'm not sure I would call it a concern, but definitely a reality. I used to reject this wholeheartedly in the Hoiberg years but last night's game looked like one team that refused to lose and was ready to go conquer Everest, Iowa. They hate Iowa State. They hate everything about "us." The Iowa State guys were flat. How? Before that game, in front of that crowd. I don't know. But the Cyclones didn't match Iowa's intensity level from the start. They definitely weren't ready for the moment which yeah, is a concern. But also a harsh reality of the situation.
Jared Stansbury, Staff Writer: I will give y'all two pieces of evidence that outline my two biggest issues with last night.
Stansbury: Evidence A: This was the very first possession of the game. There are four Cyclones under the rim, almost all in good rebounding position, and three Hawkeyes. Who do you think got this rebound? Yep, Luka Garza. When the guys talked about Iowa wanting it more from the jump, things like this are the proof.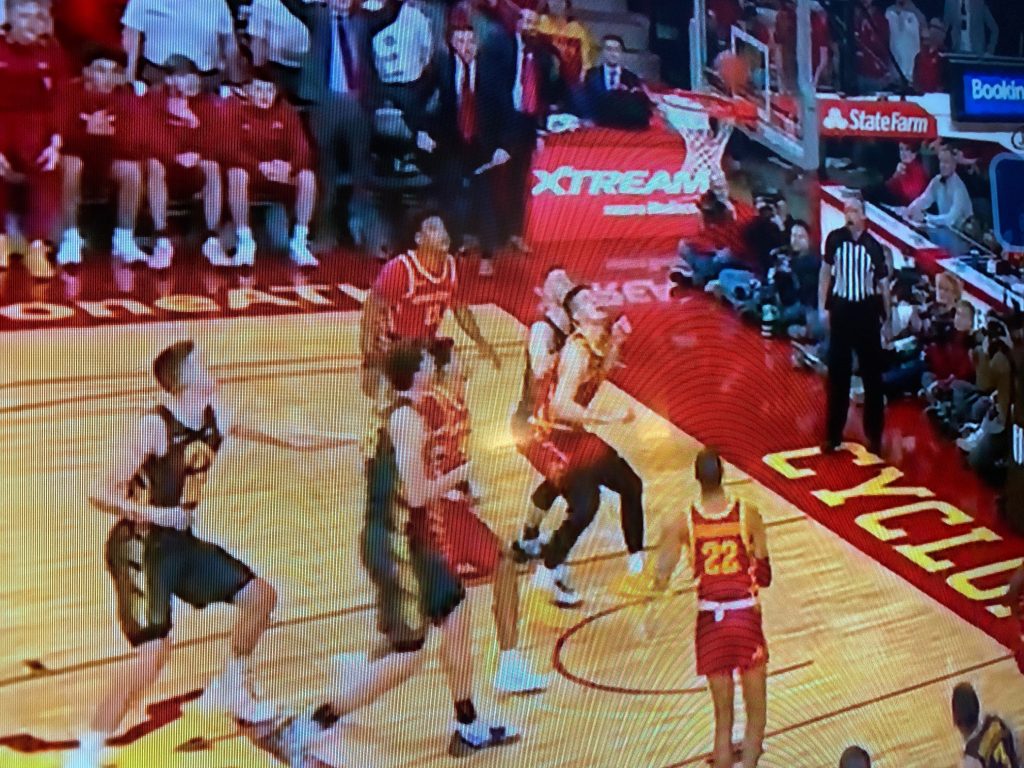 Stansbury: Evidence B: The offense in the first half was the worst I have seen from Iowa State since I started covering the program. Period. The end. It was simply horrific. Guys were standing around, when they did cut, they were lazy and half the time running into each other directly or ruining the spacing. It took them at least four possessions to finally get into a zone offense. Four possessions. There are some serious questions that have to be brought up about the team's situational awareness. But, back to this picture, what makes it so bad? Mike Jacobson takes on the double team and looks opposite side as he should. The problem is two Iowa State guys are standing flat footed literally just standing. Joe Wieskamp is guarding both of them WITH HIS BACK TURNED. My grandma could guard two guys if they're just standing there. This happened on countless possessions through the first half and by halftime the damage was done.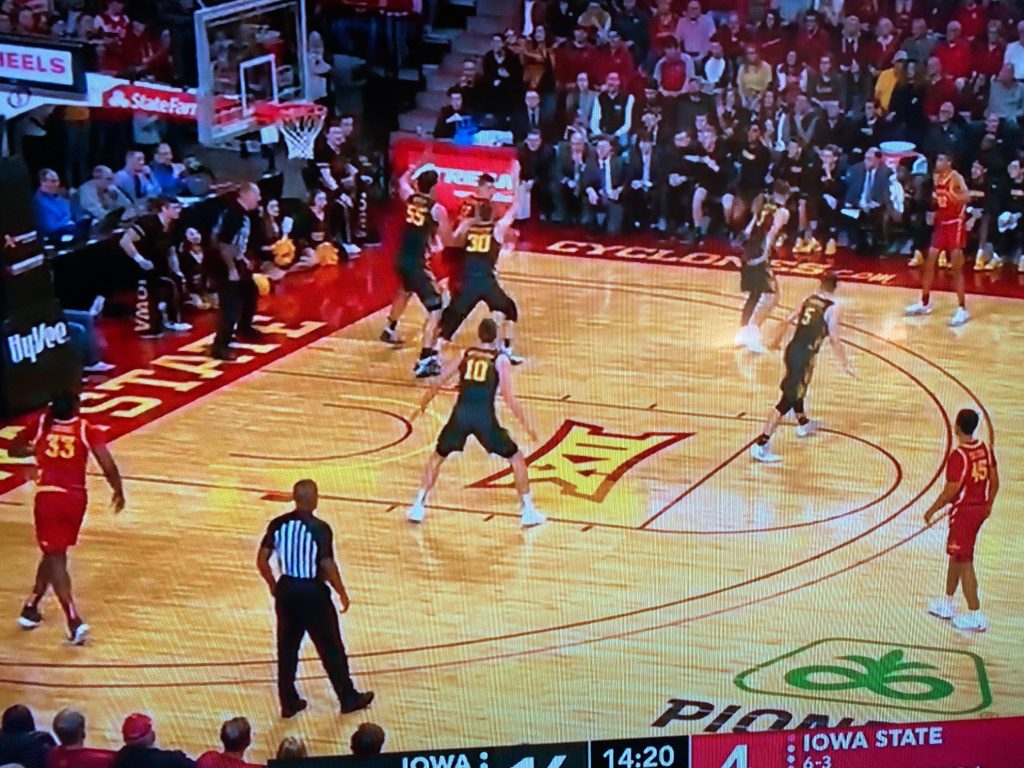 Rob Gray, Senior Writer: Most disconcerting: As strong as Iowa was early, they left the door open for ISU to come back and ride the "magic" back into the game. When the Cyclones attacked the zone early in the second half, it worked. They pulled within seven and Hilton was rocking. But Iowa responded with a big and one and more timely threes. ISU re-entered passive mode and once again forgot how to defend. Sure the Cyclones lacked fire at times, but I think it's mostly because they lack firepower from deep. Guys can't believe the shots aren't falling, but that's who they are. ISU absolutely has to get to the rim and finish or get fouled. That toughness fuels the effort on defense, which has been excellent at times, but with too many baffling lapses interspersed.
Connor Ferguson, Intern: Shooting and shot selection has got to be near the top of the list, yeah? I hate to pick the obvious one, but you're not going to win many games shooting 23% from the 3-point line. It clearly wasn't working, but we still saw a handful of possessions end in settling for a 3. If it's not going to work, don't play the game like it is.
Stansbury: I've never seen a team that can't make shots love shooting so much. It really is quite baffling. They're one of the 15 worst shooting teams in college basketball and yet they rank in the top-85 in 3-point attempts. Something does not add up there.
Williams: Here's the thing … everybody is obsessed with shooting and I get it. This team can't score. But what we need to be doing is acknowledging who they are, and asking how it can be fixed? Iowa State has to play better defense. It has to be the toughest, nastiest, grittiest team on the court every night. We saw that on Sunday against Seton Hall. The Cyclones didn't shoot well and still beat a top 15 team.
Fitzpatrick: The unfortunate part is they have to take some of those shots just because they're open and in the rhythm of the offense. Yet, I'm sure most opponents are going to be fine with ISU hoisting up 3-balls even if they're open.
Williams: This team is never going to be a good shooting team. It has to do other things to make up for that.
Stansbury: They have to have more of a willingness to attack the basket. I charted 15 paint touches in the first 10 minutes of the second half last night. 10 of them went for baskets. I should also note they had 12 paint touches in the entire first half of the game.
Williams: I thought they did a nice job of getting Tyrese on the high post but it was too late. It isn't a coincidence anymore that this team struggles early with that starting lineup. When Conditt and Grill/Jackson enter the game and the Cyclones go small, is usually when things pick up. The problem with playing small is that Tyrese is the only guy who can shoot. Bolton is off. Nixon has never been a great shooter. Grill and Jackson have bright futures but don't seem confident at this point in their careers. And I love him, but Jacobson isn't a stretch four.
Stansbury: This brings up the point that getting Tyrese involved from the opening tip is something that has to happen moving forward. Hell, we could probably say the same thing about George Conditt. At this point, is it a stretch to say he's the team's second best player? Those two in a pick and roll should be their first play in every game like the Georges Niang iso in the pinch post was about 4 years ago.
Ferguson: Great point on Grill and Jackson, who only got 15 minutes of court time combined. That probably should have been a pair that got a little bit more action. Jackson is a freak athlete, but they've got to let him show it AND he has to gain that confidence to just be him and feel out the college game.
Stansbury: You can tell both of them are capable of hitting shots, but they aren't overly confident shooting yet in games.
Fitzpatrick: Agreed on starting Conditt. And I think it's becoming clear that Jacobson's skill set isn't right as a four-man. So at this point I'd like to see them go to a three player rotation at the five, with Conditt starting, and then whoever has the hot hand on a given night can get the majority of the playing time.
Ferguson: I really like Caleb Grill and think he's going to be a great Cyclone once he gets regular court time. If you're him and you're on the floor for 11 minutes and miss two threes, I can see where the confidence goes. Can't be afraid to shoot if you're not one of the guys that are shooting you out of it.
Williams: My argument to that would be simply that he's not ready yet, and the rest of this team (and fan base) is set to win now. This honestly comes down to the early departure of Talen Horton-Tucker. Plug him into this team and it's a top 20 squad. Put him and Lindell Wigginton in the lineup and you're talking a really sexy group. But those guys went pro and you have to deal with it. But my point is that one month in, you can't expect Grill and Jackson to fill those shoes. Those guys are solid, developmental type players who will be here for four years and thrive. They aren't pros … yet.
Fitzpatrick: You think back to Thomas, Naz, Monte etc. and they all had the luxury of coming into rosters with high-end, experienced talent to shoulder the burden.
Williams: One last thing from me … last night was frustrating but I'm not out on this team. We just saw them play the style of ball we know they need to play to be successful on Sunday and beat a really good team. But they have to bring it like that every night. Period. This team isn't going to come out and hit double-digit threes very often. It's just not built that way right now. This team has to grind and win ugly.
Ferguson: I think if you're out on an Iowa State basketball team in December, you haven't been watching Steve Prohm's teams in Ames. I don't know if it's straight-up his philosophy, but his teams really get going during that 18 game slate.
Stansbury: I agree with what CW said. If that is the way they are going to play though, they have to do it from the jump every night. No thinking they're going to play the way they have before then flip a switch. Playing that way is much more of a mentality than scheme, talent, etc. The pieces are there, but are the mindsets? To be determined.
Fitzpatrick: So, let's start wrapping things up with one more question… What will be the signs going forward that Iowa State is trending in the right direction? Safe to say the Cyclones probably won't be competing for a Big 12 title, but what should be considered a success for THIS team?
Ferguson: I might be of the minority here, but I think the standard of the program calls for the low end of the bar being the NCAA Tournament. Anything else is and should be considered a poor season.
Williams: This team can still get into the NCAA Tournament. That should be the goal. Just get in.
Fitzpatrick: Agreed on the NCAA Tournament remaining the baseline for success. KenPom currently predicts ISU to finish the season 16-15 (8-10) overall, which unfortunately won't do the trick. I think the fan base needs to see the team do a better job of defending home court too, otherwise people are going to really start chirping in a not-so-nice manner…