Did anyone else get burnt to a crisp during the holiday weekend? Slap a beak and some fuzzy shoes on me and I'm pretty certain I could pass for Cy at the moment. Yeah, that might be a little bit creepy, but that's essentially what Kansas State already does with Willie Wildcat and I don't think I could be any worse than that…
Sunburn and all, I'm fighting through the pain at my keyboard to bring you the latest edition of the Cyclone Fanatic Mid-Week Mailbag. After all, with Independence Day behind us, the next federal holiday isn't until Labor Day in September. We're all going to need some sort of release from the grind to get us there.
Come with me on today's journey…
CyberJJJ (forums) asks: In ISU football, which positions provide the most intriguing battles for starting roles this fall?
The obvious one that comes to mind is replacing David Montgomery at running back. We could be staring down a season of running back by committee, but surely one of Breece Hall, Kene Nwangwu, Sheldon Croney, Jirehl Brock, and Johnnie Lang is going to separate themselves from the pack and take the lion's share of carries, right? I'm still betting on Hall myself until further notice.
Outside of running back, finding the best group of linemen to keep the offense moving steadily will be key. Yes, Iowa State returns a bunch of guys with experience, but that's like saying failing physics last semester is great experience for the upcoming semester of taking physics again. Some of the younger guys should push the veterans along the line for starting roles and that's definitely a good thing. Internal competition breeds improvement.
discydisc (forums) asks: Who's the football MVP on offense (besides Purdy) and defense?
Offensive MVP (excluding Purdy): I'll go with Tarique Milton. There are going to be a lot more targets available with Hakeem Butler in Arizona. Even though the ball figures to be spread around a bit more evenly this season, Milton provides a good blend of speed and shiftiness and this could end up being his breakout season.
Defensive MVP: Greg Eisworth. He'll be asked to play a slightly bigger role in pass protection with a couple new corners taking over starting roles. At the same time, Eisworth is known for being great in run support from the safety position and he'll still have to do that on plenty of occasions in Jon Heacock's scheme. We saw last year that he is one of those guys that always seems to be in the right place at the right time on the field and he's going to get even more opportunities to do it this year. Will that lead to impressive counting stats? Not necessarily – though I think Eisworth is going to be a guy that will give opposing offensive coordinators nightmares as they prep to play ISU.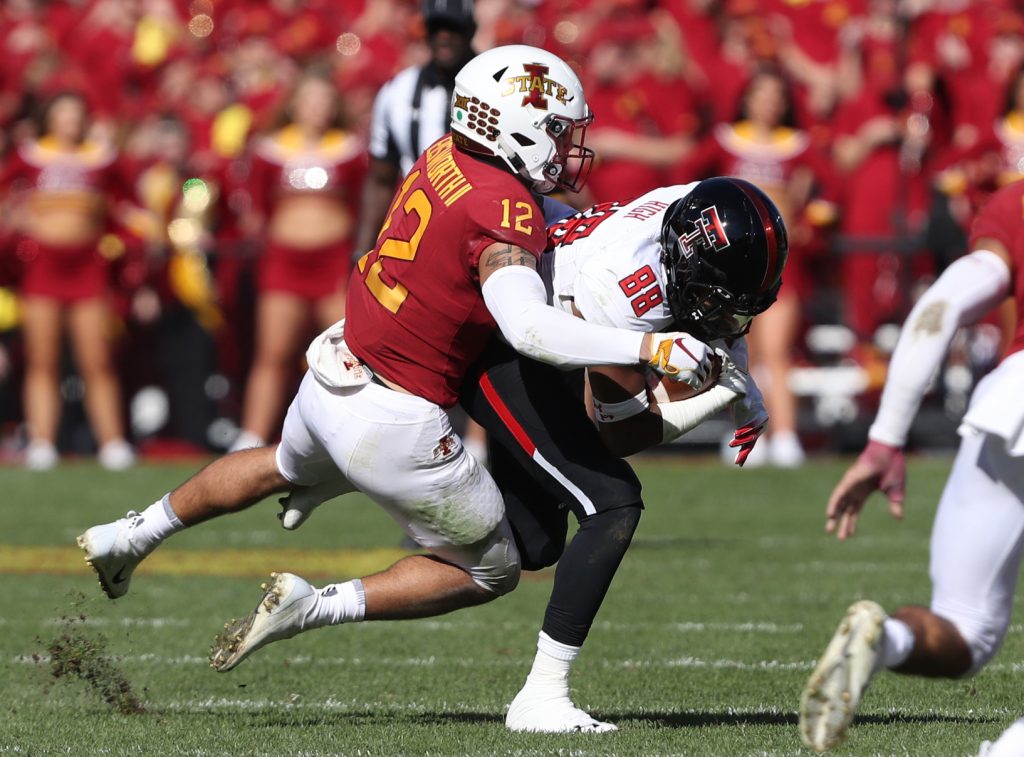 BMWallace (forums) asks: Are there any out-of-left-field questions would you ask players or coaches at conference media days if you were given the chance?
"Do you have any relationship advice for 6-foot-7 media members?"
coolerifyoudid (forums) asks: Iowa State is in the National Championship Game. You're unable to attend, but you have two options to watch it: 1) You must watch without making a sound or making any excessive motions. Smiling is ok, but no high fives, no jumping, no hand motions for a bad call, etc. Any infraction will block the game. OR 2) Your tv will alternate flipping between the game and the Hallmark Channel every 10 minutes, regardless of what is happening, and you must watch whatever is on without complaining. What do you do?
Scenario one, easily! Emotions would run high no doubt, though I'm positive I'd rather watch the entire thing and force myself to be a block of reactionless meat than be forced to watch the Hallmark Channel every 10 minutes. Ten minutes is a lifetime when watching football. Heck, I'd still choose the first scenario even if I was able to complain as much as I wanted in scenario two.
Colorado (forums) asks: Where does Kansas State finish in the Big 12 football standings this year? I'm married to a KSU grad so there's a bit of schadenfreude going on here.
I would bet they finish 9th. Eighth possibly. Seventh at best.
Kansas is the default 10th place team until they prove they shouldn't be. Outside of the Wildcats, Texas Tech and West Virginia are the two most likely candidates to be in the lower half of the conference given some of the pieces they lost on the field and them having to overcome coaching turnover as well. However, I'd say that the overall talent baseline is higher at those two programs right now and that will likely give them an edge over K-State, which has seemingly played above its talent level for years under Bill Snyder. Could Chris Klieman continue that trend? Sure… But he's no wizard/vampire/mythical being.
cyclones500 (forums) asks: Top 5 overused sports cliches of all time … can be from sportswriters, coaches, players, etc.
Five:  Scrappy / Deceptively Athletic / Student of the Game. (They all translate to "this guy is white and plays sports")
Four: Defensive juggernauts! (When watching a 6-3 SEC football game.)
Three: Defense optional! (When watching a 42-35 Big 12 football game.)
Two: They didn't win the game, we lost the game. (Said by people associated with the losing team who don't want to give the winning team credit.)
One: Gotta focus on next team on schedule. (Said by fans to other fans who just want to look further into the future. Fans focusing further than one game into the future will not be the difference between a win or a loss in the next game!)
cyclone4L (forums) asks: I am looking to buy my first home in the Des Moines Suburbs. I used to be a guy who could sleep on the floor, eat off of paper plates, and have watch my small tv from the only chair in the living room. However, I am looking to make a GIANT upgrade. Like I would LOVE a pool and outdoor entertainment area, movie theater, decked out master bath, heated driveway, home gym and alot more, but I'm wondering if I'm doing too much and should be more cautious with my first home. For someone who works from home, a huge sports/cyclone fan and entertains all types of guests (family, sports fans, clients), what would your recommendations?
This depends on what you mean by "doing too much." Doing too much in the sense of having too much to maintain? Or doing too much in the sense of budget?
Throwing the budget concern out the window (for the sake of having fun in this mailbag), here are my thoughts on the upgrades you mention:
Pool – Would probably be hella fun during the summer but probably a pain for most of the other three seasons. Des Moines ain't San Diego after all. I'd personally put a pool lower on the priority list. Instead, befriend someone else with a pool if you need your fix.
Outdoor Entertainment Area – Definitely a good idea if you entertain guests a lot because barbecues are kicked up a notch and you can have two areas for people to congregate (inside & outside) during the warmer months if you have gatherings of 10+.
Movie Theater – Heck yes! Gotta make this a dual movie theater / sports watching kingdom. Deck it out with Cyclones gear everywhere and make your friends jealous of your ultimate man cave.
Master Bath – This is at the top of the entire list for me. A decked out master bath can be your personal escape from a hard day's work. Get one of those jacuzzi tubs and/or a walk-in rain shower and live a life of luxury.
Heated Driveway – Shoveling builds character.
Home Gym – Even though the dad bod is in right now, your own home gym would provide insurance to ensure you don't let your dad bod get out of hand.
Dandy (forums) asks: Should someone who leaves their cell phone on a loud ring for multiple notifications while at work (in an office setting) be fired immediately?
It depends on the ringtone. Is it a default ring? Not ideal, yet not a fire able offense. Is it the Iowa fight song? Have them start packing their things. "My Humps" by the Black Eyed Peas? They probably deserve a promotion.
UNIclonefan (forums) asks: If you could only have one condiment on a hot dog/brat, what would it be?
Ketch-
Just kidding. Mustard.
CYCLNST8 (forums) asks: Who's the best Ninja?
I've never been a big Mortal Kombat player; however, my answer would probably have to be Scorpion. Just check out these moves. (Note: Video game violence…)
Daserop (forums) asks: Who would be your celebrity bromance?
As a Deadpool fan, Ryan Reynolds is the immediate answer. He's hilarious, and I'd get to spend time with Blake Lively as a huge side bonus. Yes please.
CtownCyclone (forums) asks: What minivan do you see yourself driving in 10 years?
Trick question… I won't be driving, because I'll own a Tesla self-driving minivan. You thought you could get that one past me, didn't you?