Nov 10, 2018; Ames, IA, USA; Iowa State Cyclones wide receiver Hakeem Butler (18) catches a pass against the Baylor Bears at Jack Trice Stadium. Mandatory Credit: Reese Strickland-USA TODAY Sports

Last weekend was arguably the most successful in Iowa State athletics history and the upcoming weekend is arguably the most important. Beat Texas and the Cyclone football team will have a huge chance of making the Big 12 championship game in Arlington, Texas on Dec. 1. Additionally, the Maui Invitational championship round kicks off Monday with Iowa State basketball squaring off against the Arizona Wildcats.
We added two more wins to the extended weekend with men's and women's basketball wins this week…a perfect 10-0 since last Friday. https://t.co/PKU2qBRQCu

— Jamie Pollard (@IASTATEAD) November 14, 2018
There's never been a more exciting time to be a Cyclone and hopefully the best has yet to come!
While you wait for this weekend to come, enjoy the following answers to questions that fans like you submitted for this edition of the Cyclone Fanatic Mid-Week Mailbag.
@mlevere1992 (Twitter) asks: Why do Big 12 football coaches think we haven't won any football games? Their teams have lost but we really haven't won. That confuses me since we still have a chance at the championship game.
You and me both!
My hypothesis is that coaches in the Big 12 are used to their offenses performing well in most wins and losses… So when they finally meet a team that plays defense and lose to them (Iowa State), it's an outlier in their eyes because they just see it as their offense sputtering even though there's an obvious common denominator at work across multiple games with the ISU defense holding teams below their season scoring average.
Jon Heacock and his unit deserve way more credit than opposing coaches have given them. I suspect that it may take another off-season of reviewing the tape for people outside of Ames to really comprehend what's been happening when teams lose to the Cyclones.
@andyman4714 (Twitter) asks: Chances we finally see the Blaze Package with Re-al Mitchell and Kene Nwangwu in the backfield to offset the loss of David Montgomery and add a new dimension to the offense?
If there's any game to break it out, this weekend is the one to do it. The element of surprise is still fully intact.
cycfan1 (forums) asks: Where does this weekend rank among biggest games in ISU football history (in terms of pregame hype/expectations)?
It's dangerous for a young guy like me to deem this as the biggest game in ISU football history, but I think it is, isn't it?
The games to win the Big 12 North during the McCarney era were big, yet happened in large part due to a softer division schedule. There's no "lucking out" against a full round-robin – you have to play everybody and fully earn your right to compete for a championship. Even though this weekend's game isn't directly a "win and you're in" situation, it's a must-win to keep the dream alive.
Also, you have to consider the opponent and location in this one. Texas has been down the past few years but is unquestionably still king in the Big 12. To go on the road to a place where the Cyclones have won just once before against a Longhorns team that is fighting for the same trip to Arlington is a daunting task.
A win against Texas this weekend would prove Iowa State football has entered a new era. A win against Kansas State next weekend would prove Iowa State football has left the past behind once and for all.
The hype is warranted.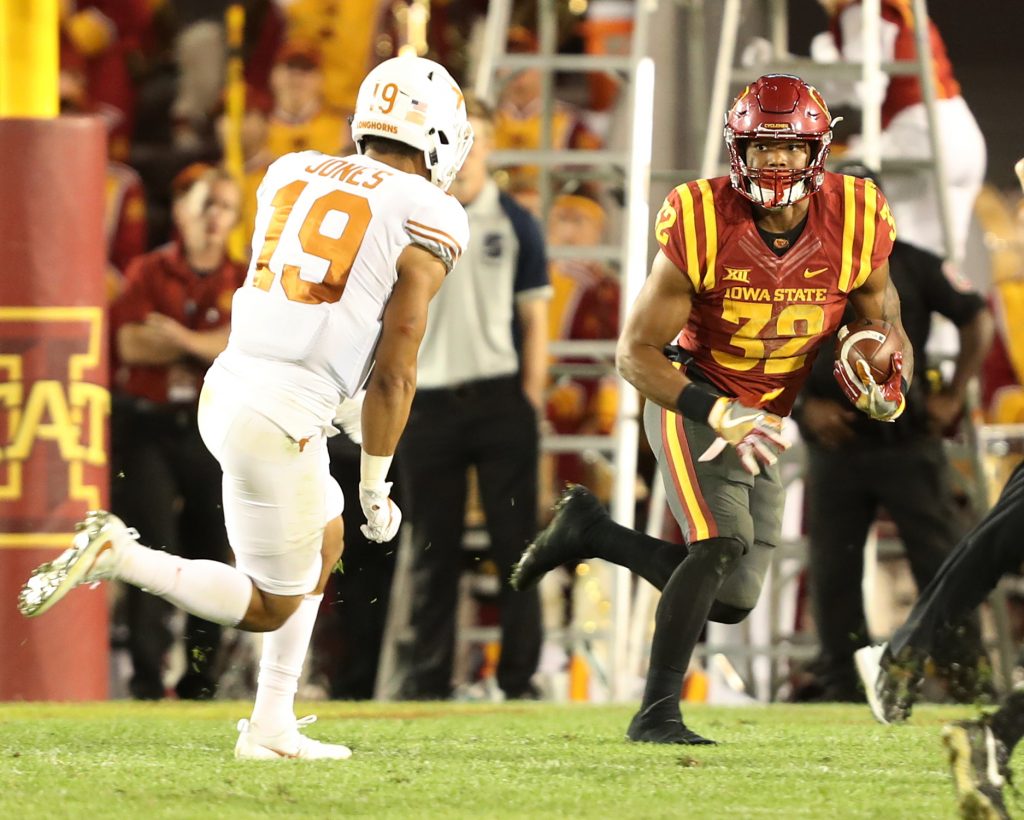 NashtoAmre (forums) asks: Do NFL scouts see Hakeem Butler's proclivity to drop passes as a potential issue with him being an early round draft pick?
I wouldn't go so far to say he has a proclivity to drop passes. He has definitely dropped a few that he should have caught, and that will certainly show up on film when scouts review his game, but very few receivers catch every ball thrown their way.
Six-foot-six receivers with leaping ability and sub-4.5 forty speed don't grow on trees. Even if Butler misses a pass every now and then, his pros heavily outweigh his cons and that's why his stock has risen so much since the beginning of the season.
Gunnerclone (forums) asks: What possible outcome would do you prefer for the b-ball team in Maui…the potential "easier wins" route? Or the potential "play the top teams route"?
mj4cy (forums) asks: We all know ideal expectations are to knock off Arizona/Gonzaga/Duke and worst case scenario to lose all 3, but what is the realistic ceiling for this tournament?
Even though the Cyclones aren't at full strength, I still want them to see as much talent at the Maui Invitational as possible because that will help prepare them to make a run in the Big 12 and eventually, hopefully, the NCAA Tournament. Playing the top teams will give Steve Prohm a better idea of where his team stands and will give the players a sense of how well they need to play to become a top-tier squad. There's little harm in losing to teams like Duke or Gonzaga this early in the season, so I say bring them on.
As much as I'd love to say the ceiling for the tournament is to win the whole thing, I can't pick the Cyclones to beat Duke right now (assuming the Blue Devils win two games to make it to the championship game on the other side of the bracket). Arizona and Gonzaga should be good teams, but neither have the high-end talent that Duke has. So my personal ceiling for ISU in Maui is winning two games and falling to Duke in the championship game to finish 2-1.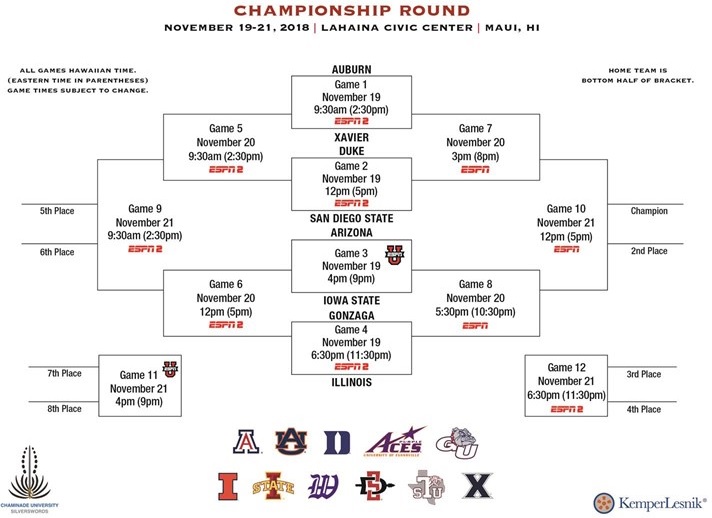 CyJeans (forums) asks: With the upcoming Hawaii trip and three games in three days, do you foresee Prohm giving his bench more run? Of the players off the bench, who is your pick to step up and take a hold of the 6th man role?
Yes, I believe the bench will get a good chunk of playing time so that everyone can help shoulder the leg fatigue. Three games in three days is no joke and given the Cyclones' injury/suspension situation already, they can't afford another player to go down due to being over-worked.
My pick for someone to emerge from the bench is George Conditt. Iowa State can't rely on Michael Jacobson to be at the 5-spot all the time and the teams in Maui will likely have better size down low to deal with across the board than what ISU has faced already. Conditt should get some great opportunities to prove why he should remain in the rotation even when Cameron Lard and Solomon Young return to the roster in a month or two.
jburke (forums) asks: Will the chemistry have some catch-up when the basketball team gets back to full strength? Or will the team just improve that much??? Who will play less when that comes around? Lewis, Conditt, Griffin?
It'll take some adjusting when everyone is back, but I think the chemistry aspect of it shouldn't be much of a concern. From the sound of it, Prohm and multiple players have commented on this team's togetherness and that was before the year started. It shouldn't take much to get everyone acclimated. That's not to say there won't be rough patches, but every basketball team has those even if they use a rotation completely made up of four-year players.
Once the team gets back to full strength and into conference play I expect the rotation to be whittled down to no more than nine guys with everyone else receiving spot minutes based on match-ups and situations. If I had to guess which nine that would be, I'd go with this:
Nick Weiler-Babb, Lindell Wigginton, Marial Shayok, Talen Horton-Tucker, Cameron Lard, Michael Jacobson, Solomon Young, Tyrese Haliburton, Zoran Talley.
That leaves the three you listed – Terrence Lewis, George Conditt, Zion Griffin – as the odd men out. Again, I'm not saying that those three won't play, but all three will need to show they have more to offer if they want to get more PT.
Sigmapolis (forums) asks: Now that we have seen them in action… Who do you think is going to be the best analog for the four freshmen's careers? For instance, do you see Haliburton going down in history as a DG or a Naz?
Note that these aren't player comparisons… They are (roughly) meant to be what I expect their career arcs to be like.
Talen Horton-Tucker – Lindell Wigginton. I think Wigginton is almost surely going to jump to the NBA after his sophomore season and I wouldn't be surprised if THT does the same thing a year later.
Tyrese Haliburton – Naz Mitrou-Long. Haliburton is expressive and you can already tell he's going to embrace "being a Cyclone" a lot like Naz did. The Diante Garrett comparison is also a good one, but I can't ignore Haliburton's personality.
George Conditt – Solomon Young. Conditt's upside is higher than Solomon's, but from a "big man that stays all four years" perspective, I think this is likely.
Zion Griffin – Melvin Ejim. Griffin has loads of potential. The difference between he and Ejim is that Ejim was forced into playing as a freshman out of necessity while Griffin won't be tasked with playing. But I think by his junior or senior year, Griffin could turn into one of Iowa State's most important and talented players.
burn587 (forums) asks: In honor of the late Stan Lee, What superhero best exemplifies each Big 12 school?
Fun question! I'll stick with Marvel superheroes since this question was inspired by Lee specifically. Here's what I came up with:
Baylor – Rogue. And I quote: "Ability to absorb and sometimes also remove the memories, physical strength, and superpowers of anyone she touches." Yep.
Iowa State – Doctor Strange. Dr. Stephen Strange had to go through an immense amount of pain (car accident that left him unable to perform surgery) before he came into power. Iowa State has been through a ton of pain, but now find themselves on the brink of becoming a powerful force in the Big 12.
Kansas – Groot. Once upon a time, Kansas football was in the Orange Bowl. That was akin to a full-grown Groot. Now, Kansas is Baby Groot. Very un-intimidating.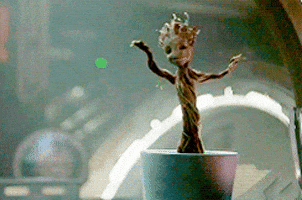 Kansas State – Wolverine. No matter how many times you think Bill Snyder is done, he keeps coming back. Wolverine's healing factor allows him to keep coming back, and fighting him is death by a thousand cuts. Sounds like the Kansas State offense.
Oklahoma – Captain America. Oklahoma often represents the Big 12 in the College Football Playoff just like Captain America often represents the Avengers. Their rivalry with Texas (Iron Man) is legendary.
Oklahoma State – Thor. Oklahoma State can bring the thunder when they perpetually have great offensive talent like Barry Sanders, Justin Blackmon, James Washington, and Justice Hill. I'm also convinced that Mike Gundy's mullet is inspired by Thor's long hair.
TCU – Spider-Man. Outside of this season, TCU is one of the most formidable opponents in the conference. They always catch opponents in the web of their defense and Gary Patterson is an elite football mind just like Peter Parker is a boy genius.
Texas – Iron Man. Texas has all the money they ever need to pay for the best gadgets, just like billionaire Tony Stark. However, without his suit, Tony Stark is vulnerable. Texas has been without their Iron Man suit a lot in the last decade.
Texas Tech – Scarlet Witch. Scarlet is one of Texas Tech's official school colors! Also, the Red Raiders always seem to have a ton of potential but can never keep things together, just like Scarlet Witch sometimes has trouble controlling her immense powers.
West Virginia – Human Torch. West Virginia and the Human Torch are both quick to set things on fire. Also, I'm pretty sure fire is the only excuse for that bald spot on the top of Dana Holgorsen's head.
srjclone (forums) asks: I was in Monterey, CA this past weekend and wanted to check out the renowned Monterey Bay Aquarium. Show up to the door and it was $60+ Per adult. Am I crazy or is that WAY high for an Aquarium? I remembered the Shedd in Chicago growing up was like 20 bucks for adults. The Question – What is the most money you would pay to get into a good/renowned aquarium or museum? Which Museum or Aquarium would you pay the most to visit?
The first museum that jumped into my mind for my answer to your final question was the Louvre. I checked and it only costs €15 to get in, which is equivalent to just under 17 American dollars. That makes the $60 price you quoted seem insanely high even if it's an aquarium and not a museum.
$20 seems reasonable and I think that's what I'd expect for admission to a museum or aquarium. Unless I'm getting some sweet added bonuses like a massage as I walk or continual access to a buffet, I wouldn't go much higher than that. History and aquatic life is cool and all, but I could also get, like, 20 McChickens instead. You have to take that fact into consideration.
CyArob (forums) asks: Who is your favorite polka band/artist?
Rash is the greatest polka band of all time.
---
That'll wrap it up this week, folks. Enjoy the ISU-Texas game this weekend and I hope that next week we will have plenty of questions about Iowa State and the Big 12 title game!