Mailbag time is here, ladies and gents! The Big 12 Tournament and NCAA Tournament are coming up. Let's get straight into the questions…
bozclone (forums) asks: If we win the Big 12 Tourney, it is because……
The Cyclones dedicate themselves to winning games on the defensive end of the floor.
The offense will be fine. Yes, they will probably experience a scoring drought or two as we've become accustomed to seeing throughout the season, but clamping down on defense helps make those droughts more stomach-able.
Get more stops, corral the defensive rebounds, and that will go a long way toward winning a fourth Big 12 Tournament title this decade.
AuH2O (forums) asks: Has Cameron Lard played his last minutes as a Cyclone?
I don't think so. But he hasn't done himself any favors lately and is certainly on his ninth life at this point. His usage is going to be one of the biggest things to watch throughout the Big 12 Tournament and Iowa State's first round game in the NCAA Tournament.
Oh, and there's this.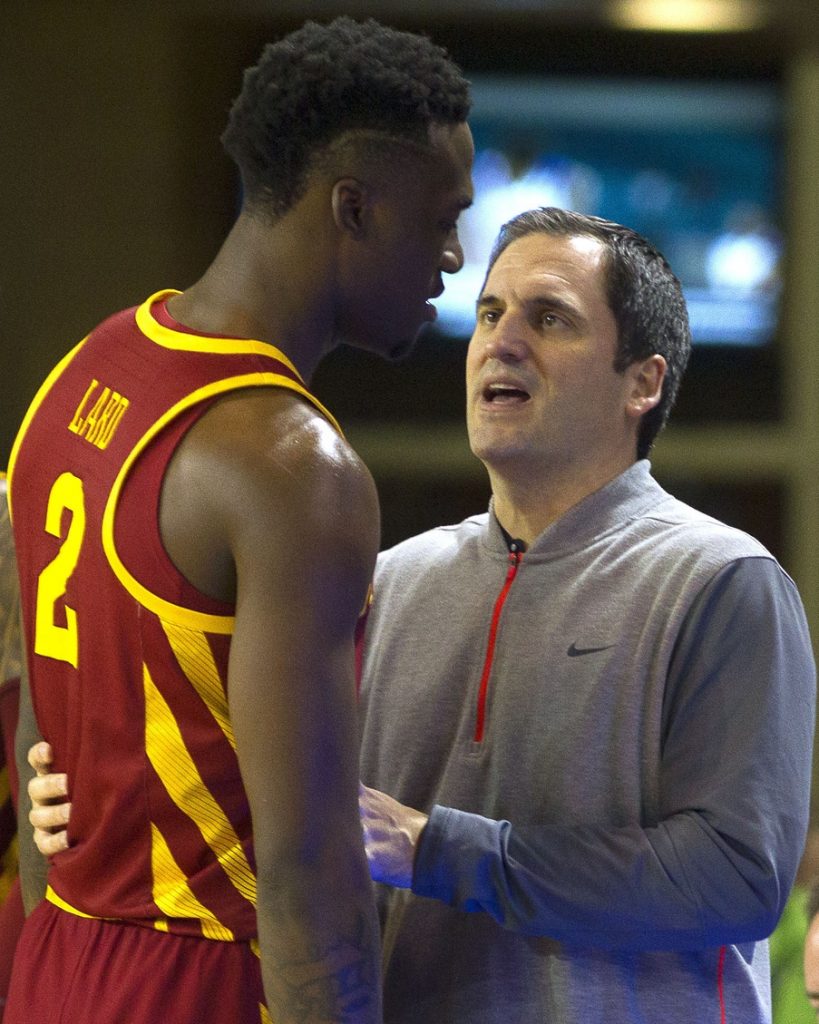 Cyched (forums) asks: Assuming ISU is a 6 or 7 seed in the dance, what team would you want to face as the 2 or 3 seed if we make it to the round of 32?
Based on a few minutes of research, it looks like these teams have the highest chance of ending up as a 2- or 3-seed:
Duke, Gonzaga, Tennessee, Michigan State, LSU, Purdue, Houston, Texas Tech, Michigan, Kansas, Florida State, Wisconsin, Kansas State.
Of those teams, LSU immediately jumps out to me because their head coach Will Wade has been suspended indefinitely by the school. Plus, of all the teams in KenPom's top 25, there are only four schools that have an adjusted defensive efficiency rating ranked outside the top 50: No. 16 LSU (57th), No. 18 Wofford (64th),  No. 21 Iowa State (72nd), and No. 24 Mississippi State (52nd).
If not LSU, Wisconsin would be my next pick because their adjusted offensive efficiency is 49th in the nation, and they could struggle to keep up with the Cyclones if ISU has a night where they shoot the ball well. On the other hand, the Badgers also have the 4th best defense in the nation, so that may be asking for a lot. But the bottom line is, I'd rather play a team with a presumed "weakness" on offense or defense as opposed to one that's more balanced.
bsaltyman (forums) asks: Hypothetical dream scenario, but suppose ISU wins the NCAA Tournament this year. What 6 teams would you most enjoy for ISU to defeat along their way to the title?
Hmm… I gotta take into account what teams would likely be available at certain seeds for this question. I'll go in with the assumption that Iowa State wraps up a 6-seed. That means if they met chalk along the way, they'd have to go through an 11-seed, 3-seed, 2-seed, and 1-seed to qualify for the Final Four.
Of the teams projected to be at or near an 11-seed, a really fun first round opponent would be Murray State. That'd give Steve Prohm a chance to coach against his former school and Iowa State the opportunity to go toe-to-toe with ESPN's darling ever since Zion Williamson got injured: Ja Morant.
After taking care of Murray State, the most satisfying 3-seed to beat would be Michigan State to get revenge for the 2000 Elite Eight game.
Moving on to the Sweet Sixteen with a presumed match-up against a 2-seed, we might as well take out Duke just to do the rest of the college basketball world a favor. Dickie V would be devastated, but he'd find ways to cope.
Then comes an Elite Eight match-up with a 1-seed, and the most enjoyable victory in my opinion would come against John Calipari's Kentucky Wildcats. This would also be a revenge game of some sorts for the year that Kentucky ousted the Royce White-led Cyclones in the second round. North Carolina would be another 1-seed that would be nice to beat, because it's always fun to stick it to Roy Williams, but DeAndre Kane did that just a few years ago. Kentucky gets the nod.
Once you get to the Final Four, it's basically a free-for-all with whoever made it out of the other brackets. To complete the "tour of enjoyable victories," I'll say the Cyclones dispatch Purdue in the Final Four (revenge for Monte's senior season) and set up a showdown with Kansas in the National Championship game. Iowa State leads by two points with five seconds left and Kansas runs the same play that got Mario Chalmers a 3-pointer to win the 2008 championship. Instead of it working, Tyrese Haliburton smartly recognizes the play and stuffs Ochai Agbaji at the buzzer. This ends up being the last game that Bill Self coaches in college as he moves on to coach the San Antonio Spurs after the season following Gregg Popovich's retirement. ISU forever gets to hold the game above Jayhawk fans' heads.
mdk2isu (forums) asks: With spring football starting, who do you think could surprise and put themselves in a position to earn significant playing time?
The one guy I keep hearing about is freshman defensive end Blake Peterson. The 6-foot-4, 240 pound lineman out of South Dakota was the highest-rated recruit in the 2019 class after the two running backs (Jirehl Brock and Breece Hall).
While defensive end isn't as big of a need coming into this season, it could be a similar situation to Mike Rose at linebacker from last year. That's the nice thing about Matt Campbell and his staff… They've proven that they're willing to play guys who are ready to play, regardless of their age. If they're going to make the team immediately better, they'll see the field. Peterson has a high chance of filling that role this year.
Sigmapolis (forums) asks: You get to realign Iowa State into a conference of any ten teams of your choosing. You are making this choice only for Iowa State's sake — nothing else matters. Which nine partners do you pick and why?
I'm choosing to pick my conference based on how much fun it would be as an Iowa State fan and nothing else. I could choose to pick it based on positioning ISU to succeed record-wise or gain territorial advantages of some kind, but that seems boring to me.
Iowa. It's a rivalry, don't overthink it.
Kansas & Kansas State. Lots of history between ISU and the Kansas schools.
Missouri & Nebraska. They make sense geographically, plus they were both members of the Big 8.
Oklahoma & Oklahoma State. Again, Big 8 members and plenty of historic association with ISU (even if that history involves a lopsided football all-time record – looking at you Oklahoma).
That leaves two choices left.
I think I'd either go north and reel in Minnesota and Wisconsin or go south and take in Texas and Texas A&M. Since I'm kinda tired of dealing with Texas throwing their weight around in the current Big 12, I guess that makes me lean toward Minnesota and Wisconsin. Two solid athletic programs that I'd enjoy watching the Cyclones play every year.
Gunnerclone (forums) asks: Do you respect or not respect "raging guy"? Is it cool that he's taking a stand or not? ie yelling guy at Senior Day, ie guy that doesn't get his fries with his value meal from the McDonalds drive thru and then goes inside and rips a random cashier for the error, ie guy that yells at Jared Stansbury for dog poop that doesn't belong to him solely because he has a dog.
In my opinion, "raging guy" is never warranted in situations of similar caliber to the ones you listed. And I never respect the person doing the raging. If the situation can be remedied with a calm, straightforward conversation, then the freak-out is completely unnecessary and shows a sign of immaturity.
Now, the guy who yelled at Steve Prohm on senior night can't necessarily remedy the situation with a conversation, but that's a classic scenario where it's neither the time nor place to say what he said. As much as I hate reading it, that comment is better left on the Cyclone Fanatic forums instead of stealing the spotlight from three seniors who worked their butts off for Iowa State basketball.
When in doubt, if you're frustrated, just make your point using strong words – not strong volume.
pulse (forums) asks: Taco Time or Taco Bell?
Taco Bell.
I could accept an argument that Taco Time has better run-of-the-mill tacos. It's just that Taco Bell's menu variety far surpasses Taco Time's. And if I'm fully committed to cheap Mexican food, I might as well be shameless and go with the place known for legendary $5 boxes. A chalupa, burrito, taco, cinnamon bites AND small drink for $5? You're basically losing money if you don't take advantage of that deal.
GTO (forums) asks: Favorite seasonal/limited time restaurant item: Shamrock Shake, McRib, or Pumpkin Spice Latte?
I've had all of these and can thankfully give an informed opinion. The Shamrock Shake is straight trash – so that's out. The pumpkin spice latte is an acceptable drink, but is massively overrated by 20-something female Instagram "influencers."
That leaves the McRib, which I don't think is anything ground breaking and is just an "average" sandwich by my own McDonald's standards, but it's not near as overrated as the PSL and won't make my stomach shout curse grumbles at me after eating it like the Shamrock Shake. McRib wins by process of elimination.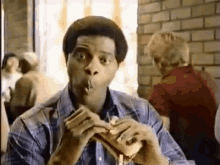 BCClone (forums) asks: What's the best brand of underwear?
This is such a timely question! My parents have become big fans of Duluth Trading Company and for my birthday last Friday, they gave me a gift card to go shop there sometime. I've never been before, but after doing some snooping online, I've noticed they carry the popular "Buck Naked" underwear that gets a ton of great reviews. I was considering getting a pair or two of those with my gift card to try out. If anyone reading the MWM has their own experience with that underwear and is willing to share, I'm all ears.
But, to answer the question… My go-to underwear currently are the boxer-briefs from American Eagle. They fit snug enough to keep everything from bouncing around, yet loose enough to avoid death via human deflategate.
Since those can be a bit more expensive, my recommendation for a more economical choice are the Fruit of the Loom boxer-briefs. They wear down faster than the American Eagle variety but are quite comfortable given the price.
By the way: boxer-briefs > boxers > briefs. No interviews, please respect my decision.