Angie (Welle) Edinger in action. Photo courtesy Iowa State Athletics Communications.  
Angie (Welle) Edinger cinched up the drawstrings of her hooded coat and took off like a shot after practice at the venerable Forker Building.
 The star Iowa State center's destination: Home, safe, at nearby Freeman Hall.
 The freshman's perilous route after a grueling practice: Past a cackling, always-hovering, murder of crows, which perched — then circled ominously — to drop putrid debris on all the up-and-coming, but then-dodging-and-darting Cyclones as they alit toward the dorms in a state of minor terror.
 "It's just vivid," said Iowa State's all-time leading scorer, who is now an assistant principal at a middle school in Bismarck, N.D. "The smell. You just put the hood up on your coat and just literally put your head down and sprinted for dear life. You'd hear them above you."
 Edinger's not complaining. That pattern of conflict between bird and human simply forms a backdrop, er, back dropping, for her remarkable career.
 Edinger, of course, scored an all-time program best 2,149 points in her ISU career from 1999-2002 — frequently while running the floor better than any big in the country. She, along with Stacy Frese, Megan Taylor, Tracy Gahan and many others, helped hoist Coach Bill Fennelly's program onto the national landscape.
 The Cyclones went 46-1 at Hilton Coliseum in her first three seasons and sparked a golden age for ISU athletics by vanquishing top-seeded Connecticut to reach the Elite Eight for the first time in program history in 1999. The men's team rolled to an Elite Eight appearance the following season and the football team notched nine wins for the first time in short order, as well.
 It was, plainly, a great time to be a Cyclone — and Edinger joining the women's hoops team as a freshman in 1998-99 was a big reason why.
 "I think what Angie did, she validated us," said Fennelly, whose 20th-ranked team plays Kansas at 6:30 p.m. today on Senior Night as Bridget Carleton chases Edinger's scoring record. "She was probably the first national recruit that we got. She got recruited by a ton of people and I think we went from a good team to a great team for a while and you look at — everyone's gonna look at her scoring, but the biggest thing to me is she scored a lot of points but she won a helluva lot of games. And I think when you look at great players, you know, it's like Tom Brady because he wins Super Bowls, and Michael Jordan because he wins (NBA) Championships, but whatever. That to me is the ultimate validation of how good you were and then the people that (surrounded her): Tracy and Stacy and Megan — you start adding all that stuff up, but she was a dynamic player. She could run. She could catch. She jokes all the time that all she could do was run and make layups, which isn't true. But she did that a lot. She was really good at knowing what she was really good at. I tell people she was Doug McDermott before Doug McDermott as far as being amazingly efficient. She did her work before she got the ball. Made layups. Being left-handed, had a little funky game to her, but just an amazing person, an amazing family."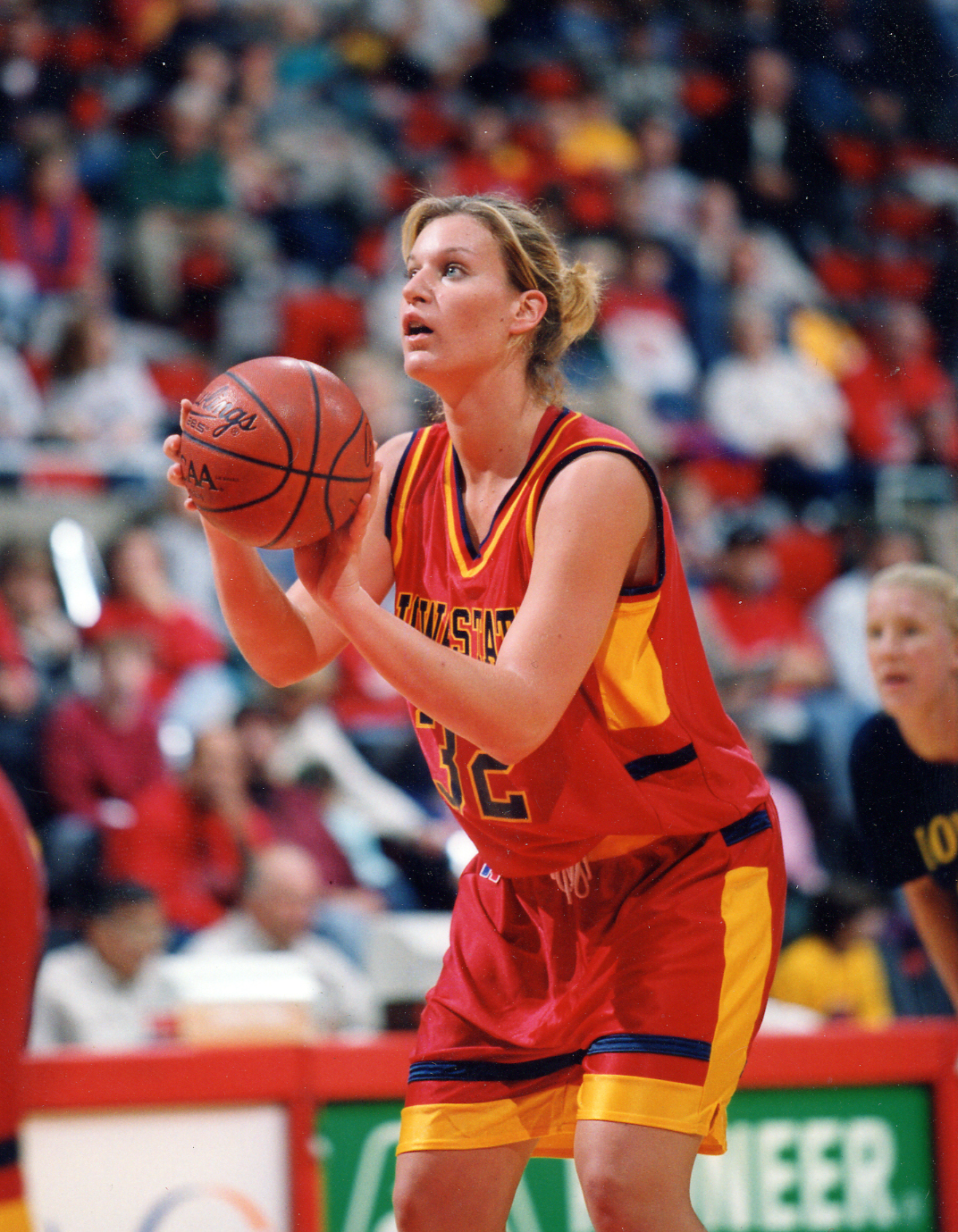 ****
 Edinger is a lefty, which means, of course, that she's "crafty." Her signature post move involved gathering in an entry pass, dipping her shoulder and elbow, and swirling toward the hoop to deliver a virtually unstoppable scoop shot. It was so good, that in four seasons, no team found a consistent way to defend it — not even UConn, which the sharpshooting Cyclones' shocked 74-68 in the 1999 Sweet 16. It was so strange even she doesn't know if she'll ever teach it to her daughters, Lily (7), and Fletcher (4 1/2).
 "This is funny, because I just busted this move out on my husband (Ryan) last Sunday at the 'Y,'" said Edinger, a Fargo, N.D., native. "I'm bringing this out of retirement. I got my footwork down and, dang it, it came back to me. I don't know why it worked. It was unorthodox. I think part of it is I would end up getting double-teamed a lot so they would bring a guard down, so if I could could get good enough position I could split the defenders. So if I would be able to split the double team — and then because I'd split the double team, I'd have to shoot out in front of me, which was this totally ridiculous, unorthodox scoop shot from my hip, but somehow I could put the right spin on it to make it work," Edinger said. "And I don't know why. I don't know why … not that they couldn't stop it, but I think, I don't know, but because I could beat 'em or I could get my shoulders past them, once you get the defenders behind you, they're defeated."
 They often were — and by a wide margin.
 "She'll say that she scored a lot of points running, outrunning people, and having one little, like a scoop thing," Fennelly said. "It was very unorthodox — and being left-handed, being unorthodox and being left-handed, they go together I guess, but that's to her credit. She didn't try to do other things. Like, 'I'm, just gonna keep doing it until you stop it,' and for four years — and that's the other thing. If you look at her numbers, that's a credit to her, too, she got better every year. It wasn't like one great year or whatever. Every year she kept getting better and better and her numbers kept going higher and higher. Just an amazingly efficient player, and was a great player at Iowa State, but she was a better teammate. I think that says a lot about her and her parents."
 *****
 Edinger's career was forged at a home-based hoop, not on an AAU circuit. She did, eventually, join the traveling bunch, but for a long time, it boiled down to her, a driveway, and a basket — and dad often alongside.
 "I just shot hoops in the driveway all the time and I would go to my high school camp in the fall again," said Edinger, who ended her career at ISU as the program's leader in scoring, field goals made, field goal percentage, free throws made, free throws attempted, rebounds and blocked shots. "I remember starting in third grade and I played Y-ball — just kind of played all the way through. Even when I was in high school, I'd only go to my high school camp. I remember my junior year, maybe before my senior year, I finally was like, 'You know, if I want to play, I'd better go to a recruiting camp. I'm from North Dakota. Nobody's gonna come up here and see me.' We played basketball in the fall. So another teammate and I went to go to Missouri."
 All this time, an up-and-coming coach at Iowa State had been searching for a game changer. He'd found some already and started to turn a moribund program around.  Edinger, along with other record-setting teammates, would cement that solid foundation — but only if they could get her to Ames. 
 "They were, if I could say one word about how they recruited me, they were tenacious," said Edinger, who held a host of recruiting offers. "They were professionally tenacious. And tactfully, tastefully — however you want to put it. They were there. I remember, at the time, coach (Brenda) Frese was there, who of course now is at Maryland, but she was kind of the one who recruited me."
 "They would be at volleyball games and they would be at all sorts of basketball games and state tournaments and volleyball state tournaments. I guess I just felt like they really, really wanted me. You know? And it's good to be wanted, but I felt like I was really important and a priority to them. Sometimes you get letters in the mail and whatever — these typed up letters — and I remember (ISU coaches would) hand write me letters. And Coach Fennelly would hand write me letters. … So this isn't just like, 'OK, it's Monday, we need to put together our typed-up letters and send them out.' I just felt that they were going above and beyond."
 It didn't hurt that some key seniors were graduating from ISU — and that played into Edinger's decision, as well.
"I felt if I busted my tail I might get to play a few minutes and I might get to see the court a little bit," Edinger said. "So I guess that was what was also appealing to me, that, you know what? They're graduating a bunch of seniors. I might have a shot if I better my game."
 She proved she had more than that.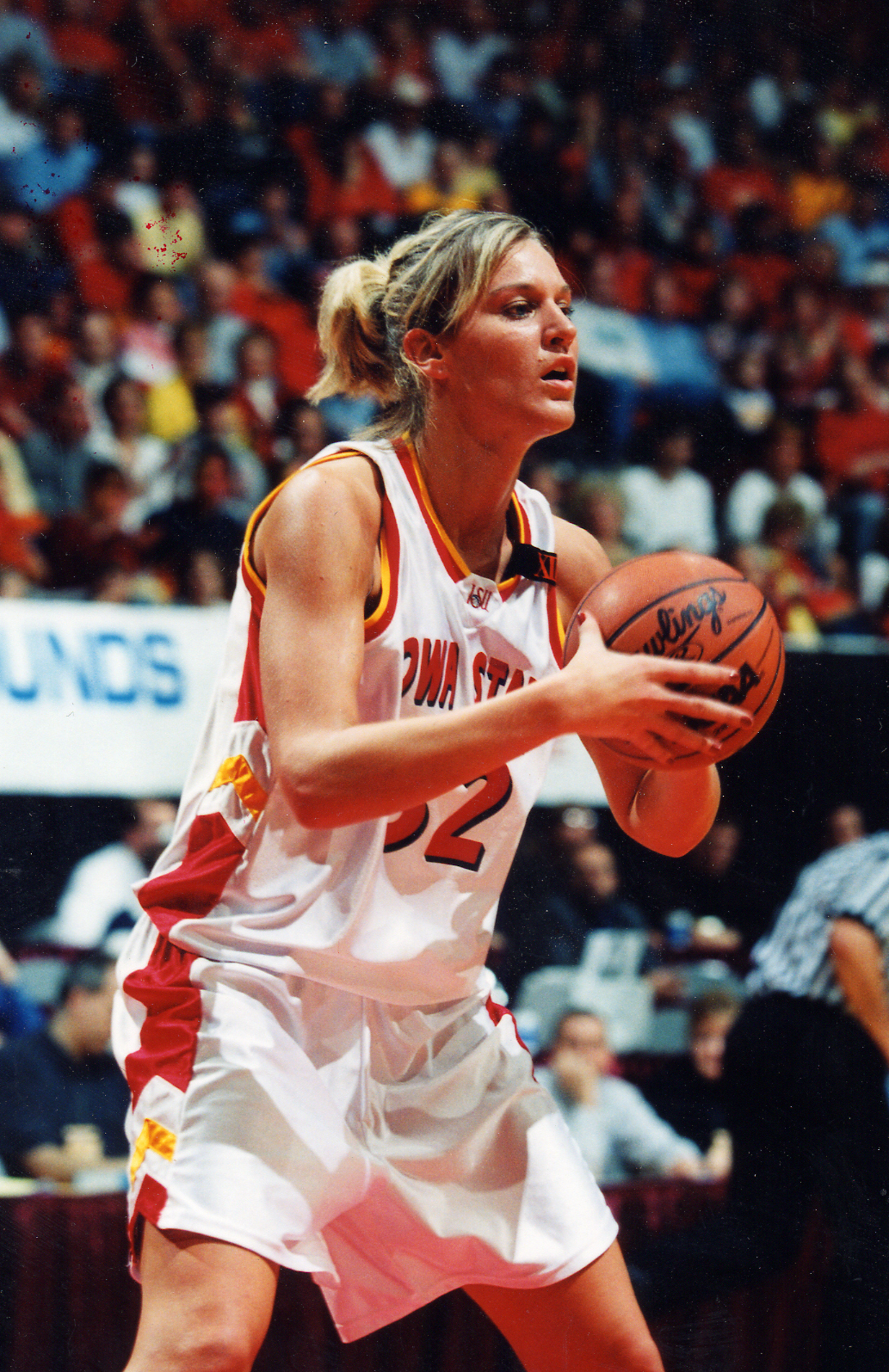 *****
 Edinger entered AAU ball eventually, knowing that she had to "market herself," given basketball in North Dakota was played in the fall. She played with Missouri State's Jackie Stiles, who scored a staggering once-record 3,393 career points as a college player and then ended up on a star-studded Minneapolis-based national championship team that included the Miller twins (Coko and Kelly, who went on to star at Georgia, a later nemesis).
 "But in a roundabout way I'm fortunate that I had the opportunity to enjoy basketball and I played basketball, and I could play volleyball — you know what I mean?," Edinger said. "So it wasn't, I just didn't have — it's gotten so intense at such a young age, and I didn't have that. I guess I just played with my regular classmates. Was I good? Well, I was tall. I was always tall, so I had that advantage, but I also definitely worked on it a lot in driveway with my dad."
 Once at Iowa State, Edinger established herself, scoring 361 points her freshman season — a single-season number that would skyrocket to 676 in her fourth year.
It's also a lofty number Carleton stands just 38 points away from entering tonight's matchup with the Jayhawks.
"I've talked to Bridget about it," Fennelly said. "Everybody knows I'm pretty much to the point, but I told her. I said, 'When this season ends, people are gonna — whether she breaks the record or not … she's gonna be compared to Angie.'"
That's a good thing, of course — and a work in progress.
 Edinger was just a freshman when the Cyclones notched one of their biggest wins in program history. For perspective: UConn has made the past 25 Sweet Sixteens. They've failed to advance to the Elite Eight just twice in that span — and the first time was against a hot-shooting, upstart ISU team that dared to believe they could topple the Huskies in 1999.
 "Truthfully, I think we were like, 'OK, Coach Fennelly, uh-huh, yep, we can do this,' almost thinking, 'Yeah, not gonna happen,'" Edinger said. "But I don't remember who was in charge of the scouting report, but it was, '22 can dribble this way, and No. 45, blah blah.' And we're like, 'Stop. We know these people. We know that we're guarding Shae Ralph and we know that we're guarding — so we're like, 'Who's got Swin (Cash)? Who's got Shea?' We're just calling them by their first names because we'd been watching therm on TV, so we probably didn't look real, well, professional, because we looked like little kids playing against their idols. We knew all these people. They were like superstars. But I think we did — we hit, obviously shots, we needed to hit shots, but when we got out there, we just kind of played our game and once we got playing, the further the game went on, the further we hung with them; I think the further the game went on, our doubt that maybe we couldn't win went away. But to be very honest, I think we definitely had our doubts until tip-off that maybe we could actually pull it off."
 Even though they lost to Georgia the next round, ISU had clearly come a long way — even as the team still needed to schedule practice time around others' stints at State Gym, or the bird-besieged Forker Building.
 "We were moving desks and you couldn't get in because the professors were playing noon ball," Fennelly said of occasional State Gym time conflicts. "It was a different world back then. Everything was different. Not that it was worse, but it was different. This group would never understand it. They're growing up in a different world, but Angie — and I think the thing about her, is because of the way she was raised, it was never an excuse. Never look for a reason why something didn't happen. Whatever we asked her to do, she brought others with her and I think that's something that I think also added and continued the culture of what this place is about. Even though she's been gone a few years, what she left here still lingers, because it's like this idea of having someone that's always gonna be around. And she just has that ability and that presence so that when she does comes around — and it isn't often, but when she does, it's a unique and special way."
*****
 When Edinger did "come around" at Hall of Fame induction time, she was amazed by the spacious Sukup Practice Facility the women share with the men. All those nutritional shakes, fruits and readily available foods in those refrigerators. No crows circling around, plotting coordinated attacks and general mayhem. 
 "It's all relative," Edinger said, laughing. "Because when we played we had it all. We had the coolest winter parkas. We had the coolest sports gear. And we did, we practiced at Forker a lot. It was really close to our dorms. We all lived in Freeman Hall at the time … but during the fall, crows would just come and swarm the trees. So we would just cover our heads for dear life and sprint as fast as we could hoping we would not get pooped on by these crows, because we would come out to our cars and they would be covered — covered — in bird poop."
 Shrug. Sprint. Move on and win some more. 
 Edinger's teams, again, reached three Sweet Sixteens and that one Elite Eight.
 But the wins and losses and highs and lows aren't what Edinger remembers the most from her time at ISU. It's what they forged that mattered: A nationally-relevant team made up of a bunch of seemingly (but not really) mismatched components. They all fit. As friends. As teammates. As Cyclones. And by design by Fennelly and his staff. 
 "At my age, it almost becomes emotional to talk about, because you don't realize at the time how much it becomes a part of you," Edinger said. "And I think of my profession now, it is always a talking piece. Always. And I always say it, 'It's fun to have that little blast from the glory days,' but kids, daily, want to ask me, 'Were you good? And how far did you make it? And have you ever played Connecticut? Did you ever play Duke?' It becomes such a talking piece, but I am convinced I learned through athletics skills that have made me be successful in a totally (different) occupation like education, or in leadership. You learn how to work with others. You learn how to have a mindset, work ethic — allow those things you learned playing basketball for four years, but really are life skills you need in any profession. So I'm so proud of our team, for four years. I think back and, even now, I'm like, 'We were good. We were really good.' I don't pay attention to record books and points and all that stuff. But I do know that Stacy Frese is up there, Megan Taylor's up there, Tracy Gahan is up there, so we must have put up a lot of shots, because we put up a lot of points. But it does, unfortunately it takes you to be removed from it to realize how much an impact it really has on you."
 So now, Edinger impacts students. She loves helping to guide middle-schoolers past their fears and foibles, pointing them toward new horizons. She's still a competitor, but also an advocate— not only for her students, but for her alma mater, as well.
 "There's something so special about Iowa State," Welle said. "And that's Iowa State as a whole. Whether that's Hilton and the fans … like I said, I'm 18-19 years years removed from there and I've got a different hair color for God's sake, and fans, they feel like they're part of your family. They don't forget you. When I went back there for the Hall of Fame (induction), I had some fans remembering to high-five me. And you don't have to remember me. I was like, 'I'm a washed up athlete,' so I think there's just something so, so special about Iowa State and you don't get it until you're actual there and probably leave. You don't find that everywhere. So I want to give the fans a shoutout. That's my thing."
 Perfect.
 "She texted me about the 500 (wins at ISU) thing and I go, 'Well, you got about 100 of them," Fennelly joked. "I need to get a couple more like that."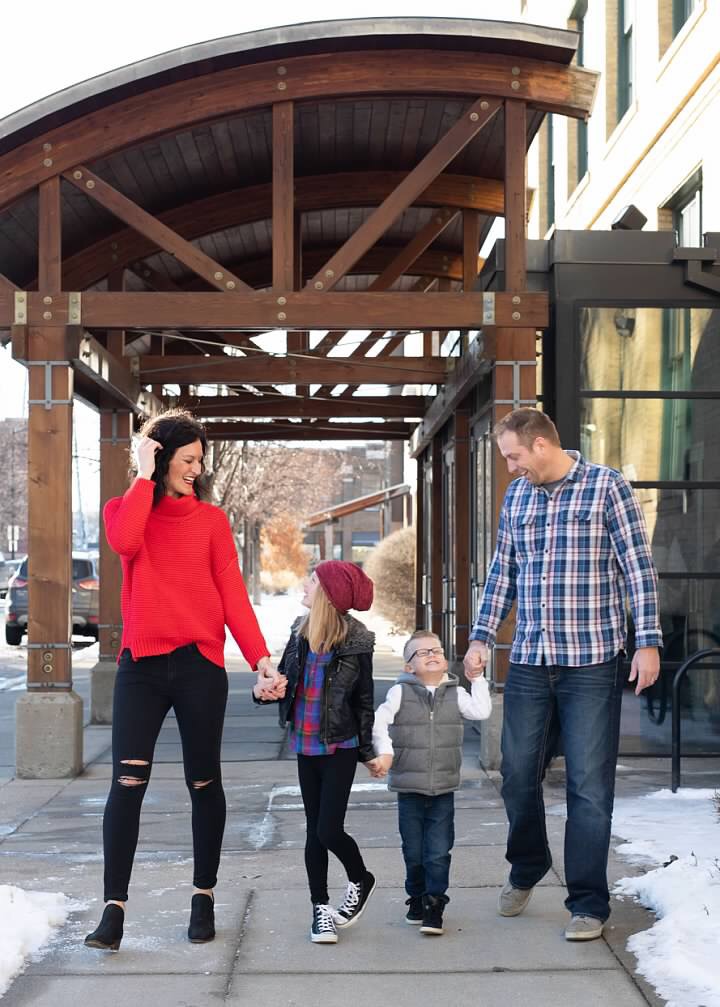 *****
 Team mattered most to Edinger.  It matters most to Carleton now. 129 points separates the duo — as do 19 years, but the "Iowa State Way" mindset remains the same, then and now.
 "The 15 of us played with so much pride and I vividly, distinctly remember that,"Edinger said. "And could Megan Taylor score 30 points? You bet. Could I score 30 points? You bet. Could Stacy? Any given night, anybody could. But we were so unselfish. I remember that and nobody cared who shot the ball or who got the ball or scored the points. We just had somehow bought into what we were trying to do and when you do that and you play together as a team, then you form these friendships off the court and that's because that kind of just made for this unique chemistry that you kind of take for granted, because it's not on every team. I think that goes on to now where, yeah, we all — (Fennelly) and I were texting (last) Saturday. Coach tied all of us together from all over the United States: Texas, Iowa, North Dakota, Minnesota, Antigua, Kansas City — and now here we are, we've formed these lifelong relationships. So I guess thanks to Coach Fennelly for bringing us all together."
 As for this team?
 "(Carleton) has been phenomenal," Edinger said. "She can shoot the 3. She can rebound. She can — just her whole game is so good. She deserves it. She's an Olympian for God's sake. She can do so much and it's fun to see. I think she's got teammates around her that can help her be successful and they're ranked this year. I think that's the biggest thing. It's just fun to see them at the caliber they are this year."
 That's what matters most to Carleton, too. Her team is good. It's their job to ensure that carries over deep into March. 
 "Obviously we want to be recognized as one of the best teams Iowa State's had — that Coach Fen's had, so just to be included in that is a huge honor and I'm excited to see how we finish out," Carleton said before Saturday's big win at Texas.
 So times change. Crows remain sly and occasionally sloppy. Identities blur, and individuals step aside. Both Edinger and Carleton want the same thing: Team success. Numbers and records pale in comparison. Now, as 19 years ago. There's nothing to dodge but ego.
 "The one thing that Bridget needs to understand and wants to understand is Angie was a winner," Fennelly said. "She wasn't just a great basketball player who scored a bunch of points. She was a winner and you want people to look at you as, when it was your team — this is her team — you want to go out a winner. So that when you're in the same conversation as Angie, then they're going to look at her and go, 'Great player, great team.' Those two things have to go together. If they don't, then you should not be in that conversation. You don't deserve to be in that conversation and I think Bridget completely agrees with that, understands that and wants this team, I think, so badly to be in that conversation. That's a credit to her."