Feb 9, 2019; Ames, IA, USA; Iowa State Cyclones guard Lindell Wigginton (5) talks with an official during the second half against the TCU Horned Frogs at Hilton Coliseum. Mandatory Credit: Jeffrey Becker-USA TODAY Sports

Should we trust this Iowa State basketball team? That all depends on what your expectations were to start the season and more importantly, what they have evolved to as we near the month of March. 
It's easy to forget that Steve Prohm's 2018-19 team was picked to finish sixth in the Big 12 just a few months ago. If you're still just happy with Iowa State making the NCAA Tournament and having an outside shot to get to the second weekend, then yeah, this team is very trustworthy and has wildly exceeded expectations. 
Since mid-December though, my mind has been on a regular season Big 12 championship. All of the pieces are there. Iowa State has elite guard play and potential to be very good in the post. The Cyclones play defense and are incredibly dangerous with the basketball. I believe this team can be that special – especially when you factor in the surrounding craziness that is the league this year. 
Now that you know where I stand, please forgive my insanity. It's just how I'm wired. But only minutes following Iowa State's 78-64 upset win over Kansas State on Saturday, I found myself already fearing Scott Drew's zone and that smug smile.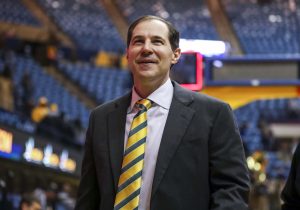 To be brutally honest, that TCU game took something out of me. Iowa State didn't just not play well. It seemed as if the Cyclones lacked energy and emotion, which was disappointing to see at home against an inferior opponent. 
But in winning at K-State, Iowa State is right back in the championship mix. With six games remaining, the Cyclones are one game out of first place but tied with two other teams with four losses.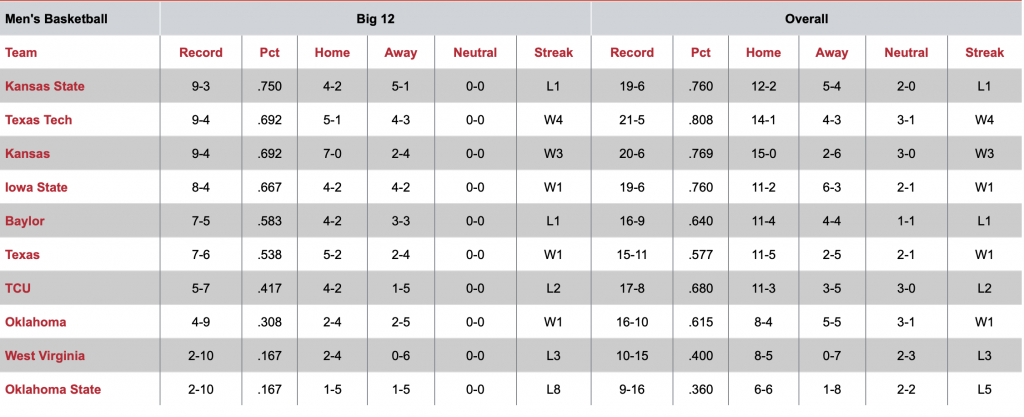 Tuesday night's game against Baylor is absolutely terrifying to those who have been paying attention over the years.
That tortoise tempo and zone defense give me the chills.
The 2014 home loss to Baylor – when Drew called his final timeout with like 10 minutes to go and we all mocked him only to watch the Bears rattle off seven threes in a row to win the game – left its mark. 
The past is in the past. Here's why I'm still iffy on Iowa State though. 
The Cyclones got off to a 2-0 start in the Big 12 (that included a 17 point thrashing of Kansas) and lost in Waco on Jan. 8. It was a game that Iowa State should have won but we all understand road losses in this league. Even with that, morale was still high when Kansas State came to town as a 10.5 point underdog on Jan. 12 and the Cyclones laid an egg. I respect the fact that K-State is currently the first place team in this league – but there is no doubt in my mind that Iowa State should not have lost that basketball game. 
The Cyclones responded marvelously with a 68-64 win at Texas Tech the following Wednesday and won six of seven heading into what seemed like what would be an "easy" win as again – a double-digit favorite – vs. TCU. 
I am still nauseous from that performance… 
The Cyclone Nation is "up" again heading into Tuesday's bout with Baylor, where I project Iowa State will be anywhere from a 9-11 point favorite. 
Which Cyclone team will we see?
The one that played with great urgency in Manhattan or the one that was nothing short of lackluster the previous Saturday vs. the Horned Frogs?
Only time will tell, but I'm sticking with my initial feelings that I had about this team back in December. It has the opportunity to be special and I believe the Cyclones will prove to be just that in the coming weeks. 
Call me crazy, but winning out is a very real possibility. 
Iowa State enters its latest chapter tabbed 13th by KenPom and 13th in the NCAA's new NET rankings. When it comes to the analytics, the TCU loss was completely wiped out by what happened at K-State. 
Everything is in front of this group. 
I'm banking on the TCU game being the final lesson this team needed to really get hot and go on a run.  
This has been a great season. 
However, from where I sit, this is a Big 12 championship caliber team worthy of a 3-seed in the NCAA Tournament. From that standpoint – with those expectations – this team is not yet trustworthy. Two home losses as double-digit favorites will do that to a man. 
There is an opportunity to prove me and a lot of other Cyclones wrong tomorrow night vs. what looks to be a depleted Baylor team.