Forgive me for giving K-Fitzy this week off. 
Why?
Because I needed something to do on my flight to Morgantown (I'm calling women's basketball tonight vs. the Mountaineers, 6 p.m. on the Cyclone Radio Network). 
We are smack dab in the middle of an important week for Iowa State basketball so let's get after it with your questions. 
From the CF forums, Cycloneted writes: What's your starting lineup against Texas Tech? How many minutes does everyone play?
CW: As far as minutes go, I'm not even going to attempt to tackle the minutes portion of your question because that's all predicated so much off of how a game is flowing. 
I will come out though and say that Lindell Wigginton WOULD be in my starting lineup, mainly because I feel like this group needs a shot in the arm to some extent. He is clearly not thriving in his current role of coming off the bench so why not change things up and see how it goes?
I would probably take Tyrese Haliburton out of the starting lineup not as a penalty, but more as a compliment because I know he would understand and be totally ok with it. Tyrese is that type of a kid. 
If Cam Lard is 100 percent, I would start him at the five and move Michael Jacobson to a sixth or seventh man role. 
So my starters would be:
Wigginton
Weiler-Babb
Horton-Tucker
Shayok
Lard

 
From the CF Forums, Dahliaclone writes: Which game will be tougher to get a win: at Texas Tech or at Kansas?
CW: I feel like Iowa State matches up better with the Jayhawks but Lawrence is a much more difficult venue to play in. 
Plus, while Texas Tech is an impressive 15-1 (4-0) on the season, they don't blow anybody out. Tech's four Big 12 wins over (West Virginia, Kansas State, Oklahoma and Texas) were by an average of 5.5 points. 
I fully expect Iowa State to be in tonight's game until the very end. 
From the CF forums, jbindm writes: Which season is more draining to watch as a fan or journalist – ISU football or men's basketball? I think football is difficult because of the week-long layoff between games; that's a long time to let the bad losses fester and you get tired of rehashing whatever went down a day or two after the game. But basketball is tough because the quick turnarounds between games creates a real rollercoaster effect. Do you get to the end of one season feeling like you need a vacation more than the other?
CW: Basketball is a total grind and by the time late March rolls around, I am usually very thankful we've reached the end and am ready for the offseason. 
With football (nowadays at least), I am generally sad to see it go. I'm sure that Iowa State's recent winning has a lot to do with that. For a handful of reasons, football is a lot more fun to cover and be around now than it was five years ago. 
Basketball season is just so long and it's impossible to get into any sort of a routine with it. Games are at different times and on different nights of the week. 
I enjoy how with a football game week, there is a consistent buildup.
It annoys the heck out of my wife, but I am a guy who loves a routine. My football game week is basically scripted out by the hour. I love that (anxiety alert)! 
But the answer is simple. Basketball is much more draining for all of the reasons above, plus when you're in my position and are constantly interacting with fans, the up and down that comes with hoops (the last two weeks are a great example) can be somewhat exhausting if you let it get to you. 
Thankfully, I've mellowed out a lot over the last few years. 
From Twitter, @JoeVanderWerf writes: What's next years starting five look like?
CW: I hate questions like these because they are so difficult to answer. We're only four games into this year! I'll take my best stab at it though. 
Tyrese Haliburton
Prentiss Nixon
Talen Horton-Tucker
George Conditt
Cameron Lard 
Give me the versatile twin towers down low with Michael Jacobson as a key sixth man. Judging by his tendencies over the last four years, Prohm will have a hard time not starting him. 
As far as Nixon goes, I'm honestly unsure as to how he has looked since arriving on campus. I had a really hard time filling that spot and am not confident in this prediction at all. I just don't know enough. 
I am assuming that Wigginton goes pro after this year regardless. We'll see. 
From Twitter, @Cdub_99 writes: With Fox removing itself from the Big 12 football championship game in 2019, who besides ESPN do you think will pay the est. $20M Bowlsby is asking?
CW: I made a few calls about this because I was genuinely very curious about Monday's "report" as well. As it turns out, there is nothing new here at all. 
I'm told that the Big 12 has known about this for nearly two years. 
My guess is that ESPN will scoop these up however I do know that the Big 12 has been forward thinking over the last few years in leaving open the possibilities of working with tech companies at some point as well. 
From Twitter, @Jake_Vos_ writes: Where's the best place to stay in KC for the tourney?
CW: As is the case with anything, it all depends on your budget. However if it isn't out of your price range, stay near the Power and Light District. You don't want to be Ubering all over Kansas City all of the time. 
My personal favorite place to stay in down Kansas City is The Aladdin – an old property that is supposedly haunted and is now owned by Holiday Inn. I love this place as they give you champagne and two drink tickets when you check in. Can't beat that. 
Plus, it is allegedly haunted so some late night EVP sessions are always going down in my room. 
From Twitter, @The_One_Wing writes: Way-way-way-too-early bowl prediction/ Big 12 finish for 2019 Cyclone Football.
CW: How does an 8-4 record and a trip to the Alamo Bowl sound? Honestly, I could see it playing out that way. But let's go game-by-game and I'll make my way-way-way-too-early predictions for the 2019 season. 
UNI – Win (Iowa State will host both Hawkeye teams in the first two weeks of the season)
IOWA – Win (yep)
LOUISIANA-MONROE – Win (I love the fact that Iowa State is legit out there buying games now)
At Baylor – Win (Campbell vs. Rhule in a steel cage.)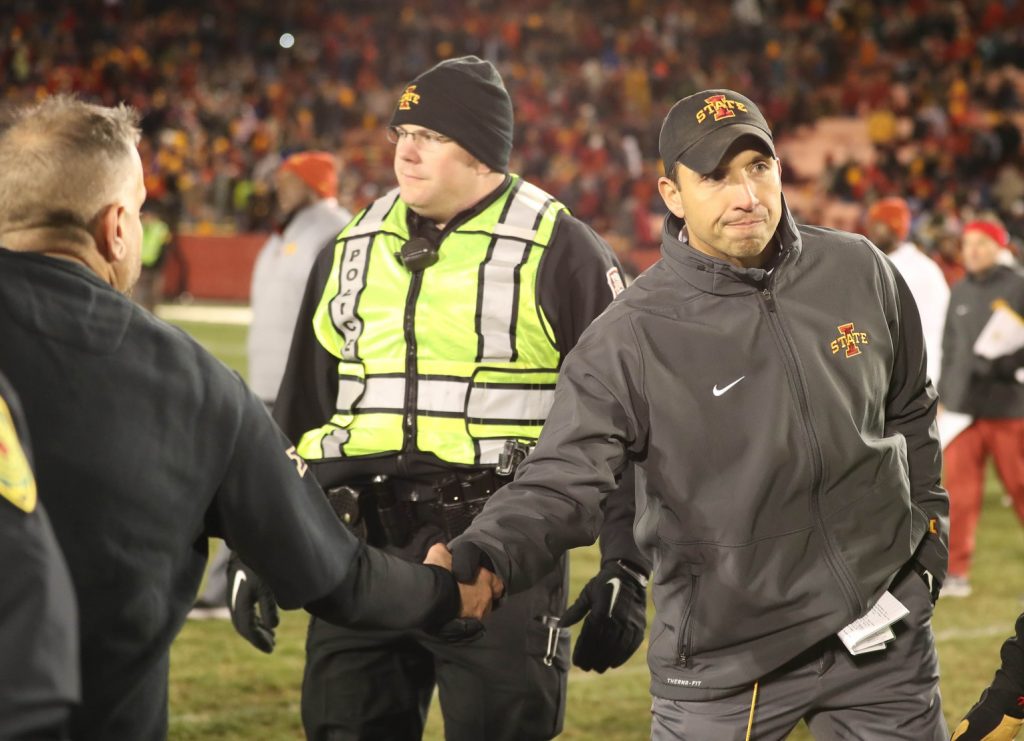 TCU – Win (They should be improved but I like this game at home.)
At Texas Tech – Win (Matt Wells will do much better there than Kliff Kingsbury did.)
OKLAHOMA STATE – Win (Meh, like this game at Trice.)
At Oklahoma – Loss (Y'all hear they just got Jalen Hurts?)
TEXAS – Loss (They will be a CFP contender next year.)
KANSAS – Win (Not yet, Lester.)
At Kansas State – Win (No vampire, no more super powers.)
Holy crap. I've got them at 10-2. 
luke_wouldgo writes: Have you watched the 2nd season of QB1 on Netflix yet? It features Re-al Mitchell's senior year at SJB. What was your impression?
CW: I have not but plan on doing it soon. Re-al is a total freak show of an athlete and I can't wait until he's in the mix next season. His family and background are fascinating too. 
@JaredStansbury writes: Who had the best performance in Old School?
CW: Let me guess … somebody just listened to the latest episode of The Re-Watchables?
Vince Vaughn in his prime reminds me a lot of the great Randy Travis in the country music world. He created some of the greatest music of all-time during those years. When Vaughn was hot, he was unbelievable. 
But Will Ferrell stole the show here. 
From the "comeback" of Frank the Tank to his adorable relationship with "Blue" to shooting himself in the neck with a tranquilizer dart, Ferrell made the movie. 
@TedFlintKansas writes: Rank the best below the waist clothes to drink in: Sweatpants, boxers, blue jeans, cargo shorts, blue jean cut off shorts, slacks, and any other ones you can think of.
CW: While I am awfully fond of cut off blue jeans and cargo shorts, blue jeans is the correct answer here with a loose flannel shirt. It's my favorite outfit. Works for anything. I rarely wear sweatpants. In fact, I despise sweatpants. This concerns my wife. I hate having beers in slacks because it makes me appear that I think I'm classy when in reality, I'm certainly not. 
That work?
@BigNickEnergy_ writes: Is going to Des Moines Buccaneers games for the beer specials trashy or savvy?
CW: Savvy. Plus you're supporting a great local franchise. 
@Burt_Mayor writes: What do you recommend I do to ensure my last semester at ISU is memorable?
CW: Savor every waking moment with your buddies. Be kind and respectful to your girlfriend but don't always choose her over the fellas. That guy is the worst. The fellas will be friends for the rest of your life but it won't be the same after you graduate. You guys will all go off and get married and potentially have kids and while you want to spend time together, you won't. At least you won't in the same carefree way that you do now. Enjoy that final semester of college because the real world and life will come at your fast.