Happy almost-Christmas, Cyclone Nation. It's Thursday and there are officially two work days (probably less than that by the time you read this) left until the long weekend arrives.
For many of you, that long weekend might be a full week off if you're heading down to San Antonio for the Alamo Bowl. I'm pretty sure the lyrics "It's the most wonderful time of the year" are talking about bowl season specifically. They definitely apply.
Let's celebrate by going through another round of top-notch questions and answers in this week's edition of the Mid-Week Mailbag.
HackTheGibson (forums) asks: For discussion's sake, assuming they declare for the draft this year – thoughts on draft rounds for Montgomery and Butler? Ideal landing spots for them?
For my own sake – and I recommend that all Cyclone fans do this – I'm assuming that both David Montgomery and Hakeem Butler will make the jump to the pros this off-season. I'm doing that partially to soften the blow if they do, and partially because I think both have about maxed out their current draft profile.
Montgomery has certainly done just about everything he can in college. The only thing he could do better is put up more eye-catching stats, but that hinges more on the offensive line he's running behind than his skill set.
The argument could be made Butler should come back and show he can eliminate some of the easy drops he made this season, but even if he doesn't drop a single ball next year, how much higher would that actually move him up the draft boards? The reason he's going to get drafted is his blend of size, speed, and athleticism. That stuff can't be taught, but eliminating dropped passes is something that can be a point of emphasis during his first couple years in the NFL.
To answer the question of when I think they will be drafted, I'll go with the 2nd round for Montgomery and the 3rd round for Butler.
My prediction is no running back goes in the 1st round of the 2019 NFL Draft. I'm not convinced Montgomery will be the first one off the board in the 2nd, but I do think that whoever ends up with him in that round will be getting a guy who could eventually produce like a top pick.
Ideal landing spot for Montgomery? I'll go with the Kansas City Chiefs. KC is without Kareem Hunt going forward and while they have a few guys who have filled in fine without him the past couple weeks, Montgomery would provide stability and performance alongside Patrick Mahomes for years to come.
Butler's landing spot is a bit trickier to predict since there are more wide receiver spots and depth in the league. If I got to hand-select where he went, I think I'd selfishly choose the Minnesota Vikings. He would be a fantastic third option after Stefon Diggs and Adam Thielen and give the Vikes the big body at wideout that they wished Laquon Treadwell would become.
At the same time, do I really want the Vikings to spend a draft pick on any position other than the offensive line before the 5th round?
Cycsk (forums) asks: Over/under on how many people end up in the San Antonio River?
I'll set the over/under at 1.5.
One has to be a given, right? Some knucklehead is going to get blasted and get the "genius" idea to show off his cannonball form.
After that, it'll get iffy. Will there be anyone who falls in on accident? It's possible. But I'm not sure I'd bet on it.
That one guy jumping in will likely happen on Thursday, then he'll be the talk of the town (in a bad way) the rest of the time ISU fans are down there and everyone will look to avoid the same fate.
I'll close this answer with this… If you're going to be cannonball guy, at least get it on video, alright? Your experience needs to be shared with the masses. Make it all worth it by going viral and getting on the Ellen show. Then be sure to thank me for reminding you to put it on video.
NWICY (forums) asks: Are you going down to San Antonio? If you are is CW picking up the tab?
Number 1: Yes, I'm going to San Antonio. My family is planning on bombing it down I-35 the whole way on the 26th. Should be fun.
Number 2: CW will not be picking up the tab. I should double-check to see if he'd be willing to pay the fine if I cannonball into the river and get CF a ton of publicity by going viral and ending up on the Ellen show though……
LarryISU (forums) asks: Which of our new signees in football will play (more than 4 games) in 2019?
To understand who might get playing time, you also have to factor in what the team will be losing from this year's campaign. Assuming Montgomery and Butler both leave, here is the complete list of guys who were #1 on the depth chart this year that won't be back next year: RB David Montgomery, F Sam Seonbuchner, WR Hakeem Butler, WR Matthew Eaton, LB Willie Harvey, CB Brian Peavy, CB D'Andre Payne.
The voids left by those guys will either move everyone up a rung on the playing time ladder or invite an open competition to grab the starting role for whoever shows the most talent during the off-season and practice next fall.
Going in order…
I think one or both of Jirehl Brock and Breece Hall will play more than four games at running back next season. Sheldon Croney Jr., Kene Nwangwu, and Johnnie Lang all return, but none of those guys really have the bell cow attributes that Montgomery possesses. If I had to bet on who I'd expect to break out, I'd go with Hall. He has good size at 6-foot-1, 215 pounds and he just glides out there when you watch his high school tape.
The starting F position will likely fall into the hands of Dylan Soehner, who was listed as the backup this season. I highly doubt the staff would entrust that important blocking/utility role to a newcomer before they have time to fully grasp the offensive system.
A couple starting wide receiver spots are up for the taking with Eaton and (possibly) Butler on their way out. Their backups this season were Landen Akers and Josh Johnson, respectively. Neither of those guys did much to impress in 2018, but perhaps if they get more PT then they will get the opportunity to shine a bit brighter. The wide receiver spot is still supposedly a deep one on this team so it's tough to predict whether any of the incoming recruits will get a shot in their first year on campus, but if I had to guess then I'd lean toward all of them redshirting.
Now, onto the defense. Harvey's linebacker spot should be completely up for grabs since his backup this year has been Reggan Northrup, who will graduate too. It's possible Jake Hummel or O'Rien Vance slide over and takes this role next year, or that another younger player who's already on the roster emerges. The linebacker recruits in the 2019 class are Aric Horne and Coal Flansburg; however, 247Sports has them both listed as inside linebackers. I'll predict that guys who are already on the roster cover the linebacker vacancy in 2019 and we don't see another Mike Rose true freshman starter situation.
Finally, the cornerbacks. Both starters are gone. However, Datrone Young and Anthony Johnson both looked promising out there in 2018 and I expect they'll assume the starting roles next year. But since they both got a good chunk of playing time as backups, it wouldn't be surprising to see the same rotation next year. Arnold Azunna and Richard Bowens III should factor into the equation, but if Derrick Miller or Kym-Mani King flash some potential early-on, they could vie for some playing time too.
TL;DR- I think Breece Hall and Jirhel Brock both have a good shot to play more than four games. After them, I'd say Derrick Miller and Kym-Mani King both have a shot given how Matt Campbell has done the rotations at cornerback recently.
FinalFourCy (forums) asks: With nearly 1/3 of the season done, how does this year's basketball roster compare to other Cyclone teams? Is it better than any of the recent 6 tournament teams, if not, what's missing?
I really like the roster this year.
Believe it or not, I like this team's depth better than any team since the beginning of the Hoiberg era. I would say that a couple of Hoiberg's rosters had more talent at the top, but Steve Prohm has a ton of guys who can log quality minutes without much drop-off in talent this season.
The biggest things they've missed so far, in my opinion, have been a speed guy like Lindell Wigginton who can also knock down shots, and a big body inside that can defend and rebound consistently, a lot like Solomon Young. Funny how both of those guys will be back in action in the next game against Eastern Illinois.
The sky is the limit this year if everyone plays to their potential.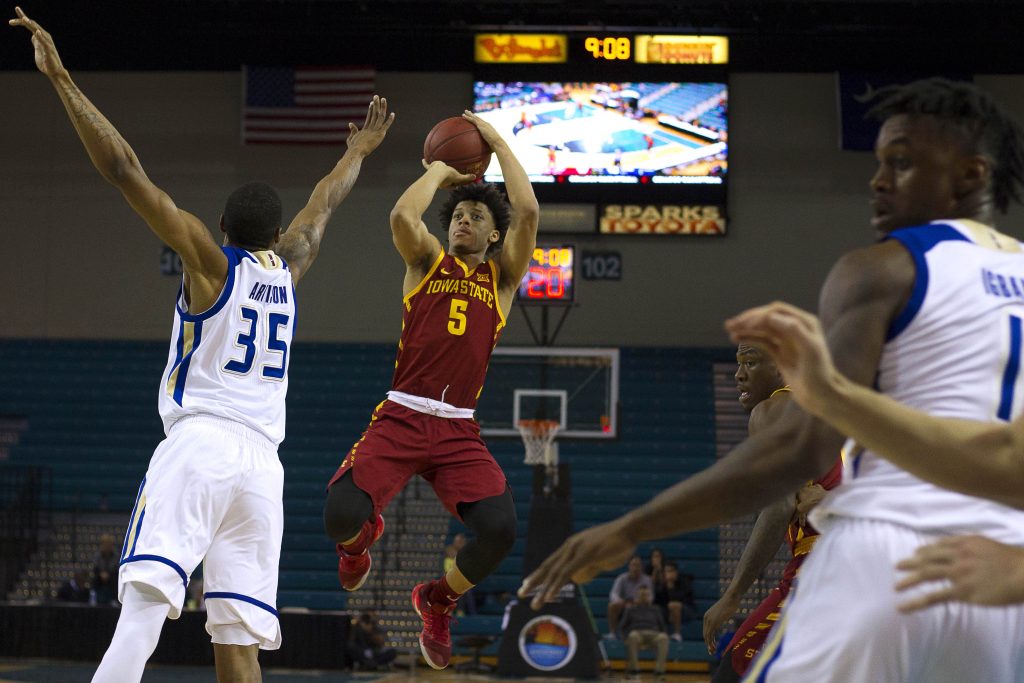 CyJeans (forums) asks: How do you see the first 5 conference games (@ OK ST, vs. KU, @ Baylor, vs. KSU, @TTU) shaking out this year record wise? KU at home and TTU on the road are going to be tough ones to get. Despite both programs likely being down this year, we have not done well historically at OK St and Baylor as well. I'd be happy with 3-2 but see 1-4 as a possibility as well. Walk me back from the ledge here.
The games at Stillwater and Waco are the swing games in that stretch. I'll go ahead and predict a loss to Kansas in Hilton (ISU will put up a battle, but Kansas is really good), a win against a banged-up Kansas State squad, and a loss to an extremely salty and still undefeated Texas Tech team on the road.
Oklahoma State and Baylor have both been up-and-down big time so far this season. OSU knocked off a then-No. 19 LSU back in November, but also lost to 3-5 Charlotte. Baylor lost to Texas Southern to open up the year and just got upset by Stephen F. Austin in Waco, but they also went on the road to beat the same Arizona squad that escaped with a win against Iowa State in Maui.
I'm feeling optimistic today and will predict that the Cyclones grab wins in both of the swing games to finish that stretch 3-2. And much like you CyJeans, I'd be happy with that. 2-3 wouldn't be ideal, but I'd be able to stomach it. 1-4 would mean the nervous sweating can commence.
DandyCyclone (forums) asks: Cats or dogs?
This will cause some backlash, but I'm a cat guy.
Before you go and grab your pitchforks, let me say that it doesn't mean I'm anti-dog. Dogs are cool too. I just prefer cats.
I had a cat growing up named Roscoe that had the personality of a dog and that swung my loyalty in the cats vs. dogs war. There's not really any debate that dogs overall have better personalities (loyal to a fault, always happy) than typical cats (selfish, sometimes mean). But my boy Roscoe was a cat that had that signature dog-like loyalty and he was always happy to greet me at the end of the day once I returned from after-school activities. Roscoe was a fat orange tabby, so essentially Garfield, and will probably end up being the best pet I ever have for the rest of my life. He was always up for some quality lap sitting and often crawled in bed with me on chilly winter nights.
So what I'm trying to say is that when you take the personality of a dog, which is the best part if you ask me, and give that to a cat, which can generally be more independent and take care of itself (don't have to walk it and it cleans itself), that's the ultimate pet.
Cat with dog personality > dog with dog personality > cat with cat personality > dog with cat personality.
cyclones500 (forums) asks: What is your favorite and least-favorite aspect of the holiday season?
I've come to grow fond of Christmas decorations. It's fun to drive around and see the light displays that people put up over the holidays. All of the greenery and red ribbons make for a "holiday cheer" mood and anything like that which makes people happier is welcomed in my book.
My least favorite aspect would have to be the gift exchanging and relentless gift advertising because of it. It's not that I don't like to get gifts, but this part of the holidays seems to cause people the most stress outside of seeing certain family members that they may not be too fond of. There's the pressure to buy the perfect gift and avoid letting people down. Plus it can be a budget strain for some people and that's never fun.
In all honesty, I could go without the presents part of the holidays and be perfectly happy with doing everything else. The holidays are a great time to look back on the year and be grateful for all the blessings and lessons learned while in the company of family and/or friends. That's what's really important.
LoyalFawker (forums) asks: So the elf on the shelf supposedly watches you during the day and reports on you to Santa at night right. Do you think Santa sets up elves on shelves all over the north pole as a sort of home surveillance system and what do you think is the weirdest things these shelf elves have caught the worker elves doing?
Without question Santa utilizes this technology as a surveillance system at the North Pole.
Worker elves put together toys and do a bunch of testing on them to make sure they aren't faulty, right? The real question is how in-depth does the testing part of this get… Because if you think about it, toys need to be safe for children. They probably have a whole elf division dedicated to attempting to eat toys just in case kids get the bright idea to chew on or try to swallow the toy.
Where I'm going with this is I think the elves on the shelf have seen a lot of weird attempts by the worker elves to eat the toys. This brings up a few questions though… What happens if a worker elf successfully consumes a faulty toy? Do they have a magic elf stomach that takes care of the issue on its own, or does the North Pole supply a hospital ward? How's the elf health insurance up there?
Now I'm just imagining a worker elf attempting to eat all kinds of toys. You gotta feel sorry for whichever elf gets assigned with attempting to eat the new Lego sets that come out every year. Every piece has to be tested, after all.
---
Thanks for reading another round of questions and answers in this week's Mid-Week Mailbag! I'll probably take next week off since I'll be down partying it up in San Antonio with 25,000 of my closest Iowa State friends. Let's meet up here again in the first week of 2019 – see you then!