Welcome to the second edition of the Cyclone Fanatic Mid-Week Mailbag. Since you're reading this, I'll safely assume you agreed with everything in last week's debut of the MWM and have been waiting on the edge of your seat for me to spew even more of my limitless wisdom out into the public eye.
Have no fear… Much like universally adored sequels including The Matrix Reloaded, Caddyshack II and Transformers: Revenge of the Fallen, this week's mailbag will surely meet and most likely exceed all of your wildest expectations.
The Cyclones are fresh off a friendly picnic outing with South Dakota State on the MAEFAJTS lawn that was rudely interrupted by Mother Nature. With no substantial game experience to pull from, Iowa State is forced to charge head-first into the dreaded Cy-Hawk week, ready or not. The Hawkeyes took care of Northern Illinois on Saturday en route to a 33-7 victory and will look to deny ISU its first win in the rivalry since 2014. Will they succeed? Will Brian Ferentz say something stupid before the game? Will the Cyclones brew the storm way too hard again and have their first game of the season actually come against Oklahoma next week? We will soon find out.
Onto the questions!
NATEizKING (forums) asks: Favorite Hawkeye?
huntt26 (forums) adds: Least favorite as well.
I'll put the hate aside for a minute and say that even though he caused Iowa State a lot of pain during his time in the black and gold, it was an absolute blast watching Tyler Sash play safety. He had a knack for being in the right place at the right time and the fact that he was a homegrown product making plays on the big stage made him a fan-favorite, even for this Iowa State fan.
Sash played at Iowa during my last three years of high school and was responsible for a lot of grief received from my Hawkeye fan classmates. In his three years, the Hawks combined to beat the Cyclones by a score of 87-15. The 2009 game was especially frustrating as ISU quarterbacks threw five interceptions, three of which were yanked out of the air by Sash. He was a classic case of the "hate that guy, but I'd love him if he played for my team" scenario.
Since my high school was a 30 minute drive from Oskaloosa, where Sash grew up, seeing him succeed in Division I college football was inspiring. I know he's not the first "small town Iowa guy" to do well for the Hawks, but he was the one that I could most easily relate to even though he had impressive athletic gifts and I…didn't.
It's an absolute shame he passed the way he did, but I am glad that it brought some light to and pushed forward the conversation about CTE. There will be changes to football made in the future related to player safety, and I like to think that Tyler Sash will have a small part in saving the lives of many other young athletes when those changes are implemented.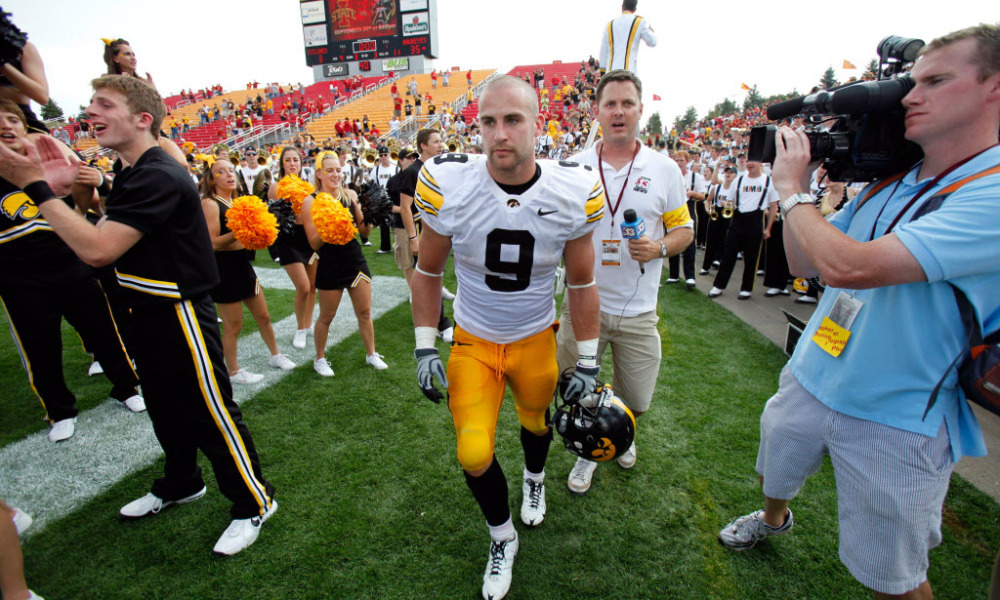 OKAY. Now I have to shift the gears and go back into hate mode…
My least favorite Hawkeye of all-time is probably Hayden Fry, even though I was only alive for the final few seasons of his head coaching tenure. There have been a lot of athletes that I could have picked, but none of them negatively influenced Iowa State on a wider scale like him. He made it a point to beat the Cyclones to a pulp each year and almost single-handedly turned every "free agent" fan in the state into a Hawkeye fan.
Only just recently has ISU made up a large chunk of the damage Fry did many years ago. His style was ruthless and even though I must admit he was good at accomplishing what he set out to do, I still hate him for it.
Hopefully Matt Campbell can be our Hayden Fry.
Team Closet (forums) asks: Should the Iowa State meteorology department start working on an anti-lightning system?
Yes.
Next question.
@DanDDouglas (Twitter) asks: Are we lucky the game got cancelled? No hyperbolic optimism or pessimism based on week 1 results against a team we can't grade against any other opponents. So we just get to hope and trust without being on cloud nine or screaming about a sky falling…
Fans will be fans either way! I'd rather have a football game to talk about that comes with that optimism and pessimism than no game at all and an empty feeling on the inside. I would go to great lengths to play Saturday's game instead of having it cancelled.
Speaking of…
@TedFlintKansas (Twitter) asks: You can go back and make the lightning go away. But it means you have to watch the entire game with crap in your pants. Your crap. What do you do?
Call me Mr. Poopy Pants.
DSMCy (forums) asks: Last week, we had campanile smack talk from an SDSU fan. Today, I saw an Iowa fan try to put ISU down by bragging about playing Boston College in the Pinstripe Bowl last year. What's the worst "smack talk" or trolling you've seen from Iowa fans this week?
This week? Probably just beating the dead horse about the suspensions. I'd say that Boston College point is even dumber though. Memphis was ranked during the Liberty Bowl last year and Boston College wasn't. Cut from the same cloth, I saw a lot of Hawkeye fans downplaying Iowa State's bowl win in January because it "wasn't against a Power 5 team."
L.O.L.
They're starting to run out of actual football reasons to make fun of the Cyclones. That's a big sign that Campbell has things trending in the right direction.
purplereign (forums) asks: Coming from an Iowa fan, do you think ISU plays more of a 3 man or 4 man front on D this weekend?
I think they'll mix both in at times. Campbell has said he wants to be multiple and I think he'll switch things up to try to keep Iowa on their toes as much as he can. It might be the kind of thing where he tries out both in the first half and then sticks with the one that did better for the majority of the second half.
srjclone (forums) asks: Who is one offensive player, for both sides, that you think could be a major factor in the game's outcome on Saturday?
I'll go with Nate Stanley for Iowa and David Montgomery for Iowa State.
If Stanley is steady and doesn't make any mistakes, then it could be the kind of game where Iowa grinds out the win. There were a few throws that he should have hit last year that would have given the Hawkeyes explosive scores. He didn't play badly by any means, but he could have been better. A huge key for the ISU defense will be to make Stanley uncomfortable, whether it's with pressure from the defensive line or by dropping back seven or eight defenders into coverage on occasion.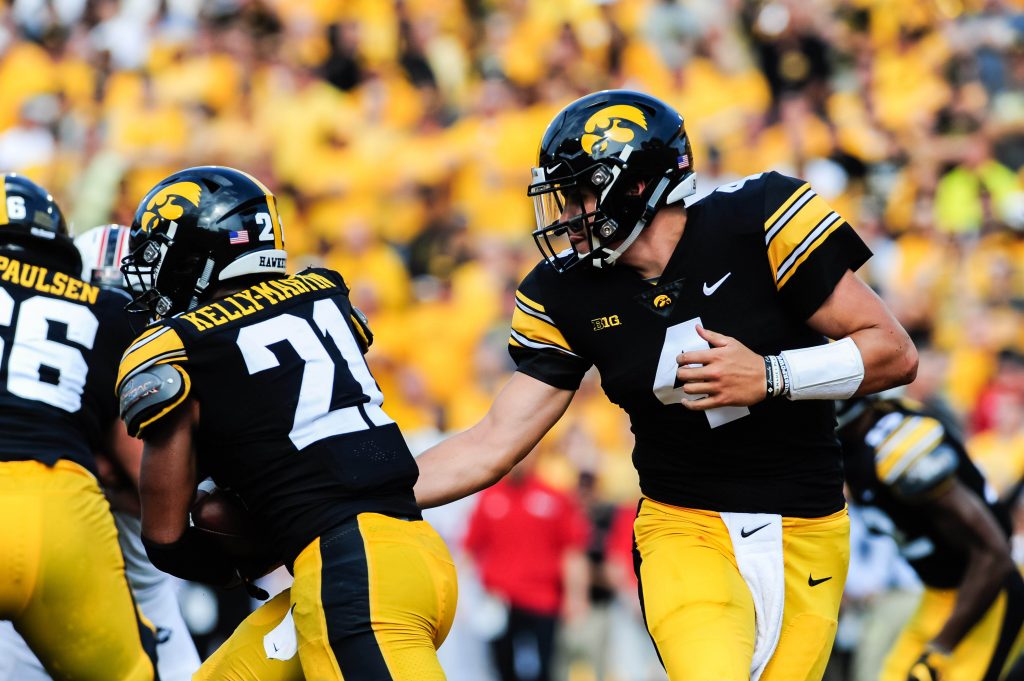 Meanwhile, Montgomery was a problem for the Iowa defense last year. It'll be on the Cyclones' O-line to open up holes for him in the running game, but I expect the coaching staff to get him involved in the screen game as well. If he gets in the open field, he's a dangerous player.
Messi (forums) asks: Luke Anderson player comparison?
I'll be honest, even though I saw him commit a few days ago, I just watched his highlights for the first time. He looks to be more of a perimeter-oriented power forward and has a nice stroke for being 6-foot-8, 215 pounds.
I want to see more than the 80 seconds that 247Sports shows of him to make a better judgment, but my first thought was Jarrod Uthoff. Long, lanky, nice shot from outside.
@trackfan99 (Twitter) asks: What's going on with beer at Jack Trice? Did I imagine seeing an announcement that it would be sold this season? Imagine the sales if it had been available during the delay on Saturday.
This was one of the rumors that was spread a bit while speculating what Jamie Pollard would announce before he told everyone about the Timberwolves-Bucks NBA game happening in Hilton Coliseum.
Unfortunately, I believe Pollard has come out in the past and said that he will never allow beer to be sold throughout the stadium as long as he's around. The sales definitely would have been good while waiting for the weather on Saturday, but I think he enjoys having beer sales be exclusive to club seats in the stadium. It's a selling point.
You'll have to stick to chugging and *ahem* smuggling if you're a bleacher warrior, for now.
JHUNSY (forums) asks: Tap, Case, Shotgun: Bud Light, Coors, Busch Latte.
Tap Coors, case Busch Latte, shotgun Bud Light. The only real qualifier here is that Busch Lattes are meant to be enjoyed and consumed by the can. That leaves Coors and Bud for the other options and I prefer Coors to Bud.
JHUNSY also asks: Please describe your idea of a perfect date.
The following answer is made with the particular qualities and preferences of my wife in mind, because if I didn't do it that way, you know I'd be hearing about it!
– We begin by flying to Orlando early in the morning and arrive at Universal Studios to go to Harry Potter World as the park opens. The crowds strangely decide to stay away from every ride we make our way toward and we never have to wait in line as we breeze through every attraction in under three hours.
– After getting a giant vat of Butterbeer to-go, we head to the airport and board another plane to the Bahamas. It's the championship game of the 2019 Battle 4 Atlantis. We watch the Cyclones win a thrilling 250-0 game over North Carolina and observe Roy Williams' retirement immediately following the final buzzer.
– A couple hours of beach time after the game leaves us starving. We stumble upon a strange device in the sand on the beach and it turns out to be an early prototype of mobile teleportation. We successfully use it to warp to the Ankeny HuHot and get our $30 dinner for free in exchange for the teleportation device. Simply content we just had the perfect date, we have no regrets and retire to the Fitzpatrick residence for the evening.
I hope that was the answer you were seeking, JHUNSY.
BCClone (forums) asks: If you have kids, or if you did, what parade or Halloween candy would you steal from their bag when they aren't looking? I go for the baby Twix and Nerds.
Every once in awhile, the rich people in the neighborhood hand out individual Reese's cups. Those are an automatic take in my opinion. I'm not a dad yet, but I fully expect to implement the "Dad Tax" in these situations, which is the official term (shoutout to CascadeClone for pointing this out).
I like both of your choices. Twix are an underrated candy. The other one I'd consider taking are the little boxes of Dots. Anything with the Wonka branding on it is a solid option.
cyclonpediaJoe (forums) asks: Sock, Sock, Shoe, Shoe or Sock, Shoe, Sock, Shoe?
Sock, sock, shoe, shoe. You're telling me that some people have a sock and shoe on one foot with a bare foot begging for attention on the other at some point? Those people must be communists.
@KyleGAdema (Twitter) asks: Do you take losses harder or enjoy wins more?
It definitely used to be the former. After living with me for a bit, my wife came to learn and accept that I needed to be left alone for awhile after a loss because I'd automatically have a period where I'd close up and not be able to do anything productive.
I think nowadays, it's still tough to get over losses, but I've minimized the time I need to get to the "acceptance" stage and move on. And with the increased amount of football wins lately, it's provided more chances to bask in the glory of victory. Hopefully both trends continue!
That will do it for this week's mailbag. I'll see you next Wednesday after the Clones hang 70 points on the Hawkeyes. Peace!