My son turned six months old last weekend and is now at the point where the internet suggests reading books to him is good for his cognitive development. The internet has a lot of ideas on how to be a parent by the way; some better than others. But rather than recycle some old Dr. Seuss tale, I decided to write my own short story. That guy probably wasn't a real Doctor anyway.
(Clears throat)
They've tried guys that were big, and some that were small.
Some who could run in circles and some who'd throw the ball.
They've had guys with buzz cuts and those with long hair.
And plenty of guys who seemed to like to share.
Some who played linebacker and some who played receiver.
Stories so bizarre, it's hard to be a believer.
Guys from the back-yard and guys from far-away.
They really tried guys with names that start with the letter J.
A Jerome, a Jared, a Jacob and a Joel.
And a guy nobody heard of that led them to a bowl.
They tried a Sam-I-am that too often was put in a jam.
And a guy named Steele that made you say damn!
The story seems endless, because of performance or injury.
The Cyclones quarterback play remains a mystery.
…………….
Since Austen Arnaud started every game of the 2008 season, Iowa State has not had a single quarterback start every single game of a season. Iowa State also hasn't finished in the top 50 nationally of total offense any year since 2008. That's likely not a coincidence.
It's been a rotating cast at the most important position on the football field. By my unofficial tally, since 2010, 11 different quarterbacks have started (and won) a game for Iowa State. During that time, there have been almost 20 quarterback changes from game to game. Bottom line, there has been a change in quarterback on average every six games in the last eight years.
Here's the history:
In 2010, Arnaud missed the UNI and Missouri games. Jerome Tiller got the start.
Prior to the 2011 season, Tiller was suspended for the season. Steele Jantz beat out Jared Barnett and lit the world on fire in his first three games, then fell apart. Barnett came in relief of Jantz and proceeded to win the job and start the final six games.
In the 2012 season, Jantz beat out Barnett again, struggled mightily and was replaced by Barnett in game five. Barnett started three games before being relieved of his duties by Jantz, who proceeded to get replaced by Sam Richardson. Richardson started the final two games of the season.
In 2013, Richardson dealt with injuries all season (including getting hit by a car while on a moped), gets removed in game seven by Grant Rohach. Rohach started the final five games.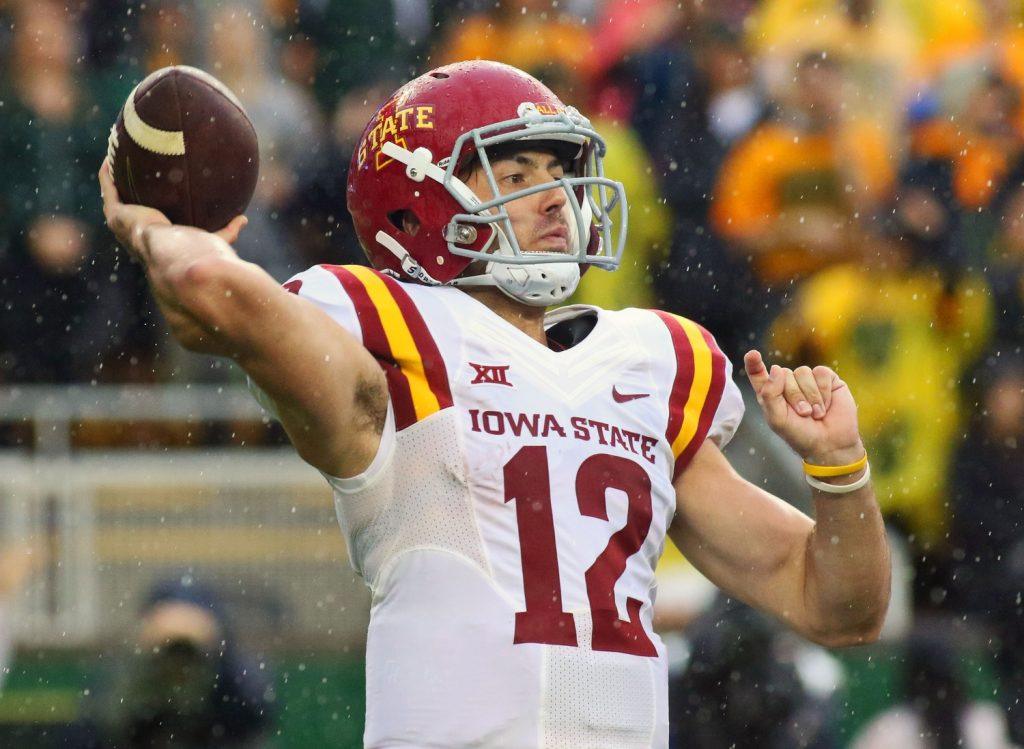 In 2014, Richardson beat out Rohach. Richardson gets pummeled at Oklahoma, forcing him to miss the next game. Rohach started, struggled. An injured Richardson returned and started the final three games.
In 2015, Richardson again gets the nod. He started the first six games. Joel Lanning comes in relief of Richardson at Baylor and steals the show. Lanning started the final five games.
In 2016, Lanning started the first eight games, but by game three, Iowa State split the quarterback duties with Jacob Park. Park ultimately wins the job and started the final four games.
Last year, we all know the craziness. Park started the first four games, Kyle Kempt started the next six games and gets hurt. Zeb Noland started at Baylor. Kempt comes back and started the final two games.
And this year Kempt started game one and was replaced by Zeb due to injury. And uncertainty exists moving forward. It's all very exhausting.
This is not to mention the numerous offensive coordinators and quarterback coaches that have also complicated the continuity of the offense, including the very unfortunate Mark Mangino era.
The musical chairs certainly isn't the fault of any one person or reason, but the lack of reliable signal-caller has hamstrung the Iowa State offense for a decade. Some of that is due to injuries, which are an unfortunate part of the game, but other times it has just been a flat out cluster of mismanagement.
It wasn't always the case in Ames. From 1999-2009, Iowa State had mostly consistent names under center and the offenses largely had an identity because of that.
Sage Rosenfels started 23 straight games in the 1999-2000 seasons. Seneca Wallace started 26 straight games from 2001-2002. Bret Meyer started 48! straight games from 2004-2007. And Austen Arnaud started 19 straight games in 2008 and the first half of 2009.
But in the most recent decade, the most consecutive games a Cyclone quarterback has started is Lanning with 13. Iowa State's consistent struggles on offense have followed.
The uncertainty around the quarterback remains in 2018. Both Kempt and Noland have proven to be capable of winning games in this conference, but both have shown limitations as well. And quarterback play hasn't been the only issue hampering the struggling Iowa State offense. I do have confidence the production will turn around in the very near future, I'm just not certain which quarterback will lead that turn around. Perhaps the permanent answer at quarterback is on the roster waiting to be uncovered?
We all can hope.
As Dr. Seuss once said, "Sometimes the questions are complicated and the answers are simple." Then again, I don't think Dr. Seuss played quarterback at Iowa State.