Sep 8, 2018; Iowa City, IA, USA; Iowa State Cyclones head coach Matt Campbell watches his team play against the Iowa Hawkeyes at Kinnick Stadium. Mandatory Credit: Reese Strickland-USA TODAY Sports

Well, Saturday turned out to be roughly as enjoyable as mowing the lawn with your teeth.
I kid, of course. The Iowa State defense helped make the experience slightly more bearable by handing over a pair of scissors to work with. We can all be thankful to them for waking up with a sore wrist instead of a sore jaw and pearly greens.
There's still a long way to get to the point where we're puttering along on the latest John Deere riding mower, but I have a feeling things aren't quite as bad as they seem. Whether he wants to admit it or not, I believe Matt Campbell was a little too focused on trying to make things go the way he thought they would go as opposed to adapting in-game against the Hawks. I'm never going to claim to be a football expert, but it was easy to watch David Montgomery repeatedly slam into bodies at the line of scrimmage and deduce that a different approach would have been worth a shot. Even though the ISU offensive line still appears to be sub-par, it seemed like the Cyclones were just one or two adjustments away from moving the ball on offense like they did on their first drive of the game.
The good news is that Oklahoma's defensive front probably isn't as good as the one that Iowa State went against in Kinnick Stadium, which should provide some more opportunities for positive yardage. The bad news is that Oklahoma's offense looks to be exponentially better, and every Sooner that walks onto the field will have revenge on their mind after the Cyclones' big upset in Norman last year.
Opening the season against your in-state rival is tough. Following it up with a conference game against the team that could end up winning the Big 12 is downright cruel.
Let's discuss those games and more in this week's edition of the Mid-Week Mailbag.
JM4CY (forums) asks: On a scale from 1 to fasten your athletic cup, what should I tell my boys to prepare for this football season?
For now, think "setting a basketball screen." You want to cover up the family jewels, but a cup isn't necessary quite yet.
Based on the eye test, Iowa State's defense looked even better than last year when they were on the field in Iowa City. A good, possibly great defense will keep ISU in a lot of games. Add in the fact that the offense and special teams have basically nowhere to go but up and there are definitely reasons to remain optimistic going forward.
Be sure to remind your boys that it would be unwise to completely let their guard down as Cyclone fans, given a vast history of painful blows to the nether regions. But also tell them that this isn't their father's Iowa State either.
@ISUVmann (Twitter) asks: Why did you jinx us by picking the wrong team?
coolerifyoudid (forums) asks: Since you were the only staffer predicting a loss last week, have you considered predicting wins going forward?
Whoa whoa whoa, hold up a second. I must remind everyone that even though I did pick the Hawkeyes to win, I was NOT the only CF staffer to do so. Kirk Haaland also picked the Clones to lose if you go back and look near the bottom of the article. (That's where Jared and CW try to hide our predictions because they don't want people to realize we're much more accurate at predicting Cyclone games than them.)
Kirk's picks are always generated from the algorithms they run over at CFBAnalytics.com, but that doesn't free him from sharing the blame here. In fact, I'd say that there is a much higher likelihood that Iowa State lost because of all of that fancy math they do over there. Just like meteorologists should make the weather better by predicting better weather, Kirk should make the Cyclones better by predicting better results for the Cyclones on his site. Seems fair enough.
Just to be sure, I'll predict Iowa State to win this weekend. That way we'll know for sure if it's me or Kirk and his math that control the Cyclones' destiny this season.
cyowan (forums) asks: Updated record prediction for this season?
I predicted 7-5 before the season began and my only change to that would be to factor in the canceled game…which would mean 6-5. Though I do think that Jamie Pollard will eventually get a 12th game scheduled and thus get ISU back to seven wins.
@MJNedved (Twitter) asks: Will Iowa State score a real TD this season…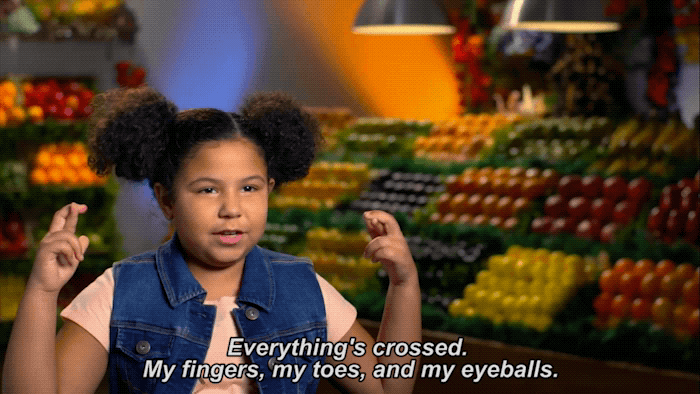 Gunnerclone (forums) asks: What is this OL's capacity in terms of the playbook? As in…what percentage of the playbook is collecting dust because the OL isn't at a point of being able to execute and is that making us easy to defend and why we saw so much vanilla vs. Iowa?
I'm not in practice every day so I can't even ballpark any sort of percentage estimate, but I do think there are some plays that Campbell doesn't feel comfortable calling because of the (lack of) talent on the O-line.
Having said that, I still think there are plays we didn't see against Iowa that don't necessarily require an all-world offensive line to run. Screen passes, both to running backs and wide receivers, and other quick-hitting throws immediately come to mind. So I don't want to put all of the blame on the offensive line for what appeared to be an abbreviated playbook against the Hawks. There are definitely multiple factors at play.
Cyinthenorth (forums) asks: What is worse/more annoying – the Boomer Sooner chant or the I-O-W-A we heard from the Hawks last weekend?
While the I-O-W-A was annoying to hear, it's basically equivalent to the "CYCLONE! POWER!" chant we hear late in games at Jack Trice Stadium. When it comes out, it means the home team did something good or is about to try to do something good. Admittedly, the Kinnick crowd sounded great on TV when they broke it out and unfortunately they had every right to do it.
However, Boomer Sooner's usage has basically no rhyme or reason as far as Oklahoma is concerned. They'll play it after almost anything better than their QB throwing a pick-six. Two yard gain? Play Boomer Sooner. Kyler Murray throws the ball away after getting rushed out of the pocket? Play Boomer Sooner. Lincoln Riley slaps one of his players on the butt? Play Boomer Sooner.
It's so overplayed that it's become a meme for college football fans and there are (three) (different) (versions) of a Boomer Sooner flowchart on Google.
Boomer Sooner, hands down, is more annoying for me. I hate that it's so easy to get stuck in your head after one play-through, let alone 50.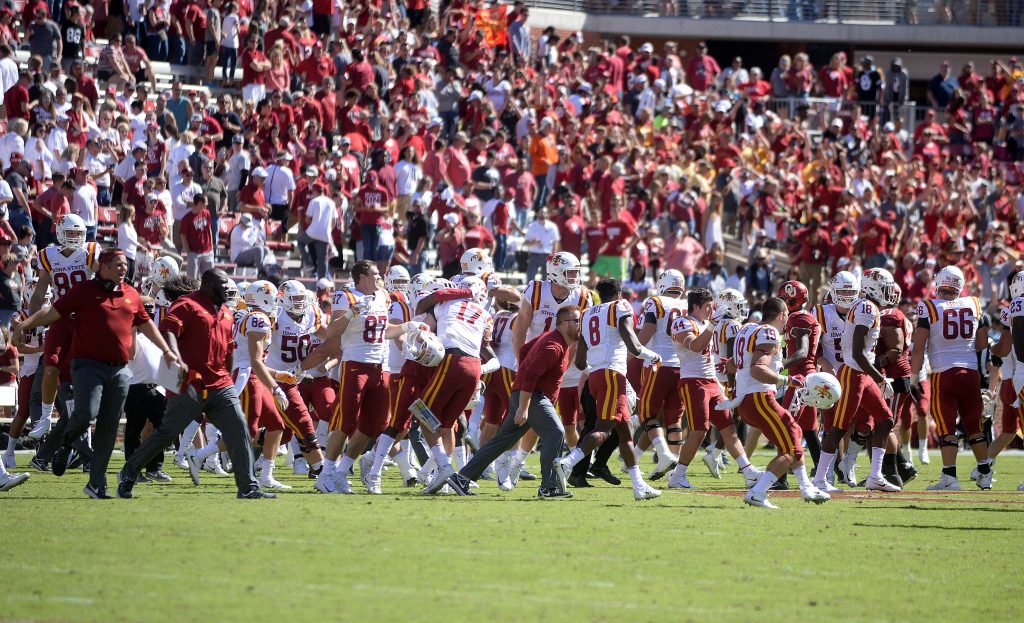 cyclonespiker33 (forums) asks: Beth Mowins, Lee Corso, Tommy Tuberville. Single ISU football broadcast, taking over John Walters' job, beIN Sports Network. Go.
So if I'm interpreting this right, beIN Sports Network is basically banishing the announcer for good, correct?
If so, here are my picks:
Single broadcast – Mowins
New voice of the Cyclones – Corso
beIN Sports – Tuberville
Tuberville was excruciating to listen to during multiple games last year. He got the names of players wrong, was generally unexciting, and worst of all called Iowa State the Hawkeyes on more than one occasion. Three strikes, you're out.
Between the other two, I think Corso would be the better candidate to call all Iowa State games. It isn't that he's a great play-by-play guy, he just does a better job of expressing passion and excitement for games than Mowins does. That's a big part of what makes John Walters such a great announcer… He invests himself in each game and you can hear it in his voice.
I do think that Mowins isn't as bad as a lot of people think. She knows a lot about football, and if given the choice to listen to her or Tommy Tuberville call ISU games for the rest of my life, I'd pick Mowins yesterday. She'd at least come into the booth prepared.
jay moe (forums) asks: Vikings-Packers score?
The Vikings fall behind 20-0 early after Kirk Cousins is carted off the field with an apparent knee injury. However, Cousins returns and throws three touchdown passes in the second half on a bum leg to silence the Lambeau crowd and leave no question as to who's the best QB in the NFC North.
Vikings 21, Packers 20.
srjclone (forums) asks: Will Adrian Peterson be able to sustain his first game form, throughout the season?
Peterson is 33 years old, which is ancient for running backs. Add that onto the fact that he's dealt with injuries in the past and I would lean toward "no."
Chris Thompson looked to have great chemistry with Alex Smith in the passing game and I think he'll end up getting more snaps as the season rolls along. AP will wear down and if the Redskins want to keep him from getting banged up, that will mean limiting his workload.
JHUNSY (forums) asks: Tap, Case, Shotgun: Apple juice, coffee, orange juice (for the 11:00 a.m. kickoffs, obvi).
Tap, Case, Shotgun is quickly becoming a weekly feature on the MWM! I would tap orange juice, case coffee, shotgun apple juice. Fresh OJ would be great from the tap and the coffee could TECHNICALLY be coffee flavored beer. Apple juice is the odd drink out, though I have nothing against it. If you had said warm apple cider, I would have had to think harder.
WalkingCy (forums) asks: Was Silver Strike Bowling the most dominant bar game during the 2000-2010 era?
I was only 17 in 2010 so I had limited bar experience during those years, but I feel like Golden Tee Golf deserves to be in the conversation. They had one of those at the Albia Country Club growing up (where I probably spent most of my time outside of home and school) and I've seen more of them at various bars than I've seen of Silver Strike Bowling.
madguy30 (forums) asks: Why did so many of us get born into, and continue to be fans of one of the worst college football programs ever?
In the immortal words of Chris Williams: "We're not Iowa State fans because it's easy, we're Iowa State fans because it's awesome."
As always, thanks to everyone who submitted questions this week. Hopefully this time next week, we'll have another upset win over Oklahoma to talk about that features a little more offense from the good guys.
Go Cyclones!