Feb 9, 2018; Houston, TX, USA; Denver Nuggets guard Monte Morris (11) dribbles the ball during the game against the Houston Rockets at Toyota Center. Mandatory Credit: Troy Taormina-USA TODAY Sports
The Las Vegas version of the NBA Summer League tips off on Friday afternoon when Houston and Indiana square off. For the first time ever, all 30 of the league's teams will partake in the Vegas Summer League and that gives me plenty of evidence for why Iowa State fans should be excited for the only form of competitive basketball we'll get for a few more weeks before The Basketball Tournament commences later this month.
Here is a list of reasons Iowa State fans should care or watch the Summer League with some of my own analysis to close things out.
Four former Cyclones are on rosters
Iowa State greats Monte Morris, Deonte Burton, Georges Niang and Naz Mitrou-Long will all see time on the court in Vegas over the next week and a half.
Morris will continue the process of impressing Denver Nuggets management enough to earn a roster spot in his second professional season. The Cyclones' all-time leader in assists and steals spent his rookie year as a two-way player for the Nuggets, averaging 3.3 points and 2.3 assists in three NBA games, but is in position to battle for the team's backup point guard spot in 2018-19.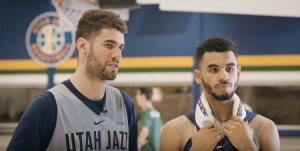 Niang and Mitrou-Long travel to Vegas fresh off of their performances in the Utah Summer League that concluded with a Jazz victory over the Trae Young led Hawks late Thursday night. Niang was one of the 
standouts of the three-day slate, averaging 16.7 points (fourth-highest in the league) and shooting 53 percent from the field.
Mitrou-Long showed flashes of his potential as well while averaging 10.7 points on 67 percent shooting. Niang remains on a two-way contract with Utah entering his third professional season while Mitrou-Long hopes to earn a training camp invite that can better his chances of landing a contract with an NBA team.
Burton is the only one of the four players who did not play in the NBA system last season. Instead, the high-flying former Cyclone spent his rookie year earning Korean Basketball League MVP honors and leading his team to the league finals. It will be interesting to see how Burton's game has evolved since we last saw him on American soil in last year's summer league and how that evolution can help his chances of landing in an NBA organization.
Former Iowa State opponents and Cyclone ties
I went through all 30 summer league rosters in search of former Big 12 players and opponents on past Iowa State schedules. Believe me, that was an awfully long list and for the sake of not making this column 600 miles long, I've narrowed it down to guys who have played against Iowa State in the past several seasons and a few other notable names.
I also probably missed some but I'm putting this together at 11 p.m. and nobody who wants to tweet at me to say I missed some names can say I didn't warn them. It is still a really long list, but here are some of the names you will probably recognize if you tune in to the action in Vegas.
Atlanta Hawks
Trae Young – Oklahoma
Zach Smith – Texas Tech
Houston Rockets
Gary Clark – Cincinnati
Danuel House – Texas A&M
Vincent Edwards – Purdue
Philadelphia 76ers
Cameron Oliver – Nevada
Zhaire Smith – Texas Tech
Boston Celtics
Jarrod Uthoff – Iowa
Los Angeles Clippers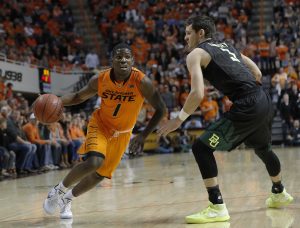 Juwan Evans – Oklahoma State
Phoenix Suns
Josh Jackson – Kansas
Brooklyn Nets
Tyler Davis – Texas A&M
Jarrett Allen – Texas
Los Angeles Lakers
Alex Caruso – Texas A&M
Svi Mykhailuk – Kansas
Malik Newman – Kansas
Jeffrey Carroll – Oklahoma State
Demarcus Holland – Texas
Portland Trail Blazers
Caleb Swanigan – Purdue
Chicago Bulls
Chandler Hutchinson – Boise State
Melo Trimble – Maryland (Played last season with the Iowa Wolves)
Memphis Grizzlies
Jevon Carter – West Virginia
Sacramento Kings
Marcus Foster – Creighton/K-State
Daxter Miles Jr. – West Virginia
Frank Mason – Kansas
Devin Williams – West Virginia
Cleveland Cavaliers
Vlad Brodziansky – TCU
Dakota Mathias – Purdue
Billy Preston – Kansas (Uh… sort of?)
Collin Sexton – Alabama
Miami Heat
Rashad Vaughn – UNLV
Derrick Walton – Michigan
Dallas Mavericks
Manu Lecomte – Baylor
Johnathan Motley – Baylor
Milwaukee Bucks
Perry Ellis – Kansas
Denver Nuggets
Kenrich Williams – TCU
Minnesota Timberwolves
Isaiah Cousins – Oklahoma
Egor Koulechov – Florida (which he chose over Iowa State as a graduate transfer from Utah State)
Utah Jazz
Isaac Haas – Purdue
Golden State Warriors
Jacob Evans – Cincinnati
Keenan Evans – Texas Tech
Okay, I'm glad that part is over. I hope you're still here.  As a test to see if you made it through the list, which player listed was taken by his home-state school rather than Monte Morris? Tweet me the answer and you'll have my respect for the remainder of my days.
First chance to see the top picks as pros
Well, sort of.
We've already gotten our first glimpses of Trae Young and Jaren Jackson Jr. during the Utah Summer League this week. My first impressions of Young as a pro are not exactly glowing. He really struggled to create space and will have to get a lot stronger if he hopes to play similarly to the way he did as a freshman at Oklahoma. He'll be interesting to watch over the next week and a half to see how much more comfortable he gets against other pros.
We really will get our first looks at DeAndre Ayton (Suns), Marvin Bagley (Kings), Luka Doncic (Mavericks) and most of the other top picks in this year's NBA Draft.
Player I'm most excited to see – Luka Doncic, Dallas Mavericks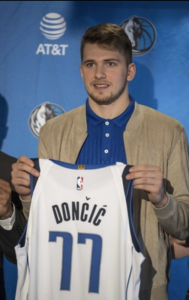 The 6-foot-7, 19-year old wing from Slovenia is a legend overseas after leading Real Madrid to all sorts of championships and winning basically every accolade under the sun this past season.
This will be our first opportunity to see how his game translates to the NBA system against primarily American competition. Will he see the floor and pass at the same elite level he did against European competition? Can he really be the next great European in the NBA?
This obviously won't be the final gauge of those questions, but it will certainly be the first step.
Under the radar guy I'm interested in seeing – Jacob Evans, Golden State Warriors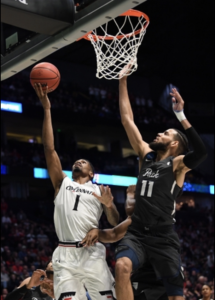 Looking for the next versatile, "where the heck did that guy come from" piece we could see in the Warriors' rotation during next year's NBA Finals? Evans would be a solid first place to look.
The 6-foot-6, 210-pound wing is a tenacious defender and showed flashes of being a high-level scorer during his career at Cincinnati. He turned that into becoming the No. 28 overall pick in this year's draft and a chance at quickly working his way into the Warriors' rotation.
Evans did get a little banged up during the Utah Summer League, which makes it unclear how much he will play in Vegas, but I'm sure he will get his fair share of run.
In conclusion…
Hopefully, I've convinced you the Vegas Summer League is worth following over the next several weeks. It really is an awesome event and one I think is difficult to truly appreciate until you've been inside the Thomas and Mack Center to take in a day of action.
It is hard to put together while watching on TV, but the games are played simultaneously in two gyms inside the same building with a who's who of basketball royalty and celebrities on in attendance. It is something I highly suggest any basketball junkie experience in their life.
Just last season when I went with my friend Ryan Grove (a sponsor of the FAWcast and someone you definitely should buy a house from in the Ames area) and we saw Magic Johnson, J. Cole, Floyd Mayweather, Lavar Ball, DeMarcus Cousins and Vlade Divac… on our first night in town.
Of course, Ball got the loudest ovation of them all when he walked in the gym.