Feb 27, 2018; Ames, IA, USA; Iowa State Cyclones guard Donovan Jackson (4) reacts near the end of the second half against the Oklahoma State Cowboys at James H. Hilton Coliseum. Mandatory Credit: Jeffrey Becker-USA TODAY Sports
AMES — Every working adult knows that Friday night feeling. You're physically beat and mentally drained from the five days prior. All you want to do is kick your feet up, crack open a cold one and watch a movie. That's assuming you haven't already fallen asleep.
If this Iowa State basketball season was a work week, it's currently Friday morning at 6:20 and the alarm is going off. Problem is, the Cyclones have already hit snooze like four times. It's been one hell of a week full of problems at work, sick kids at home and your wife just told you that the dishwasher is broken.
The depleted Cyclones (13-16, 4-13) lost their fifth straight game on Tuesday night (third in a row at Hilton Coliseum), an 80-71 defeat at the hands of an up and down Oklahoma State (17-13, 7-10) team. We've all witnessed better Senior Nights.
Basketball wise, it was similar to the games we've seen in Ames over the last month. The Cyclones made some shots – 13 3-pointers to be exact – but the outside shooting wasn't nearly enough to overcome some really bad defense and impotent rebounding.
Iowa State's three frontcourt players – Cameron Lard, Jeff Beverly and Hans Brase -combined to go 2-for-14 from the field. Lard, who predictably got into foul trouble early, was basically a no-show, ending the night with two points and six rebounds. His disappearance in the middle was noticed, as Oklahoma State collected 15 offensive rebounds and 24 second chance points. The Cyclones only had four.
Ball game.
"I've seen 6-foot-5 guys lead the country in rebounding," head coach Steve Prohm said after the game. "It's about having a motor and toughness and effort."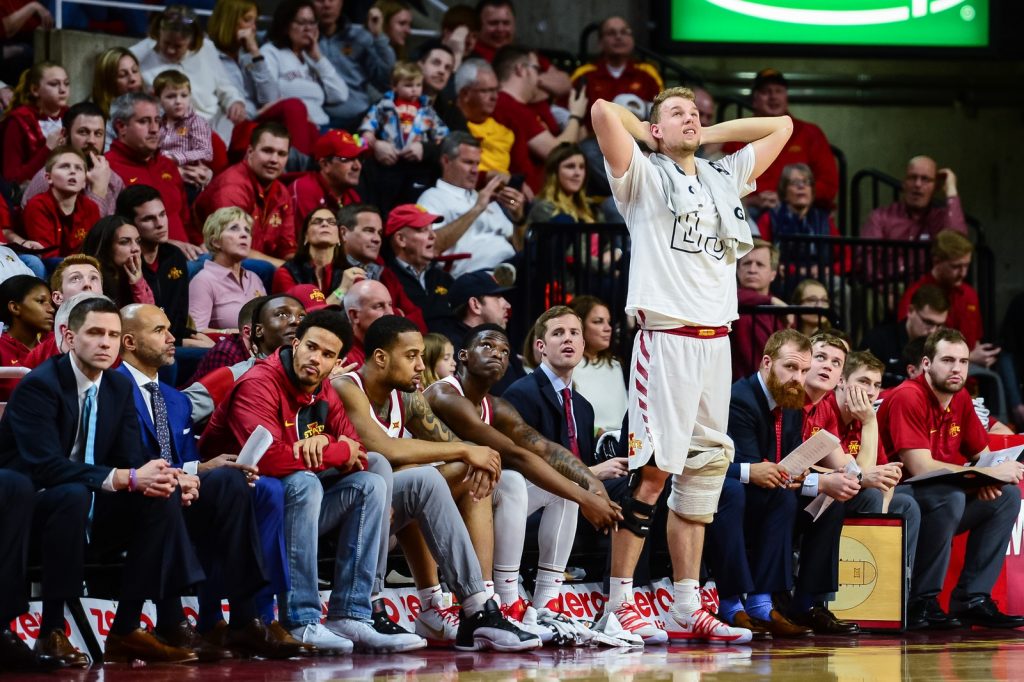 Playing with basically six guys, from a pure effort standpoint, I thought last Saturday's showing in a 15 point loss at West Virginia was as impressive as we've seen all season. Despite the loss, I went to bed that night genuinely proud of the Cyclones.
That intensity was not matched in Iowa State's latest defeat.
"A lack of communication and pride," said senior Donovan Jackson, who scored 17 in his final game at Hilton Coliseum. "Defense comes with pride and we're not doing a good job with that. It's a self-check that needs to happen."
Steve Prohm on what ailed Iowa State in the second half on Tuesday. pic.twitter.com/wy2ad7d1Ed

— CycloneFanatic.com (@cyclonefanatic) February 28, 2018
It's hard to be overly critical of this team. It's been a struggle behind the scenes as well.
"Yesterday, it was 2-on-2 to 3-on-3 to 4-on-4 with no breaks from the standpoint of there are no subs. We have eight guys," Prohm said. "We haven't been able to do it in a 5-on-5 setting in a long time. A lot of people don't realize that we were with seven or eight guys in December as well. But you still have to figure out a way. Every team and every program goes through different things. I just haven't been able to find a way yet."
The Cyclones are like the actors in that new 5-Hour Energy commercial … the ones with little cellphone batteries over their heads. Iowa State's battery is at six percent.
"The biggest thing that I hope these guys understood and took away from tonight is what this game means to the people here and that it is unacceptable, where we are at," Prohm said. "We need to get better."
Up next is a rare Friday night road trip to Oklahoma (8 p.m. on ESPN2), one that will mercifully end the regular season.
Could this team surprise us with another fun showing (we've been so spoiled) next week in Kansas City? I'll never count Iowa State out in Hilton South. I'm not planning on a long stay though.
It just seems like everybody needs a break.