I just felt "off" not being in Hilton Coliseum last night.
My wife is attending a veterinarian conference in San Diego this weekend so I tagged along with her for a mid-December getaway.
Of course, the Clones topped the Hawks 84-78 and let me tell you – the two guys sitting next to me at a random Pacific Coast establishment benefitted greatly to a couple of rounds "on me" when Lindell Wigginton hit that late second half three to put Iowa State up nine.
I might be in California, but I still have five thoughts not only on last night's game, but the overall season as a whole. Let's go.
1 – This team has a clear identity 
This has been a theme to my analysis of this team dating back to the Appalachian State game.
Know your role, fellas.
The Cyclones have come a long way in a month and for that, I appreciate Steve Prohm as a coach more and more every day.
The Cyclones officially have an identity: Their best offense is good defense (which is still a work in progress and needs to continue to improve if Iowa State wants to make a postseason run). Push. Push and push some more. They can never play to fast. When stuck in the halfcourt, let Nick Weiler-Babb or Lindell Wigginton create something on their own.
Iowa State scored 28 points off of 18 Iowa turnovers on Thursday night. That was the game. Especially when competing in Hilton Coliseum, this is going to be Iowa State's recipe for success this season. It's also why Steve Prohm will continue to preach defense to his young roster that surprisingly doesn't mind working hard on that side of the ball.
2 – Lindell Wigginton is a star
He's the first Cyclone rookie since Marcus Fizer to score 20 points or more in three games in a row.
There isn't a lot of need for me to analyze what Lindell did on Thursday night. Leading the charge with 24 points and zero turnovers in 37 minutes of action, the freshman was phenomenal. You all saw the game.
To me, the most impressive Lindell Wigginton stat I can offer is his current .475 percent mark from 3-point range on the season (19-for-40).
Finding shooters was a big concern for this team heading into the season. After going 9-for-34 (26 percent) from three in season opening losses to Missouri and Milwaukee, the Cyclones have shot 39 percent from long range in the six games since.
This current roster is never going to make its living off of the three-ball, but it's damn nice to know that it is capable of winning that way on any given night.
3 – Nick Weiler-Babb's pro potential
Fran Fraschilla, ESPN's college basketball analyst who I absolutely adore, pointed out Nick Weiler-Babb's pro potential at one point during last night's broadcast.
Remember last season on media day when Steve Prohm did the same thing?
This Nick Weiler-Babb running the show thing has so much potential over the next two years.
Since Steve Prohm moved him to point guard, Weiler-Babb has averaged 14.3 points, 9.5 assists and 7.6 rebounds per contest – all of which resulted in Iowa State victories.
It's fun too knowing that this is just scratching the surface. He's basically a rookie at the position. Nick, who is also a quality defender, should just keep getting better.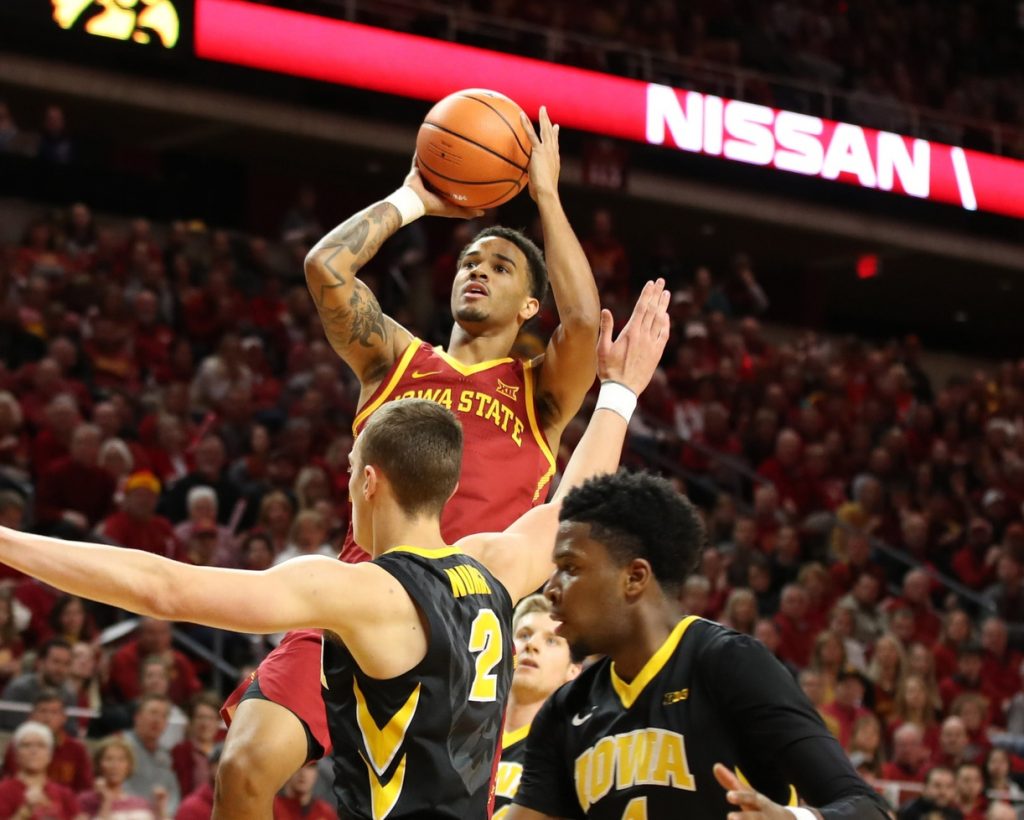 4 – The emergence of Terrence Lewis
Perhaps I am overplaying this, but I am very encouraged by what we have seen from Terrence Lewis over the last couple of games. The freshmen has averaged 9.6 points over Iowa State's last three games but more than that, he is doing exactly what his role on this team dictates.
Bring instant energy. Compete on defense. Hit some open threes.
I don't think it can be overstated how important it was to have multiple perimeter shot makers on Iowa State's roster the last five years. If Matt Thomas was off, Naz Mitrou-Long was usually on, etc.
That was my concern for this year. Donovan Jackson can't be "on" every night.
Lewis has the ability to help fight off some of those "off" nights for the Cyclones during the grind of the Big 12 season.
A quick note on all of the freshmen: Last night's atmosphere  was not too big for any of them. In fact I'd say that they thrived off of it.
5 – Expectations for the rest of the year
I'm not going to get hung up on this because I want to enjoy the ride.
Dating back to last March, I never thought that this would be an NCAA Tournament team. I still think at best it is a group that will be on the bubble come Selection Sunday.
I will say thought that I am a heck of a lot more optimistic now than I was even two weeks ago though. At the very least, this will be a fun team to watch this winter and because of the young talent combined with a great recruiting class coming in, you know that some very bright moments are just around the corner.
For what its worth, KenPom still has Iowa State going 6-12 in the Big 12. Rightfully so, that Milwaukee loss (ranked 157th) is really killing Iowa State's metrics.
It was a solid win last night, but Iowa isn't exactly setting the world on fire. The Hawkeyes have now lost six of seven and appear to have some very real issues at point guard and on defense.
Having said all of that, there is noting wrong with being really excited about this team right now. It is fun to watch. It's impossible to not adore Steve Prohm and his staff as human beings.
With football's recent success and what the future should bring in hoops, it is a really fun time to be around Iowa State.
Have a great weekend, Fanatics.