oWelcome to Cyclone Fanatic's "Bowl Central" as we lead up to Saturday's Liberty Bowl featuring the Cyclones and Memphis. Throughout the week, our Cyclone Fanatic staff will be updating this blog with links regarding the game, fun tweets, photos from Memphis and a lot more. Refresh often and please share with your friends!
Thursday, Dec. 28
10:45 a.m.: The Liberty Bowl just confirmed what we already thought would happen – that Saturday's game is 100 percent sold out.
The 59th AutoZone Liberty Bowl is officially sold out. Our year-round efforts to have a capacity crowd have resulted in a sold out game and a full stadium when @CycloneFB and @MemphisFB play on Saturday, Dec. 30 at 11:30am. pic.twitter.com/ZdgbKZRRGp

— AutoZoneLibertyBowl (@AZOLibertyBowl) December 28, 2017
Some information on a CF game watch opportunity for Friday night's Big 12 opener vs. K-State.
Game Watch for Friday: For $2 cover, first 100 Fanatics who show up to Jerry Lawler's Hall of Fame Bar can watch the game w/ me in Jerry's VIP lounge. Amazing opportunity. Place is sick. More info tomorrow.

— Chris Williams (@ChrisMWilliams) December 28, 2017
Wednesday, Dec. 27
5:30 p.m.: David Montgomery, Allen Lazard and Joel Lanning's post practice interviews.
Some links…
— Joel Lanning compared Memphis' offense to Oklahoma's.
— This Rob Gray feature on Marchie Murdock is phenomenal.
— Chris Williams on why winning in Memphis is so important for Iowa State's program.
— The Memphis cold doesn't faze Iowa State.
2:50 p.m.: Matt Campbell post-practice comments.

1:40: Just settling down at the house to crank out a ton of content for you guys over the next few hours.
Iowa State practiced at Rhodes College this morning and it was REALLY cold. The temp says it's 30 out but it probably feels like 10 or 15 when you consider the wind chill.
I know. I shouldn't complain to you guys in Iowa today.
A couple of notes for you…
This Rob Gray feature on Marchie Murdock's long road to where he is at is heartwarming. I highly encourage you check it out.
Reporter to @AllenLazard: "How much of your family will be here?" AZ: "Just my immediate family. And Cyclone Nation too. They are my family as well." pic.twitter.com/SuE4lFXqrw

— Chris Williams (@ChrisMWilliams) December 27, 2017
9:30 a.m.: Good morning from Memphis! It's going to be a busy day for us down here. Our goal as a content team is pretty simple: Bring the Liberty Bowl experience to all of you.
Today's Daily CF Minute w/ @ChrisMWilliams takes a look at what you can expect our Liberty Bowl coverage to look like on the site. #Cyclones pic.twitter.com/hj3eLeQd1g

— CycloneFanatic.com (@cyclonefanatic) December 27, 2017
Tuesday, Dec. 26
11:45 p.m.: Just settling down before bed and wanted to post some links for you guys…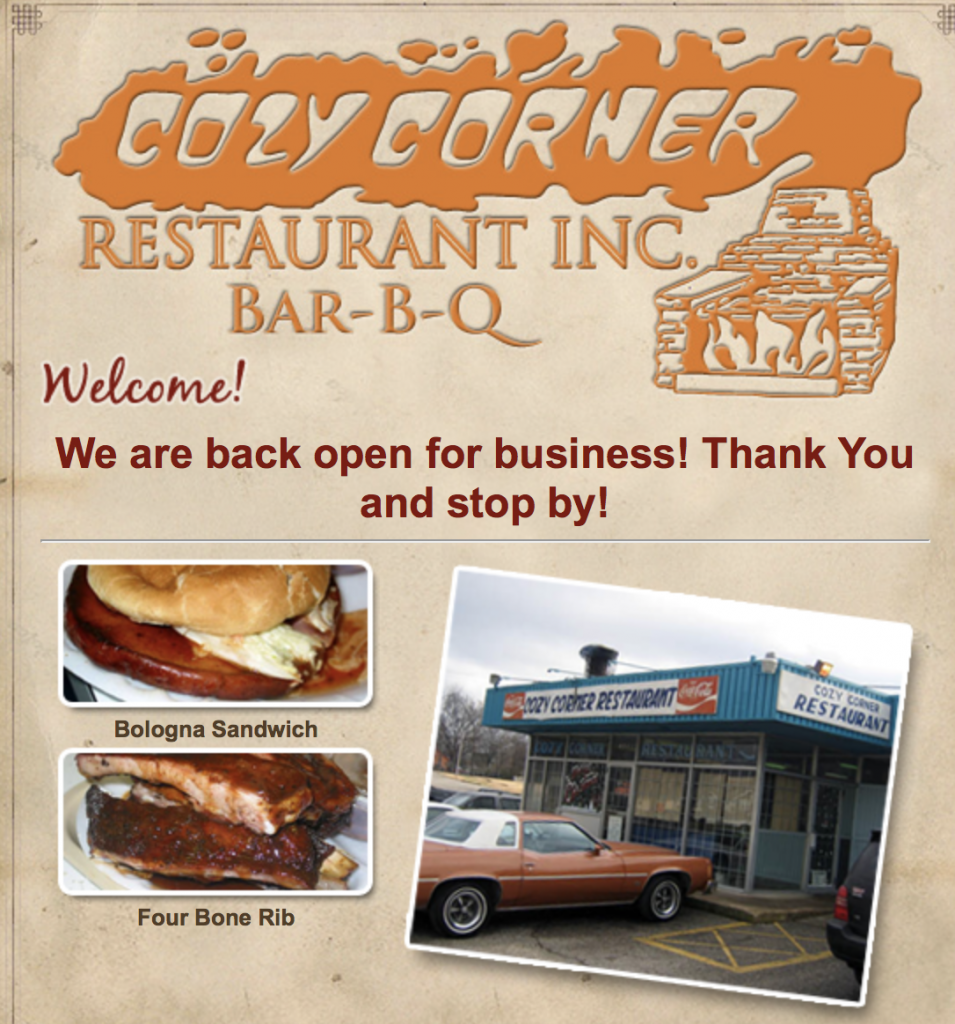 Before I do so, make sure to check out the Cozy Corner Restaurant if you guys are heading to Memphis. It's an old school, very affordable and amazing. Just happened to be a couple of blocks down from where Team CF is staying and is the No. 1 BBQ spot on all of Trip Advisor. Amazing.
Now for some links…
— Lots of talk from Iowa State's media availability today about Kyle Kempt and his exit from Oregon State a few years ago. Here's Randy Peterson's piece on this topic. — Des Moines Register 
— Looking to learn more about Memphis? This is a REALLY solid piece on the Tigers from the Commercial Appeal. I learned a lot, at least.
— I feel like this was a fun tweet.
Ref: "Don't worry coach. The flag will get picked up. It always does." pic.twitter.com/JJcNS480dW

— Chris Williams (@ChrisMWilliams) December 27, 2017
K-State save the Big 12 from starting 0-3 in bowl season with a win over UCLA.
7:15 p.m.: We made it to Memphis!
Team Cyclone Fanatic will be shacking up in a 100 year old house in Midtown this week. I fear that it is haunted and will report back.
Before we go out and indulge in some BBQ, I thought I would post some notable tweets from today as well as a look at the schedule for the week.
It's gameweek, #cyclONEnation! We're excited to support @CycloneFB! Here's what we'll be up to in Memphis and we'd love to have you join us!

Be sure to make it into the stadium early as we will only be doing a pregame performance at the football game.

Go Cyclones! #BeatMemphis pic.twitter.com/tcLuwFqOwu

— ISUCF'V'MB (@ISUCFVMB) December 26, 2017
First practice in Memphis in preparation for the @AZOLibertyBowl is in the books.
📷 https://t.co/U4BIT7i5Ib#RaiseTheStandard

🌪🏈🌪 pic.twitter.com/q1ryrqzoaY

— Cyclone Football (@CycloneFB) December 26, 2017
Kyle Kempt & Hakeem Butler spoke to the media after today's practice at @RhodesCollege in Memphis. #Cyclones pic.twitter.com/x0ZJ55Br5G

— Cyclone Football (@CycloneFB) December 26, 2017
Matt Campbell's post-practice interview after the #Cyclones first practice in Memphis at @RhodesCollege. pic.twitter.com/BW2HAzq49p

— Cyclone Football (@CycloneFB) December 26, 2017
3:30 p.m.: We are in route and currently about three hours away from Memphis. To our surprise, it has flurried on us most of the way.
Rob Gray, Jared Stansbury and I did have a chance to record THIS PODCAST on the way down, where we answered your mailbag questions from Twitter.
I'll get a bunch of stuff posted one we arrive in Memphis later tonight. Happy Holidays! — CW