Oct 28, 2017; Ames, IA, USA Iowa State Cyclones wide receiver Marchie Murdock (16) leads the band in the schools fight song after beating the TCU Horned Frogs at Jack Trice Stadium. Iowa State beat TCU 14 to 7. Mandatory Credit: Reese Strickland-USA TODAY Sports
MEMPHIS, Tenn. — One step at a time, Marchie Murdock Jr. ascended the Mount Everest-esque obstacle.
Each awkward, yet fluid maneuver took him closer to the top — until the future Iowa State receiver improbably reached the peak, and his mother, Cheryl, screamed.
"I was in grad school," Marchie Murdock Sr. said, recalling his then-infant son's daring summit of their home's staircase 22 years ago. "Mom said she heard him and it scared her to death, so she didn't want to scare him, so she just stood at the stairs and he would just try to get up there to it. Went all the way up. We went into Wal-Mart right away and got one of those stair (barriers), because it scared us half to death. To this day, we don't know how a seven-month-old went all the way up those stairs."
The mystery began to resolve itself as the younger Murdock's sports journey encompassed three sports in high school, then two, and finally one: Football.
It deepened once again when he left Illinois with a degree in communications in three years and landed in Ames to embark on one more fresh start that's ending on a high note — a Liberty Bowl date Dec. 30 with No. 19 Memphis.
"Last year was kind of like, 'Aw, man, maybe I made a mistake,'" said Marchie Jr., who packed up in Champaign last season in order to join the Cyclones just in time for fall camp. "I wasn't playing like I wanted to, but I had just got here and it was kind of tough just getting here and guys had kind of gone through a spring, a summer and they're going into the fall and I'm just thrown right into the fire. I did the best that I could, but obviously, you know, at that time I wasn't ready, and I made it a point this past offseason to just go and get it — make them try to play me. That's what I thought I did and it's worked out so far. I just want to finish off my last game with a bang."
Murdock recorded two catches for 29 yards last season. His longest reception — a 15-yarder — came in the season-opening loss to Northern Iowa.
He eclipsed last season's total in game one this season, a 42-24 win over the Panthers. Murdock also notched his first of five touchdowns in the season opener for the Cyclones (7-5), who seek to take down the Tigers (10-2) in their hometown.
"That guy, I know I use this term a lot in the social media world, of 'culture changer,' but Marchie really did that," ISU head coach Matt Campbell said. "Marchie — you go into that wide receiver room, I think one thing that you see is he's taken a chokehold of that wide receiver room. He lights the fire in that room. With what Hakeem Butler's done and his growth — I just think he brings the maturity and the work ethic and here's a guy that nobody was talking about last year and he went into spring practice and he earned the right to be successful. And I think the kids really respected his work ethic and then to see the results and what he's done is he's elevated the play of everybody around him. I can't thank Marchie enough and I couldn't be prouder of any player in our program. The year he's had has been incredible. He gets overlooked a lot because you've got some really good talents in there, but man, that guy has been as key to our success as anybody on our football team."
It's ISU's first bowl game in five years. It's the second for Murdock, the lifelong climber who was on the Illini's roster the last time they reached a bowl in 2014, but played for three different head coaches there before deciding to join Campbell's Cyclones — much to his father's surprise.
"(ISU assistant) coach (Alex) Golesh called him and I was thinking, 'Man, you can go to Mississippi State,'" Marchie Sr. recalled, noting one of the grad transfer options his son enjoyed. "And he called me and he met coach Campbell and he said, 'There is something about him, dad, that I really, really love.' And when coach Campbell called me when they were recruiting and I went up there and met him?"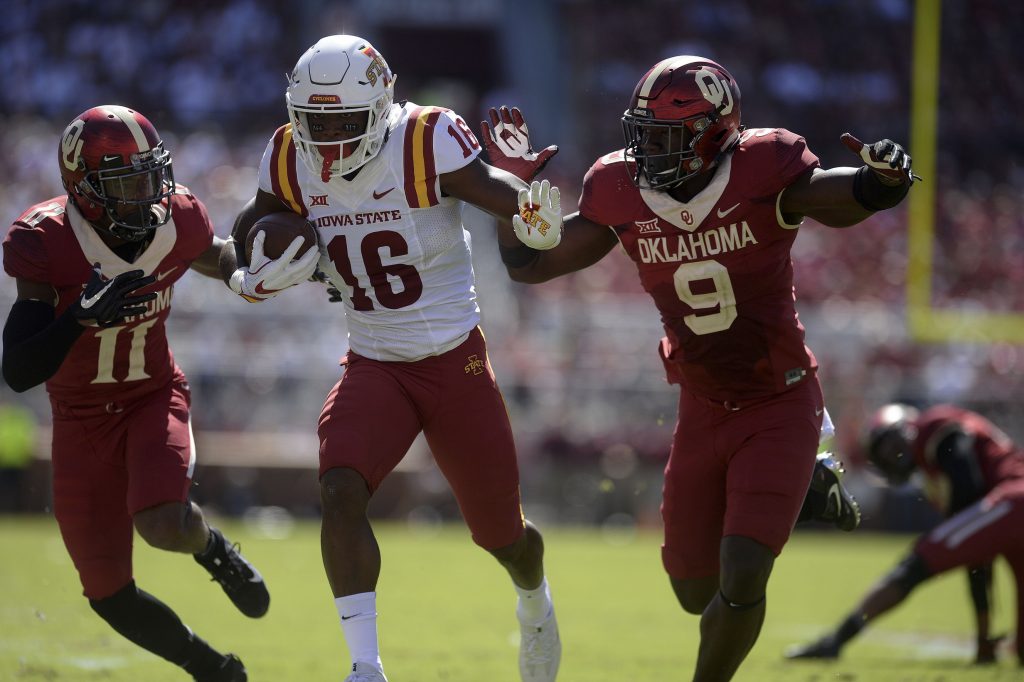 Marchie Sr. —who coached his three-time all-district son in basketball at Arlington Legacy High School — got it then, too.
"Just something about that dude," Marchie Sr. said. "I don't know what it is. I've coached for a long time. … But to hear that guy talk, everything that he says — he's probably the fairest guy out there. I mean, my son loves him. And for him to turn down some of the schools that were calling him, SMU, and he said, 'Dad, I think I'm going,' and I say, 'Boy, why you want to go to Iowa State for? Are you losing your mind?' But when I went up there and met (Campbell) at that Greenhill (Texas) school, it was just like, 'Man, I see why.' So I think Matt Campbell and his staff — I think the world of those guys."
He thinks the world of his son, too, of course.
Marchie Jr. earned his bachelor's degree in communications from Illinois in three years. He's completed all his coursework for a master's in family consumer science at Iowa State, too.
"People who know me know, they know that getting a Master's Degree wasn't in my plans at all," said Murdock Jr., who must defend his thesis by the spring to clutch that second diploma. "When I got the first degree, I was just happy to get that. To be able to get another one, I'm just a living testimony that anybody can do anything they want to when they put their mind to it."
***
Marchie Jr. would always get an earful. Dad didn't go easy on his son at basketball practice. He went the opposite route — sometimes singling him out in order to light a fire under some of the other, less grounded players.
"He'd just go off," said Marchie Jr., who also ran track his first two years of high school. "And a lot of times I was like, 'Why is he doing that?' Then you get to college and you're on your own; you've got to figure stuff out, you just figure out that's why he was doing that. He was just preparing me for college and the real world. So I credit him a lot. I credit my mom, too. She was tough on me too, so I credit both of them for being the man I am right now."
Marchie Sr. worried that his tough-love coaching approach could alienate his son from him.
That obviously didn't happen, but several kitchen table-based post-practice talks were convened to help make sure the hard coaching wouldn't create a father-son rift.
"Well, yes, we had several of those," said Marchie Sr., who played college basketball at Arkansas State — about 70 miles from Memphis. "But he never questioned it. I always initiated it, you know, 'Look,' and we'd get in the car and he would always be the same joyful, jovial, happy Marchie, but I just felt bad, because some of our coaches, they'd (say), 'Boy, you were tough on him today.' He would never say anything about it, but I felt guilty because our coaching staff would say, 'Man, Marchie was doing good. You were a little tough on him today.' So I would feel guilty and I would go home at night: 'This is what I was trying to show you today. And you've been in football, and we've been practicing, and you've got to hurry up and get it. I'm trying to hurry up your learning curve, because these are the things we've been doing. … Man, we've got to get you up to speed.'"
So Marchie Jr. accelerated.
One of his dad's good friends, Jimmie Green, recalls how the Iowa State receiver approached pain during an important track meet as a freshman.
Marchie Jr.'s feet were so riddled with blisters, few expected him to run his 4 x 200 and 4 x 100 relay legs at the district meet. But once again, his determination-driven maneuvers served up a surprise.
"It was Marchie's freshman year and Marchie had some speed," said Green, who's also the football team's defensive backs coach. "It's a big demand trying to do three sports in high school. You can try to do two sometimes, but his freshman year in track, he was running on our 4×1 and 4×2 relay teams. Marchie had blisters on his feet that would shut any pro athlete down for three weeks. Marchie got those blisters, pretty much busted 'em, lanced them up, put some bandages on them, cleaned them out, and Marchie went out there and ran on both of those relays for the district track team. And when I saw that — and I saw coach Murdock, I said, 'Coach. I don't care what anybody ever says about Marchie: they'll never doubt his toughness.' That was one of the toughest kids I ever saw in my life. I saw those feet that day at that track meet. You know, no way, no way that kid should have been able to run that day and he went out there and ran one of the best legs on the relay that day. Both of them."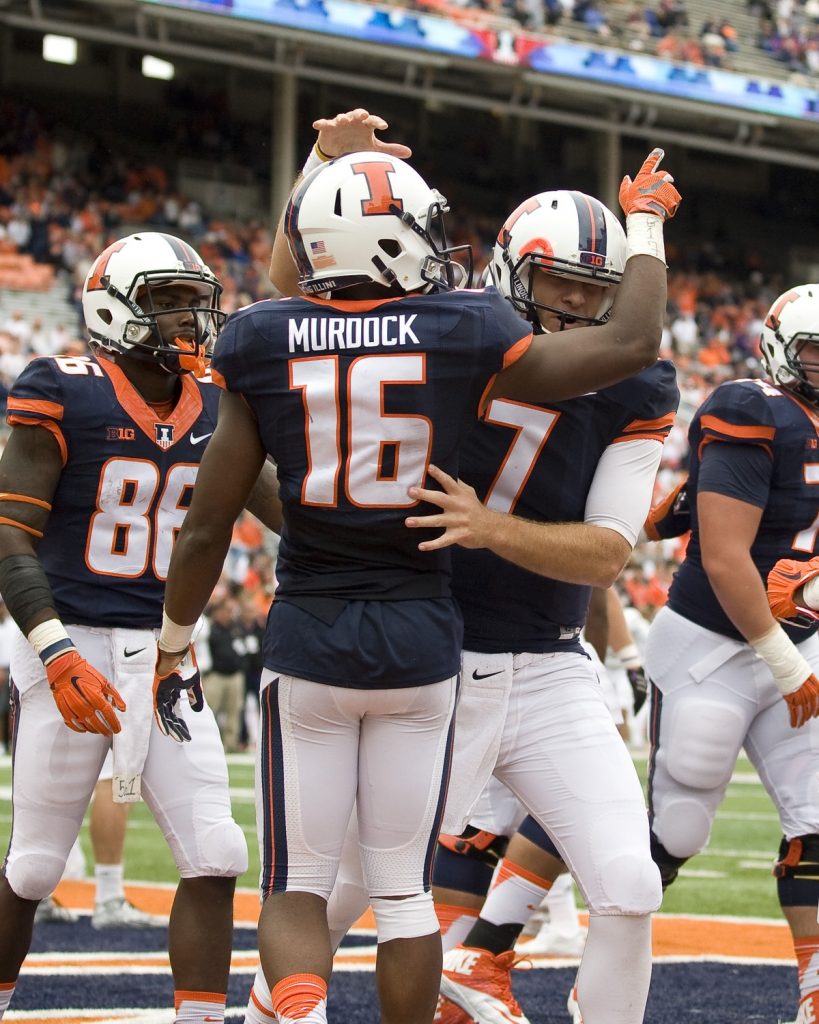 But Murdock's drive didn't end solely with physical feats. His devotion to his teammates later shined through in how underclassmen looked up to him.
Here's Marchie Sr.'s favorite story from that realm:
"I was coaching one night, a basketball game, and a lady walked up to me in tears — Miss Potter," he said. "She said, 'I love your son.' And I said, 'Oh, thank you, Miss Potter.' And she said, 'During football season (one of Potter's relatives) laid motionless — he got a stinger in football. He laid motionless on the field, but later, everything came back. They said when they got out on the field, they said, 'Hey, are you all right?' The first thing he said was, 'Marchie Murdock walked up to me in the weight room and told me I was doing a good job.' Out of nowhere. That was the first thing he said. So Marchie — the underclassmen were lifting, and he was just going around telling guys, 'Hey, you're doing a good job.' And this kid was laying motionless. The first thing out of his mouth — and I'm getting emotional, and to me, it wasn't about sports or anything. That's all I want from my son — whenever somebody says his name, or he's done a good job, or I love that kid, other than sports. But that lady has tears in her eyes and she said, 'My nephew said —' he didn't say, 'Am I going to walk again?' He didn't say, 'Am I hurt?' He said, 'Marchie Murdock came up to me today and told me that I was doing a good job.'"
Marchie Jr. didn't remember the "good job" exchange. There had been so many he'd initiated. He simply offered encouragement as often as possible — and the sheer quantity he'd delivered turned each individual effort into a collective one.
"He never remembered that situation, because he did it to everybody," Marchie Sr. said. "So, I'll never forget that. All of my days of coaching 21 years and now I'm a school counselor, but I'll never forget that moment, because I thought something was wrong. I thought she would say, 'You didn't play my son enough tonight,' or something bad, because that's typically what it was, but it didn't have anything to do with her son. It was her nephew. So I'll never forget that. Never."
*****
Once high school wound down, Illinois beckoned. His time there proved to be like a whirlwind — and moving to Iowa State in fall 2016 was "like a hurricane," Murdock Jr. told reporters at the time.
Now the storm, while still brewing, is winding down for him.
Sixty more minutes. Guaranteed. A lifetime of memories. One last chance to end a season with a "bang" — and with more than 20,000 ISU fans here to cheer him and his teammates on.
"They're there every week and I just credit the fans for always sticking with us," said Murdock Jr., who ranks third among Cyclone receivers this season in catches (37), yards (475) and TDs (5). "We're going to try to end this year with a bang and give them something to look forward to next season."
Murdock Jr. looks back, too, assessing the highs and lows.
The final play of the Oklahoma State game — where it appeared he pinned the football on the defender for a possible game-tying score as time expired — still haunts him.
"I tied the ball up and from what I was taught was when it was a tie ball it went to the receiver," Murdock Jr. said. "So when they said that he caught the pick, it didn't make any sense to me, because if you go back to the film, he ripped the ball away from me when we were both out of bounds. So if anything, it's incomplete or it's a touchdown, offensive. But they didn't call it and I respected it."
Eventually. But it was harder to accept the picked up flags that marred the bitter, regular season-closing 20-19 loss at Kansas State.
"I've never, in playing the game of football, felt like somebody had just taken away from me the game before," Marchie Jr. said. "Usually, it was, 'Aw, probably it was our fault.' But it just felt like, 'You throw the flag, and you all come together, you say, Nah,' and then they do it again, and they do it again? And it just felt like they were taking the game away from us. It felt like the game wasn't being called the same way — and I know the refs' intentions weren't to do that, but that's what it felt like on our end. We fought hard to be in that game and have that lead and, you know, I just feel like a couple calls were wrong, but, hey, that's football. Stuff happens. I'm over it. The team's over it. We're just looking forward to Memphis."
*****
Marchie Sr. and Cheryl will both be in the Liberty Bowl stands on Saturday morning. They'll finally see their one-step-at-a-time son start in the postseason.
"Obviously, they're going to be there," Murdock Jr. said. "They're going to have fun. They'll probably have more fun than we are during the whole bowl week just because we're going into this game — it's a business trip. I know it's a bowl game but we're taking it very serious. Obviously, they gave Memphis home field advantage, which is fine, I love that. I like going in the road anyway, so we know it's a bowl game and there will be a lot of activities, but we also know that this is a business trip. We need to win this game to move our program forward into the future. This game is going to be huge. I know Cyclone Nation is going to be there and it's not going too be as much of a home game that Memphis thinks it is, because of our fans. It's going to be a very exciting atmosphere. Great team. I can't wait."
Dad would heartily approve of that steely-eyed approach, but he can't help but connect his son's early-life climb to the man he's become. Each step meant something. Each subsequent one will mean more.
It all started that fateful day, when faced with a towering staircase, Marchie Jr. chose to rise up and teeter on its apex, foreshadowing a two-degree life that's still in its infancy.
"He's turned it all in," Marchie Sr. said. "All he's got to do is defend his Master's thesis with the board and he's done. Four and a half years with a Master's degree from two great institutions. I don't know. I'm still reeling, you know? But when he was seven-months-old, when he went all the way up those stairs, I saw his motor skills."
And somehow, his present and future.
"What I'm most proud of is when our backs were against the wall, when we lost to Texas, a lot of people could have been like, 'Aw, man, they're about to play Oklahoma, they're 2-2, I don't really see any type of wins,'" Murdock Jr. said of this resurgent Cyclone season, which tracked so nicely with his own. "Backs against the wall, it's just something about this team that, you know, we're going to fight back and we're going to make something out of nothing and then after (the Texas loss) we won four in a row. Then we went through a rough little stretch this past month, which, a couple things here and there, you know, could have really made us a team to be reckoned with, but, when our backs were against the wall, that's when I was most proud of this team. We kept fighting and 7-5 — a lot of people didn't think we were going to be here at this moment. So what we need to do is go into this game and do what we do the same and come out with the win."