11:17 a.m. – Made it to Memphis!
Well, we actually made it yesterday. It was a long bus ride but over 200 Cyclone fans made it safely and that's what's important. 
Last night on Beale St. was wild. I kid you not, it was AT LEAST 9 to 1 Iowa State fans. Cardinal and gold was everywhere!
Paul Rhoads is about to meet wtih the media here at noon. We'll have full coverage for you all so stay tuned for that. A couple of other notes…
— Remember to tune into the WHO-TV 13 sports reports from Memphis all week long. John and Brandon are traveling with us and doing profiles on our trip. Some good stuff. 
— Also, Jim Brinson and Joe Quinn from 1460 KXNO will be hosting a special Liberty Bowl preview show tomorrow from 9 to 12:30. I'll be joining them at some point. Tune in! 
Stay tuned for more later. 
Sunday, Dec. 30
6:02 p.m. – Just finished my preview for the big game. CLICK HERE to check it out. I've got Iowa State winning 31-21. 
10:44 a.m. – So I'm working on my preview for the game right now and I thought you'd all enjoy this stat:
Tulsa, America's 11th ranked rush offense, averaged 240 yards on the ground per game this season. 
Iowa State held the Golden Hurricane to 160 rushing yards on Sept. 1. Seventy-seven of them came on one Trey Watts run. 
Hey Cody Green – pressure is on. 
9:55 a.m. – Some links for you on a snowy Friday morning in central Iowa…
— Tulsa's front-four has been a worry of Iowa State's all through bowl practices. Bobby La Gesse on how the Cyclones will slow that pass rush down. — The Ames Tribune
— Jake McDonough and Durrell Givens are named to David Ubben's "All Underrated Team." — ESPN.com
—  More from Andrew Logue, who focuses on Iowa State's running game and the Liberty Bowl. — The Des Moines Register 
Friday, Dec. 28
10:39 p.m. – A press release that was recently sent out by the Liberty Bowl regarding its team welcome party reads:
Rib Eating Contest:
Tulsa, Alex Henry
Iowa State, Ethan Tuftee
Winner: Ethan Tuftee….finished the 20 ribs (tghat's 2 racks) in a record time of 22:45. Tuftee received a commemorative AZLB guitar.
Xbox 360…NCAA Football 2013…Iowa State vs. Tulsa
Tulsa, Trey Watts
Iowa State, Henry Simon
Simon won in OT, 29-28…with a 2 pt conversion in the first OT period.
Singing:
6 contestants…winner was Michael Mudoh from Tulsa
4:46 p.m. – I haven't gotten around to posting much today. My bad. Been working on a bunch of other stuff to get ready for our charter that will leave Ankeny on Saturday morning at 7. Some quick links for you…
— Cyclone Fanatic's "experts" make their picks for notable bowl games. Please notice who has a comanding lead. 
— I really enjoyed THIS READ on Iowa State offensive coordinator Courtney Messingham courtesy of Jim Nelson and the Waterloo Courier. 
— Here's another trip down memory lane with my good buddy Greg Mulhal, who played on Iowa State's 1972 Liberty Bowl team. — The Des Moines Register 
Thursday, Dec. 27
9:26 p.m. – A couple of notes here to wrap up today…Been out for most of the afternoon. 
— Iowa State ended up practicing outdoors as originally scheduled at Rhodes College this afternoon.  The weather in Memphis was indeed cold today though. CLICK HERE for a report from Logue, along with a few roster tidbits as well. 
— @CycloneFB on Twitter posted this picture of the Cyclones practicing today a few hours ago.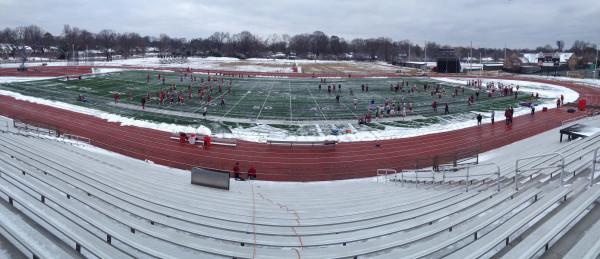 — The Liberty Bowl sent out this press release earlier this afternoon. 
Both the Iowa State and Tulsa football teams are scheduled to visit St. Jude Children's Research Hospital tomorrow (Thursday, Dec. 27) from 3pm to 4pm.
12:49 p.m. – After arriving in Memphis earlier today, the Iowa State football team's first practice down south has been moved indoors. Here's a tweet that was sent out from Andrew Logue of the Des Moines Register. 
Looks like Iowa State FB practice has been moved inside because of snow and cold.
10:59 a.m. – A few lunch links for you on a Wednesday…
*** Why winning the Liberty Bowl is important to Iowa State taking that "next step" as a program — Cyclone Fanatic 
*** Take a trip down memory lane and re-live the 1972 Liberty Bowl with George Amundson. — The Ames Tribune
*** Tulsa's media notes for the Liberty Bowl. 
10:42 a.m. – Two minutes ago, @CycloneFB posted this on Twitter. 
"The Cyclones have arrived in Memphis!"
8:47 a.m. – Time to start studying Tulsa…Again. Yahoo Sports recently published THIS PIECE that breaks down where Tulsa is at as a program leading up to the Liberty Bowl. 
8:23 a.m – I missed this link last week. CLICK HERE for a quick hit on the game from ESPN.com's David Ubben. 
8:03 a.m. – As far as I know, the Des Moines Register's Andrew Logue is the only member of the local media already in Memphis covering the Cyclones. CLICK HERE to read Logue's latest story on what's in store for the Cyclones when they arrive in Memphis later on today. It sounds like a wild time. 
7:50 a.m. – Christmas is now in the rearview mirror. You know what that means? Bowl season is here! 
Iowa State and Tulsa will duke it out in the 2012 AutoZone Liberty Bowl on New Year's Eve. Consider this "bowl central" here at Cyclone Fanatic. You've seen our running blogs before here on the site. Just refresh this page from time-to-time for the latest on Iowa State's trip to Memphis. 
We'll be posting links, quick hits, bowl information and more leading up to Dec. 31 and beyond.