The middle of August is always an exciting time because football is near. Tailgate plans are being made, Oktoberfests are hitting the shelves, every fan base in America has at least a little bit of optimism within it and we naturally start to crave that crisp, fall air.
The middle of August is also pretty obnoxious. We have reached the point where the Cyclone Nation has dissected the 2017 roster ad nauseam.
The thing is, most of the analysis we have given is based off of information that we aren't entirely sure is accurate (because coaches certainly do not tell us everything). And even the info that isn't "fake news" is based off of practice (cue my man AI) and scrimmaging vs. your own team.
Allow me to make things very simple for you all in regards to the upcoming Iowa State football season.
— The offensive and defensive lines always seem to be a problem at Iowa State, which again will be the case in 2017.
— That brings me to the fact that there is a ceiling for the defense and in a best-case scenario, I would probably place it in the middle of the pack in the Big 12. The line will be better than it was a year ago. The front-four is young and talented but not proven at all. Behind it stands a guy who has been a quarterback for the last four years starting at middle linebacker (Joel Lanning) and what I would call an above-average secondary.
— I think that we know what to expect with the offensive line – a well coached group with average talent that should be adequate but never great for most of the season.
— Skill wise, I'm not sure I have ever seen an Iowa State team as loaded as this one at wide receiver and running back. Chase Allen has a ton of potential at tight end too, which is encouraging.
— That brings us to the quarterback position and Jacob Park.
When December rolls around, I believe one stat will dictate if Iowa State is playing in the postseason or not: Scoring offense.
Did you know: Since the year 2000, NOT ONCE has an Iowa State team surpassed the 30 points per game milestone (for those curious, here are the actual numbers).
2016: 71st a 27.7
2015: 93rd at 25.0
2014: 98th at 23.2
2013: 91st at 24.8
2012: 87th at 24.5
2011: 90th at 22.7
2010: 93rd at 22.2
2009: 102nd at 20.5
2008: 59th at 25.3
2007: 112th at 18.2
2006: 92nd at 18.8
2005: 50th at 28.3
2004: 97th at 20.5
2003: 116th at 14.4
2002: 43rd at 28.9
2001: 57th at 26.9
2000: 48th at 27.8
To throw salt in the wound: The last time Iowa State averaged 30 or more points per game was in 1976, which according to this year's media guide is the only time in school history Iowa State has reached that point.
In 2016, Iowa State was one of only two teams in the Big 12 to NOT average 30 points a game or more. Kansas was the other, and that is awful company to keep in the world of college football.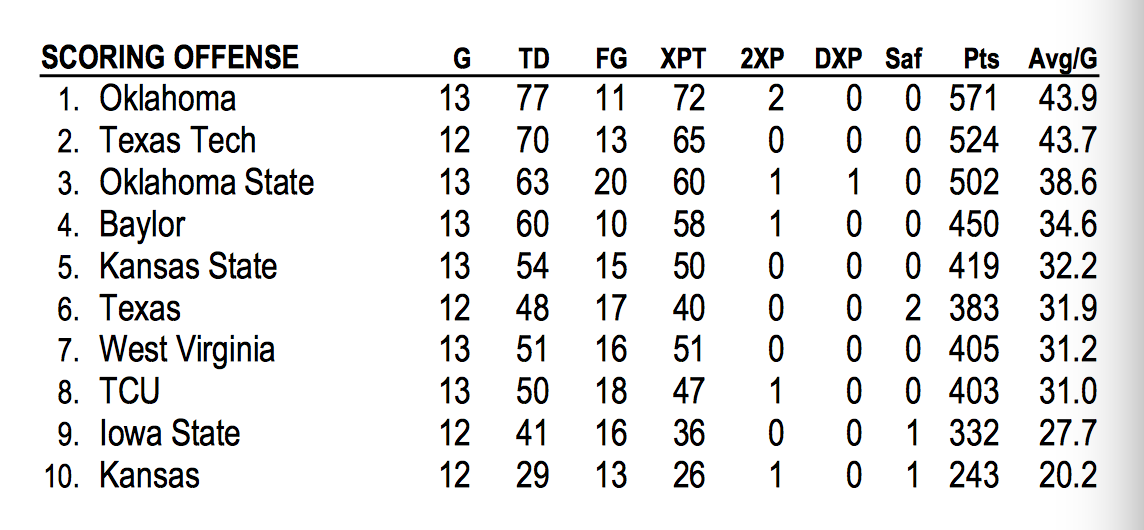 The last time that over half of the Big 12 did not average 30 points a game or more was in 2009. The last time that Iowa State finished in the upper half of the Big 12 in scoring was 2005, when Bret Meyer and Todd Blythe led the Cyclones to 28.2 points per contest.
This is really basic stuff, guys. In the Big 12, you have to have the ability to win in a shootout. You cannot do that without a high-level quarterback.
To cite the Godfather of scoring offense – the great Mike Leach – the most important trait a quarterback can be is accurate.
Park needs to be better than he was in the final five games of last season, where his final accuracy numbers tallied 58.9 percent.
Having said that, it's been a long time since Iowa State truly had an accurate quarterback for the majority of a season (see below).
2016: Park, 58.9% – Lanning, 58.6%
2015: Richardson 60.1%, Lanning 55.4%
2014: Richardson 56.3%, Rohach 50.0%
2013: Richardson, 55.3%, Rohach 57.6%
2012: Jantz, 62.1%, Barnett , 48.1%, Richardson, 58.2%
2011: Jantz, 53.3 %, Barnett 50.0%
2010: Arnaud, 59.0%, Tiller, 47.6%
2009: Arnaud, 58.7%
2008: Arnaud, 61.6%
2007: Meyer, 61%
2006: Meyer, 56.4%
2005: Meyer, 61.7%
2004: Flynn, 41.4%, Meyer 51.4%
2003: Flynn, 46.7%, Terry 43.8%, Love, 43.1%
2002: Wallace, 55.1%
2001: Wallace, 62.1%
2000: Rosenfels, 51.7%
Last season, Park's 58.9 and Lanning's 58.6 marks placed them ninth and 10th in the Big 12 in accuracy (out of 12). At the top of the league, Oklahoma's Baker Mayfield completed 71 percent of his passes while Patrick Mahomes and Mason Rudolph connected 65.7 and 63.4 percent of the time.
There is more than one player on a football team and Jacob Park cannot do it all by himself. But with what Iowa State has coming back on defense and the weapons surrounding him at the skill positions, assuming the line is adequate, I am comfortable placing the majority of pressure for the upcoming season on the back of Jacob Park. If he is good to great, Iowa State will go bowling for the first time since 2012. If he is anywhere near or below average, Cyclone fans will likely have to spend another holiday season in freezing cold Iowa.