Nov 19, 2016; Ames, IA, USA; Iowa State Cyclones quarterback Joel Lanning (7) scores a touchdown against the Texas Tech Red Raiders at Jack Trice Stadium. The Cyclones beat the Red Raiders 66-10. Mandatory Credit: Reese Strickland-USA TODAY Sports
AMES — When Joel Lanning and Jacob Park began splitting time at quarterback for Iowa State in week three against TCU, many wondered if the two-man approach to the position could be either sustainable or successful.
That's not a legitimate question anymore — not after Park threw for 285 yards and accounted for three touchdowns in last week's 66-10 drubbing of Texas Tech, while Lanning rushed for a career-high 179 yards and a school record-tying five touchdowns.
If either of the Cyclones' top play callers harbored ill will about not being the guy at any point, they didn't show it.
They helped each other. They cheered for each other. They've combined for 21 touchdown passes to seven interceptions — and 574 rushing yards — in a rebuilding season that could be capped with three straight wins.
"I'm going to accept my role. I'm going to do whatever I can to try to change this program around," said Lanning, who again hopes to play a pivotal role in ISU's (3-8, 2-6) season finale at 2:30 p.m. Saturday against West Virginia (8-2, 5-2) at Jack Trice Stadium. "I came here for a reason. I like Iowa State. I love it here. I'm about to graduate, too. I'm trying to change it around. I mean I've never been to a bowl game and I've been here for four years. So I really want to go to a bowl game, go to the postseason, see what that's like — just an experience I haven't had and I want to do that."
Lanning's clearly done his part in "changing this thing around." He didn't complain when Park became the team's primary passer. Instead, he took pride in his run-first role — and last week, Lanning's exuberance spiked with each powerful jaunt to the end zone.
On his first and second scores, he didn't show much emotion. From number three on, Lanning became more demonstrative.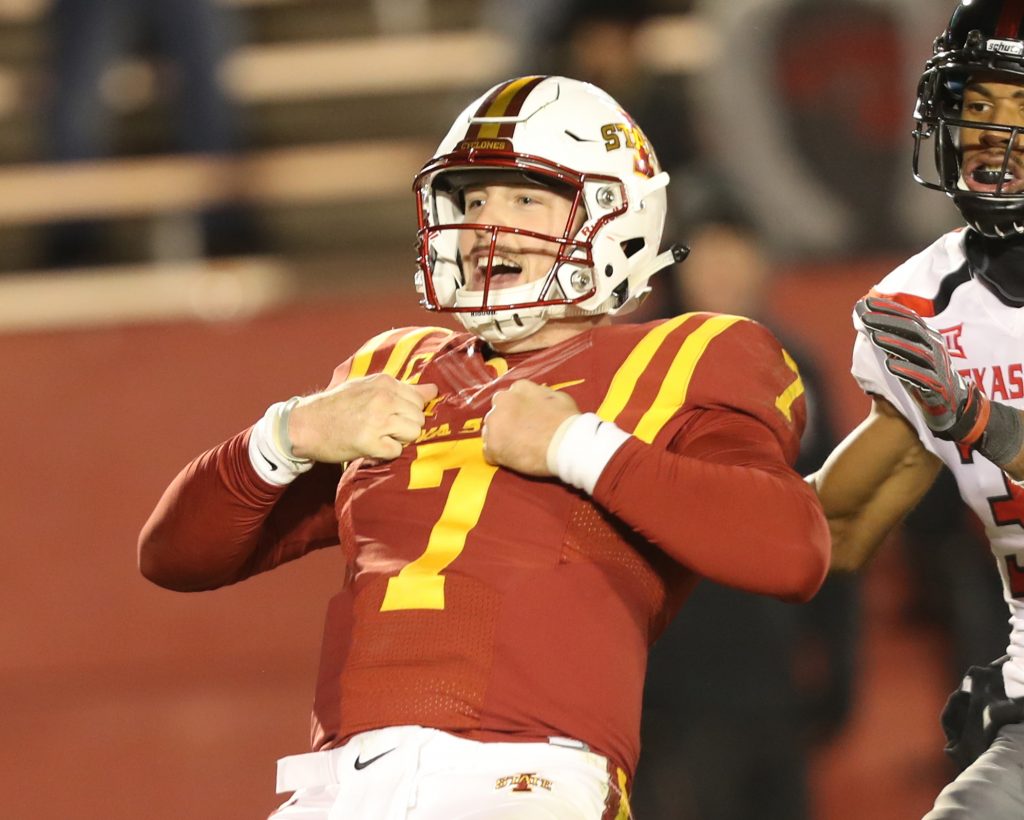 "In my role, you're only expected in short yardage or whatever, and you don't expect to break those long runs, but on Saturday it was kind of different," said Lanning, whose 11 rushing touchdowns this season are a single-season program best for a quarterback. "When you score touchdowns, I've always been told, 'Act like you've been there before and give the ball to the ref and celebrate with your teammates.' And then, as it kept coming, some guys on the sideline were telling me, 'Do the Superman,' or whatever. Just have some more fun with it is pretty much what I did. It made it more fun and everyone was liking it."
What's not to like? The Cyclones have won two straight games and have a chance to close out coach Matt Campbell's first season with a three-game flourish. The only downer: Now that ISU's finally rolling, the last game week of 2016 is winding down.
"We're coming together more and more as a team every week," Park said after Saturday's win. "I'm kind of mad that the season's going to be over and we only have one game left. But we trust in each other more and I'm in the defensive huddle all the time. Kamari (Cotton-Moya)'s in the offensive huddle. We got D'(Andre) Payne in the offensive huddle. We just feed off of each other and that's what the best teams do and we're trying to be the best."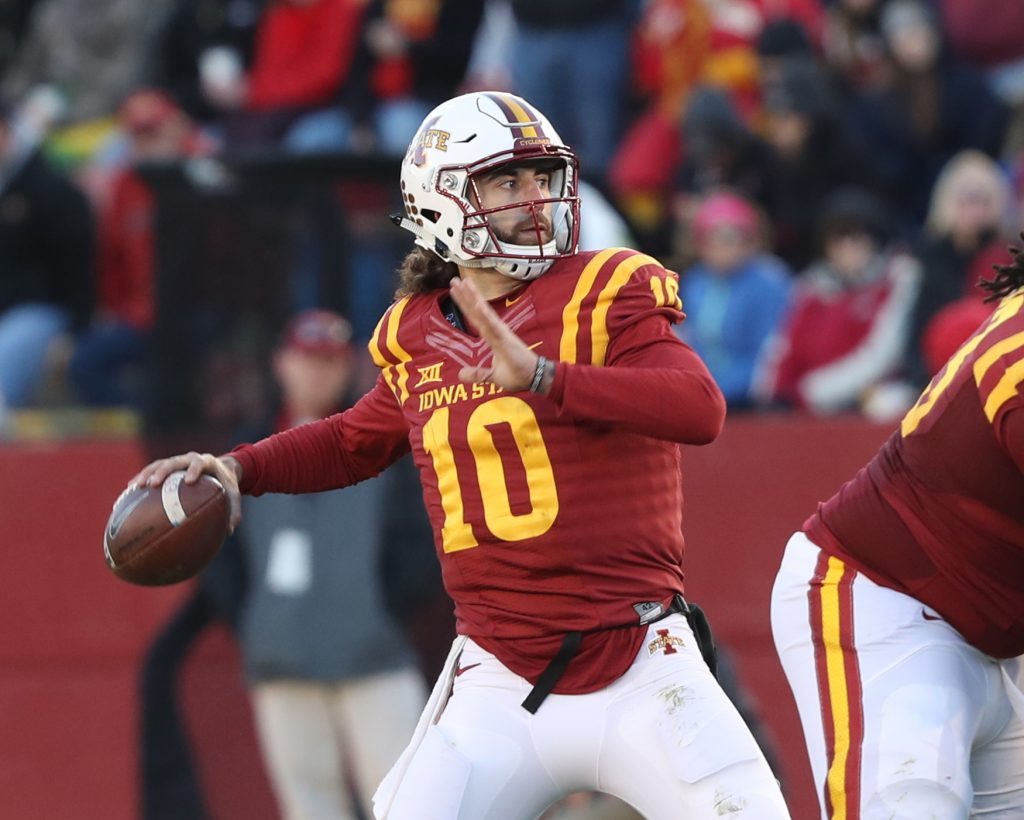 Who would have thought playing both Lanning and Park could help with that process? Campbell, for one.
"That's not easy for Jacob and Joel to split reps and do that, but I think, to be honest with you, that sparked a lot of positive in our football program, because of the way they approached it and the way they did it," Campbell said. "There was no selfishness, no ambition to be negative about it. I think that really started to unify our football team to see those two have success and care about each other when they did have success. That was really big and I thought that was maybe part of the change as we started to really go in a positive direction."
Other players took notice.
The way Park and Lanning uplifted each other stood out.
How both of their skill sets have formed a composite quarterback whose statistics (21 touchdown passes, seven interceptions, 248.6 yards per game) have outpaced the Cyclones' head-to-head opponents (20 touchdowns, nine interceptions, 225 yards per game) is impossible to ignore.
"Obviously, the quarterback's a highlighted position," ISU linebacker Kane Seeley said. "Everyone's got their eyes on the quarterback, so seeing Joel and Jacob together, meshing like that, excited for each other, everyone else feeds off it. It's definitely a huge leadership role and it's great to see that."
It's been so positive, Lanning's fine if it continues next season when he's a senior and Park's a junior. Presumably, Park feels the same. That's what leaders do.
"You cant let your ego get to you when it comes to that," Lanning said. Yeah, everyone wants to be that guy. Everyone wants to play their 70 snaps a game. Everyone wants to start and have that role on the team. But when you can have two people kind of doing the same thing and it's working, why not keep it and keep the momentum going that we have?"