Oct 29, 2016; Ames, IA, USA; Iowa State Cyclones quarterback Jacob Park (10) rolls out to pass against the Kansas State Wildcats at Jack Trice Stadium. The Wildcats beat the Cyclones 31-26. Mandatory Credit: Reese Strickland-USA TODAY Sports

AMES — All great quarterbacks possess a sense of swagger. So does Jacob Park.
Iowa State's soon-to-be junior signal caller has lot to prove before he will ever be considered "great." After all, he has only started five games in a Cyclone uniform. Iowa State won two of those. But in hanging around South Carolina native some this spring, you notice something about the once highly touted Georgia Bulldog. Perhaps it is the significant southern drawl, but there is is an aura around him that reeks of "big time."
Example: A little over a week ago, I asked Park what he now knows about Big 12 football that he didn't a year ago.
"It's football," Park said with a laugh after a significant pause. "Big 12 football is football, man. Whether you are playing high school or pro in the NFL, it's football. You can only do so many things and you can only put so many people in so many places and run so many route concepts. There are only so many defenses. Football is football, man. Whether if it is in the Big 12, it doesn't matter. It's all the same."
Clearly I was overthinking things, which Park isn't really into. That was one hell of an answer. I followed up by asking about his goals for an Iowa State program that hasn't gone bowling since 2012.
"I'm not satisfied unless we win them all," Park said without hesitation. "That's my mindset. I think that is the mindset we are trying to have here. If you are a fan and you don't believe that we can win them all and you guys are going to be satisfied with less then I can't wait to see how happy you are when we win them all. Next season is going to be very interesting."
Park was confident and said similar things when he arrived in Ames last summer. This is different though. Last August, Park was a guy who had just wrapped up an intramural season at Northeastern Oklahoma A&M. He hadn't played in a competitive football game in nearly two years. That was simply a guy talking who had no clue what he was about to walk into.
Now, Park has seen live action. He just experienced his first winter conditioning program and is in the middle of his first spring season at Iowa State. It's also noteworthy that Park didn't see a significant amount of first-team reps during fall camp last summer as he was dinged up for most of it. When he was healthy, the job belong to Joel Lanning, who is currently listed as Iowa State's top middle linebacker heading into Saturday's spring game (1 p.m.).
"I think what we're seeing is he's now finally get a chance to get a lot of reps," offensive coordinator Tom Manning said. "Especially at quarterback, that's something that just it has to happen. I know that's a big talking point a lot is inexperience, but especially at that position, there's a lot of truth to it. We've really seen him progress and you've seen the accuracy improve the more he understands defenses and what we're trying to do in the throw game."
It is difficult for a summer JUCO at any position to make an immediate impact at this level. It is almost unheard of to do it at the position of quarterback.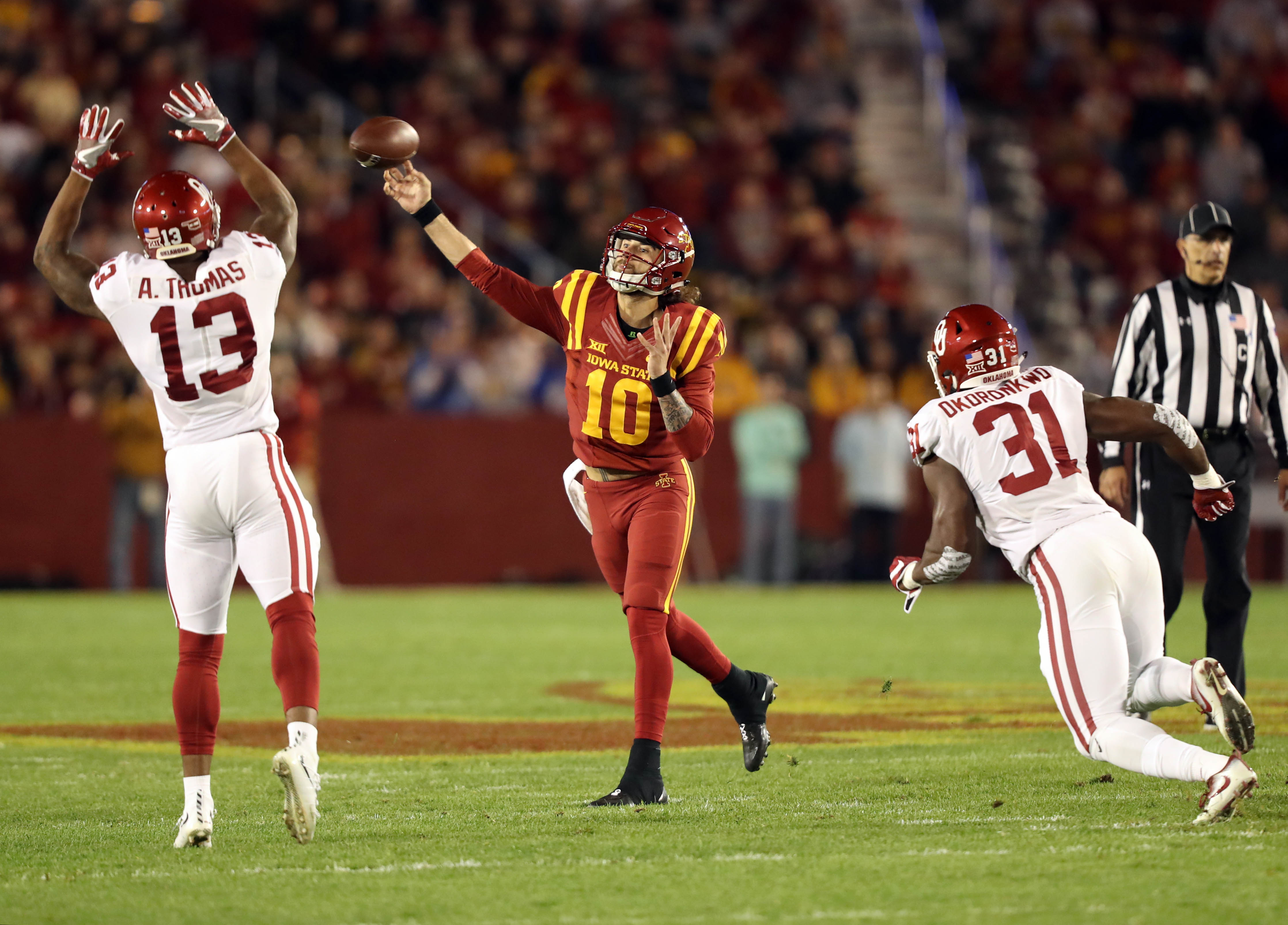 While splitting time with Lanning, Park threw for nearly 1,800 yards with a 12-to-5 touchdown-to-interception ratio during his rookie season in Ames. During his five starts, Park averaged 264 yards per game, a 63.3 completion percentage with eight touchdowns to three interceptions.
From the naked eye-test to the numbers that he racked up in a short period of time, there are plenty of reasons to be bullish about Park's second season at Iowa State, but the optimism doesn't stop with him.
It is almost impossible to imagine a scenario where Iowa State's offensive line won't be better in 2017 than it was a year ago. Add to that the amount of weapons Park should have at his disposal with Iowa State's impressive group of wide receivers – not to mention the addition of Chase Allen at tight end (Iowa State tight ends caught seven passes for 68 yards last year).
"I ain't ever had receivers like this to throw to," Park said. "We have four receivers you can put on the field and I don't know if there is any defensive back in the country that can jump with any of them."
Harness the confidence and continue to embrace the role of being a leader. If Park continues to do those things, Iowa State's offense will indeed be very dangerous when September rolls around.