Mike Busch never intended to cross the high-stakes, major league picket line.
And he never really did.
The Iowa State two-sport All-American — in football and baseball — chose hardball for his early career pursuit after getting drafted by the Los Angeles Dodgers in the fourth round in 1990.
He would also be selected by the then-forlorn Tampa Bay Buccaneers in the 10th round of the NFL Draft, so he had a sporting decision to make.
But Busch, the subject of this month's Cyclone Fanatic "Where Are They Now," settled on America's pastime and wended his way through the minor leagues — and a strike-based crucible in 1995.
"Major League baseball put a lot of minor league players in a really difficult situation," said Busch, who was promoted by the Dodgers after the strike ended the 1994 season without a World Series. "I never once committed to the major leagues but you never hear that or read that on my side anyways. I made due and I hit a couple of pivotal home runs for them."
Busch's MLB career was brief. He accrued 100 career at bats and launched seven homers in 1995-96, while driving in 20 runs. That's solid production, but injuries doomed him to a short stint at the sport's highest level.
Busch drilled a three-run bomb to help clinch a division title for the Dodgers in 1995, but such triumphant moments were fleeting in L.A.
"I was not added to the playoff roster against Cincinnati, but no matter," said Busch, who now is a financial advisor for Edward Jones based in Oskaloosa. "That was in my playbook and in my memoirs, what I did for them there. Then (the) next year I spent the majority of the season in the big leagues and had some big home runs. One was a grand slam against the San Francisco Giants at Candlestick. We were down, I think, 5-3, or 5-2 — whatever the score was — we ended up winning that and the rivalry between the Dodgers and the Giants is huge. So no matter what happened during that time, that tough time in baseball or for us, man,  I was fortunate enough to be at the highest level of professional sports and I'll always cherish that."
It started in Ames, but almost began in Iowa City. Busch grew up in tiny Donahue. He was, by his own admission, a huge Hawkeyes fan while completing high school at North Scott. So when it came time to commit to a school, Busch's choice was decidedly black and gold — until it wasn't.
"It's Hawkeye Nation over there where I grew up, right?" said Busch, who  set ISU's standard for home runs in a season (17) and a career (31). "So I grew up a Hawkeye fan. So I was recruited from universities from coast to coast. I had a big cardboard box full of letters and kind of overwhelming at the time and kind of didn't understand the significance — from Michigan, to Wisconsin, to Iowa State, Stanford, so quite a few schools. Major schools. So at that time, especially being from a small town, I didn't really realize what it was all about. I just knew I was going to stay in the state and go to Iowa. At that time, I was heavily recruited by them and took several trips up there. Hap Peterson and Chuck Long, were my, I guess you'd call them player escorts, or whatever they called them back then, so they showed me around Iowa when I went up there to do my visit.
"Pretty much any letter I'd get from any other university just went in the box — and I didn't probably open most of them. And then it came down to it — and my brother was going into the engineering college up (in Ames), and I wanted to follow him, but I wanted to be a Hawkeye, too. Either one would have been great, but I was going to play for Iowa. They were setting me up for a full scholarship there and then the night before the national signing day, ( a coach) phoned me up and said, 'You know what Mike? We've made a decision. We've got five tight ends on scholarship. We'd like you to walk on the first year and give you the scholarship the second year and prove yourself.'  I'm like, 'I've got a box full of colleges — any one of them I can go full ride, or I'm going somewhere else.' They stuck to their guns and so did I so I ended up going to Iowa State."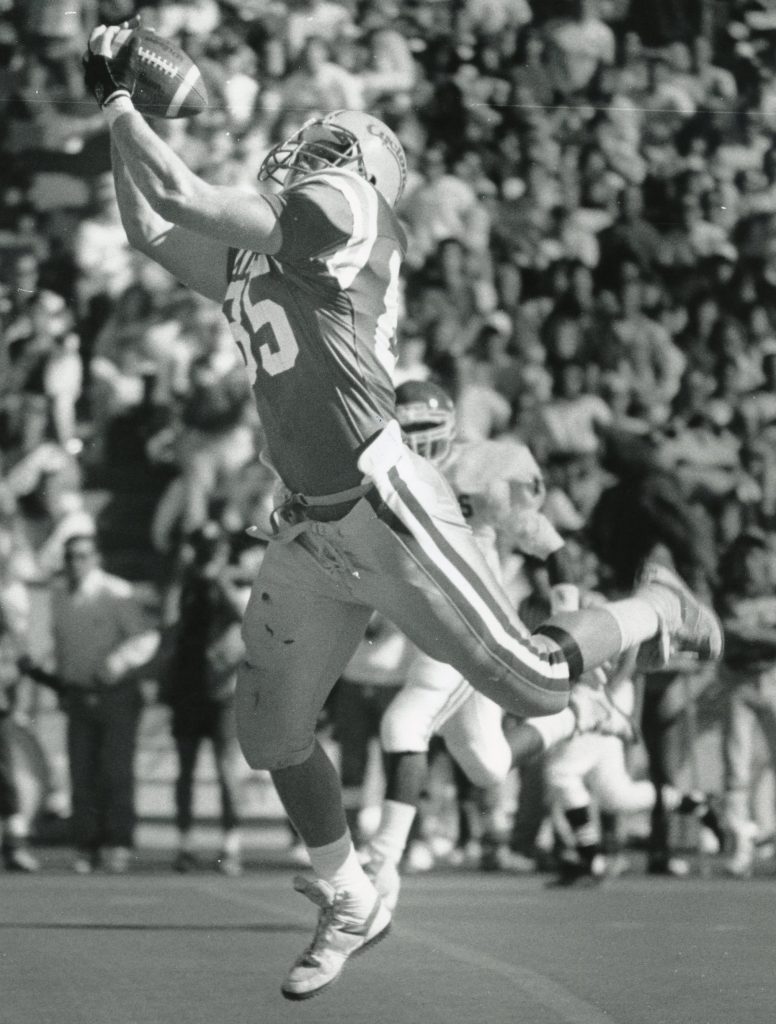 Busch caught four touchdown passes in his Cyclone career and played on two successful teams under Jim Criner (who was later fired) and Jim Walden.
Criner made it clear that Busch could play both football and baseball — despite the near overlap that would occur in terms of training and competition.
"He goes, 'Yeah, we'll let you do that,'" Busch said. "You don't have to go through spring drills and that was the deal maker right there."
Still, the scholarship spurning from Iowa stung. It drove Busch to greater heights.
"Naturally, I was pissed, because I was a Hawkeye fan," he said. "So I was really upset about that, you know, 'what the heck?' But I had to make a decision so, naturally, anytime we played the University of Iowa, I made sure I was ready to go and I stepped up my game. We didn't beat them in my four years, but I had some of my best games against them folks. That's kind of what you do in sports. You can't get it done one way, you find another way to get it done."
Busch ended up getting it done as a great Cyclone. The imposing 6-5 figure tweaked his body through nutrition regimes that allowed him to bulk up from 217 pounds to nearly 260 his senior year.
"My goal was to start, not just play on certain downs, because I hated leaving the field," Busch said. "So I really focused on building muscle weight, getting bigger, and I think I got in at the 230s in that first year and it worked out too. I went and played on the baseball team a little, not that freshman year, but then of course, Coach Criner took off, got fired, and then Walden came in and I wanted to make sure I started, so I concentrated on that. It was a blessing. It worked out."
So did Busch — who turned heads on the field and at the training table in an era when sports nutrition was swiftly becoming a cottage industry.
"He walked into the ball park, 6-5 250 — just a phenomenal-looking athlete — and commanded a lot of respect," former ISU baseball coach Bobby Randall told the Ames Tribune for an article in 2012. "He brought that football mentality."
Busch continued to level up and muscle up.
"In high school what were you doing, eating pizza or hamburgers and french fries all the time?" he said.
That didn't cut it in Ames. His menu shrank. His strength skyrocketed.
"A lot of fish," Busch said. "And chicken breasts. … Nowadays, they have anything and everything. Hook them up to a machine and you're brand new in ten minutes."
Busch remade himself every offseason and left an indelible mark on his alma mater. He was part of Coach Matt Campbell's inaugural Mentor Program and hopes to offer players and coaches financial advice in the future.
"I haven't heard back but hopefully that comes up," Busch said of the prospective wealth management training. "It's an important part to me. That's giving back to Iowa State, what they did for me."
It also circles back to what he did for them — become a titanic presence for two programs that needed one. The former Hawk fan once cracked a home run that connected with a light pole in a pivotal game against perennial power Oklahoma State. His first big league home run came against a pitcher with Iowa ties, Jason Christiansen.
Busch has been giving — and hitting — back for decades. He married his current wife, Jane, on May 19. Now, his oldest daughter, Shunyl, is embarking on a business career after graduating from ISU. His youngest daughter, Sylina? She's set her sights on attending Iowa.
Busch (who's also stepdad to Lucas, Claire, and Nathan) stays true to his school.
"Well you can go where you want to go, but I promised them this: I'm not going to wear a shirt that says 'House Divided,' or get a stone in my landscaping that says the same," he said. "Everything's Iowa State at our house."