Author's note: Each "Where Are They Now" will now include an "Extra" edition that's a less structured showcase for some interesting quotes that didn't get featured in the main piece. 
Mike Busch hated to lose.
Still does.
So the two-sport Iowa State All-American-turned-Edward Jones financial advisor with clients in 23 states hewed to a simple yet powerful personal credo, then and now.
"Let me get you an idea of what my mindset was as an athlete," said Busch, the subject of this month's Cyclone Fanatic 'Where Are They Now' feature. "I just didn't want to get beat by anybody. And if I did I made sure and either got stronger and smarter so I would not get beat."
And …
"All I wanted to do was win — and win a lot," Busch added.
Busch's dogged approach paved the path for personal excellence, and first-team All-America honors in both football and baseball.
The overall winning at the team-based level didn't always come, but that's not because Busch settled for simply achieving his personal best. He wired keen intensity into every snap, pitch and game during an ISU career that spanned from 1986-89.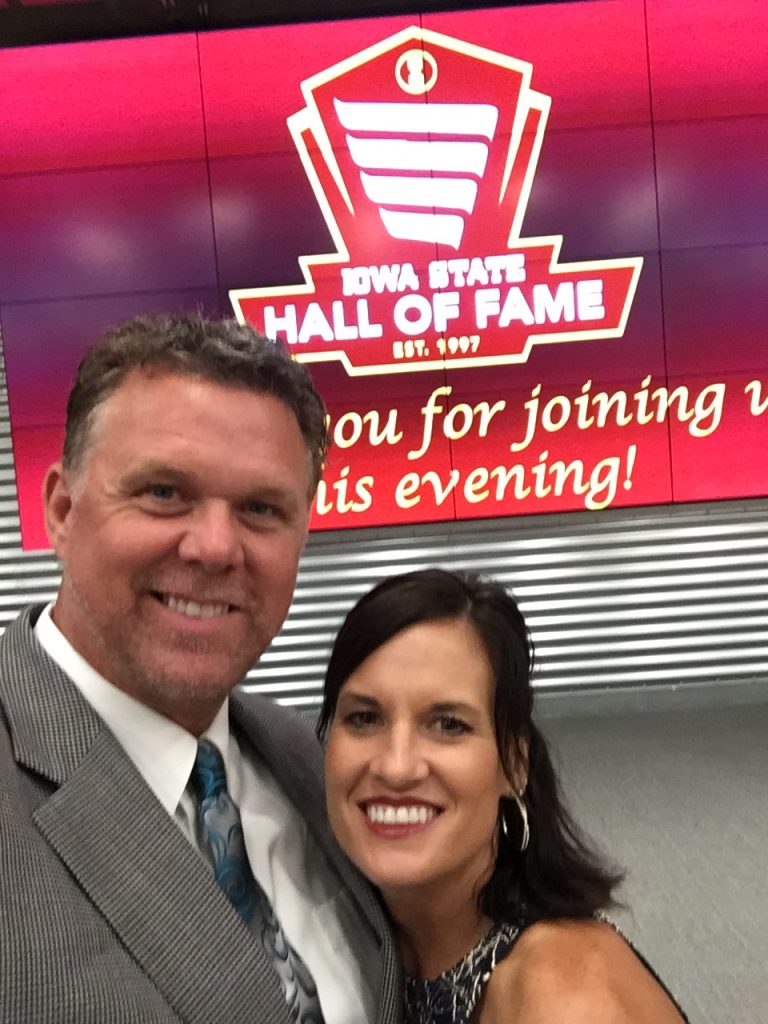 Please enjoy the "extra" Q and A with this Cyclone great (below):
Q: What was it like growing up in Donahue (a town near the squad cities)?
A: "We lived outside, getting dirty, scuffing our knees and our elbows and getting bumps and bruises and just having a good old time. You don't see much of that anymore."
Q: How much did you enjoy your time as a Cyclone?
A: " I can't be more proud in calling myself a Cyclone and spending four years up there. the athletics side taught me discipline. Occassionally, we had 3 a days (in football) … It just created so much discipline and camaraderie."
Q: I read that you started your minor league career with the Los Angelese Dodgers organization  0-for-21 at the plate. How did you recover from that?
A: "I said, 'Listen, Mike.' You're a good athlete. You've had success before. Just go get it done." [Note: Busch ended up batting .327 that season while cracking 13 home runs]
Q: Injuries and circumstances beyond your control limited you to 100 career MLB at-bats. Is it easy to make peace with not being a part of the game anymore — given you had a long coaching career, too?
A: "I'm still not at peace. I still want to get out there and play. It was very difficult, because it's something you wanted for so long and you were able to play at such a high level — I mean, I was in triple-A from '93, through parts of '95-'96 — and you're playing against major league guys there. And then playing at the highest level and having to give it up without just kind of embarrassing yourself was very difficult, but then I transitioned to a coach and a manger after that and I guess I kind of lived in through that, developing players and trying to win championships."
Q: Last chance in majors came in Cleveland Indians camp in 1996. What happened there?
A: "I had really good spring numbers, but I was behind Matt Williams at third base and Jim Those at first base. So there you go again. Not a lot of places to go, to move those guys out of the way, unless somebody got hurt. I started out really well and then I had knee surgery that year. The knees were breaking down and the back was sore. Just trying to compete made it a lot more difficult. I ended up playing three years, or two and a half years, in independent ball and that wasn't the level I wanted to play at, so I retired in 2001 halfway through."
Q: How difficult was it to see Iowa State drop baseball after the 2001 season?
A: "It was difficult. I think (Bruce) Van De Velde was the athletic director at the time and when he announced they were dropping the program because of funding — that was the reason we got, and coach when I played, a guy by the name of Jerry McNertney, and he was an Iowa State guy, he had some big league time. We got together with some other folks and tried to go through funding and I think we came up with the funding — I don't know, several million dollars to fund it, and at that time they said it was just under $300,000 a year to fund, so we had the funding, but then they blamed it on Title IX or something like that. … I think baseball's our oldest sport in school history and to drop it that way was a shame and a detriment to a lot of athletes around the state of Iowa and surrounding state not to have another opportunity and a place to go play baseball."
Q: How'd you get started as a financial advisor?
A: "I ran into a guy years ago that was with Edward Jones as a wealth manager. I had a hunting property I was trying to sell and I got connected with him and he ended up not buying my property, but he ended up as my wealth manager, so he handled my portfolio. So I worked with him for quite a few years and I was ready to retire and I was wondering what the next step was for Mike Busch, and meeting with him, (he said), 'Why don't you join us? You come in, you do your homework. You go through your investments and we talk about them. You're savvy. You're good with people. You know how to build things. You're disciplined. Why not join us?' I go, 'Yeah right.'So he bet me a buck I couldn't do it and that's kind of how I got into it. He still hasn't paid me the buck yet, but that's kind of how I got into wealth management.
Q: Any parallels to excelling in sports?
A: "The correlation between the two, they parallel. You're trying to win a championship for your clients and building a successful portfolio and then you're building a relationship with them and understanding you've got a philosophy and your'e talking a philosophy with them, so the parallels were similar. So it was an easy transition once I got started and got my licenses. … I like getting out of my office, so I'll travel to see clients, six, eight, 12 different times and pick up a handful to meet. And they always have introductions to other people and that's how my business has grown outside of the state of Iowa."
Q: How often do you get back to Ames for football games?
A: "A few. I just find it easier to watch the games on my couch, or my chair, or at a buddy's house, but I do get back there occasionally."