Mar 11, 2017; Kansas City, MO, USA; Iowa State Cyclones guard Nazareth Mitrou-Long (15) celebrates with fans after the win over the West Virginia Mountaineers during the Big 12 Championship Tournament at Sprint Center. Iowa State won 80-74. Mandatory Credit: Denny Medley-USA TODAY Sports
KANSAS CITY — A friend of mine talked to Naz Mitrou-Long at the team hotel on Friday night.
"We want West Virginia," Naz told him.
The players — specifically the seniors — weren't interested in winning a championship in the toughest conference in America by not beating a ranked team along the way.
In addition to seeing first hand how well the team had been playing, that knowledge gave me a really good feeling about Iowa State's pursuit of its third Big 12 Tournament championship in four years.
Around Kansas City, even in rare (during tournament time) 30 degree temperatures and snow falling from the sky, the positive vibes were inescapable.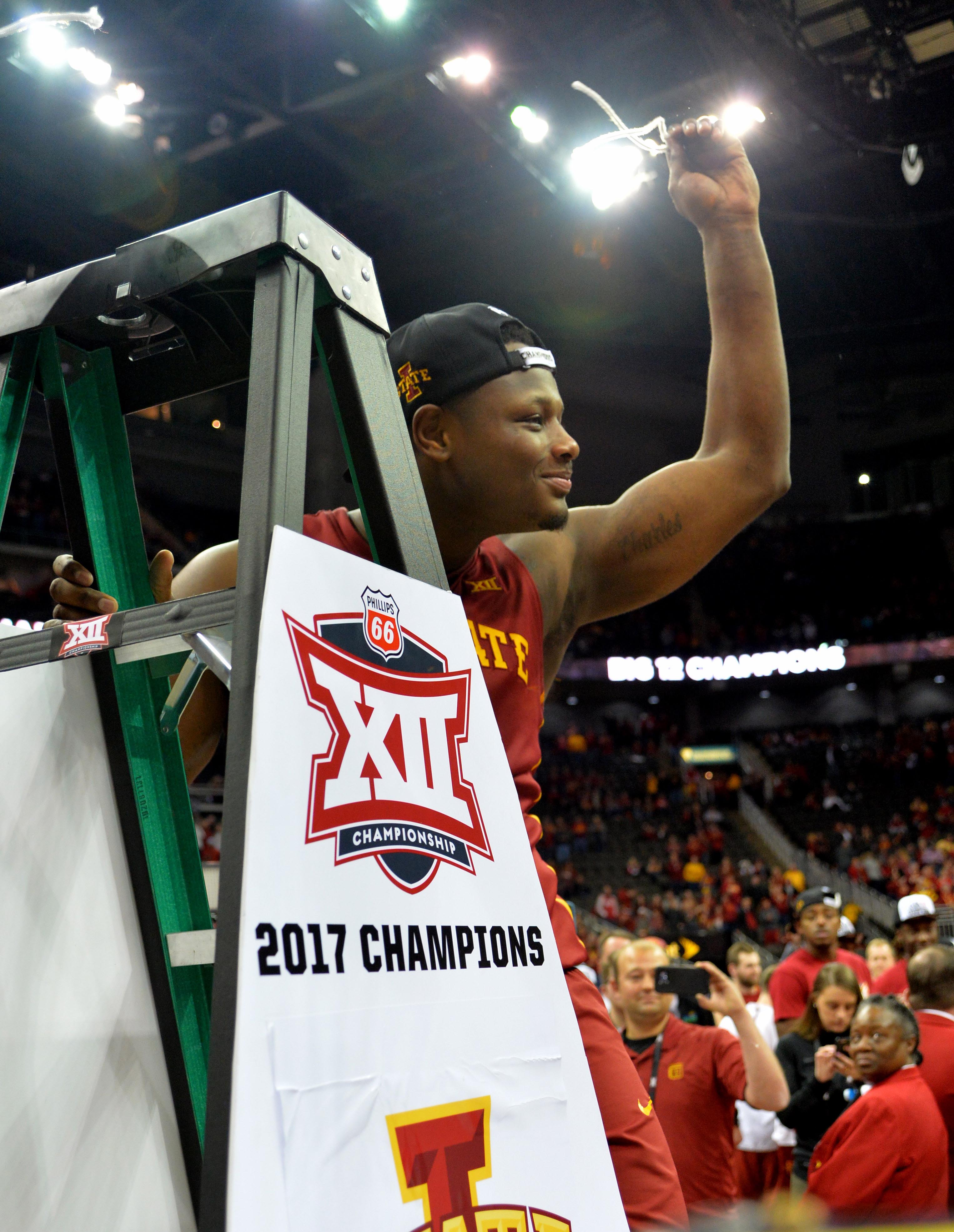 Hilton South was alive.
The women wore their Cyclone scarves with pride. The men drank domestic beers by the dozen. My little girl wore her special game-day Cyclone dress.
It was on.
After an intense pep really, a game was eventually played.
As expected, the Sprint Center was at least 90 percent full of Cyclone fans. The majority of them were intoxicated, but not due to alcohol consumption, but mostly passion for the Cardinal and Gold.
Who am I kidding? Alcohol too.
West Virginia got up early but Iowa State led and was in complete control for more than 25 minutes.
This team — the winningest group of seniors in Iowa State history — was going to close the deal. They obviously did by an 80-74 final.
Sweet Caroline.
Cut down the nets.
Hug your wife.
Hug that guy's wife who you just met at McFadden's.
Hug that guy too.
Hug everybody!
Soak it all in.
Good times never felt so good.
I fully admit that this column is as corny as that stupid song, but there is no other way to describe the perfection that was this weekend in Kansas City.
Plus, I am a dad now. I am a little bit corny these days.
They say that we (the media) aren't supposed to get emotionally involved with the teams that we cover, but I say, "screw that."
I have been around these guys for half of a decade now.
It is a phenomenal group of young men off the court.
On it, they are even better.
What about the fact that at the beginning of February, we didn't even know if this group would make the NCAA Tournament?
This team is a great story of resiliency.
Back to the guy who is the best emotional leader I have ever seen at Iowa State: Naz Mitrou-Long. I was looking for old photos of him on Saturday morning and something stood out to me. Half of my stock featured Naz holding out the front of his jersey, like this one taken on Saturday night.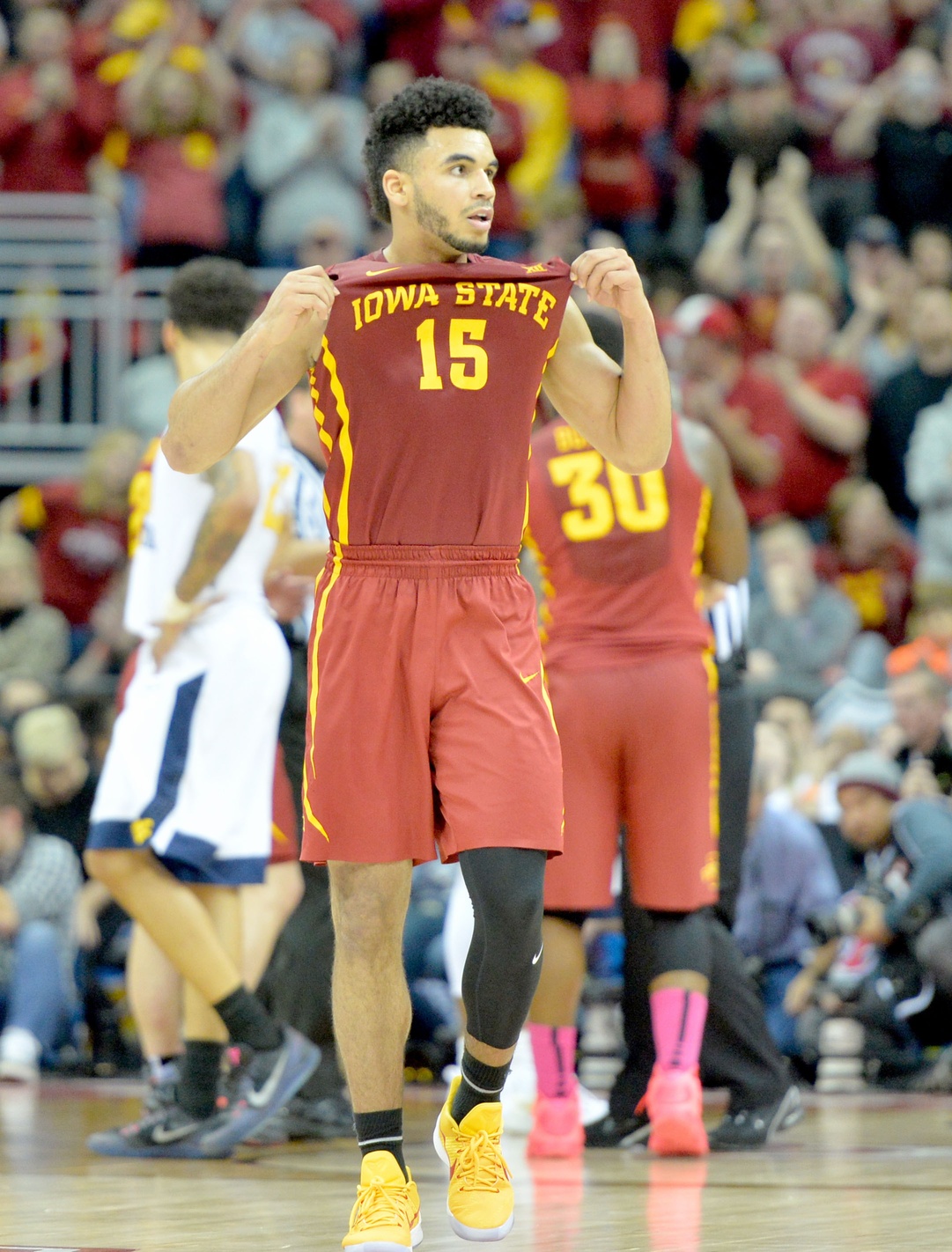 "Why do you do that, Naz?" … I asked him on the court after the game.
"We play for these people," Mitrou-Long said. "Not for the name on the back, for the name on the front. If it says Cyclones or Iowa State, I make sure to pop it so that everybody in this arena can see the name on the front. These people deserve it. They work hard and this is what we do it for — these type of moments."
It works both ways.
Iowa State is special because of this relationship. The players feed off of the fans and the fans absolutely live for the players and coaches.
"The electricity in here and the noise," Steve Prohm said. "Hilton South is the real deal."
Ames, Iowa might not have an ocean near it, warm weather or a cool metropolitan area nearby, but it is home to the most loyal fanbase in America. You all proved that once again this weekend.
To the old timers who I drank Jack Daniels with at the hotel bar on Friday night, you deserve it. You've been there for the good years and bad.
To the college students who started spring break early with a trip down I-35 on Saturday morning, soak it in. Three titles in four years doesn't happen very often and you were lucky to be in school during such and awesome stretch.
This is exactly why I texted my wife late in the game to tell her to take a picture of my little girl in the arena when the Cyclones won.
Moments like these might not ever happen again.
Hopefully they do though.
Nothing is final, and this sure isn't either.
Moments after the final piece of the net was cut down, Monte Morris was already referencing what happened the last time that Iowa State closed out Big 12 play in Kansas City.
"UAB," he said. "There's more work to be done."
Amen.