Mar 16, 2017; Milwaukee, WI, USA; Iowa State Cyclones guard Deonte Burton (30) shoots past defender Nevada Wolf Pack guard Josh Hall (33) during the second half of the game in the first round of the NCAA Tournament at BMO Harris Bradley Center. Mandatory Credit: James Lang-USA TODAY Sports
MILWAUKEE — All work and not a lot of play.
That was the feeling inside of Iowa State's locker room following Thursday night's 84-73 victory over Nevada in the NCAA Tournament.
"I feel like preparing for Purdue," Deonte Burton, who had 14 and eight in the return to his hometown said immediately after the game. "We have to win Saturday."
I have had the opportunity to visit quite a few NCAA Tournament locker rooms during my time covering Iowa State but had never seen anything quite like this.
I wish you guys could have properly taken in the scene – a healthy amount of smiles but absolutely no celebrating. The only joking I heard came in the form of reserve big man Simeon Carter razzing Burton for getting dunked on in the second half.
In 2012, you would have thought that Iowa State had won the national championship following a win over Notre Dame in Dayton.
Looking back, the Georges Niang broken foot game in San Antonio was an anomaly. Iowa State had advanced comfortably after being NC Central but multiple Cyclones had tears in their eyes knowing that the ceiling was realistically only so high without ole No. 31 the rest of the way. That locker room felt more like a funeral than a celebration.
Last year in Denver, exactly 365 days after the great Louisville/UAB debacle of 2015, was all about relief.
"We didn't come here to win one game and to dance," Naz Mitrou-Long said. "We want to keep knocking down walls and that's what we came here to do."
It was a workmanlike win, a good win vs. a good team for surging group of Cyclones that has convinced itself that everyone in the world is against them. This familiar chatter continued after the game. So many chips on so many shoulders, even after an impressive victory.
"Even though the world didn't expect it – expect Craig Kellogg, Charles Barkley and I think Obama – shout out to those guys – everybody other than them didn't think that we were going to win tonight," Mitrou-Long said. "Even my favorite player Steph (Curry) picked Nevada to win. We see all of those things."
It wasn't Iowa State's best basketball game. That might have actually been one of the worst 40 minutes that this team has played in recent weeks.
Here's the big plus: When Monte Morris subbed out with his third foul at the 11:25 mark in the second half, Iowa State led 55-49. When Morris checked back in at the 6:16 mark, the lead had actually grown to nine.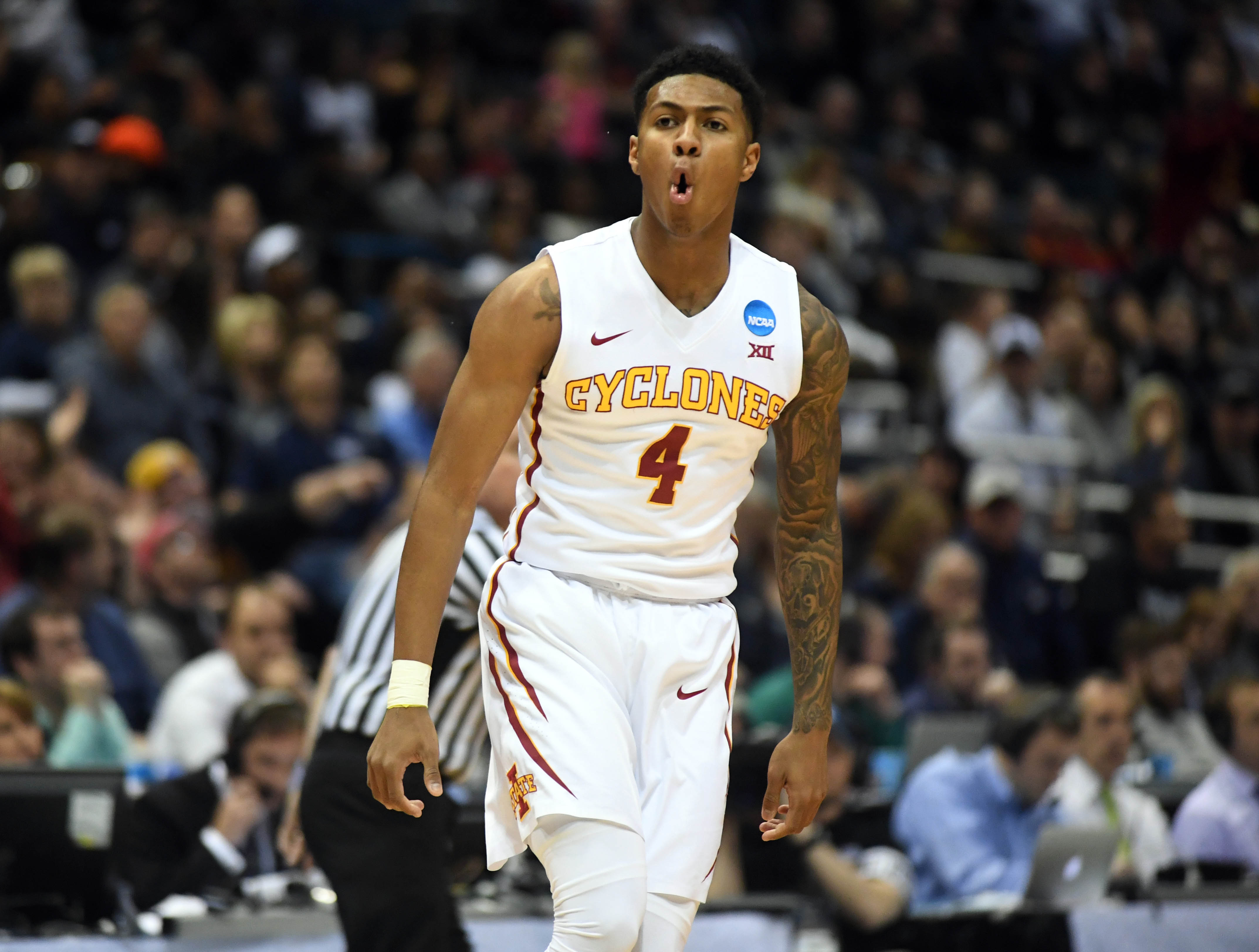 "Me and Donovan (Jackson) pushed each other all summer for times like this," Morris said. "There was going to be a game where I got into foul trouble and he had to step up and he did. With him being at point guard, he carried the group. We made plays and me getting extended plays was big."
Morris, as his head coach put it, came in and closed the deal. After the game, Prohm doubled-down on his Cousy Award rant from last week and called Morris the "best point guard in the country." He added that there "is no debate" to that statement.
Again, it's hard to argue on this night with Monte's final line of 19, 8 and 8 in 31 minutes. His backup, Jackson, was fantastic going 4-for-4 with 12 points in 16 minutes.
Calm, confident and primed to do something great. When one man goes down, another one steps up. That is the reality of this Iowa State team that will face 4th seeded Purdue on Saturday night (8:40 on TBS) in the Round of 32. That is also the reality for what it takes to make a serious run in the month of March.