Mar 16, 2017; Milwaukee, WI, USA; Iowa State Cyclones forward Darrell Bowie (10) celebrates during the first half of the game against the Nevada Wolf Pack in the first round of the NCAA Tournament at BMO Harris Bradley Center. Mandatory Credit: James Lang-USA TODAY Sports
MILWAUKEE — What exactly is going on here, guys? Why exactly have the Cyclones been aggressively pantomiming a telephone call after scoring baskets the last few weeks?
Fans saw a lot more of this on television during Thursday's 84-73 victory over Nevada in the NCAA Tournament. Of course, I did exactly what we do here at Cyclone Fanatic – that's ask the hard-hitting questions after the game in the locker room.
Darrell Bowie? Why do you continue to make fake phone calls after dunks?
"I can't tell you. That's a team thing," Bowie, who had 8 points and 5 rebounds during his Milwaukee homecoming, joked after the game. "We just gotta keep doing it until they pick up. The whole team is doing it and it gets us going. It helps us going and respond to that run out there."
What say you, All-American Monte Morris?
"It's our thing, man," Morris said. "It isn't really a secret, it's just our motto, you know? We are just calling man, that's all it is."
The Cyclones, who will next take on Purdue in the Round of 32 on Saturday night at 8:40 (TBS), don't want to talk about the phone calls, but I think I have at least figured out a little bit what this is based on.
Iowa State feels like it has been "making calls" – also known as winning games – on its recent hot streak. Yet, the Cyclones do not believe that others – the pundits, critics or whomever – are picking up.
It's a respect thing. Make sense?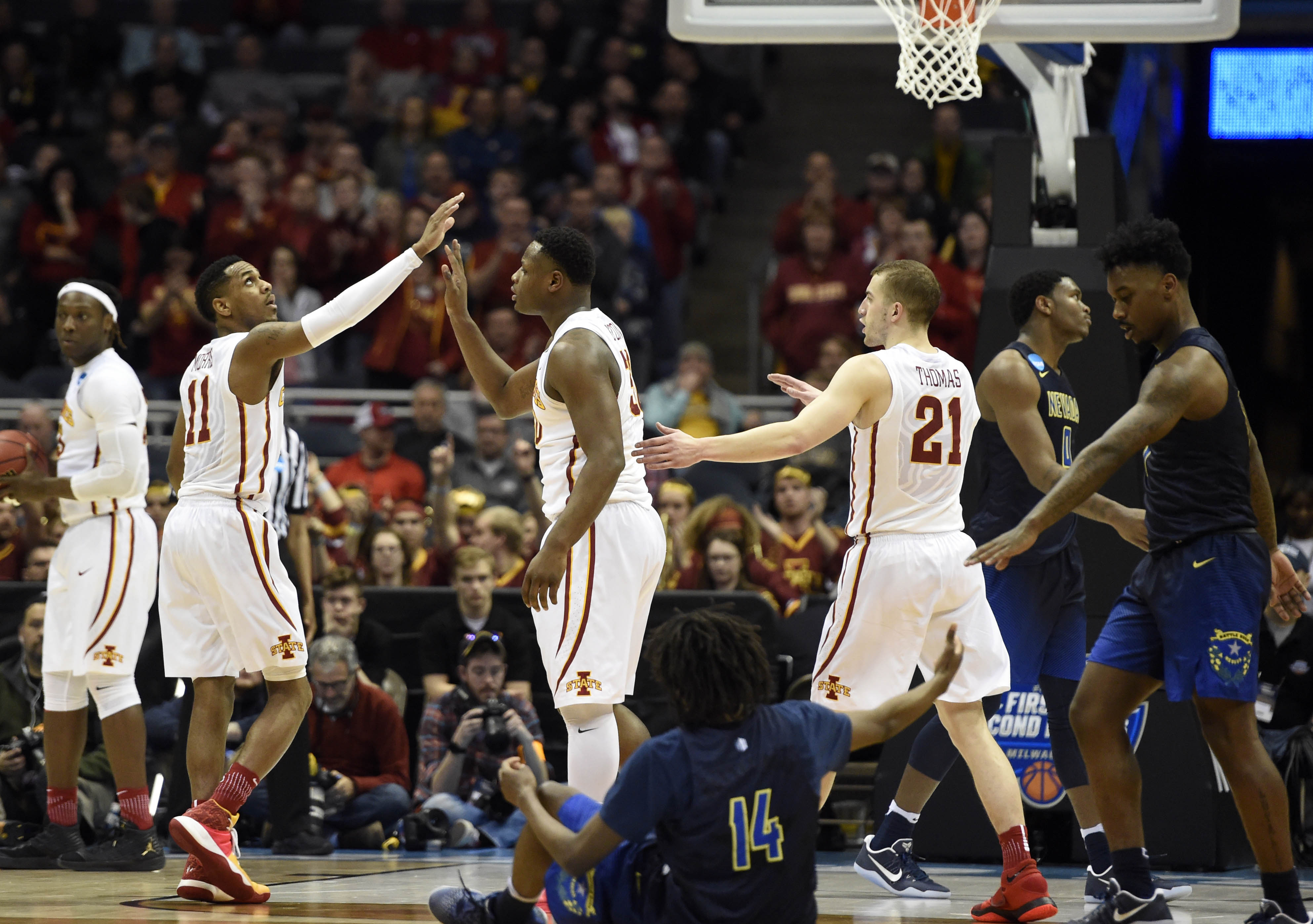 The Milwaukee natives were fantastic
Iowa State's three Milwaukee natives – Bowie, Deonte Burton and Donovan Jackson – combined to go 15-for-23 from the floor. Burton had 14 to go with eight rebounds. Bowie's night was noted above. Jackson did exactly that he has done over the last two months – bury big shots in key moments.
This postgame comment from Burton is what the Milwaukee homecoming was all about though.
"The biggest difference was that I was able to hear my family on the side," Burton said. "That was the biggest difference. It was special to know that you have your loved ones right almost an arms reach."
That's special.
Don't forget about Onalaska, Wisc. native Matt Thomas, who chipped in with 13 points of his own.
What's next?
One of the many great aspects of the NCAA Tournament is the quick turnaround in games. Stylistically, Iowa State will go from one extreme being Nevada to the next – the burly Boilermakers of Purdue.
I asked Prohm what the next 24 hours would be like for him. His response:
"I will meet with Daniyal (Robinson) as he had the scout. We will meet on Purdue a little bit so I can get some familiarity with it. These guys will get to bed. I will watch the Purdue game tonight. I will probably fall asleep watching that. I will get up early and we don't practice until late tomorrow afternoon, which is a good thing. The staff that had the scout – I will meet with them and watch tape and have ourselves ready for our walk through. The team will go to dinner. I won't go to dinner with the team because during tournaments, I like to watch film. I will build shoot around that night. Then I'll go to bed and between that I will FaceTime my wife and kid a couple of times."
JOTTINGS:
DEONTE'S DUNK: Burton had a "shining moment" in the first half via this ridiculous dunk.
DEONTE BURTON!! #MarchMadness pic.twitter.com/XCsiPF9qz2

— NCAA March Madness (@marchmadness) March 17, 2017
I asked Burton to explain what was going through his mind during the play.
"Shot blocker. I wanted to make sure that he got his monies worth if he jumped."
Nasty.
PROHM DOUBLES DOWN: It's almost as if Iowa State's head coach is still upset about the Bob Cousy Award thing.
"Monte is the best point guard in the country. It's not a debate," Prohm said. "Look at the season he has had in this last stretch. We are playing great because he is playing great. He is the catalyst. All of these seniors are playing terrific. But Monte is the guy. He is the point guard. He has been really in attack mode, making shots and has added so much to his game."
PROHM ON SUBBING: Prohm on his decision to keep Monte Morris on the bench for an extended period of time in the second half with three fouls.
"I thought our guys were doing some good things. Didn't go to 62-51? We made a couple of threes and I thought that Donovan was doing good. Monte was out there and I don't know if he even knew that he had three. I was trying to let him know. I was going to try to go back with him at the 8 minute media but what happened was we had an 8 minute media at 8:08 so there wasn't going to be another media until the 4. We went back with him at 6."
BABY UPDATE: Prohm said that his wife Katie's doctor is expecting the couple's second child to arrive sometime next week.
HIT THE GLASS: The Cyclones out-rebounded Nevada by 10 (38-28). It was just the fourth time in the last 23 games that Iowa State grabbed more boards than its opposition.
BALANCE: Five Cyclones finished the game in double figures.
RECORD: Iowa State improved to 19-18 all-time in the NCAA Tournament.