Former Cyclones star Abdel Nader (4) shoots over Iowa Energy players Sunday, March 5, at Wells Fargo Arena. Nader scored 14 points and helped the Maine Red Claws win, 110-82. (Rob Gray photo)
DES MOINES — His long, powerful legs bent awkwardly, uncomfortably.
Abdel Nader's utterly out of place — physically — in economy class, where legroom vanishes as he contorts his 6-foot-8 frame into the tiny space.
Zero glamour. Zero perks. But the former Iowa State star's doggedly pursuing a dream, and both the struggle and the promise reside in his well-plotted NBA D-League journey that, on Sunday, touched down briefly in Des Moines.
"Oh, you're squeezed on those planes, man," said Nader, who's averaging 21.4 points, 6.1 rebounds and 4.1 assists in his first season as a pro. "It's tough. It's not like you're flying first-class or anything, either. It's a grind — and that's just one thing, you know? From practices to all those things, you have to be mentally prepared."
 *****
Nader's life emerges as a study in the art of mental and occasionally emotional preparation and adaptation.
His family moved to the U.S. from Egypt when he was three. His first college choice — Northern Illinois — didn't work out, and he almost cut short his stay at ISU, too, when his first coach, Fred Hoiberg, left prior to his senior season to coach the Chicago Bulls.
Enter Steve Prohm, who sprang into action to keep Nader on campus.
"I went and saw his mom and then just sitting down with him after a couple weeks of being here I think he felt like he was in a better place," Prohm told Cyclone Fanatic. "And ever since that last meeting with him, I think he was as good of a guy as a coached that year, from being an everyday guy, to being really coachable and just doing the right things every day."
Nader's mind doesn't wander. It stays squarely in the moment, neither looking back, nor fixated on the future — though by all accounts, his shimmers.
"Iowa State did great things for me," Nader said. "The fans, the whole basketball program, the school, the university — grateful to it. I'm happy I stayed."
That decision helped land the Cyclones in the NCAA Tournament Sweet 16 for the second time in three seasons. It also allowed Nader's bond to deepen with fellow seniors such as Georges Niang and (medical redshirt) Naz Mitrou-Long.
"He grew a love for the game and a habit that I completely relate to, which allowed us to just become brothers," Mitrou-Long told me last year. "Duley's going to be one of my best friends until the day I die, man. He'll be at my wedding, I'll be at his. Throughout life, man, it's going to be a special relationship that we have. Blood couldn't make us any closer and I mean that."
Nader said it's hard to be down when Naz is around.
"He just brings energy to a room," Nader said. "He's one of a kind individual. There's some guys that are going to come into a room and they suck the energy out. He's the complete opposite. He just comes in there and gets the team ready to go to work every day."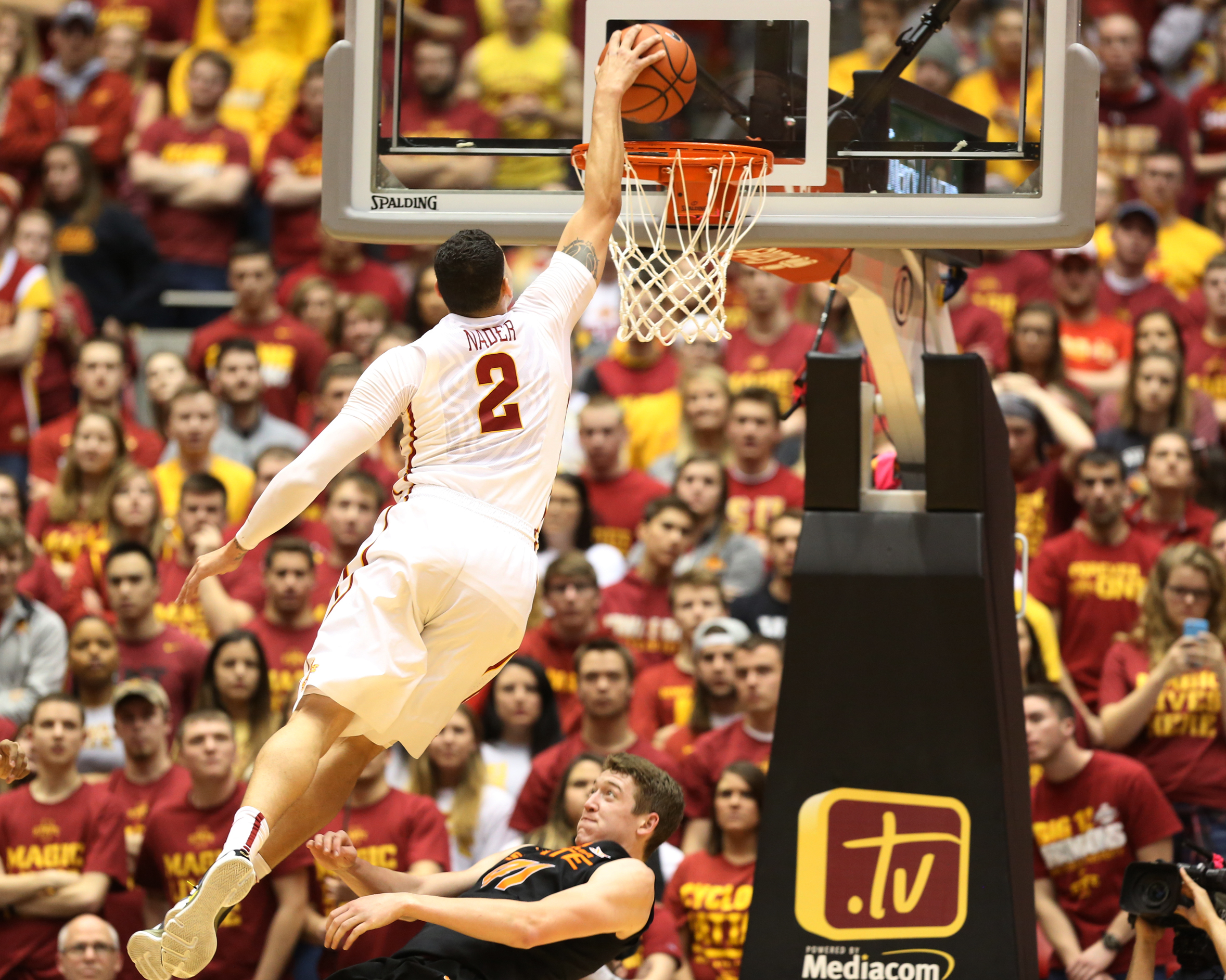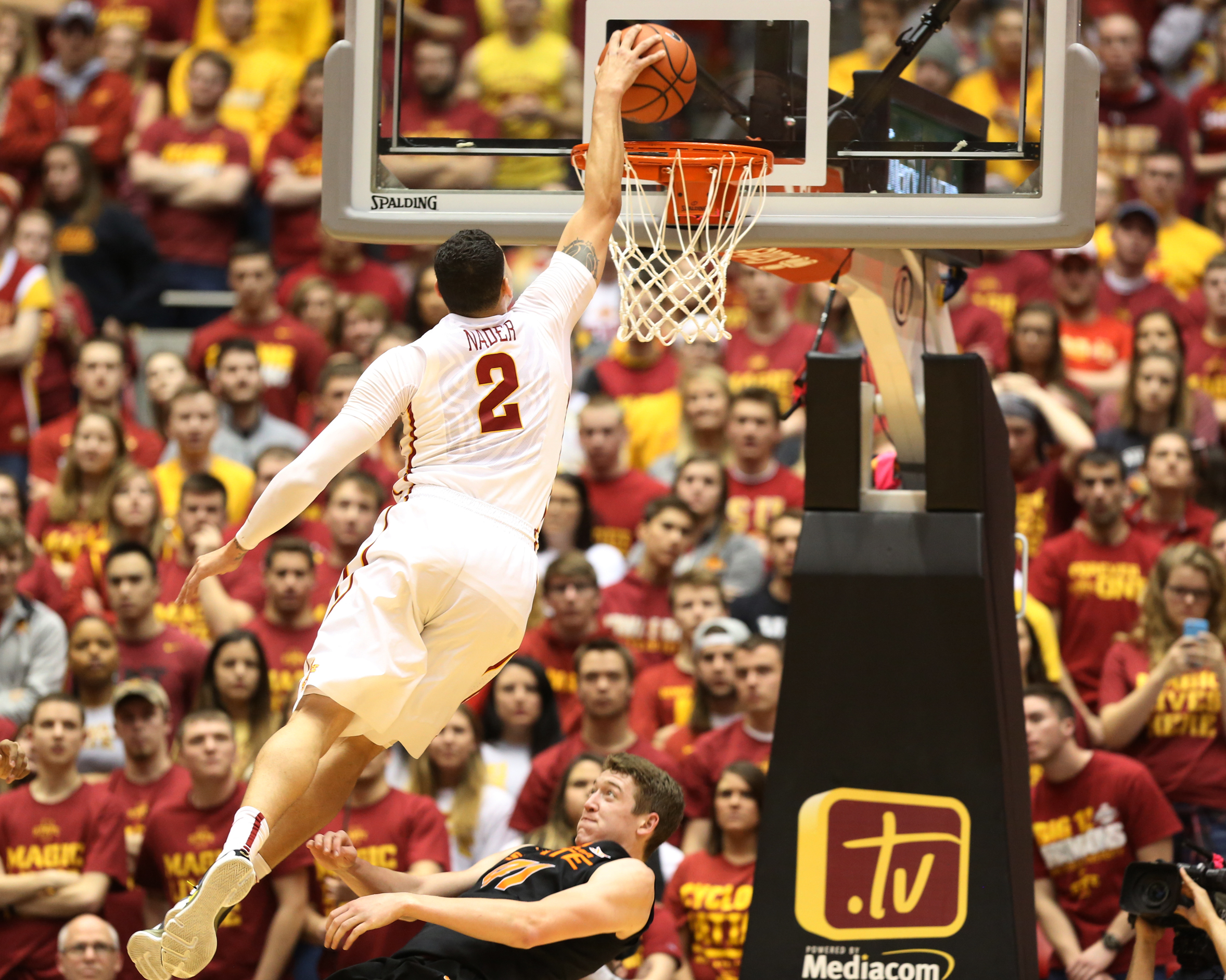 *****
Nader approached last June 23 just like any other NBA Draft night. Sure, he was eligible to be selected, but he felt resigned to going the undrafted free agent route. So Nader gathered with his mom, dad and girlfriend at home in Chicago. He celebrated when Niang was tabbed by the Indiana Pacers with the 50th pick. Then several selections later, his phone rang.
"The day before I had just worked out for the New Orleans Pelicans," Nader said. "Just got back home. It was a long, long pre-draft process for me. I worked out for 17 teams, so that was the end of it. I was beat and I was at home with my mom, my girlfriend and some other people, just watching the draft. Next thing I know I get a call from Boston, like three picks before I'm about to get drafted and they tell me they're going to pick me up. … I had no idea. Some teams had said they had some interest in drafting me. I'd had a pretty good pre-draft, but I didn't think anything of it."
Surprise! The Celtics took Nader with the 58th pick and another journey began — this time, through the D-League, where Boston planned to stow Nader in hopes of grooming him for the big club in 2017-18.
"They wanted to invest in me and that's what they did," Nader said.
Red Claws coach Scott Morrison said Nader's success at the next level hinges on improving on the defensive end and cutting back on turnovers. Scoring and getting to the rim are Nader's strengths, as well as crashing the glass and finding open teammates when driving lines are closed off.
"I think maybe three games ago he flirted with a triple-double," Morrison said. "He's had two or three games where he's come close to getting a triple-double. When he goes out there and plays like that, its more than I would have expected of him, more than probably everyone expected. For him to go out there and get like 28, 9, and 8, pretty impressive at this level and the way he does it is also impressive. He can get to the rim and finish with his left hand, he can get into the paint and use his mid-range game and he can knock down 3's with the game on the line. He's an excellent scorer, excellent offensive player and if we can get his defense caught up to that, he'll have a long career in the NBA."
Prohm saw it coming. Upon arriving in Ames, he noticed Nader's skills and attributes and felt they'd translate well to the pro game.
"When I got here, you knew Niang, you knew (Jameel) McKay, you knew Monté (Morris)," Prohm said. "And then I'm watching this kid, Abdel Nader, and I'm like, 'I think he's a pro. I think he's got a chance to be a pro.' And the more I watched him, the more I thought that it was a possibility, because the one thing Abdel has — obviously the ability to shoot, but he has the size and the athleticism that gives him a true position at the NBA level, on that wing spot. So that's what I thought really gave him a chance."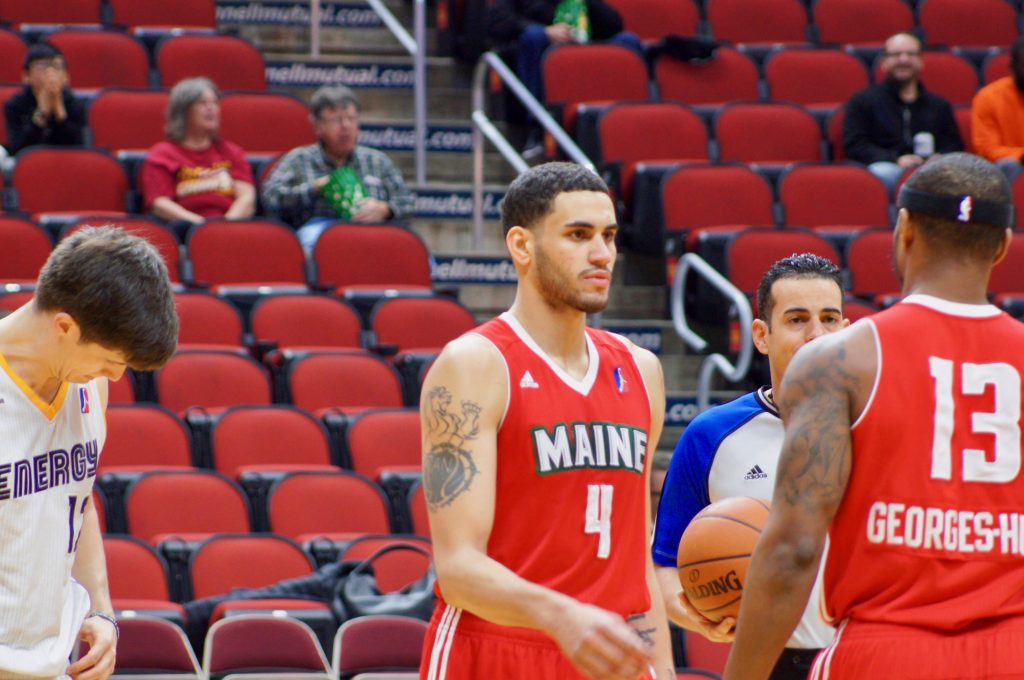 *****
Nader played in the D-League All-Star game this season and NBADL.com considers him next season's third-best NBA prospect. Prohm said they hadn't been in contact for a while until Nader texted him recently.
"Just checking in and saying congratulations on the regular season," Prohm said.
Nader's ties to Ames remain extensive. They encircle both the place and the people. What's grown from it forms a pillar of mutual respect and deep appreciation for what was, what is, and what may be.
"I love it, man," Nader said of the Cyclones' 20-win season and tied-for-second-place Big 12 finish. "I love the run they went on. They lost a tough one (Friday at West Virginia). I'm really proud and I think they won six in a row and yeah, man, I'm just excited. I hope they go on a big run."
While they attempt to do just that, starting this week in Kansas City, Nader will continue making big strides in cramped spaces. He just disembarked from a long bus ride to Chicago for tonight's 8 p.m. game against Windy City. The plan's progressing and the dream's within reach, but Nader will lace up his sneakers tonight thinking only of the next 48 minutes. The present, however compartmentalized, is almost perfect — and it's all he has for now.
"It's nice to be wanted," Nader said, "Anytime you're wanted it's a good thing. I think that's helped me a lot, just knowing that, because the D-League season is a long season. It's a grind. Travel sucks. Almost everything sucks about it except actually playing, so it would be hard to do if the Celtics organization didn't have my back like they do right now. Like I said, I'm grateful for everything."