All photos courtesy of Iowa State athletics communications. 
Iowa State has won the conference tournament four times since the Big 8 went to a postseason format in 1977. Monte Morris, Matt Thomas and Naz Mitrou-Long were a part of two of those victories in 2014 and 2015.
The first conference tournament title crown for the Cyclones occurred in 1996, the final tournament contested in the old Big 8. Thanks to the beauty of Cyclones.tv, and in honor of the annual trek to Kansas City this week, I went back and re-watched the final Big 8 Championship game broadcast for the first time since I was 11 years old back in 1996.
I apologize in advance for the length of this article, it was a phenomenal experience and I couldn't help myself. I hope you enjoy it.
*******************************************
0:00—We are looking live at Kemper Arena in Kansas City on a beautiful Sunday afternoon! The sell-out crowd of over 19,500 is pumped and loud. CBS is on site with the dulcet tones of Jim Nantz and the always crabby Billy Packer on the call. The 23rd ranked Cyclones are the 2-seed and come in 22-8 overall on the season. They meet the 1-seed Kansas Jayhawks, 26-3 and ranked in the top five in the nation.
0:43—Packer lets us know Kansas is fighting for a 1-seed in the NCAA Tournament, while Iowa State is seeking its first Big 8 Championship. Packer was the lead analyst for CBS from 1981-2008 and called every Final Four for the network before being let go unceremoniously in favor of Clark Kellogg. He has since pretty much disappeared from public eye.
0:50—Nantz says there are over 7,000 Cyclone fans and they "make a lot of noise." What Nantz doesn't realize is roughly 5,000 of those Cyclones were crammed in and drinking Bloody Mary's all morning at Kelly's in Westport.
1:00—Your starters for Iowa State: Jacy Holloway, Dedric Willoughby, Shawn Bankhead, Kenny Pratt and Kelvin Cato. Kansas counters with Jacque Vaughn, Jerod Haase, Paul Pierce, Scot Pollard and Raef LaFrentz. Kansas beat Iowa State by double digits in both meetings this year. On paper, this is not much of a contest.
1:15—Junior Kansas guard Jacque Vaughn is highlighted as the Big 8 Player of the Year. Packer says Vaughn, "Pushes the ball up better than any college basketball player we've had in a long time." Vaughn would become a first round pick in the NBA in 1997 and played 12 years in the league as a backup PG. He was the Orlando Magic head coach from 2012-2015 before being fired. He is now an assistant coach with the Brooklyn Nets.
1:25—Today's officials: Stan Reynolds, Scott Thornley and Ed Hightower(!!). This was bald Hightower, before the legendary fro-wig was implemented. They are a solid A- on the retro Blum officiating scale.
2:17—The first basket of the game comes on a right hand hook by Kelvin Cato. A rare post-move from the rangy South Alabama transfer. Cato's game at this point in his career was mainly dunks and more dunks.
2:50—CBS shows a graphic of Iowa State's road to the final. It included a 62-60 win over Nebraska and a 57-53 win against Missouri. Tighter games than most remember.
3:30—Dedric Willoughby with a catch and shoot three to give Iowa State a 5-0 lead. He and Tyrus McGee are my two favorite pure shooters in Cyclone history.
(Quick story, in the summer of 1998, I attended the Tim Floyd Basketball Camp as a 13 year old. Willoughby was in town as a camp speaker getting ready for his summer league with the Milwaukee Bucks. He challenged the kids on my court to a game of knock-out. The game started with about 20 people, somehow it got down to just Willoughby and me as the final two. I was in the zone and felt like I was running on air. We each made about four straight shots until Dedric missed one off the back rim. I pounced on the opportunity and splashed in a knock-out winner. The people watching went crazy. I knocked out Dedric Willoughby. This remains the highlight of my athletic career and it's not close.)
5:30—KU Freshman Paul Pierce drills a three to give Kansas its first basket three minutes in. Pierce is retiring from the NBA after this season. He is one of just six players drafted in 1990s still active in NBA, joining Vince Carter, Dirk Nowitzki, Manu Ginobili, Jason Terry and Metta World Peace.
14:15—Pretty much an ugly slugfest. Iowa State leads 9-7 with 12 minutes remaining in first half. Each squad with four turnovers. Iowa State's offense is let Willoughby run around and get shots or get fouled. Holloway and Bankhead are being left wide open and not shooting.
15:30—Tim Floyd is highlighted with Nantz saying, "He is a great young coach." Iowa State had to replace 95 percent of its scoring and 96 percent of its rebounding from the prior year. Floyd was in year two and just 42 years old. Interestingly enough, Steve Prohm is currently in year two and 42 years old. Floyd, like Prohm, is going without the sport coat today. That's about where the comparison ends as Prohm and Floyd are opposite personalities.
17:05—Jerod Haase drills a three to give Kansas its first lead, 10-9. Haase would later become the coach of the UAB team that beat Iowa State in 2015. Yep, that freaking guy. He is now at Stanford.
17:50—Cato tries to block LaFrentz and is whistled for foul number two. He raises his hand to acknowledge the foul, a real lost art in college basketball. Iowa State's bench consists of Klay Edwards and Joe Modderman. That's it.  This is not good.
24:30—Kenny Pratt makes two free throws, Iowa State trails 17-15 with eight minutes in first half. Pratt shot an astronomical 243 free-throws that season. Iowa State's leader in free throw attempts this season is Monte Morris and Deonte Burton tied at 93. Pratt played the power forward at 6-3 without a jump-shot and not much of a vertical. He looks smaller than I remember and is doing battle with 7-footers Pollard and LaFrentz. If I had one former Cyclone I'd want on my team during a fight, I pick him. Jared Homan and Dustin Hogue distant second place.
26:00—A shot of the Iowa State huddle shows Gar Forman, then an assistant coach with Floyd. Forman joined Floyd with the Bulls in 1998 as a scout and never left. He is now the GM and a big reason Fred Hoiberg ended up in Chicago.
34:50—With the game tied at 24 and two minutes remaining in the half, Shelby Walton checks in for Holloway. It is the first-time Holloway or Willoughby sat the ENTIRE tournament. The internet rage for lack of depth would have been something had there been internet rage.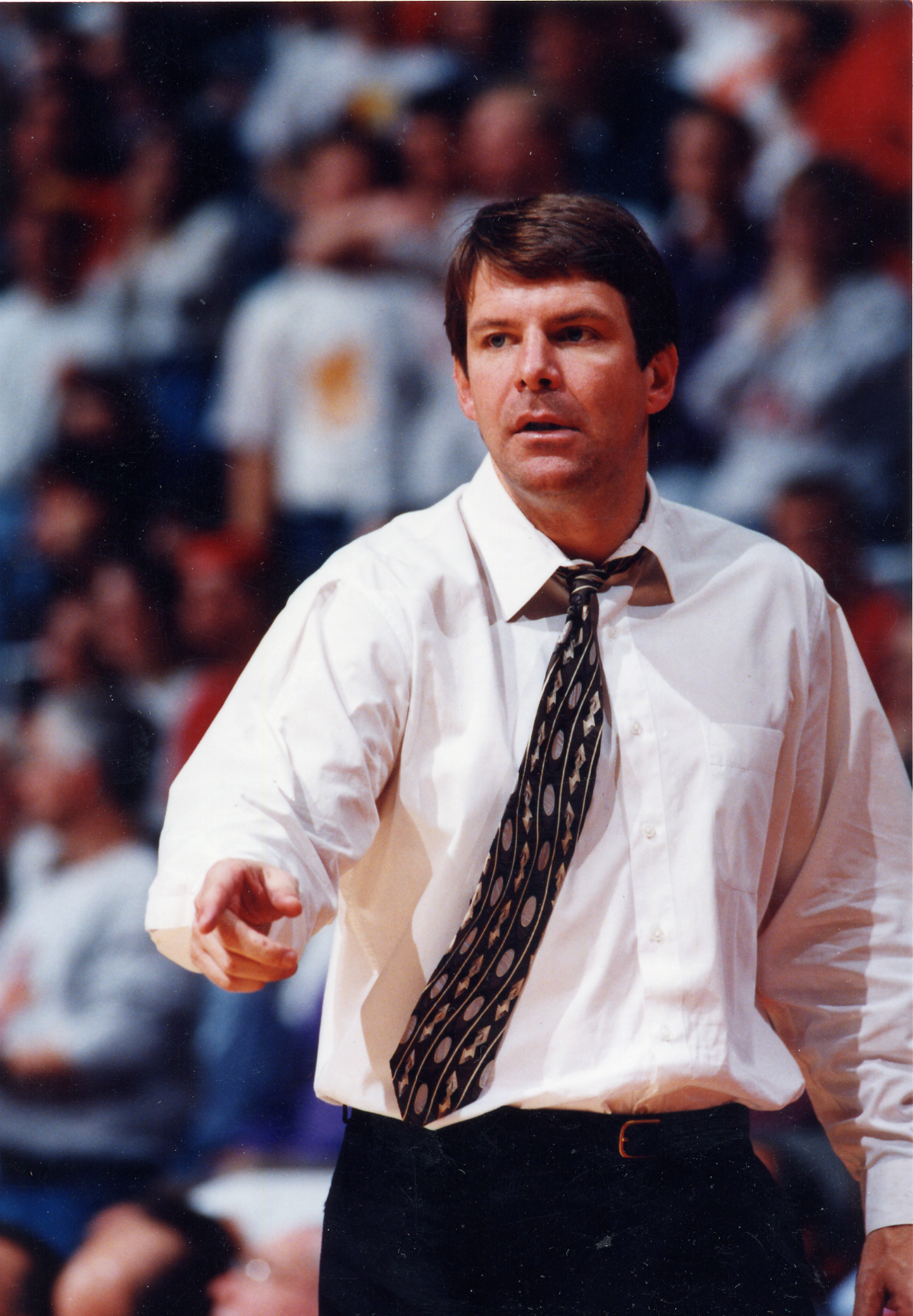 40:00—Halftime. Kansas leads 28-27. In all actuality, not a tremendously enjoyable first half. Iowa State shoots 36 percent, Kansas 35 percent. Iowa State has 9 turnovers, Kansas 8. We go to Pat O'Brien, George Raveling and Quinn Bucker for the Pennzoil Halftime report.
41:00—Highlights from the ACC Tournament where Wake Forest leads Georgia Tech. Junior Tim Duncan pacing the Demon Deacons, while freshman sensation Stephon Marbury doing work for Georgia Tech.
42:00—Kansas opens up in a 1-3-1 zone and Cato dunks all over Scot Pollard's head. Vicious slam.
45:00—Action picking up. Willoughby drills a three to give Iowa State a one-point lead. Pierce is called for a charge after running over Cato. Roy Williams is hot and gets a warning from Ed Hightower. You don't mess with Ed.
50:20—With the shot clock expiring, Willoughby heaves a 30 footer with Vaughn in his face. Splash. Iowa State 41-37 with 15 minutes left. Iowa State fans going nuts. Willoughby has 18. Willoughby and Pratt the only offense.
53:25—A Bankhead layup gives Iowa State an eight-point lead with 13 minutes left. Worth noting, back in 1996, CBS still didn't have a constant graphic that showed the time and score. That became widely used in college basketball broadcasts in 1998.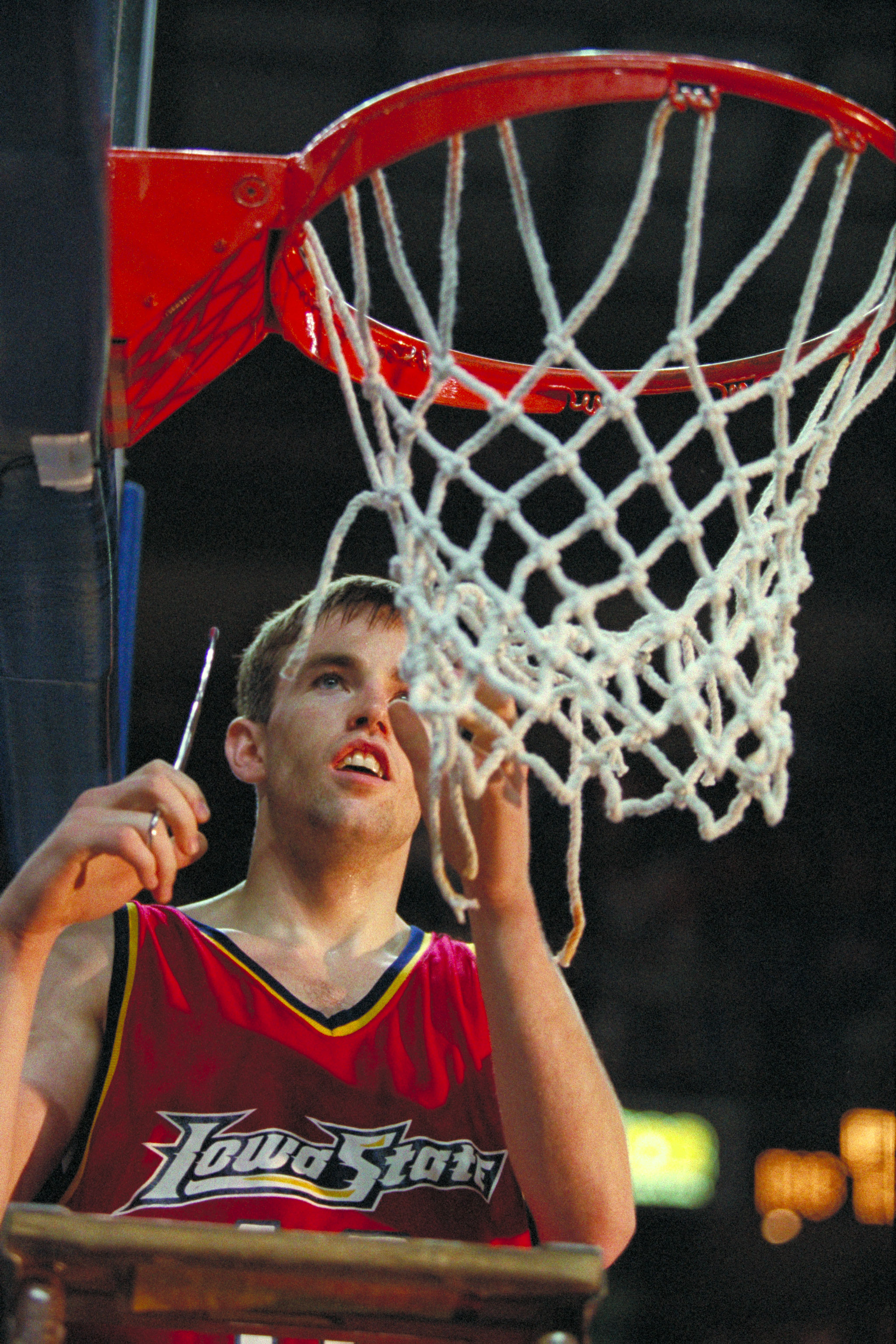 56:00—We are exactly four hours away from the Selection Show. The committee is sequestered at the Hyatt in Kansas City in those days. Nantz and Packer argue about whether KU will be a number 1 seed if they lose. Packer argues a lot. He is the original Dan Dakich.
57:40—Cato blocks the heck out of Pollard. Nantz makes a terrible OJ Simpson murder trial related joke, "This is one Cato who is in the right place at the right time," in regards to OJ's old roommate Kato Kaelin. Packer doesn't laugh. Nobody laughs.
1:04:00—Neither team has scored for almost four minutes. Iowa State leads 46-42 with seven minutes left. This basketball is not as beautiful as I recall.
1:05:30—The NCAA Tournament Selection show is sponsored by Pizza Hut. Every kid born in the 80's loved Pizza Hut's "Book It!" program.
1:05:45—Pierce hits a big-time three to cut the Iowa State lead to one with six minutes left. "This kid's gonna be a good one," Packer says.
1:06:30—Controversy as Pratt is fouled after the shot clock expired. Hightower has a famous Hightower conference at midcourt with Floyd and Roy Williams. Packer says, "These are two great young coaches." Williams is only 47 at the time and still has some black hair. Kansas is awarded the ball.
1:09:30—Pratt gets a layup for his 18th point to put Iowa State up three, Cato blocks a Big 8 Tournament record 5th shot on the next possession. Cato owning LaFrentz and Pollard in the paint and making himself known to the NBA.
1:12:30—LaFrentz gets an "and-one" to give Kansas its first lead in a long time. KU leads 49-48 with five minutes left. LaFrentz was the original Roy Williams import from Iowa. He grew up in Monona, Iowa. Amazingly, LaFrentz never won a state championship despite being a 7-footer in Class 2A.
1:15:02—Cato gets fouled and makes the basket, but Hightower waves off the basket emphatically. This is an atrocious call, he was clearly in act of shooting. Twitter would have melted down instantly in 2017. Just completely awful. Bad job outta Ed. Cato splits free-throws, game tied at 49 with 3:40.
1:17:45—Pratt gets a layup, Iowa State up 51-49. Pratt has 20 points and 11 rebounds. The guy is unbelievable.
1:19:00—Tonight on CBS, "Cybill" and "Bonnie!" I can safely say I never watched either of these.
1:19:30—Packer tells story of an Iowa State fan that gave birth on Tuesday so she could go to Big 12 Tournament that weekend. She is at the game with her three-day old child. This child would now be turning 21 this week! If you are this child, please let Cyclone Fanatic know!
1:22:15—Pollard scores four straight to give Kansas the 53-51 lead with 1:03 left. The KU contingent erupts, this is not looking good. Nervous moments.
1:23:15—Pratt is trapped in a triple team with shot clock winding down, fires a pass to a wide open Holloway for three…..Onions!!!!
Holloway's first points of the day. Cyclones by one. (I may have literally jumped up and yelled when watching this even though the game happened two decades ago.)
1:25:15—Kansas misses once, twice, three times, but LaFrentz is fouled on a follow up by Cato. He gets two free throws. Seven seconds remaining.
1:26:15—LaFrentz buries both free throws. KU by one with seven seconds. Drama.
1:27:00—Iowa State in-bounds to Willoughby…who is fouled coming up the floor by Vaughn! Oh mercy. Official Scott Thornley with the ballsy call, Willoughby in the one and one with 5.5 seconds left.
1:28:00—Willoughby sticks them both with the crowd in a frenzy. Iowa State by one. No timeouts left.
1:28:30—"Vaughn driving, plenty of time, up the middle, puts it up……NO GOOD! Iowa State has WON THE BIG EIGHT TITLE!!!!!!"
…..Ironically, this game ending shot is almost identical to the one that knocked Iowa State out in the Sweet 16 against UCLA the next year. But this time it missed.
Iowa State wins its first and only Big 8 title, 56 to 55.
Kansas would drop to a 2-seed in the NCAA Tournament, advancing to the Elite Eight before losing to 4th seeded Syracuse 60-57, led by John Wallace. Roy Williams would never win an NCAA title at Kansas.
Iowa State would earn a 5-seed in the NCAA Tournament, defeating California in the opening round in Dallas 74-64. In the next round, Iowa State went toe-to-toe with Rick Majerus' Utah Utes, led by Keith Van Horn and Andre Miller. Utah won 73-67.
Kentucky would ultimately win the 1996 NCAA Tournament title.
But that beautiful afternoon at Kemper Arena will always be remembered, even if the game wasn't as aesthetically pleasing as I recall.
That group of lovable, rag-tag Cyclones took down the giant, blue-chip Jayhawks to capture the final Big 8 crown.
Seven thousand Cyclone fans witnessed it in person and hundreds of thousands more at home on CBS. It remains a top five moment in Iowa State basketball history.
Here's hoping more memories get made this week in Hilton South.