Mar 9, 2017; Kansas City, MO, USA; Iowa State Cyclones forward Darrell Bowie (10) dunks the ball as Oklahoma State Cowboys forward Mitchell Solomon (41) looks on in the second half during the Big 12 Championship Tournament at Sprint Center. Iowa State won 92-83. Mandatory Credit: Denny Medley-USA TODAY Sports
KANSAS CITY — Speak up if prior to Thursday, you saw Darrell Bowie scoring 13 points on 5-of-7 shooting with four rebounds in 22 minutes in Iowa State's Big 12 quarterfinal contest vs. Oklahoma State. (Crickets). Nonetheless, the fifth-year Northern Illinois transfer was a major key to Iowa State (21-10, 12-6) being able to cruise past the Cowboys (20-12, 9-9,) 92-83 in front of a cardinal and gold littered Sprint Center.
"What he did is he finished around the basket," Steve Prohm said of Bowie's performance. "For us to be good, he has to get those second cut slip plays. He has to finish on the open drive. That's what we need from him. He made free throws and his ball-screen defense was pretty good."
Bowie's day was highlighted with three dunks including a fancy alley-oop in the second half courtesy of Naz Mitrou-Long. Bowie's postseason contributions are especially impressive when you consider that he was taken out of the starting lineup on Jan. 24, the date of a home win against Kansas State where he only played four minutes.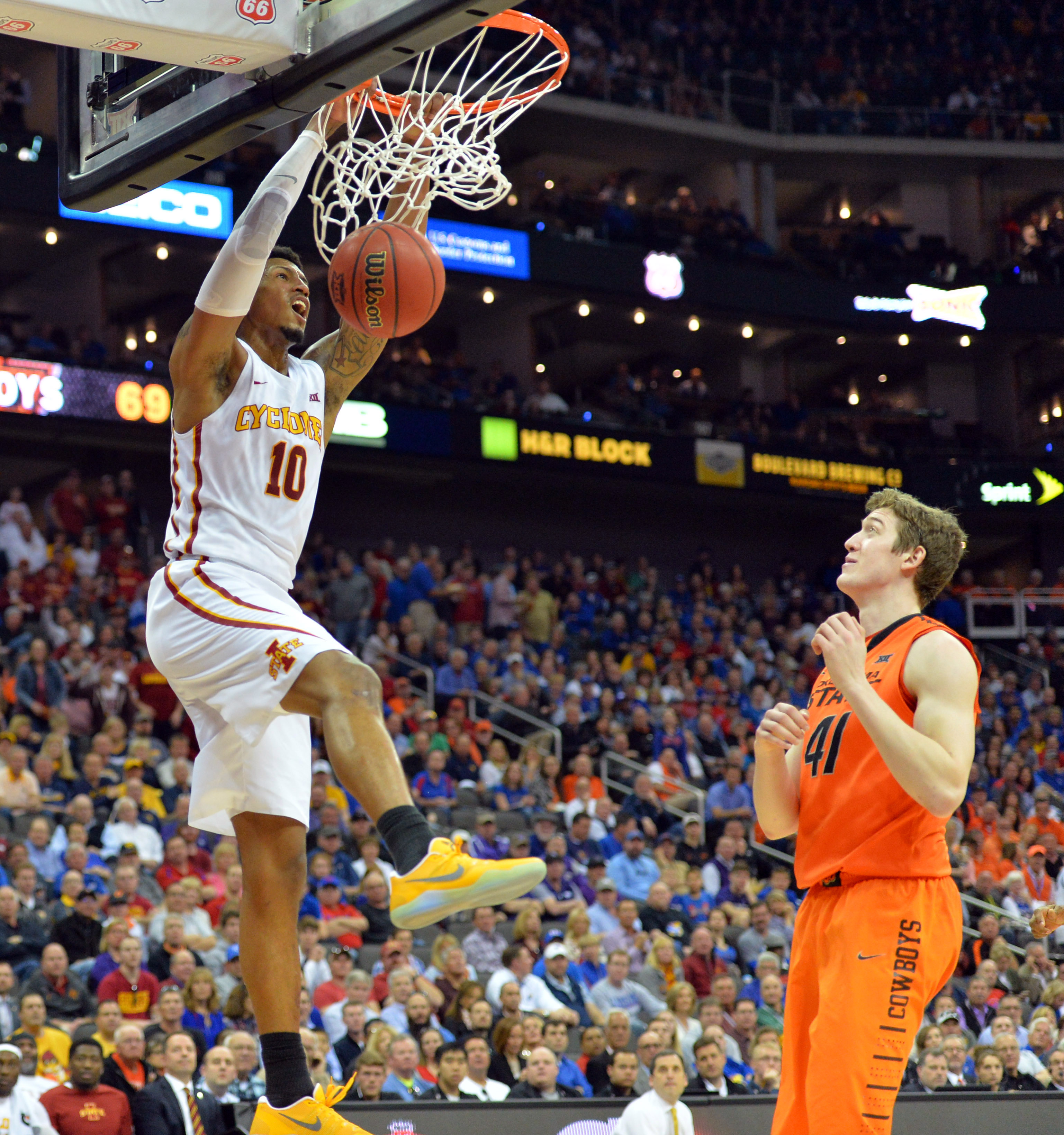 Bowie was then suspended during Iowa State's win at Kansas on Feb. 4.
"In life you will always have ups and downs." Bowie said. "Coach (William) Small is always telling me that you become a true man based off of how you respond to those. I try to stay hungry and humble."
Bowie now prefers coming off of the bench.
"I'm hungry and humble," Bowie said. "I can see what the team needs so when I get in the game, I can do that."
The double T was key
This game changed with 10:05 to go. That's when Donovan Jackson and Oklahoma State's Brandon Averette were given double technical fouls.
"Monte got trapped," Mitrou-Long explained. "I thought one of them was chirping in his ear. Monte pushed him and then he pushed Donovan. It was like a domino effect. We all know each other. It's all love."
…
"It can go either/or," Jackson said about that type of a call in a chippy postseason game. "You can flop after that or you can rise to the occasion. We rose to the occasion."
Prohm called the technicals a "revealing" moment for his team.
"That was a fluke deal but they were trying to be physical with us and pressure us so how are you going to respond to that? Our guys responded the right way," Prohm said.
It is notable that within two minutes after the technical, Jackson hurried two 3-pointers in back-to-back fashion.
"I was amped up," Jackson said. "Once that happened I just wanted to keep bringing energy." Jackson finished with eight points in 14 minutes.
JOTTINGS
Deonte's near dunk: With 15:20 to play, a streaking Deonte Burton saw an open lane so of course, in very Deonte fashion, he opted for a thunderous dunk… But he missed it.
"The lane was so open I was like, 'Why not dunk it?' I happened to miss but it help my stats I guess you could say," Burton said. "I really wish I could have gotten the dunk instead of the stats."
Burton ended with 17 points and 10 rebounds in 29 minutes.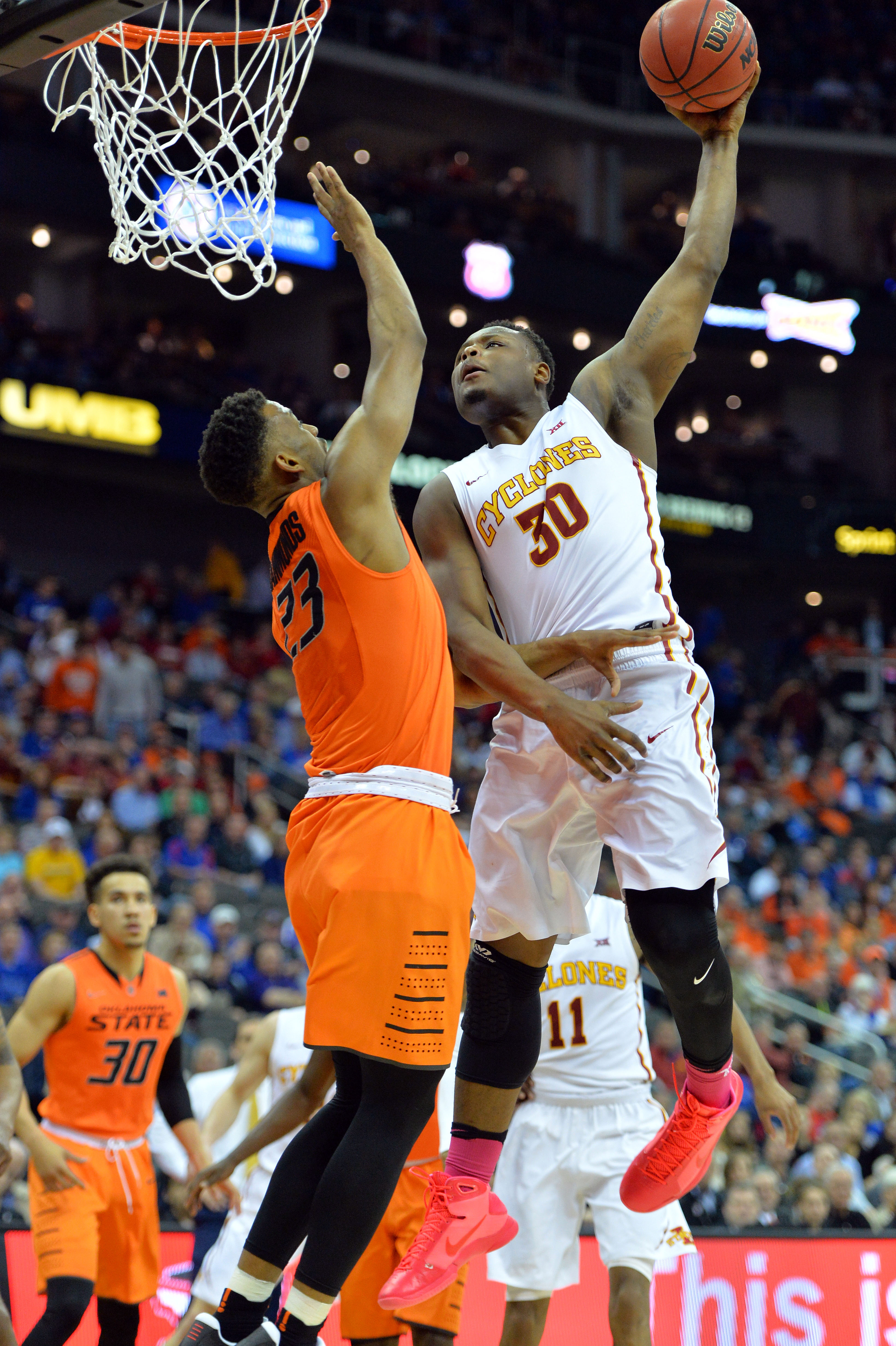 Brad Underwood sums up the game: "Tremendous amount of credit to Iowa State. They were terrific today. I thought there were some pivotal moments in this game. We got off to a very tough start, transition defense I think 12 of their first 16 points were in transition. That's been a huge focus for us all week coming into this game was transition and yet we didn't handle that very well. Postseason is about preparing when the ball doesn't go in. How are you going to win? Allowing a team to shoot 64% in the second half, and going 11 of 30 at the rim in the paint isn't the recipe. We've got to get better at that. Again, I don't want to take anything away from Iowa State. They were the better team today. I'm ecstatic looking forward to postseason play, and I'm ecstatic to get away from Big 12 teams because this league is so good. I look forward to that opportunity next week."
Streak: Iowa State has now won 10 straight games vs. Oklahoma State by an average margin of victory of 6.4 points. The last time Iowa State lost to Oklahoma State was on Jan. 30, 2013.