Feb 22, 2017; Reno, NV, USA; Nevada Wolf Pack guard Marcus Marshall (1) shoots in front of Boise State Broncos defenders in the second half at Lawlor Events Center. Mandatory Credit: Lance Iversen-USA TODAY Sports
Iowa State is going to the NCAA Tournament for a state of Iowa record sixth straight year. The Cyclones received a 5-seed and will face Nevada in the opening round in Milwaukee on Thursday at 8:57 central (TRUtv).
Interestingly, since 1995 Iowa State is 6-0 in the opening round as a 5 seed or worse.
Let's take a closer look at the opponent.
Nevada received an automatic bid to the NCAA Tournament out of the Mountain West Conference. The Wolfpack were an impressive 28-6 and defeated Colorado State (coached by former Iowa State coach Larry Eustachy) in the Mountain West Championship. The Wolfpack enter the tournament as one of the hottest clubs in the country, winning nine straight games.
The Wolfpack are coached by Eric Musselman.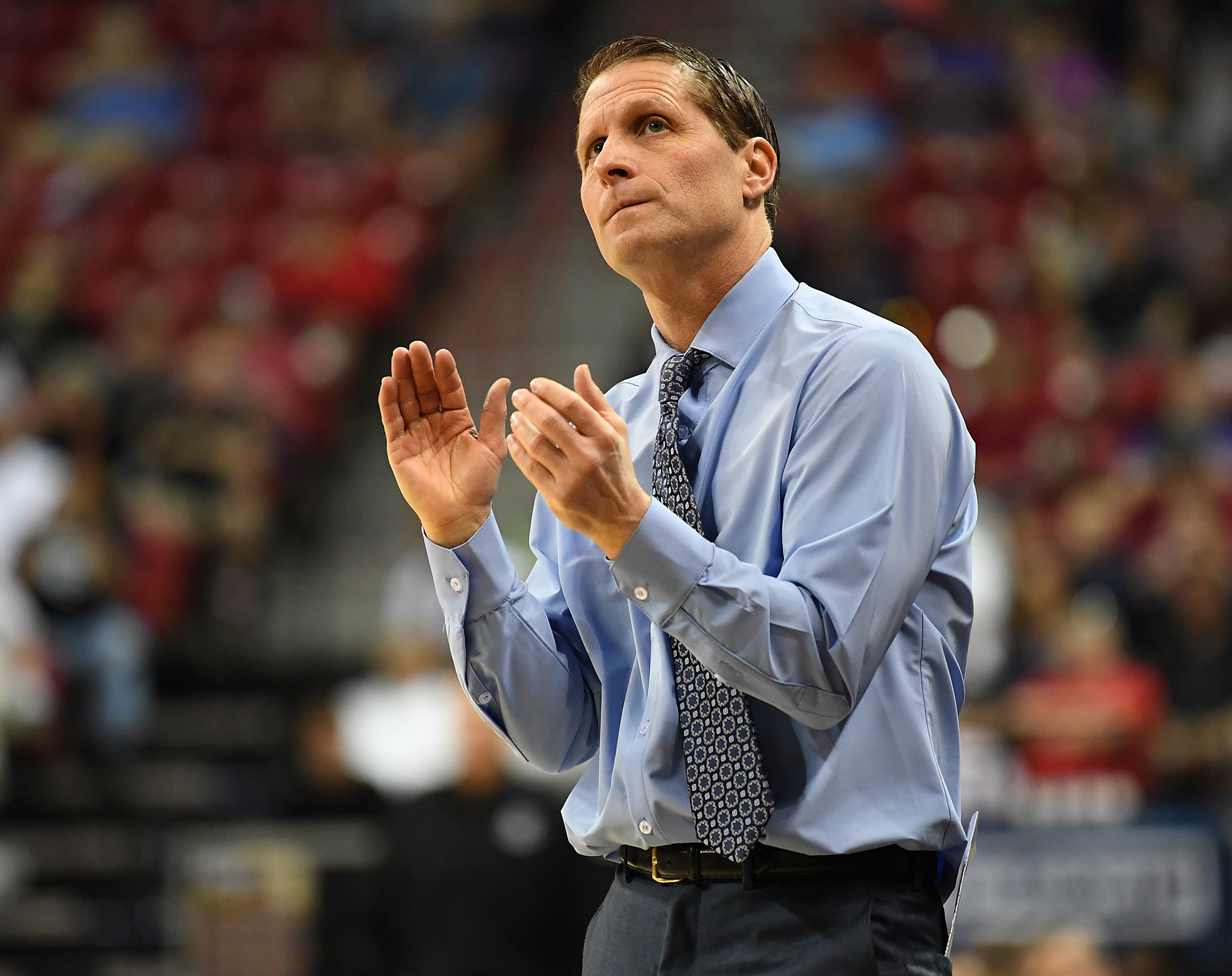 Musselman's background has extensive NBA experience as he was the head coach of the Golden State Warriors (2002-2004) and the Sacramento Kings (2006-2007). His team has heavy NBA influence in what they run. Also on the Nevada bench is former UNLV coach Dave Rice, who recruited Rashad Vaughn to UNLV.
Nevada brings a very impressive offense to the NCAA's, ranked 34th by KenPom in efficiency in the country. The Wolfpack are built a lot like Iowa State and rely on a speed and space system with multiple weapons from the perimeter. Nevada made 312 3-pointers this season, a top 25 mark in the country. Three Wolfpack players have made 60 or more threes this season. All five Wolfpack on the floor will shoot at any time. They like to run with almost 17 percent of their shots taken in transition, which is in the top 10 percent of college basketball. The Wolfpack don't overwhelm teams with shear size or depth, but play a solid six players that all can cause problems.
The number one man on the scouting report is 6-foot-3 senior guard Marcus Marshall. Marshall is a transfer from Missouri State and actually considered a transfer to Iowa State before settling on Nevada. He is a do everything guard in the mold of a Buddy Hield. Marshall averaged almost 20 points per game on 43 percent shooting. Marshall made 113 3-pointers this season, the fourth most in the entire country. He was a solid 39 percent from distance. (To compare Naz Mitrou-Long made 94 threes). Expect him to shoot early and often. He can single-handedly carry a team and has big time talent.
He has plenty of help. Three other Wolfpack average double figures. A 6-foot-8 sophomore Cameron Oliver is a versatile forward that puts up 16 points and 8.5 rebounds. Oliver is a supreme athlete and also not afraid to fire from deep. He is rangy and impacts the defensive end of the floor with blocks and deflections.
A 6-foot-7 sophomore Jordan Caroline takes up some space at 235 pounds. He is also a transfer from Southern Illinois averaging 15 points and a team-high nine rebounds. Caroline lives on the offensive glass and the free-throw line. He can move people with his frame and is a relentless rebounder. He shot almost 250 free throws this season (Iowa State's leader in free throws is Deonte Burton at 110.) Somebody needs to find Caroline at all times.
A 6-foot-6 senior DJ Fenner is another athletic guard that does everything. Sensing a theme?  Fenner averaged 14 points per game and second on the team with 64 threes made at a very respectable 43 percent from deep. He is a knock down shooter with size to get shots off at will and is the veteran leader for this club.
The last starter is 6-foot-4 sophomore Lindsey Drew. He runs the show as the point guard and has a strong 3:1 assist/turnover ratio. He is the son of former NBA head coach Larry Drew. Drew is your traditional setup man and doesn't look for his own offense, but is capable of drilling shots when open, also shooting over 40 percent from distance.
The Wolfpack have little depth and played pretty much only six men all season long. They bring off the bench a 6-6 freshman named Josh Hall. Hall plays spot minutes and can play the wing position. He is also a 40 percent 3-point marksman and has been getting more minutes as the season progressed.
Also of note, former Iowa State player Hallice Cooke is sitting out this season due to transfer rules for the Wolfpack.
The Matchup
Watching Nevada on tape is an impressive venture. This is a versatile, well-coached group with athletic, lengthy players at every position. In the last month they have been playing at a very high level. The Wolfpack are comfortable at any pace and I anticipate a game in the high 70's to 80's. On offense, the Wolfpack are very impressive and run a lot of NBA sets, much like Iowa State did under Hoiberg and continue to do.
The Wolfpack aren't an intimidating defensive team and don't apply vast amounts of pressure. They rely on position and contesting shots and are 101st in the nation in defensive efficiency. They are crazy similar to Iowa State's philosophy in a lot of areas.
Nevada doesn't appear on tape like a classic mid-major. These are power five level players in a system that can cause any team headaches. Iowa State certainly has its hands full, but Nevada doesn't present anything the Cyclones haven't seen. Iowa State is in a groove on both ends and has an All-American in Monte Morris.
Expect one of the more entertaining games of the opening round. This is gonna be a wild one. Let's dance.