Cyclone Fanatic's coverage of the 2013 NCAA Tournament is brought to you by our good friends at Channel Seeds. Visit your local Channel Seedsman today at Channel.com as they still have top products available for spring. 

Iowa State is in position to advance to their first Sweet 16 since the great Marcus Fizer/Jamaal Tinsley squad in 2000. To do so, they will have to topple a very sound and stellar Ohio State Buckeye team. Thad Matta's club may be the most confident in America at the moment, they have reeled off nine straight wins, winning the Big Ten tournament, and throttling Iona 95-70 in the opening round on Friday night. It is a tall task for the Cyclones, but not overwhelming. These Buckeyes (27-7) are not last year's Kentucky Wildcats. Let's take a closer look:
Guards:
Ohio State is led by their quintessential point guard Aaron Craft. The 6-foot-2 junior knows nothing but success. He was the point guard of the Buckeye team that went to the Final Four a year ago and was sixth man on the 2011 team that marched to the Sweet 16. At 195 pounds, he plays basketball like Ed Reed plays football, an intense competitor who is seemingly involved in every play. He is considered the best on-ball defender in the game, showcased by his six steals against Iona in the opening game. Craft's offensive production is intermittent, averaging a shade under 10 points on the season. He is very good at getting to the rim and gets most of his shots off the drive. The scouting report on him is keep him out of the key and let him fire away from the perimeter, where he is a 28 percent 3-point shooter. Craft didn't make more than one three in a game during B1G play. He is the classic intangibles guy and will no doubt have a huge impact on the action. Korie Lucious should get the assignment on Craft – despite the fact Lucious came from Michigan State, the two have never competed on the court.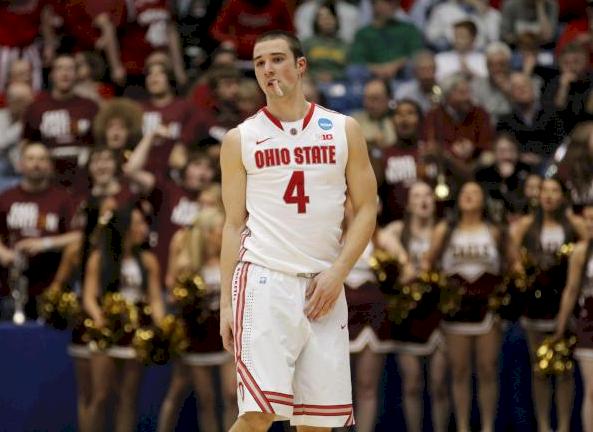 The second guard is Lenzelle Smith, Jr. a 6-foot-4 junior who is the Buckeyes most accurate outside shooting threat at 38 percent from downtown. Smith also averages right around 10 points per game and has potential to fill it up and also disappear. Smith scored 12 points against Iona and hit two threes, but in the B1G tourney he scored only 10 points combined in three games. Smith is a solid athlete and is comfortable putting it on the deck and shooting in the midrange. He does have two 20 plus scoring games this season and hit a team season high six threes against Northwestern in February.
The first guard off the bench is 6-foot-1 sophomore Shannon Scott. Scott is jet quick and a tempo setter for the Buckeyes. He is a very gifted defender and playmaker. He is not a huge threat to shoot with consistency, but has knocked down eleven treys this season, so he is not afraid to launch.
Posts:
The most dangerous offensive player on the Buckeyes and one of the best in the tournament is 6-foot-7 junior Deshaun Thomas. Thomas is a Swiss-army-knife type of scorer; he can beat you in a variety of ways. He averages nearly 20 points a game, which is in the top 20 nationally and led the Buckeyes with 24 points against Iona. He is the center of every team's game plan and has still scored in double figures every game this year.
If you put a guard on him, he can post them up and shoot it over the top. If you challenge him with a big, he can navigate around them with his handle and athleticism. The left-hander simply finds a way to score – at 35 percent from beyond the arc, he has converted the most threes on the Buckeyes. There is not an area on the floor where he is ineffective. Most teams don't have an answer for Thomas because of his versatility, but luckily for Iowa State, they have a couple options. They can give him the Babb treatment and try and pester him, or use Will Clyburn's length to disrupt. If the Buckeyes want to utilize Thomas more in the post, the Cyclones have Melvin Ejim who has the size and quickness to stay with him. How Iowa State chooses to defend Thomas will be a fascinating subplot.
The second forward is athletic freak Sam Thompson. The 6-foot-7 sophomore doesn't abide by the laws of gravity that govern most humans. The Chicago native puts up about eight points per game, but most of those are of the loud variety; lobs and dunks. Thompson put on a dunk show against Iona, terrorizing the rim on his way to a season high twenty points. He is an adequate outside shooter at 40 percent, but doesn't shoot it from out there often. Like many of the Bucks, he doesn't look to take over a game, yet has the potential to blow up if you lose sight of him.  I would expect Clyburn draws the initial assignment on Thompson.
The Buckeyes use a rotation at the Center spot. 6-11 sophomore Amir Williams has been getting the start recently. He averages about four points and four rebounds. Williams is a terrific athlete and has NBA potential if he ever adds some skill to his game. But they utilize him mainly as a screener and a rebounder.
The other center is 6-foot-8 senior Evan Ravenel. He has a bit more skill and can make a post move if they isolate him. At 260 pounds, he is a bruiser inside and has success on the glass. The Cyclones will need to keep someone on his big body when he is in there.
The Buckeyes bring a potent threat off the bench in 6-foot-7 sophomore LaQuinton Ross. He averages almost eight points on the season. He is mismatch potentially because of his size and ability to put it on the floor and finish. He also has the ability to hoist from three, hitting 37 percent of his shots from the perimeter. When Ross comes in, he is looking to score right away. He can be an X Factor for the Buckeyes.
Inside the Game:
In Big Ten conference play, Ohio State's offense wasn't overly explosive – they averaged about 65 points per game and scored more than 70 points in regulation five times. They run everything through Craft and Thomas and use their other players as auxiliary pieces. If Thomas is having trouble scoring, their offense can get bogged down. The 95 point output against Iona was not the norm – as Iona was playing the Roger Dorn, "Ole defense" for the majority of the game.
I am encouraged by Iowa State's ability to match-up with Thomas with the Cyclones athletic wings – a luxury most other teams don't have. The Buckeyes are a patient offense with Craft at the helm and will continue to grind if they don't find initial looks. Iowa State is going to have to lock in for long periods of time as the Buckeyes do have a multitude of shooters who can drill open shots. Iowa State was great on defense against Notre Dame, can they have a repeat performance?
The most concerning part for Iowa State is going to be their ability to find solid shots against the ferocious Ohio State defense. The Buckeyes will come out and pressure 30 feet from the basket and Craft can make your life miserable with his relentlessness. Ohio State plays exclusively pressure man defense. Obviously Lucious will need to handle the pressure and not have a high volume of turnovers. Ohio State's best offense is often run-outs after turnovers. I would expect to see Iowa State to at times initiate their offense with Clyburn and potentially Niang – doing this would lessen the effectiveness of Craft on the ball and open up the floor.  
Ohio State hasn't faced an offense quite like the Cyclones and trying to prepare for the unconventional Cyclones in a short turnaround could be to Iowa State's advantage. That said, Thad Matta is considered one of the best minds in the game and should have the Buckeyes ready. Ohio State is much more athletic on the wing and in the post than Notre Dame, so Iowa State is going to have to rely more on spacing and movement rather than the dribble drive that decimated the Irish.
Ohio State is a very good team and the 2-seed for a reason, but if the Cyclones play with poise and confidence, they have potential to defeat the Buckeyes and head to Hollywood. This ride doesn't have to end just yet.