The field is set and the next challenge awaits Iowa State on Thursday in the opening round of the NCAA Tournament. The Cyclones got matched up with University of Alabama-Birmingham (UAB) out of Conference USA. The Blazers (19-15) are a young, balanced group that have improved immensely since the start of the year. UAB did not have one guy earn first or second-team honors in Conference USA, but they did have EIGHT different players lead them in scoring at some point this season. Out of their top six scorers, none are seniors.  
UAB is coached by Jerod Haase, a former Kansas player that played on the formidable mid-90's squads with Jacque Vaughn, Paul Pierce, Scot Pollard and Raef Lafrentz. This is his third year at UAB.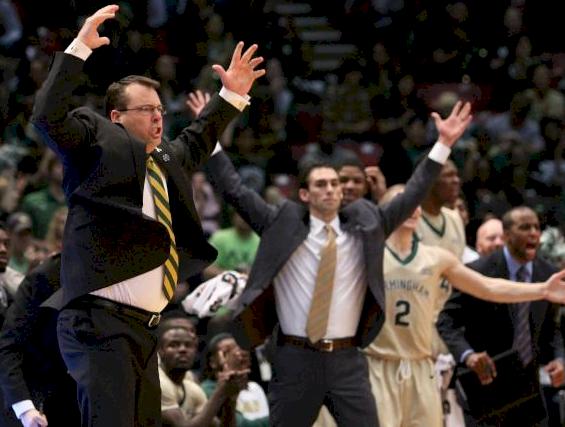 UAB struggled against a rugged non-conference schedule, getting swept in the Battle 4 Atlantis tournament, losing to Wisconsin, Florida and UCLA. They also dropped a game at North Carolina by 30 points in December and fell at home to LSU. They are 0-5 against power five conference schools. That said, once conference play started, they turned it up a notch. Conference USA is nothing to laugh at and they went 12-6 and beat some solid outfits like Louisiana Tech, Old Dominion and Middle Tennessee State. Conference USA also features UTEP (coached by Tim Floyd) and Southern Miss (coached by Doc Sadler). Fred Hoiberg likely has both Sadler and Floyd on the bat-phone as we speak.  
Let's break down some of the names you should get familiar with before Thursday.  
The Blazers are led by junior guard Robert Brown, a 6-5 transfer from Virginia Tech. Brown started as a sophomore at Virginia Tech and is a legit weapon. The offense runs through Brown, who averaged 13 points on 40 percent shooting. He is not a knock-down shooter by any means (31 percent from three), but he is a confident player with good size that loves to attack and score from all areas of the floor. Think a poor man's Buddy Hield. Brown took 175 more shots on the season than any other Blazer. Brown led the way with 22 points in the CUSA Championship game. Look for Naz Long to get the initial assignment on Brown. 
The point guard is 5-10 true freshman Nick Norton. He is a classic table setter that makes sound decisions and had a great year running the show as a true freshman. His dad is the head coach of the UAB women's team. Norton doesn't hunt for his shot but is the Blazers best shooter from outside, connecting on 40 percent of his attempts from deep. He's not much of a driver, but rarely makes mistakes. Norton averaged 7.5 points this season. I would think Iowa State would try to exploit him on the defensive end as he is a bit undersized.  
The third guard is 6-2 sophomore Hakeem Baxter, a transfer from Maryland-Eastern Shore that averaged 7.6 points. He is a slashing type that loves to get to the free throw line. Baxter's jumper is unreliable at best, his best offense is putting his head down and getting to the rim.  
Posts 
The UAB big guys all are lanky dudes with not much bulk. They rotate four big men that are each 6-8 and under 220 pounds, all averaging between six and eight points. It is very difficult to tell who will be the marquee big man on a given night.  
The post with the biggest potential is true freshman William "HaHa" Lee (his nickname is Haha, not even joking.) Haha is a former Alabama Mr. Basketball and chose UAB over Auburn, Alabama and Georgia among others. Unlike most of the other posts, Haha can step out and knock down jumpers. He shot 19-40 from downtown this season and really came on as the season progressed.  He scored in double figures in eight of his last ten games. He also led the Blazers in rebounding at just under six per game. Lee is the post with best offensive game and the Cyclones will lean on Jameel McKay to keep him in check.  
The other post that starts is 6-9 sophomore Tosin Mehinti.  Mehinti does all of his work near the basket and is not much of a threat to shoot, but can be decent option on the block.  Mehinti is the Blazers best post defender and rejected 64 shots on the season.  
The Blazers bring another young big off the bench in 6-8 Freshman, Chris Cokley. Cokley is their second leading scorer despite coming off the bench. He enters the game looking for his offense, but only from fifteen feet and in. Cokley is a very efficient player and scored in double figures in five of his last eight games.  
The fourth big is 6-8 senior C.J. Washington. Washington has taken a reduced role with all the youngsters this year, but has produced in his career, he finished second on the team in scoring as a junior at 13 points per game. Washington is a skilled big man and not afraid to run the break himself. He can step out and make the deep ball if open, dropping 28 percent of his treys.  
The Blazers also bring in a combo guy off the bench in 6-4 sophomore Tyler Madison. At 225 pounds, he is a strong guard that is not afraid to stick his nose in with the trees and rebound.  
Style 
The Blazers aren't afraid to run, but finished middle of the pack in tempo this season. KenPom has them 130th in offensive efficiency and 129th in defensive efficiently. For them to beat Iowa State, Brown has to play at an unbelievable clip, because I don't think the rest of their guys have the ability to put up enough points without him scoring 15 plus.  
As mentioned, they are not a real thick team, but the Blazers do have great length. The blocked 5.2 shots per game, which is in the top 20 nationally. Like most games, I think Georges Niang will be a difficult match-up for the Blazers. His ability to drive and post will be a major concern for the Blazers to guard. Abdel Nader could be a huge problem as well, the Blazers have nobody with the frame to keep him out of the paint off the dribble.  
All in all, I believe it is a decent match-up for Iowa State. The Blazers don't do anything exceptionally well and won't play a deliberately slow style like a North Carolina Central team did in the first round last year.
Make no mistake, the Blazers are no push over as they have power five level players. They are coming of age and handled an above average MTSU team in the Conference USA final by 15 points. Iowa State can't have a Texas Tech in Lubbock type effort and expect to survive.
If Iowa State plays well, I think they will be just fine and the march to something special will roll on.
Is it Thursday yet?